It's a busy Wednesday at the office. Your Monthly Marketing Meeting is scheduled for two hours from now. You're sitting at your desk crunching numbers from vital company KPIs, trying to make sense of all the data you've collected over the last month.
One thing to another, you find yourself into your favorite rank tracker, trying to attribute the SEO traffic for your website. You note down your important keywords' performance. And then it pops up. A question that leaves you scratching your head for a solid couple of minutes. "What actually affects our keyword rankings?" sounds like a problem you definitely need to return to later – once you have the mind space for it.
Well, now that you're here, eager to understand the factors that come into play, the factors that determine your keyword rankings, let's not waste any time and dive into right them. To help you out, I've assembled a list of the top 8 factors that affect your rankings. Here they are.
What Affects Keyword Rankings?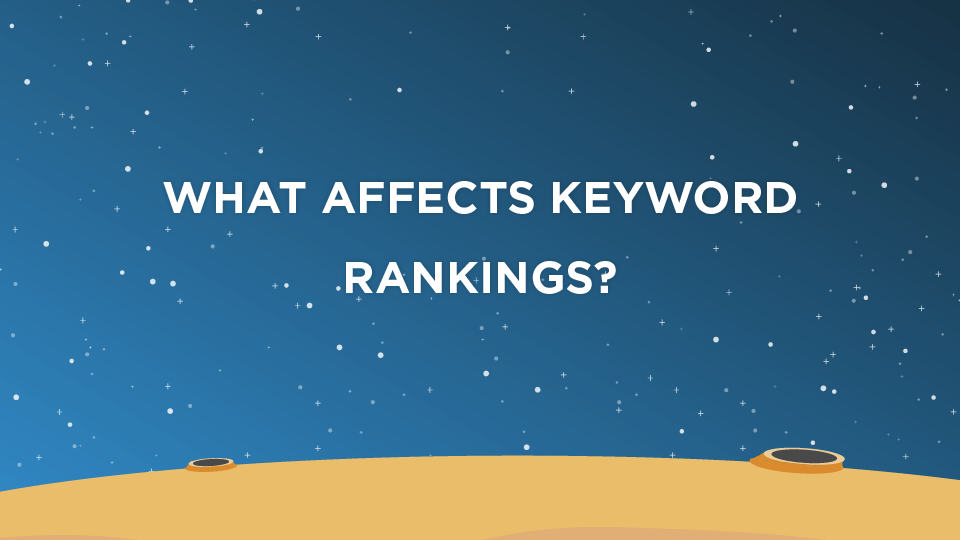 While there are many factors that affect keyword rankings (over 210 to be specific) and they all play their part in determining how your pages rank, I've summarized a list of the most important ones to help you understand the general idea.
In general, we can conclude that keywords rank the way they rank because Google is looking for the most relevant and helpful answer to any query a user types in search engines. Here's the very simplified list of what Google uses to rank keywords in their respective places:
Authority of Your Website
Authority of Your Specific Page
Authority of Your Competitors' Websites
Authority of Your Competitor's Specific Pages
Content Relevance & Search Intent Match
Implicit Factors – User Signals
Explicit Factors – User Experience
Google's Algorithm Updates
Now let's break down each of these factors down so that we can see how each of them affects keyword rankings.
1. Authority of Your Website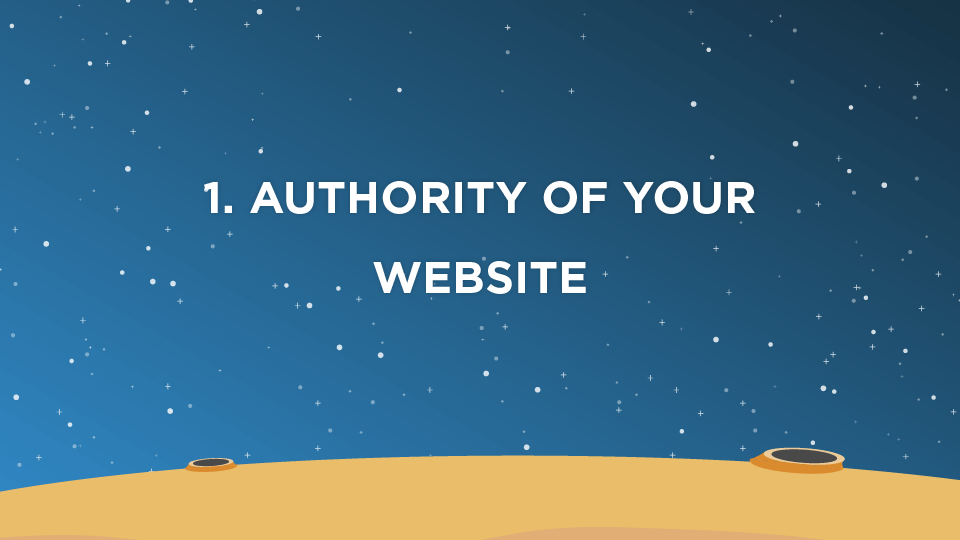 The overall idea is that to rank keywords Google uses the authority you have built for yourself in a given niche. That is, Google uses authoritative, relevant backlinks to judge whether your site is worth appearing high in the search results. Google has continuously said that they put preference on brands – since brands are the ones who people trust and do business with.
Now, when it comes to building links, your brand and link building efforts work more or less like a positive feedback loop. It's an uphill battle in the beginning, but soon it becomes a "growth loop".
That is, you're trying to build a brand to earn backlinks – but you also need to build backlinks in order to build a brand. In the beginning, this process is simple to understand. yet quite difficult to achieve. Because of that, you're more or less bound to get creative with how you approach your link building in order to earn more of them.
2. Authority of Your Specific Page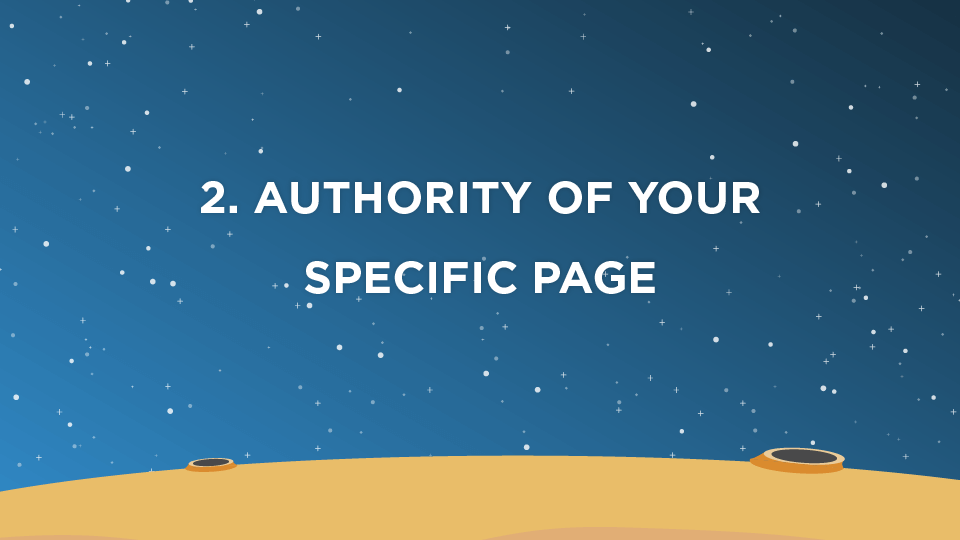 Similarly to how Google uses the authority factor for your whole website, they also judge your authority for each specific page that ranks for any query. To say it simply, you might be very authoritative in one niche, but one specific resource you share just might not be good enough. And if no other websites are ready to "reward it" with a backlink, Google isn't ready to "reward" you with some rankings either.
As we explained above, of course, having a brand helps with that. Therefore, the best long-term strategy you can use in order to succeed in Google 2, 5 or 10 years from now is to build a brand.
Now, let's get this straight – not all of your pages are going to get tons of links by default. For example, many product pages never earn backlinks from the outside. That's because people are naturally inclined not to link directly to products. However, the way you can "sculpt" authority for a specific page is by creating other great resources that get links, from which you then internally link to your product pages.
3. Authority of Your Competitors' Websites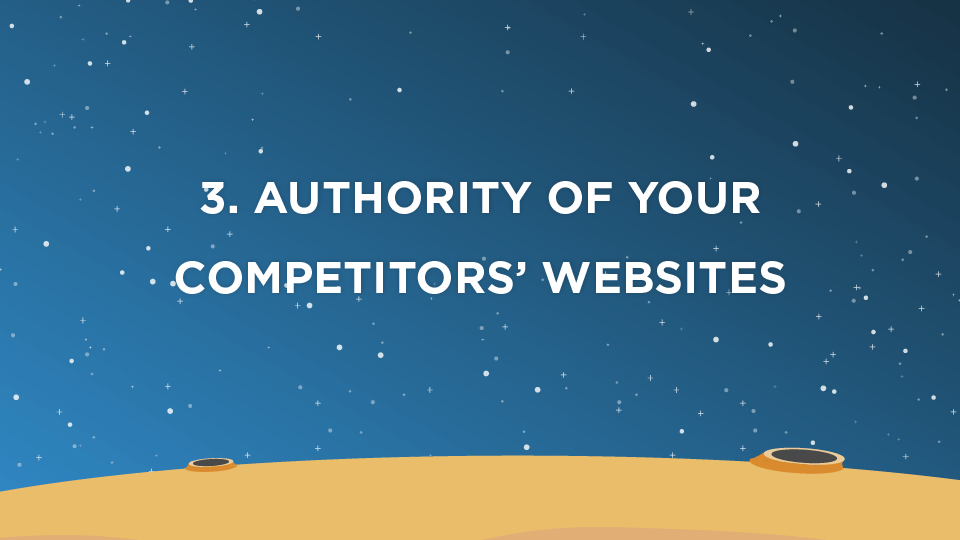 The same process goes for your competitors' websites. If your competitors are able to earn the trust of other websites (that is, backlinks), but you aren't, you're likely going to feel that already in the short- or medium- term. The sad part for most is that bigger brands have an easy time building authority in one niche and then transferring that authority to other niches.
For example, HubSpot was able to do just that with their Sales & Marketing platforms. By the time their marketing software rose to greatness, they had already built a lot of authority in the sales niche which gave them the upper hand when it came to ranking for more competitive queries.
Therefore, you can apply the same strategy in your own link building. Planning ahead like that can make it easy to transition into other niches. Say, you offer gift baskets – but ultimately want to transition to the flower business. Now, you probably have quite a few competitors – some of which have had their flower services websites running for a long time.
They are probably very established brands – almost exclusively regardless of where in the world you're located. Because of that, you can build a brand for yourself in the gift baskets business, and attract a lot of authority on the way.
Once that is "done" (it can never be done, let's be honest) and you have authority (i.e. your pages rank well), you can transition into another cluster of topics – like the flower industry. Google will surely reward you faster if you do that instead of fighting to rank for the high-competition flower-related keywords from the very beginning.
4. Authority of Your Competitor's Specific Pages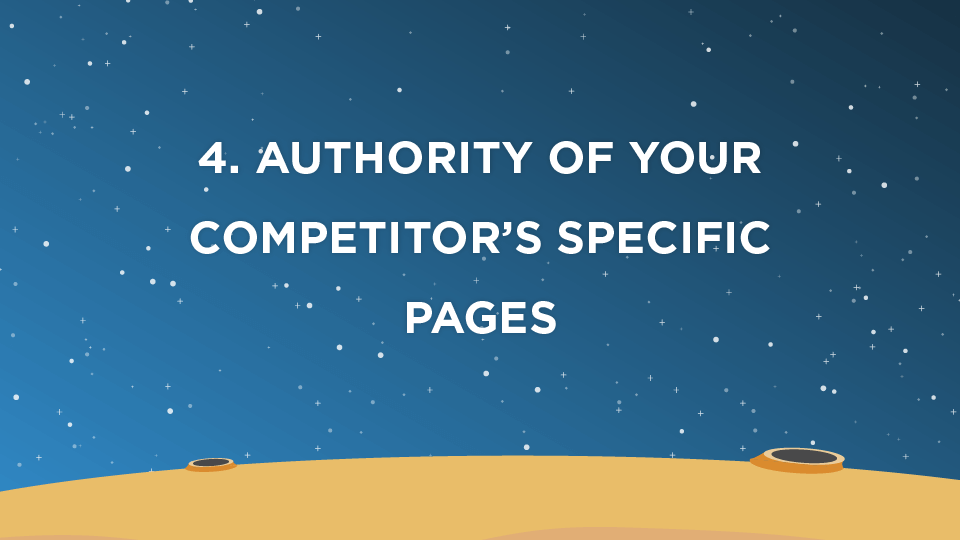 Once again, a factor that affects all pages competing for the same keywords is how authoritative each page is in Google's eyes. A simple way to think about is this: Imagine that for each search query, there are 100 links available. From those 100 links, how many go to you versus your competitors? If the answer is that you have a non-existing portion of that pie, while one competitor gets the vast majority of it, they are going to outrank you.
Of course, there's more to it – after all, we don't just simply judge the number of backlinks you have. More qualitative factors like the "authority" that backlink as and how relevant the website linking to you are also some of the important things to look at. But all things equal, how many links – and therefore how authoritative your page is – is a big factor.
5. Content Relevance & Search Intent Match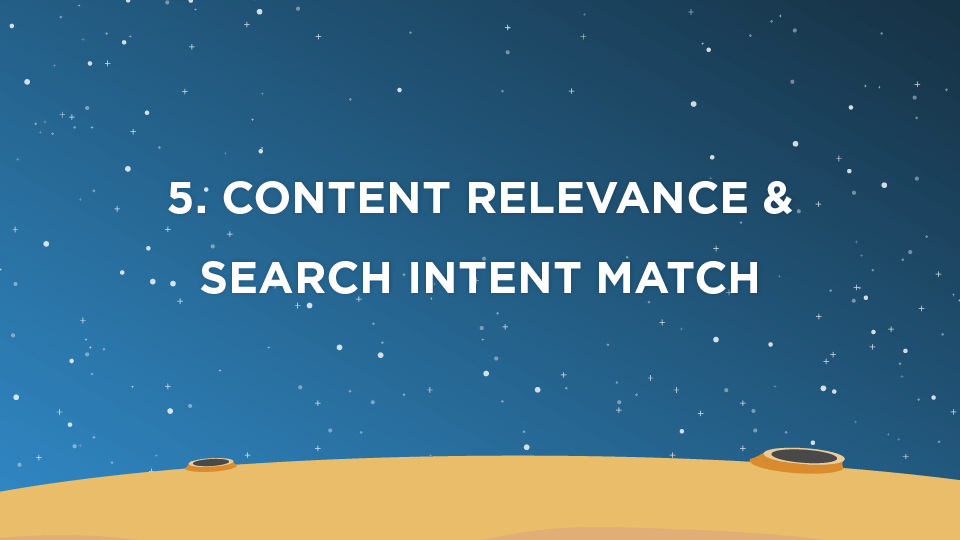 One of the most critical factors when it comes to ranking for queries is how well you're able to match the searcher's intent for that query. That is, for example if someone is looking for "time management software", they expect to see recommendations and companies that offer that very same technology.
One of the main problems I see with websites not ranking is exactly this factor. The user intent can be described as many things, but generally features these 3 practices:
How well you answer the given query – as explained above
How likely are people to click on your results (from your meta description and title)
How likely are people to remain on your site when they click on it
In a way, I believe it works similar to how the Ad Relevance / Quality Score in Google Ads does. That is, Google gives your page "a grade" – and it's up to other implicit and explicit data to judge your ultimate rankings. If Google initially thinks your page is pretty bad but user signals prove that wrong, Google will reward you. On the other hand, if Google expects a lot from your page – but it flops for this search query – regardless of how many backlinks you have, you will never truly reach the top.
Now, search intent also has a lot to do with the layout of your page. As you know, Google scans your HTML structure – and not just "the text" that is present on your site. That is, for some queries Google expects to see your web page feature certain elements that the user intends to see. For example, if the searcher is looking for something related to "forum", your site better have a commenting section – since that can be indexed and understood by Google.
Alternatively, if the user is looking for a comparison page of two products, your page is likely going to need an HTML table.
And while on the subject of implicit and explicit data, let's examine the next two points in our list that explain those factors a little deeper.
6. Implicit Factors – User Signals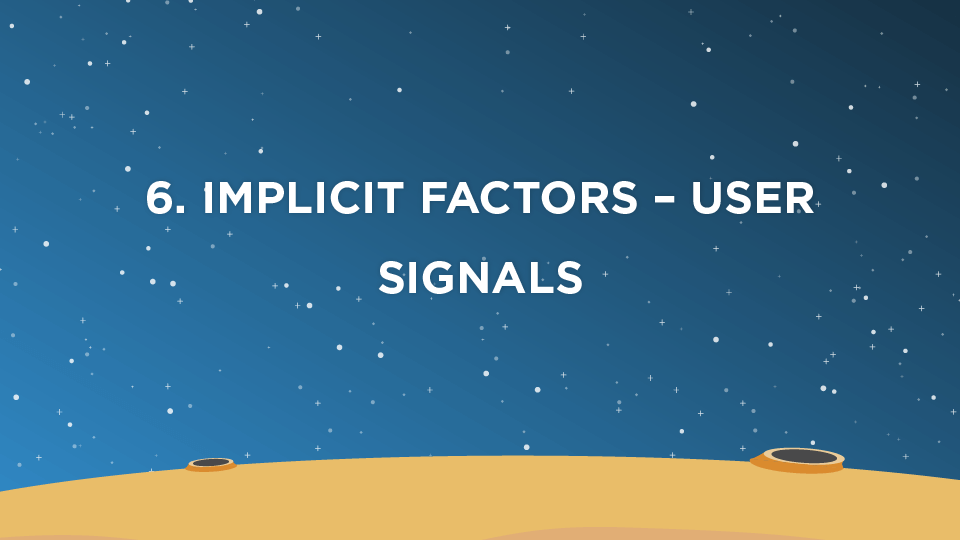 Similar to how organizations who do market segmentations of their users use implicit signals to give visitors a "lead score" or "a persona", Google does the same with your website.
The most important implicit factors that Google considers are CTR & Dwell Time. Let's explain them in detail.
CTR stands for Click-Through-Rate and is a factor that determines how many people click on your results from all the people that see your website appear in Google search. If 1000 people saw your page about "dog food" but only 3 of them clicked, that's a very low CTR and tells Google you're not doing a good job to incentivize the user to come to your site.
Dwell Time stands for how long people stay on your site before they return to the search and pick another result. It's a combined metric from the two metrics you see in Google Analytics called "Bounce Rate" and "Average Time On Page". Google doesn't use Bounce Rate and Avg. Time On Page per se, and the Dwell Time metric is a good signal that the user isn't satisfied and still needs their questions answered.
Say, someone searches for "how smart are dolphins". You have a pretty good resource that ranks at the top. It is even a very long resource compared to your competitors. But your competitors happen to explain things simpler – and mention a quantifiable fact that is easily understood.
After reading your article for 2 minutes, Josh, the Google searcher, sees that you don't really answer his query and clicks the back arrow. He clicks your competitors' results and spends a minute there – but then closes the browser.
Because of this type of behavior, you can't purely use Bounce Rate & Average Time on Page to conclude why your site isn't ranking. If a searcher returns to the search page and clicks another result, there's a reason for that – and it implies to Google that you didn't satisfy the user's needs regardless of the "Average Time On Page" of 2 minutes.
7. Explicit Factors – User Experience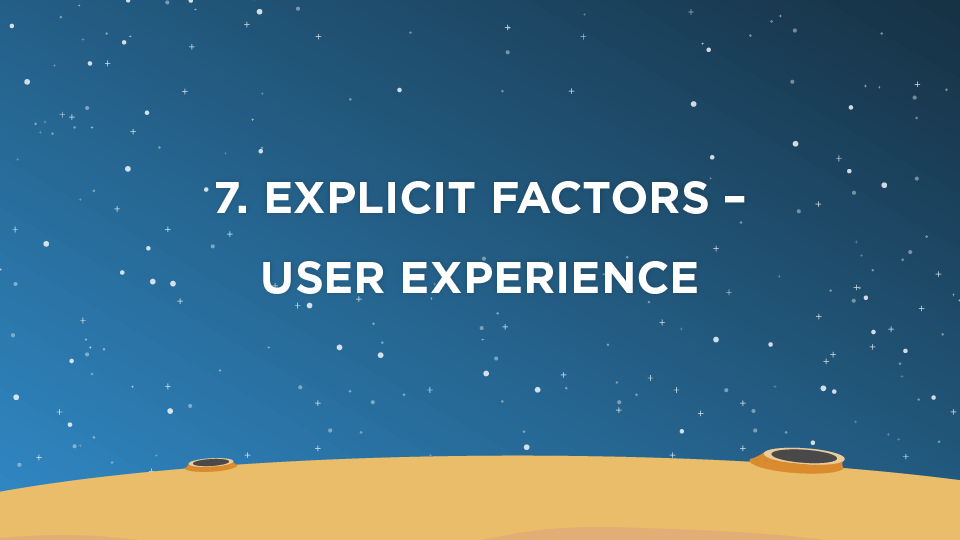 Similarly to these implicit factors, there are also very explicit factors that affect how your keywords rank. These are primarily UX signals that revolve around the idea of website speed and usability.
The two overarching ideas are Core Web Vitals & Page Speed. If a website takes a long time to load, has many pop ups, has a constantly shifting layout, or, say, crashes often, this is an indicator to Google that users will not have the best experience visiting your page.
To explain in detail, Core Web Vitals monitors specifically for speed index issues as to how quickly users can interact with your website through the metrics LCP & FID which stand for Largest Contentful Paint & First Input Delay respectively. These two factors tell Google how soon after clicking on a result a user can expect to get their needs met.
The 3rd important factor from Core Web Vitals called Cumulative Layout Shift stands for how "wonky" your website is while it's loading. This indicator tells Google how "startled", "overwhelmed" or "stunned" users might be when they visit – because everything is moving around.
8. Google's Algorithm Updates Affect Keyword Rankings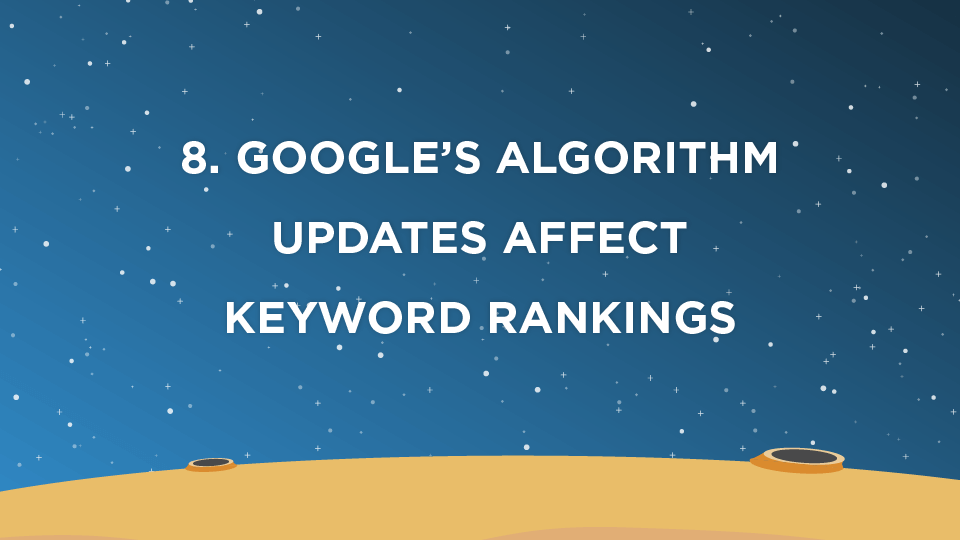 Last but not least, remember that Google continuously changes their algorithm. These algorithmic changes can by themselves introduce different priorities / weights for each of these factors – even though the factors themselves haven't changed. In turns, this can change your keyword positions with no evident reason indicating why that is happening.
If you have a fast website and Google decides to bump up the weight on this factor in an algorithm update, you might find yourself suddenly ranking higher than before.