YouTube has become serious traffic business and a lot of ranking competition has led to bad practices too.
There are always some people that try to benefit from copying their content from others.
So, it is no wonder that YouTube is constantly coming with ever stricter rules in an attempt to control the Wild West that is copyright infringement.
But the content that is flagged as being duplicate is not always made with bad intentions, which is the cause of a fair amount of confusion!
YouTube can demonetize your channel if your content is flagged as being duplicated. It is worthwhile to delve deeper into the subject and make sure you stay in the safe zone.
I have answers to frequently asked questions that will help you do just that.
What is duplicate content on YouTube?
Duplicated content is reused content or repetitious content that can basically be found somewhere else in its entirety or even just partially. According to YouTube it is content that does not add value to the original video, is not original or relevant.
YouTube takes duplicate content seriously and will remove a channel if it does not comply with its policies in this way.

But in the end, what matters most to YouTube is adding value. So, as long as you are contributing value (be it by commentary, educational value or high-quality editing) to the original video, your video will not be flagged as duplicate content and endanger your channel's monetization.
Examples of duplicate content on YouTube
taking an existing video that is not your work and uploading it to your channel
video compilations put together with absolutely no change (both of your own videos and videos that are not your property)
using royalty free music (while allowed, using this type of music will most likely flag your video as many other YouTube users use the same audio files in their videos)
content that already has Content ID (when a video is uploaded to YouTube, it gets a Content ID assigned)
copyright infringement activities like uploading videos of TV shows, movies, recordings of concerts (official ones, not your mobile videos), using music you have no rights to and anything else that falls under copyright protection
uploading videos of game-play that have not been edited
multiple users uploading the same video
content that appears to be automatically generated and/or has a synthetic voice narrating third-party content
How does YouTube discover duplicate content?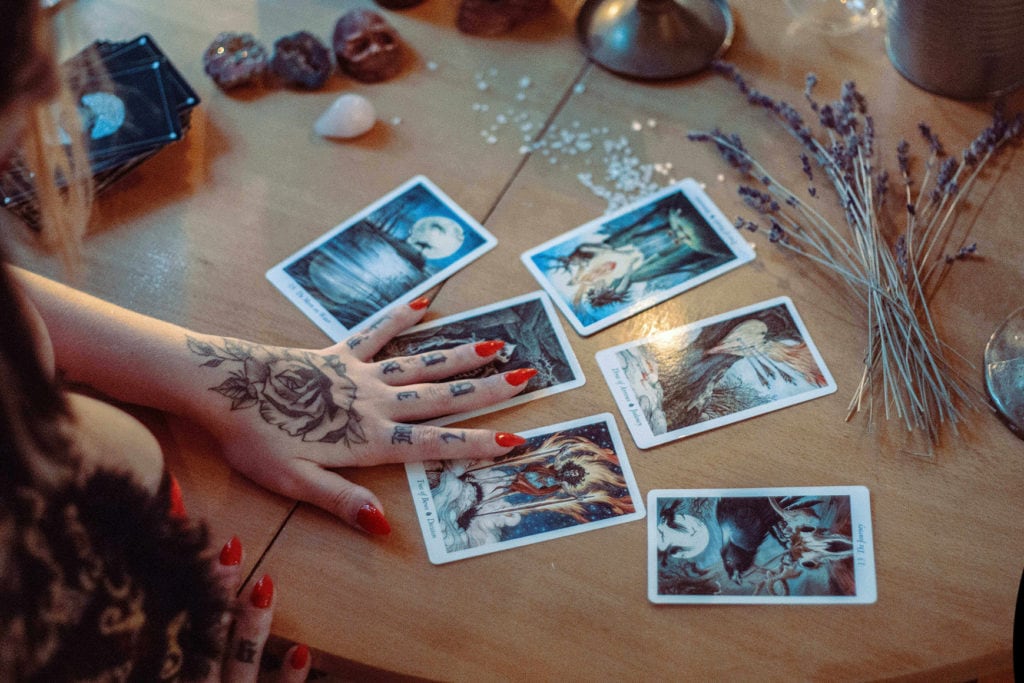 YouTube discovers duplicate content in two ways. The first one is the users flagging a video as duplicate content and manually reporting a channel. The second is by using their own algorithm.
The algorithm uses a number of criteria for comparison including
the size of the video,
the format the video was uploaded in,
frame rate,
audio waveform,
type of encoding
pixel distribution
etc.
Each uploaded video gets a content ID based on these criteria and can then be used to determine if there is an audio or video match or even a partial match.
What you can do about it depends on the situation and how your video was flagged (or rather who flagged it). The algorithm usually flags content during upload. Then you can do some editing, add more audio comments, add more content, show your presence (on screen) or anything else to change the video's digital signature. You can also provide more context about the video in the description or the video itself.
If you got a manual report, things get a bit more complicated and you need to do a bit of research why this happened. You can try and edit the video and add more content, but usually it will take more than that to get your video cleared.
Can I upload the same video on two YouTube channels I own?
You will not be able to upload the exact video twice on YouTube as the algorithm will flag it when you try to upload it. As for video descriptions, thumbnails, partial copies of your previous videos and updates – as long as the entire content is completely yours YouTube should handle it much lighter that normally. In any case you should be much safer from manual reports by other users.
If you want to be certain that your video won't be flagged, think what exactly your followers are gaining from this video. Remember, YouTube is all about added value.
For a quick fix:
Do some editing on the copied parts
Add you voice or be present on screen
Give context in the video or video description
There is more information on this in the answer to "How to avoid YouTube duplicate content penalty?" higher up in this article.
Interestingly, YouTube also knows exactly what file you're trying to upload (likely based on meta data). This can be clearly seen in the cases where one of your videos has failed on upload — once you try to re-upload the video, YouTube will automatically "write on" the existing file that is shown in the YouTube Studio Editor.

Can my YouTube description be flagged as duplicate content?
Yes, if your YouTube video description is an exact copy from another video, it can be flagged as duplicate content. While the description itself is not the strongest factor for duplicate content, it is still possible that your video gets flagged. That is why it's important to always have original content in your YouTube descriptions.
Does duplicate content include video titles and thumbnails from a series of videos?
If you have a series of videos with similar titles such as "Episode 1", "Episode 2", etc., where the thumbnails are somewhat similar, you will not be affected by a YouTube duplicate content penalty.
YouTube's algorithm is smart enough to know that the actual contents of the video are different – such as the length of the video, what is shown and said in it, the topic of the video, the "keywords" you mention in your video, etc.
In fact, a series of videos can actually increase your engagement metrics and therefore your YouTube SEO rankings. By branding your content into series of episodes, you make it easy for the end user to consume your content – and you somehow incentivize them to watch the next video. In fact, a popular strategy with this type of video series is to group them into a playlist that makes it easier for the user to continue their watch session.
Is YouTube duplicate content different from Google duplicate content?
In essence no, duplicate content is content in any format (be it text, image, video…) that is copied/reused from one place to another without anything of value being added to it.
There are, however, three differences between duplicate content on YouTube and Google:
1. How the duplicate content is discovered
Google can, for most content, rely on its algorithm 100% as the code is easily comparable. This is why you rarely hear of people reporting duplicate website content to Google (it's just not necessary). To learn more about how Google ranks websites here. On YouTube, however, things get a bit trickier. Since the algorithm still isn't smart enough and isn't able to actually see the visual content, different criteria need to be used for comparison. The algorithm has to compare the size, the format the video was uploaded in, frame rate, audio waveform, type of encoding etc. This is why YouTube relies more on users reporting channels and flagging the content as duplicate manually.
2. What are the consequences of being flagged for duplicate content
The second difference is in the consequences. Google takes duplicate content much more lightly than YouTube. Duplicate content on your website might affect your ranks, but harsh penalties are rare.
YouTube, on the other hand, will not think twice before demonetizing your channel, removing it from the YouTube Partner Program, and removing your channel's Superchat.
3. Who owns the content
Duplicate content on Google can happen both on your own website and if you copy others' content. On YouTube, that's slightly different – here it's generally you copying content from other channels that gets you penalized.
Does YouTube treat duplicate content the same as Google and does it influence rankings?
Yes, YouTube treats duplicate content similarly to Google and it will affect your video's ranking as the video won't be listed in the result pages anymore.
It's important to mention, however, that while Google might shell out a penalty to your site because of duplicate content, the consequences will never be as severe as YouTube that removes the content and (on occasion) the channel entirely.
How to avoid YouTube duplicate content penalty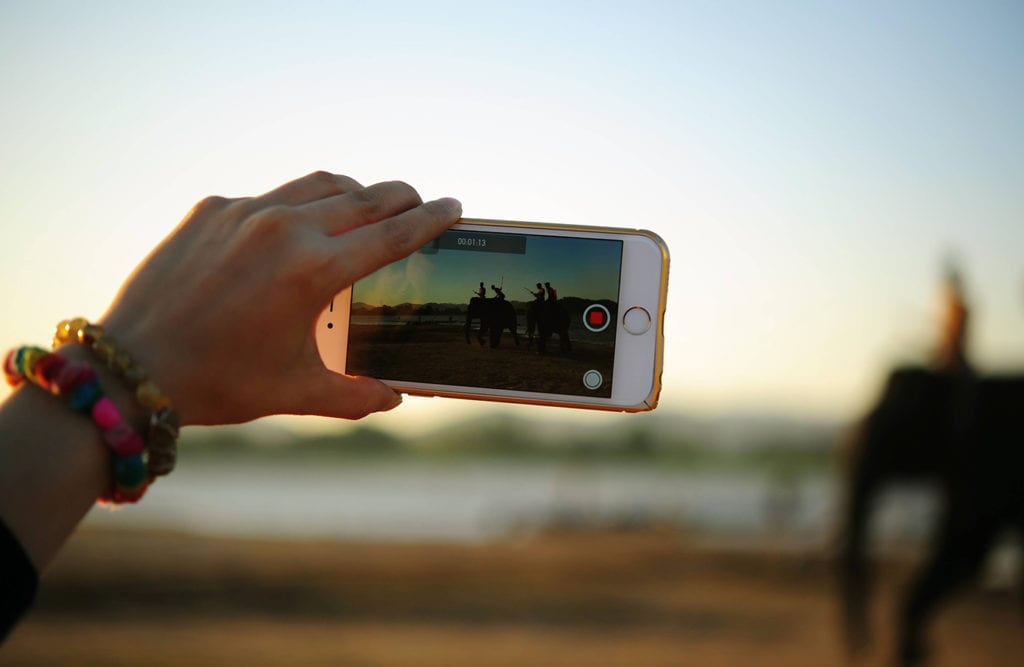 Duplicate content is any content that is copied over without any additional value being added. And YouTube and Google are all about the value.
Let's be honest – YouTube is built on reaction videos and video commentaries.  These videos largely borrow the visuals from other channels and sources – be it movie/TV show clips, gameplay footage, vlogs or other content. But as long as there is a narrative or commentary added to it, it will not be flagged as duplicate.
Here are a few tips to avoid being flagged for duplicate content.
Add commentary (example – videos explaining everything that is wrong with a movie)
Show your presence (example – reaction videos)
Do not use music that has a copyright, use YouTube's free music instead
Use the descriptions wisely – explain what you are trying to achieve with the video and why some of the material is reused
Or you could just make original content. Just saying 😛
What happens if my YouTube video gets flagged as duplicate content?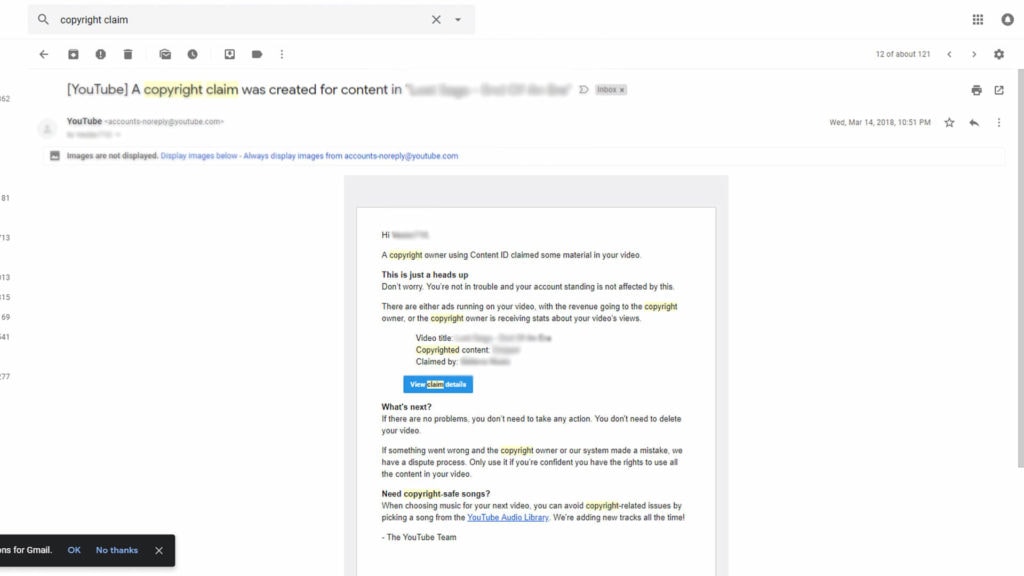 If your YouTube video gets flagged for duplicate content, you will receive a mail notifying you first. In the mail YouTube will inform you what happens next. It might be that they give a part of the video's revenue to the copyright owner, tell you to take down the video or edit it and re-upload or they might be demonetizing your channel altogether. Follow the instructions in the mail and if you have further questions scroll through this article for help.
Generally, there are several scenarios / outcomes that will be determined based on what what flagged for duplicate content. Those are:
The video can get demonetized
The video can get taken down
The channel can get demonetized (removed from YouTube Partner Program)
The channel can get taken down
Consider that like any other algorithm, YouTube probably keeps your channel's track record and allows only for so many 'mistakes' to be made. This means that continuously being flagged by YouTube will eventually result in your channel suffering from a penalty.
What do I do if someone copied my YouTube video one-to-one?
If someone copied your YouTube video one-to-one, YouTube has systems to help content creators like you keep their original content and intellectual property. If someone copies your YouTube video one-to-one (or even partially), you can submit a copyright complaint and initiate a takedown.
Here is a step by step process on how to report to YouTube videos that have copied you or stolen your content:
1.Click on the three dots (…) for more options and then choose Report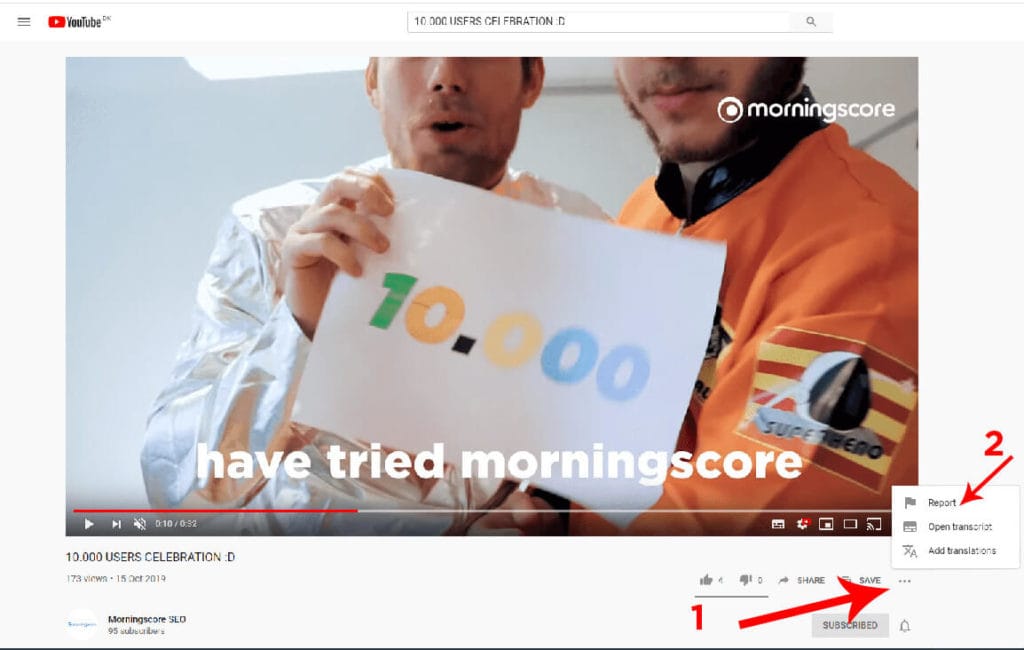 2.Choose Infringes my rights and pick the Infringes my copyright from the drop-down box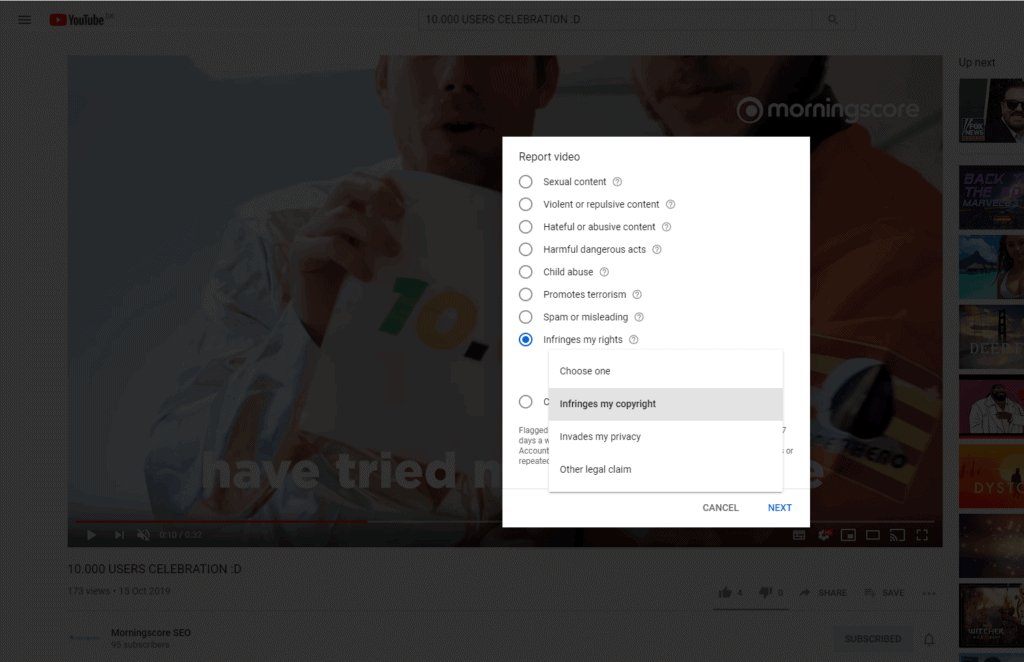 3. Clicking on next will take you to the Submit a copyright takedown notice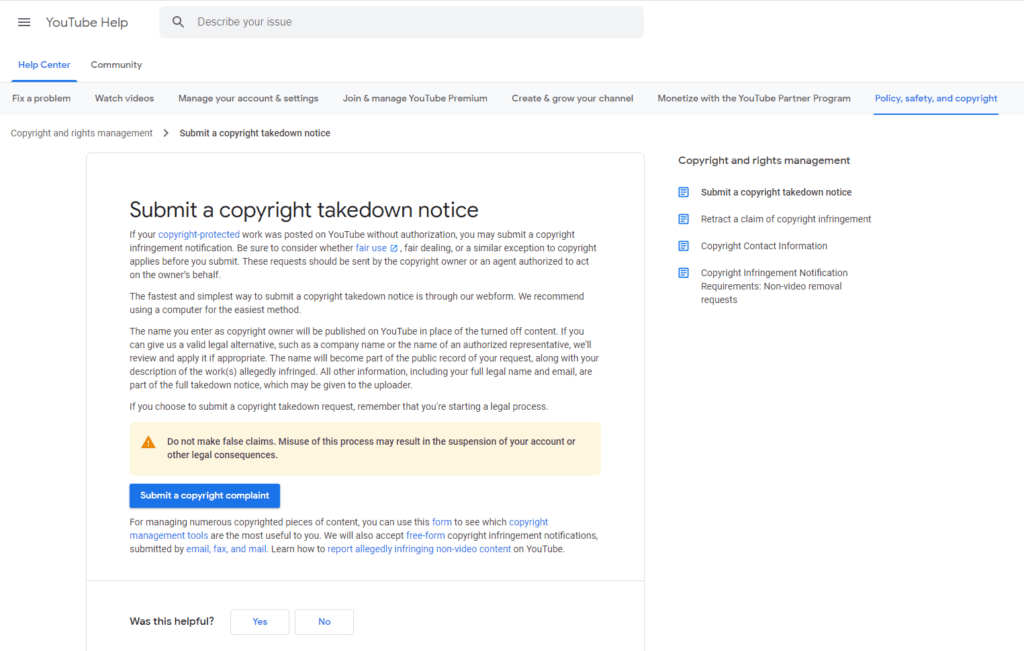 If the channel whose video you are reporting has copied multiple videos that belong to you then submit a complaint for as many as you can and additionally report the channel. 3 valid copyright infringements withing 3 months will terminate the channel.
This is a legal action, so take this process seriously and be sure of what you are reporting. Making false claims can result in the suspension of your own account.
What happens if you have the same video on two YouTube channels?
If you manage to upload the same video on two YouTube channels, the second video will be flagged as duplicate content and you might even get your channel removed.
However, in reality, the Content ID system put in place should prevent you from uploading it in the first place.
This can be a problem if you had 2 channels that you now decided to merge, or you are moving the video from one channel to another. Follow these steps:
Download the videos (see this neat video guide) you want to move.
Try uploading them to the new channel.
If you are getting a duplicate error during upload, you will need to shut down the old channel before trying again.
Even if there is no error during the upload, make sure you clean up the old channel as soon as possible to prevent the new channel from being taken down.
What happens if my YouTube channel gets removed for duplicate content? What can I do about it?
If your channel gets taken down for duplicate content, it means you have infringed on the copyright rights (usually another user or multiple users have reported you manually). Sometimes the channel is not taken down entirely but removed from the YouTube Partner Program (meaning demonetized).
If that happens, YouTube recommends that you edit or remove the video content in question so that it complies with the standards. You have 30 days to comply with YouTube's policies and resubmit your application for the YouTube Partner Program.
Once that is done, YouTube will review your application manually and if you comply with the standards and guidelines, your channel will be restored. You can always update your video using the YouTube Studio (click here to access the editor).
I hope that you now have a better understanding of duplicate content on YouTube. Make sure to check back once in a while as I will be adding new FAQs as they pop up.