The contact page is the most common part of any website.
It's the page where users expect to find the address, phone number and other company contact info.
But it is often set up in a rush as website owners see it as a low-value page that just needs to be there. It is for this reason, combined with being unsure of what other content belongs here, that contact pages often suffer from thin content.
In this article I will be answering some common questions to help you optimize your contact page with relevant content and keywords and make sure it's at the top of its game when it comes to SEO.
How To Do SEO For A Contact Us Page?
To properly optimize your "Contact Us" page for search engines, you need to have the exact contact information, schema markup, and 2-3 keywords important to your business.
These are the 3 essential things you definitely shouldn't ignore if you are hoping to rank well on local searches or show up in the Local map pack.
Of course, there are always more things you can do to optimize your contact page, for example
Write a nice title tag
Edit the meta description
Make sure the content is not thin
Add internal links
Optimize your contact info – address, phone, email
Add a Google map
Add and optimize images
Add and optimize video
Have a contact form
Include a CTA
Sort out your schema
I will be explaining each of these further in the article, so keep reading.
How To Format Your Contact Info On Your Contact Us Page For SEO?
You contact information consists of your NAP and email and it should be displayed in a way that makes it easy for your website visitor to use it to make contact.
It shouldn't take more than a few seconds for the visitor to skim through the page and chose his/her preferred method of contact.
Some website owners like to make it easy on themselves rather than their potential clients and they only offer one method of contact. It is my recommendation to offer multiple contact methods (clickable contact info, contact form and CTA) and let your website visitor choose as this will increase your conversion rate.
What Is NAP And Why Is It Important?
NAP stands for business name, address and phone number and it represents the most important contact information on your website. Both the algorithm and your website visitors use it to determine how trustworthy your website is.
Your NAP needs to be correct and consistent throughout your entire page and it needs to match the info in your Google My Business listing. If the information differs (on the front page, in the footer or across your service pages), it will not only confuse your potential clients, but also Google. So, make sure you recheck your entire site for NAP consistency.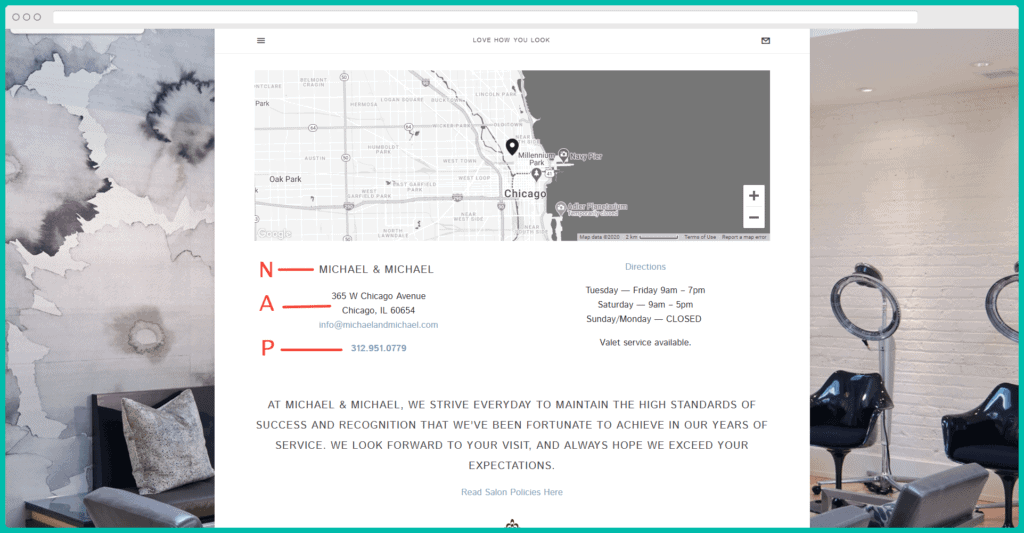 How Do I Optimize Multiple Location Addresses?
To optimize your Multiple Locations, use every information possible for each location.
Here, it's also VERY important to include the accurate Schema Markup to your "Contact Us" page.
It's also critical to create big enough differentiations for each of your addresses so that Google actually understands they are different addresses. If you've named your offices, list that.
For example:
"West Coast Offices:
John Doe Ave.
Los Angeles, CA
Postal Code
Phone Number
Opening Hours"
or
"East Coast Offices:
Mark Smith Ave.
New York City, NY
Postal Code
Phone Number
Opening Hours"
You can also use site structure and pick a main office that has its name in an H tag that is higher than the names of the other offices.
For example:
<H2> Our Headquarters</H2>
West Coast Office
John Doe Ave.
Los Angeles, CA
Postal Code
Phone Number
Opening Hours
<H3>Our East Cast Location</H3>
East Coast Office:
Mark Smith Ave.
New York City, NY
Postal Code
Additionally, if you're using Google My Business, you should add all of your different locations. Listing all of your locations as departments ensures Google Maps will help the end-user by showing them all of your locations – or the one closest to them.
Make the phone number and email clickable
Wherever you have the email and phone number on your website, make sure they are clickable. This is not so much a matter of SEO as it is user experience. When your email and phone number are set up as a link, the visitor will only need to click or tap on it to either call or send you a mail.
Some website owners not only refuse to do this, but also make it intentionally harder by omitting their email address or make it hard to copy the phone number or email (sometimes writing it as "mail at mycompany.com") trying to protect themselves from spam or (in their mind) worse.
From a SEO perspective this is a really bad idea as the benefits of better ranking, higher trustworthiness and an increase of conversion rates outweigh the inconvenience of spam or any possible security risk to your generic company email.
Here's how you do it.
How Do I Make My Email Clickable?
To make your mail clickable you need to add it as a link in the form of "mailto:[email protected]" with "[email protected]" as the anchor text. You can of course add whatever you want to the anchor text as it will now behave as a clickable text (like "Send us a mail at [email protected]").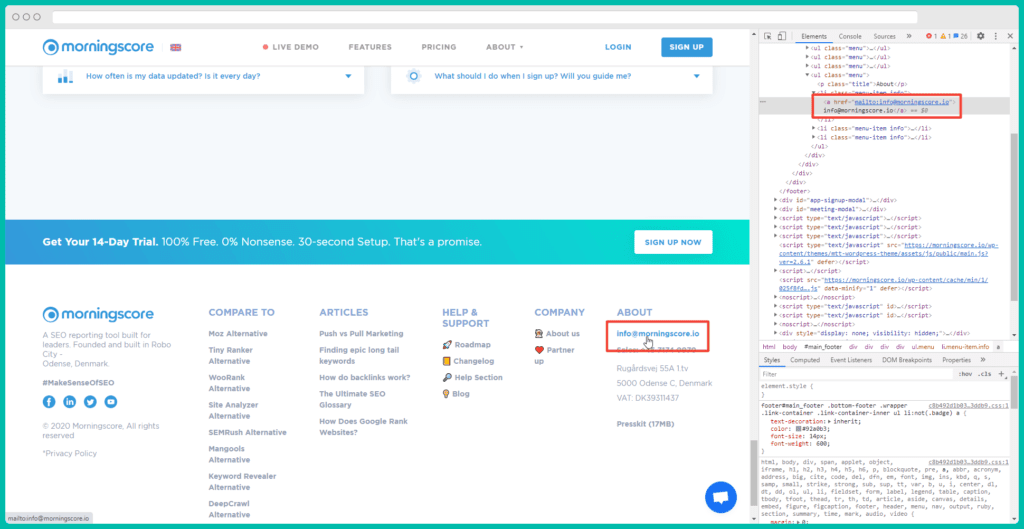 From there on, whenever someone clicks on it, their default mail program will open a new mail and your mail will be added automatically as the recipient.
How Do I Make My Phone Number Clickable?
To make your phone number clickable you need to add it as a link in the form of "tel:yourphonenumber" with "yourphonenmber" as the anchor text.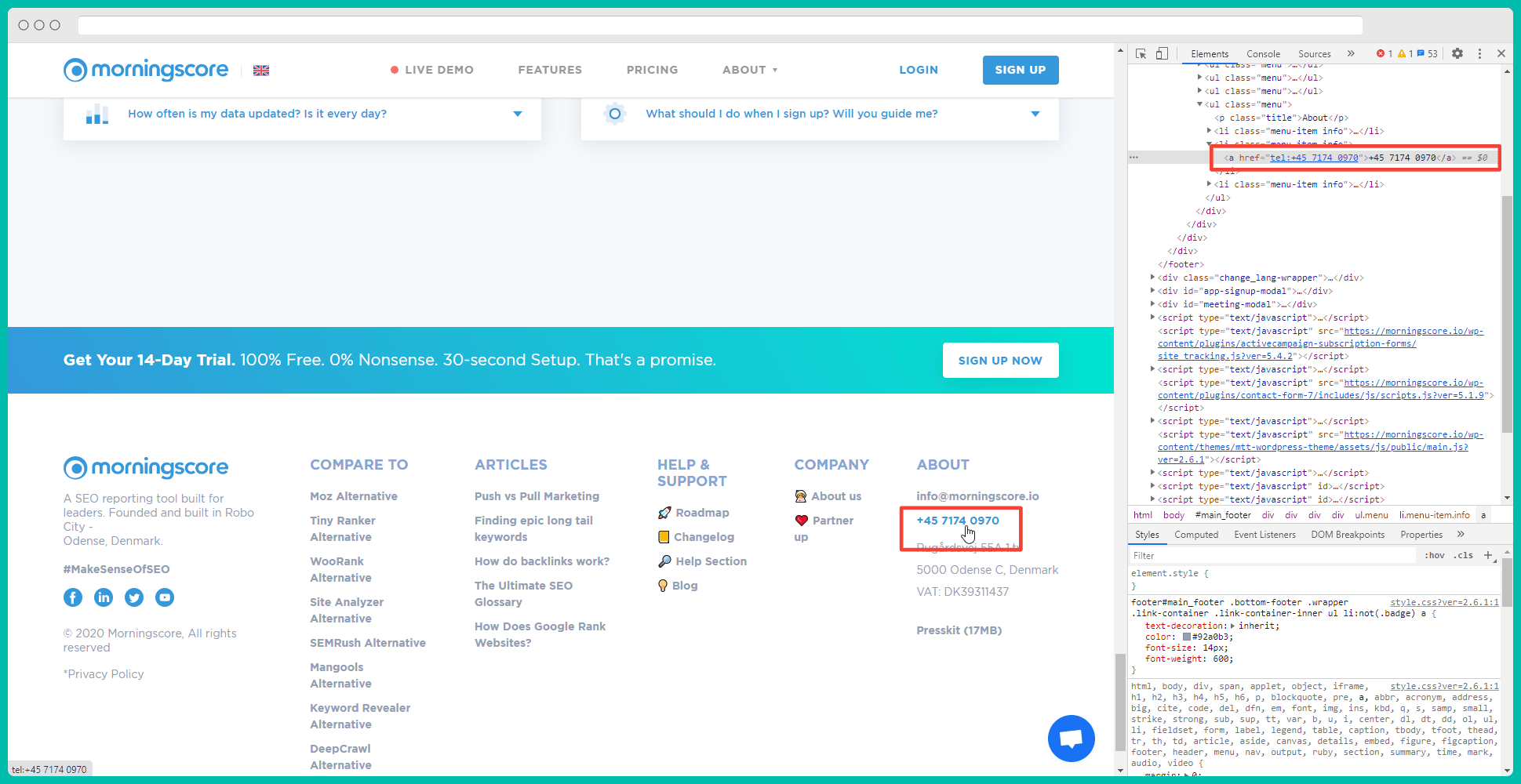 You can of course add whatever you want to the anchor text as it will now behave as a clickable text (like "Give us a ring: yourphonenumber").
Add A Contact Form
Some users prefer to use contact forms. It is a fast and easy way to send a simple message like "I'm interested in your services. Please contact me."
Others absolutely hate it and refuse to use it. Even to the point of rather choosing not to make any contact if this is the only method they can use.
My recommendation is to use a contact form as an alternative contact method. Meaning, if you have a contact form on your contact page, make sure you also have your email address and phone number there too.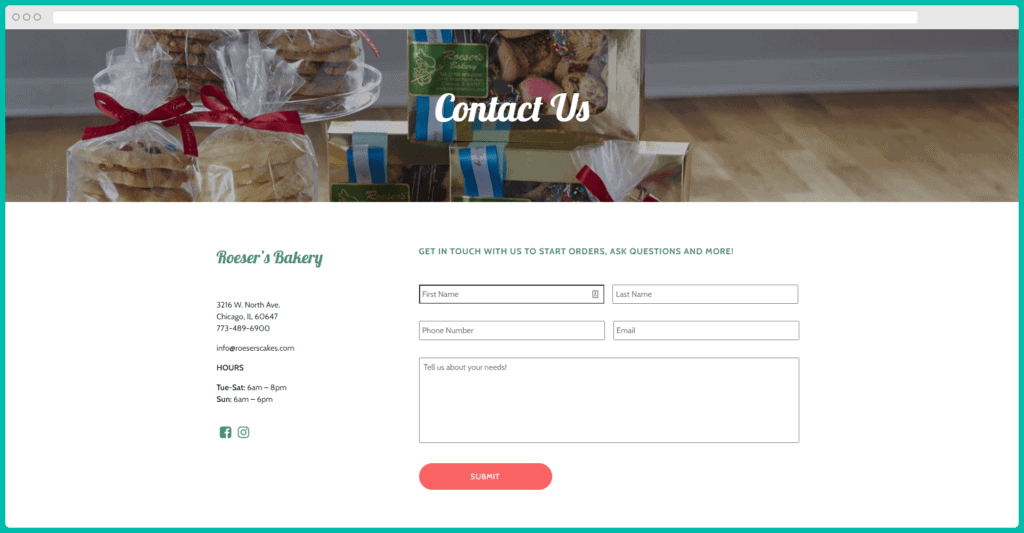 Add A CTA
CTA buttons can be attention grabbing and an easy way of getting a user to contact you.
Instead of having your phone number and email written on the page you can set up CTA buttons with "Call us" or "Send a mail" instead.
You can also use nicely designed CTAs to display your products and services and get some conversions.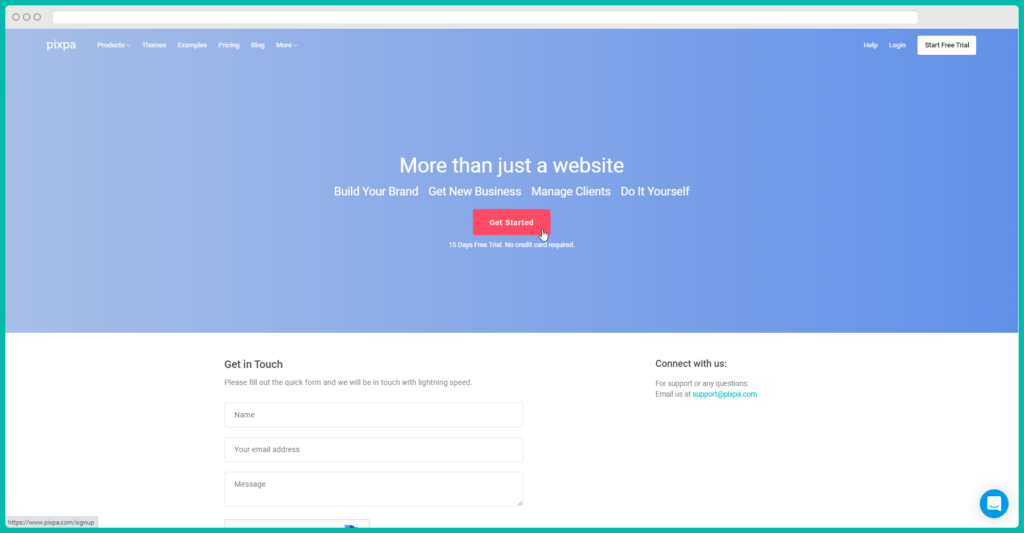 What Are Good Keywords To Include On Your Contact Us Page?
Good keywords for contact pages are all keywords that explain what your business is about. Remember, you shouldn't go overboard with them here.
Contact page content is usually pretty thin, so you won't have the opportunity to write these keywords more than once anyway – which is good.
You are not optimizing this page for any specific keyword like you do with your landing pages. Instead you just mention keywords that make the essence of your business. so it's easier for Google to show your business address in Google Maps of the Local map pack.
As an example, here's our sister company Morningtrain. As you can see you do not need more than 2 sentences to mention your top services.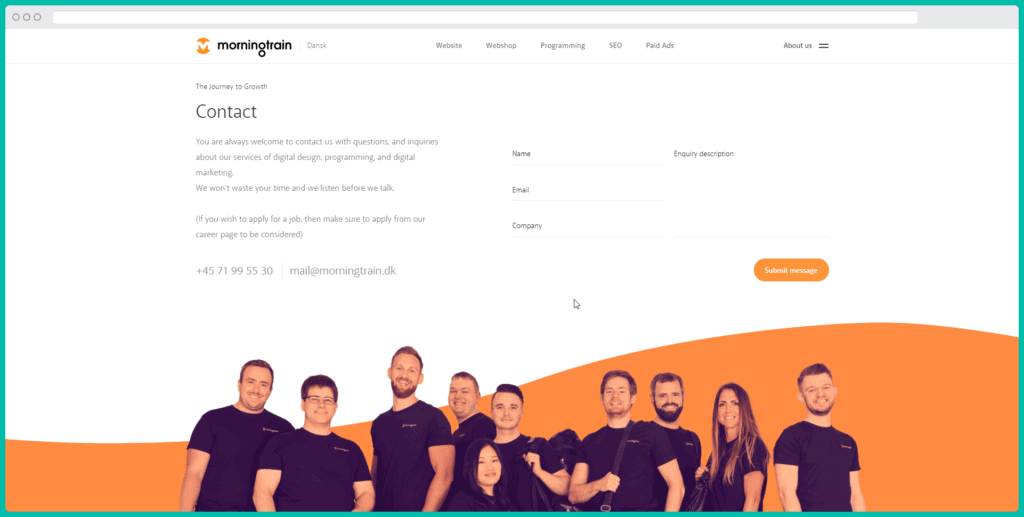 You can also use some generic keywords that people use when doing searches for local businesses. These are "where is", "near me" and "find a". It would be good if you could use any one of those on your contact page, but make sure it looks natural and not forced.
Example: "Trying to find a good dentist near …? We are located at…"
How To Write A Good Title Tag For A Contact Page?
A good title tag for a contact page needs to be descriptive, include a keyword that suits your business and match the search intent of the visitors.
So, not much different than the usual title tag, to be honest. The only problem is that most website owners usually neglect the Contact page and just give it a title of "Contact" or "Contact us".
This is a good place to use your main keyword or even include a couple of services like this London based web agency "Get In Touch With Figment Agency | Web Design | Digital Marketing"
Another option is to include a question in the title tag, like "Looking for a good dentist? |Contact Smile Clinique"
How To Write A Good Meta Description For A Contact Page?
Make the description inviting. Show that you are happy to hear from your clients and tell them when you are at their disposal.

Don't be tempted to leave it empty, because Google will turn your meta description into alphabet soup like in the following example.

How Do I Avoid Thin Content On My Contact Page?
There is plenty of content that you can add to your contact page to make sure it doesn't get flagged as thin. Among other you can have a short section describing the company, its history, locations, service area, opening hours, team and you can also include videos and images.
When it comes to bigger pieces of content, it is important that it's unique. So, you can rewrite a small section from your About us page, but don't make it longer than a sentence or two. This will give you a chance to use your main keyword and a few of your service/product keywords.
Also try and describe the location. This will give you a chance to add keywords used in local searches like "near" and "find a".
What To Add To My Contact Page? – Service Area
If you have a service that requires you to visit customers, write the range. It's a waste of both of your time and the person who is calling if they live too far for you to consider them a client.
Save yourself the hassle and add the service area.
What To Add To My Contact Page? – Opening Hours
One of the most sought-after information for brick and mortar businesses next to location.
Also, it is quite important to include office hours in case you provide customer service or one of your customer journey steps includes the client calling you.
Which Internal Links Should My Contact Page Have?
This depends very much on what kind of business you run and what your client's/visitor's search intent is.
Why do they want to contact you? Are they having problems and need customer service? Then add a link to the Customer service or the FAQ page.
Are they interested in ordering a service where they are required to make a booking on a different page? Let them know this and link to that site.
Do they want to work for you? Include a link to the carrier page if you have particular contact requirements for job applicants.
What To Add To My Contact Page? – Team Members
In case you have no team member page with specific contact info for each employee, you should consider adding some or all to the contact page.
It can be just a few people in decision-making positions that act as bottlenecks for the communication or have specific tasks (CEO, marketing department, sales department, bookkeeping).
What To Add To My Contact Page? – Images And video
Google loves rich content. Your visitors love it too.
Make sure that your contact page looks nice by adding some high-quality images.
You can also add short videos that include testimonials, insight into the company or employee presentation.
How Do I Use Google Maps For SEO?
You can embed a google map to show your website visitors where you are located. Google will use it to compare the location to the one you provided via your Google My business listing.
Using a Google map is definitely better than using just a screenshot of a map, like many websites have a habit of doing. It is sharper and clearer, and the user can find his way to your location more easily.
How To Do Schema Markup On Your Contact Page For SEO?
The best way to do schema markup on your contact page is to pick a very specific type of schema. Remember that Google always uses the more specific Schema. If you make an "Organization" and a "Local Business" schema types, the more specific "Local Business" type will always be displayed over the more generic "Organization" one.
I'll explain.
If you're a Local Business with a single location, the best type of Schema markup for your contact page is "Local Business".
If you're a Local Business with more than one locations, use the "Local Business" markup type together with the "department" property. We weren't able to find a good tool for that for a while – until the guys behind this tool were nice enough to implement it.
Additionally, one of the factors people often forget about Schema is that you can use several types of markup on a single page. For example, it's absolutely reasonable to use both "Local Business", "FAQ" and "Website" types of Schema on your contact page. All of them will display just fine in Google and will play well together.
Schema has become all the rage lately and everyone is trying to use it to give their website a push forward. So, if you are one of those that isn't taking advantage, you are missing out.
I hope I gave you some ideas and you are itching to start and make your contact page perfect. You will definitely make your website visitors happy and hopefully Google will reward you with a few ranks or a local map pack listing also.
If you are a webshop owner , you should check out our eCommerce SEO article and learn more about all the ins and outs of optimizing these specific, business sites.