With backlinks being one of the strongest ranking factors, it's safe to say you will be spending some time building them if you want to rank at the top. Your backlink profile contains all the valuable information when it comes to your website's rankings and its authority, as seen by search engines. Today we'll look at what exactly goes into a backlink profile and how you can distinguish if yours is good – or leans more towards the bad side.
A backlink profile is the collection of all incoming backlinks to a website. In general, analyzing your full backlink profile is best done using various data sources like Google Search Console and 3rd party backlink tools and helps you understand your website's authority as seen by search engines.
If backlinks are the votes of trust other websites give you, then a backlink profile could be seen as the total average score for your website. A backlink profile is used in a general way to address all known backlinks pointing to a website. The term is often used when SEO professionals talk about analyzing the backlinks of a website.
As an analogy to the term backlink profile in SEO, you can think about a sales rep talking about analyzing the sales pipeline. In this case, they would try to analyze how many leads they have and their quality. A backlink profile aims to achieve the same but in an SEO context. It essentially answers how many backlinks you have and what their quality is.
What is a backlink profile?
On its own, a backlink profile is a tangible concept, but it is not useful. However, when put in a specific context, it gives the word a better meaning and purpose. When analyzing all of the backlinks for a website, your first step would be to get all of that data in a combined place – which would ultimately result in the website's backlink profile.
Similarly, when you're actively building links (e.g., running a specific link-building campaign), you also want to monitor your backlink profile actively. This is done to avoid building too many similar links to a particular page on your website, which can alarm Google that you're involved in some link scheme.
Because of technological limitations, a backlink profile never truly contains absolutely all links a website has. Instead, it features the majority of the links that web crawlers can easily find. The internet is an ever-evolving place, and changes happen much quicker than any current machine can keep track of. Although Google crawls billions of web pages daily (some estimate 25 billion), roughly 550 thousand new websites are created every day, each with multiple pages.
As a result, it is acceptable to consider only the links accessible in platforms like Google Search Console and other third-party link-building tools to be the full backlink profile of a website.
Similarly, a backlink profile can also refer to all the website's links for a given condition – like a specific period. Once again, this is because data is not always immediately available, and sometimes backlinks can take up to several months to appear in popular tools.
What does your backlink profile measure?
A backlink profile is typically used to measure the number and quality of backlinks a website has. The data in a backlink profile can be presented in several ways, meaning it is typically created for a specific use case. For example, such could be charts that break down:
All of the anchor texts by the frequency of keywords used.
The country of origin for all referring websites
All backlinks and their spam scores (also called link toxicity)
All anchor texts and their classification or type that are semantically grouped by keywords
However, the most widespread use of a backlink profile is to analyze a simple list of all linking pages on other websites, all linked pages on your website, and the anchor text used in the links.
A backlink analysis helps you measure how many actual links contribute to your rankings of all the backlinks pointing to your website.
Google has previously stated that not all links you receive bring you value. Because of that, especially when beginning a new project, SEOs analyze the company's backlink profile to understand their website's authoritativeness.
When looking at a backlink profile, SEOs would usually note the highest quality websites that link back. After that, they will often manually examine some of the top links to see if they come from a piece of content – and in what context they appear.
Additionally, in some cases, an SEO professional might do a backlink analysis for a website that has been penalized by Google. This is sometimes the case around Google algorithm updates, as the algorithm gets better at detecting patterns and link schemes – and consequently lowers the ranking of a website.
In those cases, SEOs would find the bad backlinks that have caused the penalty and manually request Google to remove them from the list of considerations (a process also known as disavowing links). Recent updates in Google, however, are trying to help with that process. The June and July 2021 Google Spam updates aim to "cut out" low-value links from the rankings of websites by default.
What is a good backlink profile?
A good backlink profile, also known as a natural backlink profile, consists of many high-quality backlinks. They are naturally diversified with dofollow and nofollow links. You will never see a certain link pattern in a good backlink profile that tries to trick Google. To improve your backlink profile, you need more contextual links from high-authority websites.
Now let's look at a great example of what a good backlink profile is. To give you a better and more realistic idea, we'll examine an example of a random mid-sized company's link profile. The website is bloomandwild.com – a flower delivery service in the UK. Here's how the distribution of their backlinks looks like: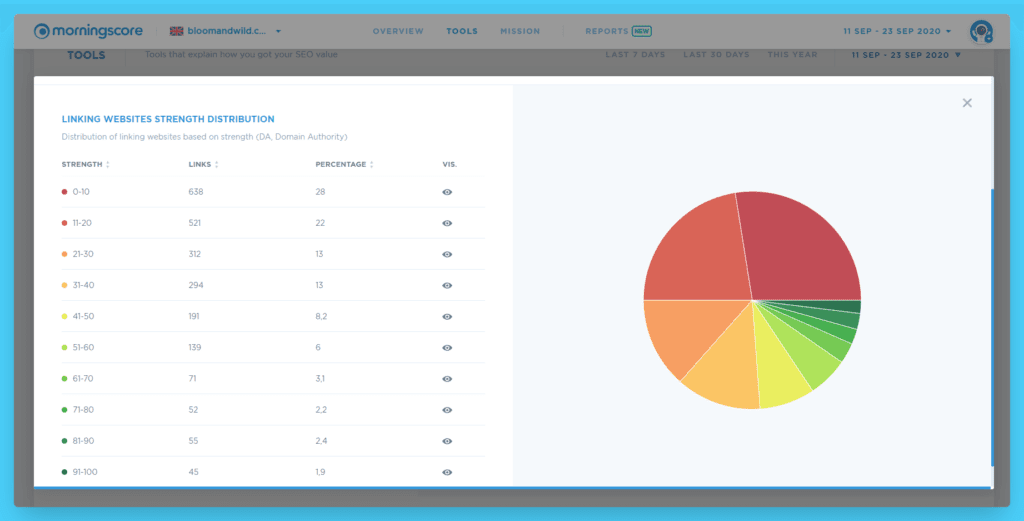 As you can see, about half of their links are not authoritative ones. That's absolutely normal – and most websites have such links. Looking at natural link profiles, you can't only get the best websites to link to you. Having many links from not authoritative websites is normal.
Contrary, the other half of their link profile is made up of authoritative websites. As you can see, the higher quality the referring domain is, the fewer of them there are. So it's normal to see such a distribution.
So why is this link profile strong? That's because a quarter of their full link profile is made from very strong and authoritative links.
Additionally, let's take a look at their anchor text distribution. That's because Google also uses the anchor text in determining whether the link is spammy or not. If you have a large distribution of anchor texts containing your target keywords, you should be wary.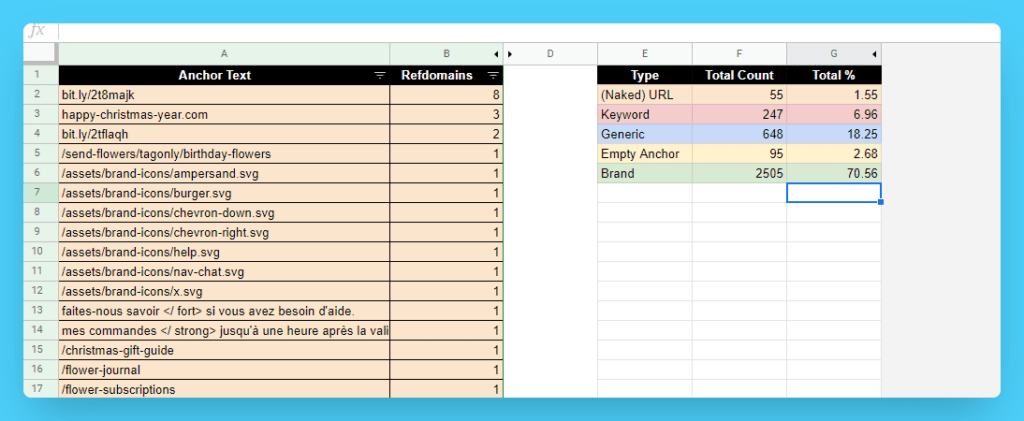 As you can see in the example above, they have a great anchor text distribution. The anchor texts containing their target keywords are just around 7%. That's a great spot to be in – not too many and not too few either. As is the case with most good and natural link profiles, the majority of their anchor texts are made of their brand name.
The second-highest number in the image is their generic anchor texts. Sitting at around 20%, it is a great number – and completely normal and natural.
Lastly, their naked URL anchor texts are at around 4%. This is a very reasonable number – as not too many websites use naked URLs to link to websites.
What is a bad backlink profile?
Bad backlink profiles usually have many more bad and low-quality links than good and authoritative links. Their backlinks look unnatural, and they focus more on the quantity than the quality of the links. Additionally, their anchor text distributions are bad as they focus on having many target keywords in them. Here's a concrete example of a bad backlink profile.
For this example, I've chosen a random website. However, I will not reveal exactly the website in question to avoid harming it in any way.
Firstly, let's examine the distribution of their links. As you can see, compared to the "good backlink profile" example from above, this link profile looks much worse. More than two-thirds of their link profile is made of bad links. Additionally, the strongest links are a lot fewer as a percentage of the total pie.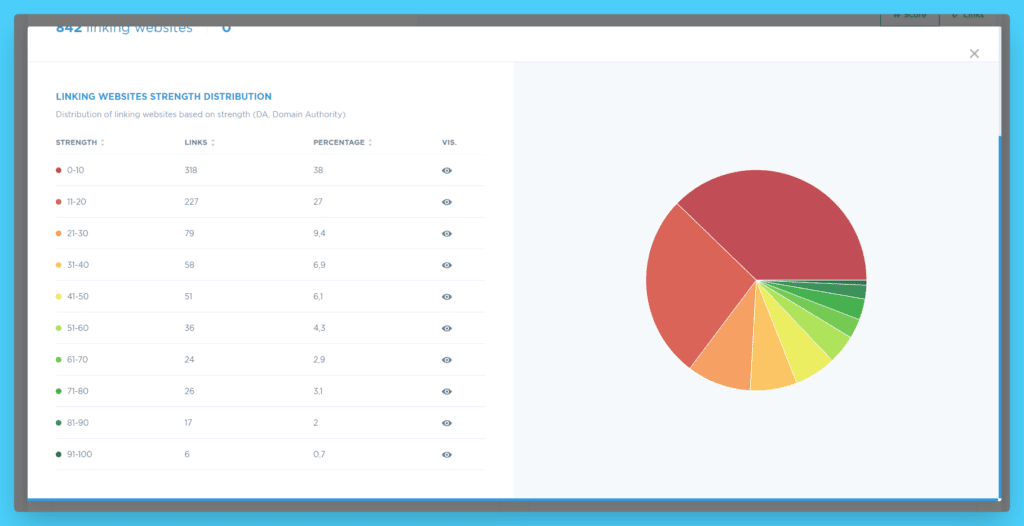 But this doesn't give us the full picture. A website can still perfectly rank high with a link profile that looks like that if you don't have all the details. Because of that, we need to examine their anchor text distribution.

Now, look at this. The anchor texts that contain one of their target keywords are over 27%. That's close to one-third of ALL of their anchor texts – a dangerous game. In contrast, their naked URL anchor texts are almost blown out of proportion – they are more than a third of all anchors.
Empty anchor texts are also quite high – which is an indicator of many low-quality spammy links. That's because real websites that intend to link to them will use some text in the anchor text.
Last, but not least, look at just how few of their total anchor texts are branded. Keep in mind; this is a known brand in their industry. I intentionally aimed to find a comparable example – and not just any random website. Considering their size and resources, this is an indicator of bad link-building practices, making their backlink profile bad.
Conclusion
In conclusion, a backlink profile is the collection of all links pointing to your website. It is important to pay attention to your overall backlink profile, especially while you're actively working with link building.
When building links, you can analyze not only your own link profile but also those of the websites you're trying to get links from. Doing this ensures you understand the quality and authoritativeness of the linking websites. It also protects you from harming your rankings through bad backlinks.
Last but not least, you can also analyze the backlink profile of your competitors, allowing you to judge how competitive your market space is. Doing this can give you a good idea of how much effort you need to put into SEO to rank at the top. In turn, this can bring you a healthy, sustainable amount of website traffic that grows your business.