Ever wondered what backlink analysis is and how to use it to evaluate the efficiency of your link building? Well, you are in luck because I'm about to tell you everything you need to know to get you started with the process.
The number one goal of any website owner is to rank well on Google. The dream scenario would be to land your webpage on the top of Google's SERP. But anyone who has ever tried to do search engine optimization knows that many factors come into play when trying to push a website up the ranking ladder. One of those factors is website popularity.
Now, how do we determine and influence the popularity of a website? One word – backlinks.
This article will give you an in-depth look into backlink analysis and how you can ensure that your website benefits from your link building activities.
If you are just about to start with SEO, don't forget to use our SEO glossary whenever an unknown SEO term is giving you a headache. 😊
What are backlinks and why are they so important?
A backlink or an inbound link is created when some other website links to your website. In essence, it is a "vote of confidence", this other website points to you as a valuable and relevant source.
The number of backlinks to a specific website (or link popularity) is one of the most important factors when determining its page rank. This is the reason why acquiring new backlinks or link building is one of the main aspects of SEO. And at the core of any link building strategy lies backlink analysis. This is the alpha and the omega of link building and should be done before, during and after the link building process.
There are many backlink tools out there, but for this article, we will be using our own All-In-One SEO tool Morningscore.
(If you don't already have a Morningscore account, grab your 14-day free trial. You'll thank me later. 👍)
Recommended Read: How Do Backlinks Work? – A Beginner's SEO Guide To Backlinks
How to find backlinks?
Finding backlinks is not the simplest process without using an SEO tool. Do you still want to know who links to you and who do not link to you anymore? Morningscore has the answer to that, as you can get an overview of your backlinks. You are also given a so-called Link Rank, which indicates how many strong links are pointing to your site compared to every other website in the world.
What is Link Rank and what does it mean?
The first thing you will notice in a link report is your link rank. Link rank is your number one indicator of link building efficiency. This is the global position of your website compared to every other website on the internet. It is determined by the number and value of your backlinks.
Keeping an eye on your rank history number is an easy way of checking up on your link building progress.
By using the calendar, you can check everyday changes. Always remember to include a couple of extra days or weeks (depending on the DA of the websites that link to you) after the last link building activity. It takes time for the spiders to discover those links and apply the link equity to your website.
There are 3 common scenarios when checking your link rank:
Your rank has increased by a thousand or more. This happens when you've gained a link. How high the increase will be, depends on the domain authority of the website linking to you and how many more websites they are linking to besides yours
Your rank has decreased by a thousand or more. This happens when you've lost a link.
Your rank has increased or decreased by under 100 ranks. Smaller fluctuations, like this, happen when someone further down the linking chain loses or gains a backlink. This creates a domino effect and changes the amount of link equity you receive and your link rank.
What is Link Popularity? How to get an overview of the Backlink Activity?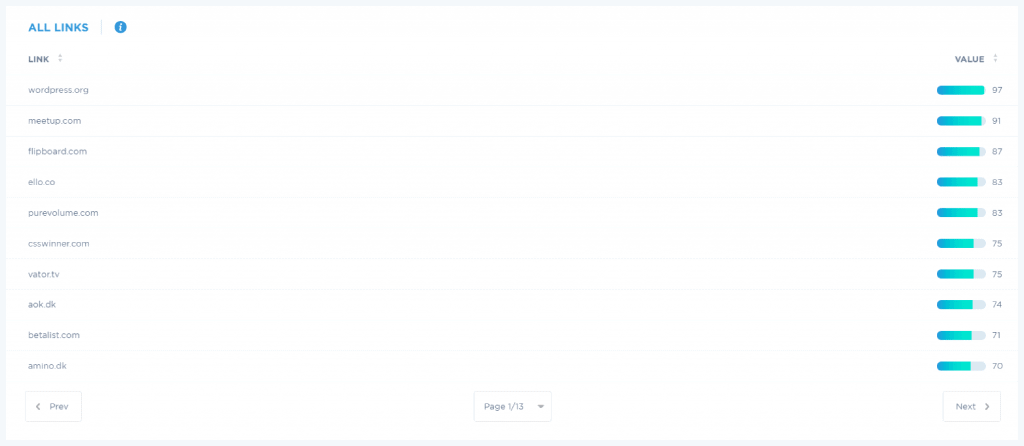 Right below your link rank, you can see your link popularity. Link popularity is just a fancy word for all the links contributing to your link rank. By clicking "See Links" you get an overview of all the domains that link to you and their value (or domain authority). The higher their value, the higher the amount of link equity they will pass on to you. Keep an eye on the value of your links to figure out which links give you the most equity, so you know which type of links to spend your time on in your future link building activities.
Populating the all links list with as many high-value domains is your number one goal. Your next two are keeping the good links and removing the bad ones.
The Backlink Activity Overviews will help you to manage your links, where you can see all the new links you have gained as well as the old links you have gotten rid of.
Why is it necessary to disavow the bad links? How to do it?
Then, let's separate the weed from the chaff! The new links overview is (like the other data in the link report) updated daily. So as soon as the content of the webpage that contains your link is indexed, you will notice it on the new links list. These include editorial links that you got by having high-quality content that websites link on their pointing to you as a reliable source. They also include links that you requested during the outreach phase of your link building process. A good backlink has high link authority and high link relevance.
Now, not all backlinks are good for your backlink profile. Someone in your team might place a link on a spammy website, or even that some sketchy website links to you without you having done anything. The problem here is that Google cannot tell how you got this link, so you may get penalized for something you did not have any influence over. For this reason alone, you should regularly check your link profile to weed out the bad links.
You will notice a Google penalty by a sharp fall in your site rankings and being aware of what your link profile is made of is the first step in solving this potential problem. But, unless you have been buying links or used some Black hat SEO methods, chances are that most of your links are good and no cause for concern.
These are the steps you should take when a new link appears to determine its quality:
Check if you know the website and if you had anything to do with getting the backlink on it. If yes, then celebrate! If no, continue further.
Copy the domain name and paste it in the search box with site:[domain name] + [your company/product name] to find the exact page where the link is placed. This method doesn't always produce results, but it's worth a try. Check that the anchor text doesn't look overly spammy and that the web page is maintained, with decent quality content.
Check out what the website looks like. Is it connected to your industry in any way? Is it relevant to your niche? Does it cover similar topics to yours? If yes, then you just gained a nice natural link.
If on the other hand, the website looks spammy, non-related to your industry or simply doesn't seem trustworthy, then you should consider having the link removed.
What you do first is contact the website owner and ask them to either remove the backlink in question or set it to nofollow.  If your request is ignored you can use Google's disavow tool, a sure-fire way of getting rid of a bad link. The link won't be removed from the website, it will just be ignored by the spiders in the future.
What happens if you lose a link?

Every once in a while, you will lose a link. This can happen for many reasons, the web page containing the backlink could have been moved or deleted. Or you might have moved the webpage it was pointing to. The link URL could have changed or was simply removed from the other web page. Whatever the reason, you need to stay on top and react as soon as you notice a lost link.
Link acquisition is a process that takes a lot of time. You probably put a lot of effort into getting each link in your link profile. So why would you just let one slip right out of your hands? Even better, link reclamation has a very high chance of success, so it is a no-brainer when deciding what to focus on.
The link reclamation process depends highly on figuring out where the problem lies. After doing that, you can either fix the problem on your side or contact the website owner to update their web page or the link itself.
Why competitor backlink analysis is important?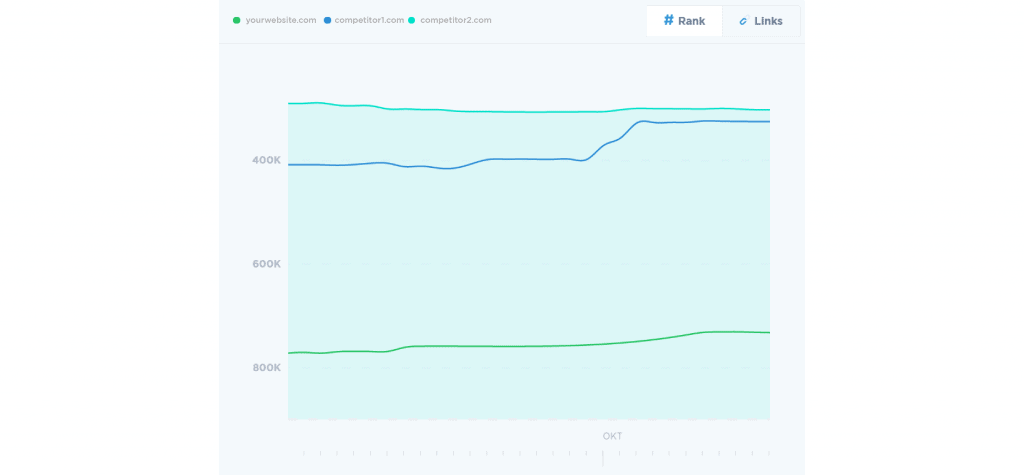 Checking your competitor's link profile will help you to uncover some missing opportunities. Try to find their strongest links that are pushing them forward and then try to figure out a way to use them to your advantage.
Most backlink tools out there have a feature that visualizes your link or rank growth over time using a simple graph.
Recommended Read: Backlink Checker Tools – The 4-Step Guide To Finding "The Right One"
You can use it to compare your link growth and velocity to that of your competitors. If you see your graph stagnating, dropping or having a significantly slower growth when compared to your competition, it is time to recheck your strategy or invest more in link building. By tracking multiple competitors, you can see which of them are doing good and if one of them has a sudden link acquisition spike.
Your competitor might have a backlink from an industry directory that you missed. Getting a backlink from a directory is usually as easy as submitting a form and it has quite a high chance of success while not requiring too much time and energy.
Also, compare several competitors and find common links. Chances are if your competitors have backlinks on the same sites, you should probably join the club.
I hope this article helps you understand the process of backlink analysis and you already have a few ideas about improving your link building strategy.
If you would like to learn more about backlinks themselves, I suggest you check out this article.