Ever wondered what backlink analysis is and how to use it to evaluate your link building? Well, you are in luck because I am about to tell you everything you need to know to get you started.
After reading this in-depth article you will understand exactly
what you are doing,
what to look for,
and how to make valid conclusions based on your findings,
all very important factors that will affect your future link building activities.
What are backlinks?
A backlink or an inbound link is created when some other website links to your website. In essence, it is a "vote of confidence". This other website considers you to be a valuable and relevant source.
Why Are Backlinks So Important?
The number of backlinks to a specific website (or link popularity) is one of the most important factors when determining search engine rank. This is why acquiring new backlinks or link building is one of the main aspects of SEO.
Backlinks 101
Before we dive deeper into backlink analysis, let me make it clear that no one expects you to be an expert at this and know every single thing about backlinks.
If an unknown SEO term is giving you a headache or you simply want to learn more, check out our SEO glossary and Backlink basics. 😊
What Is a Natural Link Profile?
A natural link profile is one that consists of diverse inbound links from various authoritative websites relevant to your niche.
This is what Google is interested in the most when it comes to your backlinks. And the less experience you have, the smaller the chances are that you will be creating a link profile that looks natural.
The goal of a link builder is not to get backlinks, but to achieve a natural link profile (as much as possible).
To have a natural link profile your link profile needs:
A good mix of low and high authority sites (comparing Linkscore/DA/DR)
A good balance of dofollow and nofollow links
A small percentage of anchor texts that are either exact or partial match to your keyword
A small number of links from the same website (the less, the better)
What Is Backlink Analysis?
Backlink analysis is the process of assessing all the inbound links (backlinks pointing from other websites to your site) with the purpose of evaluating their effect on your rankings in search engines.
Backlink analysis lies at the core of any link-building strategy. This is the alpha and the omega of link building and should be done before, during, and after the link building process.
Why Is Backlink Analysis Important?
Regular and proper backlink analysis ensures that you get the best out of your link-building strategy and have the best chances of ranking on your preferred keywords.
Your chances depend on the quality of each individual link in your link profile which can then, in turn, have either a positive or a negative effect.
Some backlinks you will not have control over. There will be sites that link to you and they might not all be good. By checking your link profile, you will be able to catch these bad links and be able to remove them on time.
The internet landscape is in a constant state of change and you will learn that some links disappear with time. Some because of an error (like a link that was broken) and some are intentionally removed during content change. It is up to you to use backlink analysis, so you can discover these lost links and reclaim them.
How Is Link Analysis Used And By Who?
Backlink analysis helps you pinpoint the tactics of your link building strategy that have the biggest (and more importantly – most positive) effect on your rankings.
Regular backlink reviews can be seen as a real business focus and are not just website jargon since the amount of leads you generate can directly depend on it.
This is why both agencies and in-house teams use it for reporting on and measuring success although indirectly.
How Do I Find Backlinks To My Site?
To find who links to your site, you will need to use a SEO tool. A SEO tool will make this process efficient and fast.
There are plenty of SEO tools to choose from. Ahrefs, SEMRush, Moz, SERanking and our own Morningscore all have features that will help you start a backlink analysis and continue tracking just the important factors from there on.
The price range can vary greatly between them and which one is best for you depends on the amount of time you plan to use on SEO, and which features you are interested in.
Most of these tools have their own way of measuring a website's link profile. Ahrefs uses DR, Moz uses DA and Morningscore has Linkscore. Picking one comes down to preference. What is important here is to avoid comparing links using different different metrics. Pick one and stick to it when determining link authority.
We will be using Morningscore for the following example.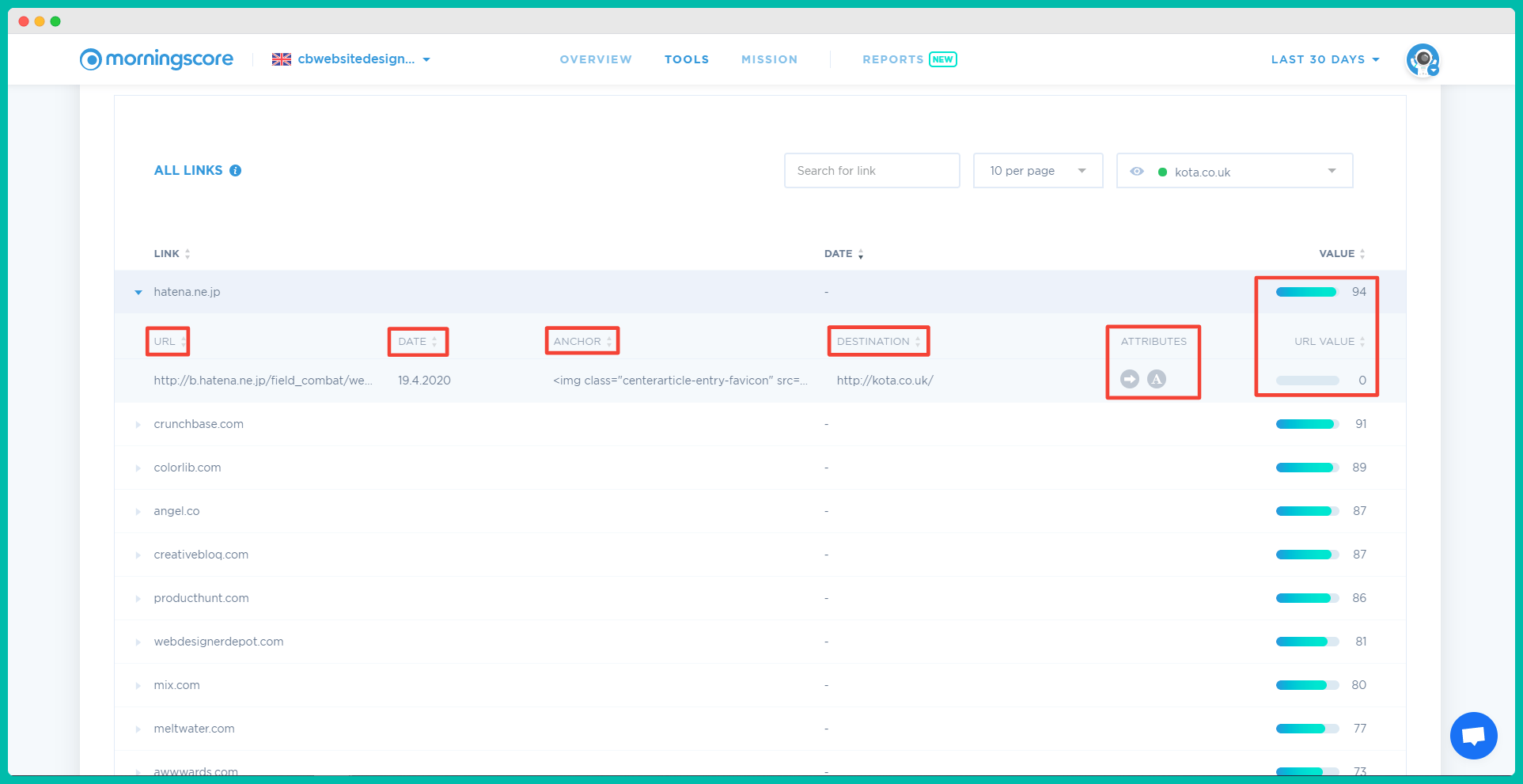 In Morningscore's link tool, scroll down to "All links". Here you will be able to see all of your inbound links and their metrics.
Among these metrics are:
the URL of the exact webpage where your backlink is placed
its anchor text
the date when it was discovered
destination URL
whether the link is dofollow or nofollow
and the value of the link.
You are able to search for a specific domain, sort by the metrics or export all the data.
(If you don't already have a Morningscore account, grab your 14-day free trial. You'll thank me later. 👍)
Understanding The Morningscore Link Metrics
Morningscore uses its own unique metrics to compare websites and link value in its link tool.
These are Linkscore (which is a similar metric to Ahrefs' DR and Moz' DA) and link popularity.
What Is Linkscore And How Does It Work?
The first thing you will notice in a link report is your Linkscore. Linkscore is your number one indicator of link building efficiency.This is the global position of your website compared to every other website on the internet. It is determined by the number and value of your backlinks.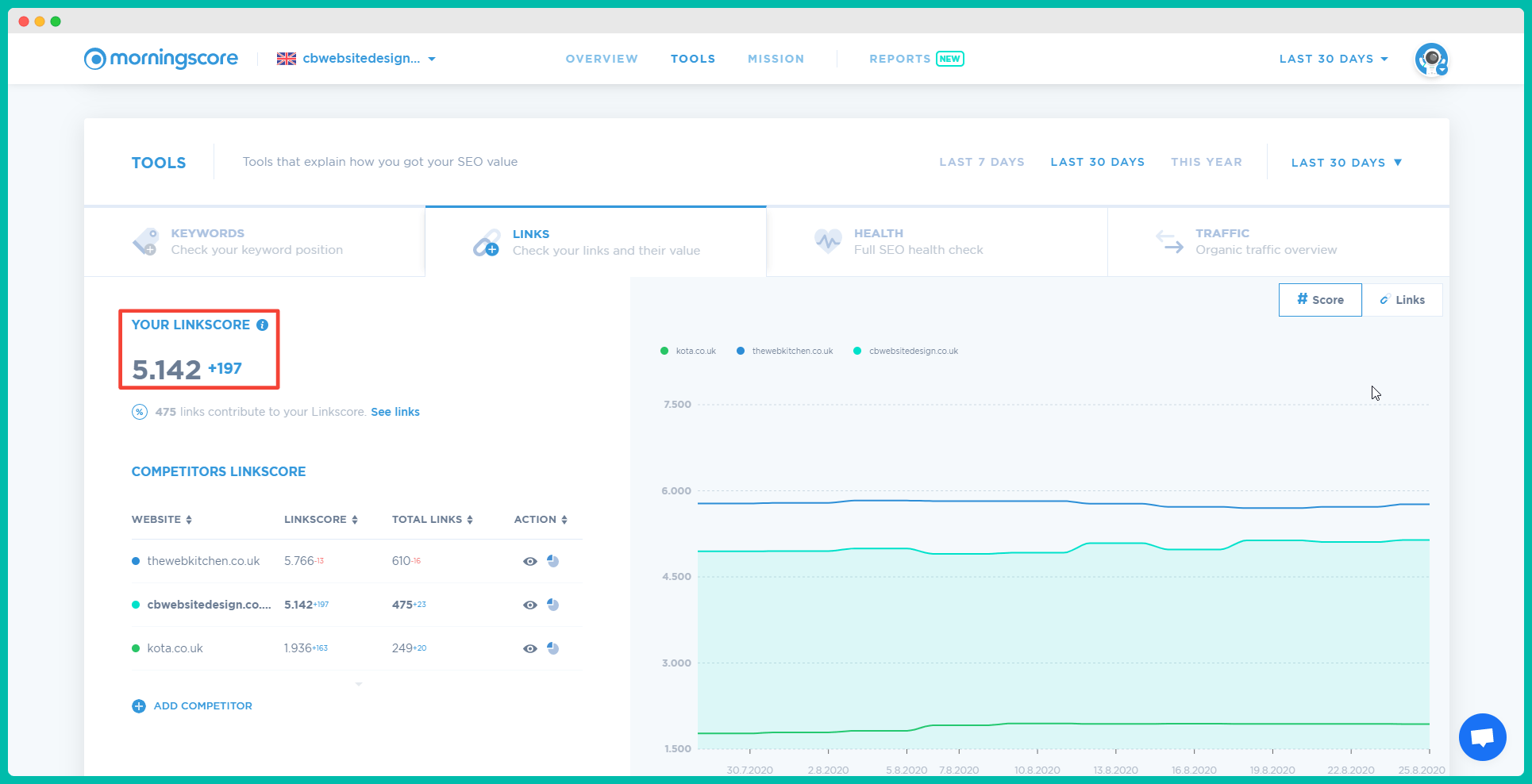 Keeping an eye on your Linkscore history is an easy way of checking up on your link building progress.
By using the calendar, you can check everyday changes. Always remember to include a couple of extra days or weeks (depending on the Linkscore of the websites that link to you) after the last link building activity. It takes time for the spiders to discover those links and apply the link equity to your website.
What Is Link Popularity?
Right below your Linkscore, you can see your link popularity. Link popularity is just a fancy word for all the links contributing to your Linkscore. By scrolling down to "All links" you get an overview of all the domains that link to you and their value (or domain authority). The higher their value, the higher the amount of link equity they will pass on to you. Keep an eye on the value of your links to figure out which links give you the most equity, so you know which type of links to spend your time on in your future link building activities.
Populating the all links list with as many high-value domains is your number one goal. Your next two are keeping the good links and removing the bad ones.
How To Get An Overview Of My Backlink Activity?
Using Morningscore's Link tool you can get a clear overview of all the new backlinks and all the lost one for a given period of time.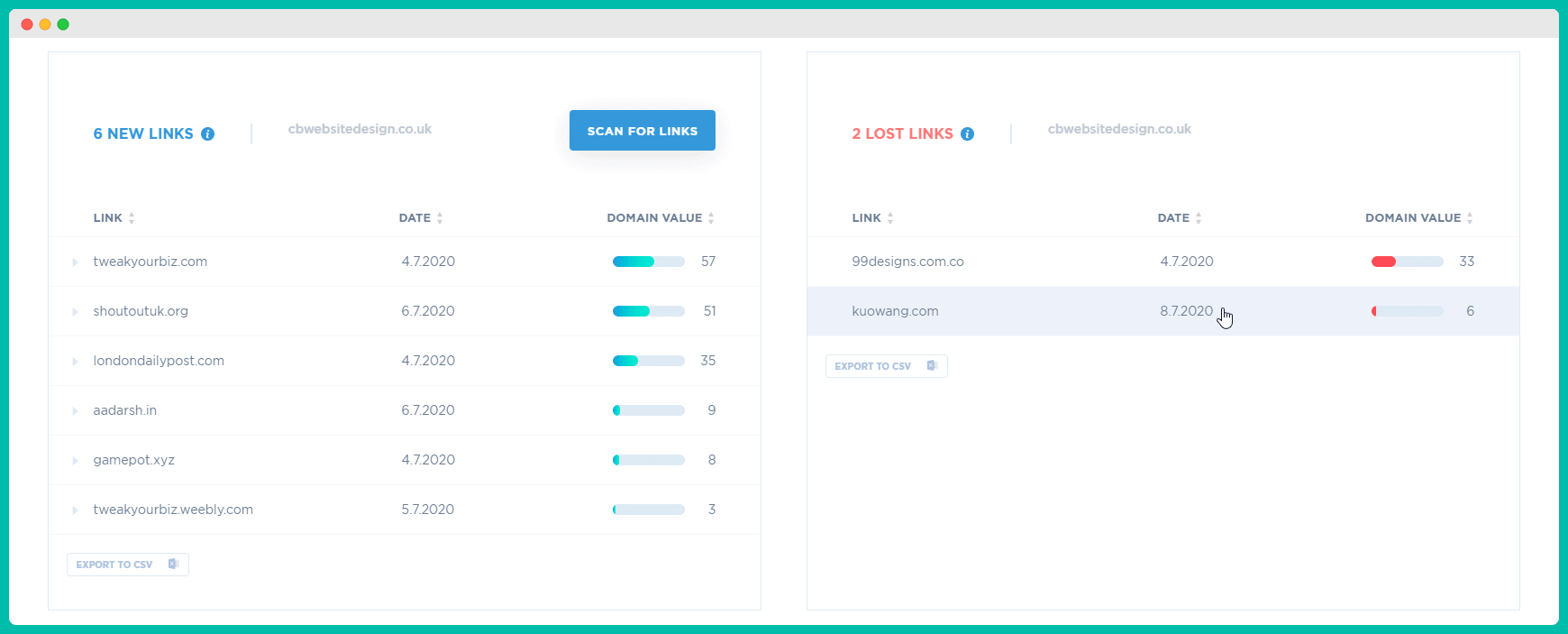 Keeping an eye on this section will help you identify new links from non-desirable sites (bad links) fast. You will also be notified as soon as one of your link building activity is successful or when you lost a link. Loosing links is normal, but it is important to check each lost link in case it was removed by mistake and start the reclamation process.
How To Do A Backlink Analysis (quick, simple & effective)?
To analyze your backlink profile, you will need a SEO tool. Feel free to use whatever you prefer, but we will continue using Morningscore in our examples.
In Morningscore, scroll down to tools and choose the "Links" tab.
What we will focus mostly on here is to check how natural your link profile is and what you should focus on in the future.
Check Your Linkscore
Linkscore is used to compare your website to all the other websites in the whole world. It is calculated based on the number of strong links pointing to your website. The higher it is, the easier it will be for you to rank.
Whether your Linkscore is good or bad depends on the size of your company and your industry.
A good rule of thumb is that a small to medium sized company usually ranks from 500 – 5000, where 5000+ would be a really good Linkscore.
Also, check if there is a positive or a negative change since you started with your link building activities.
Are you still unsure what a good rank for your company is?
Then add a few competitors and compare how they are doing with their link building. The best competitor to compare yourself to is the one that is consistently beating you on Google for several keywords.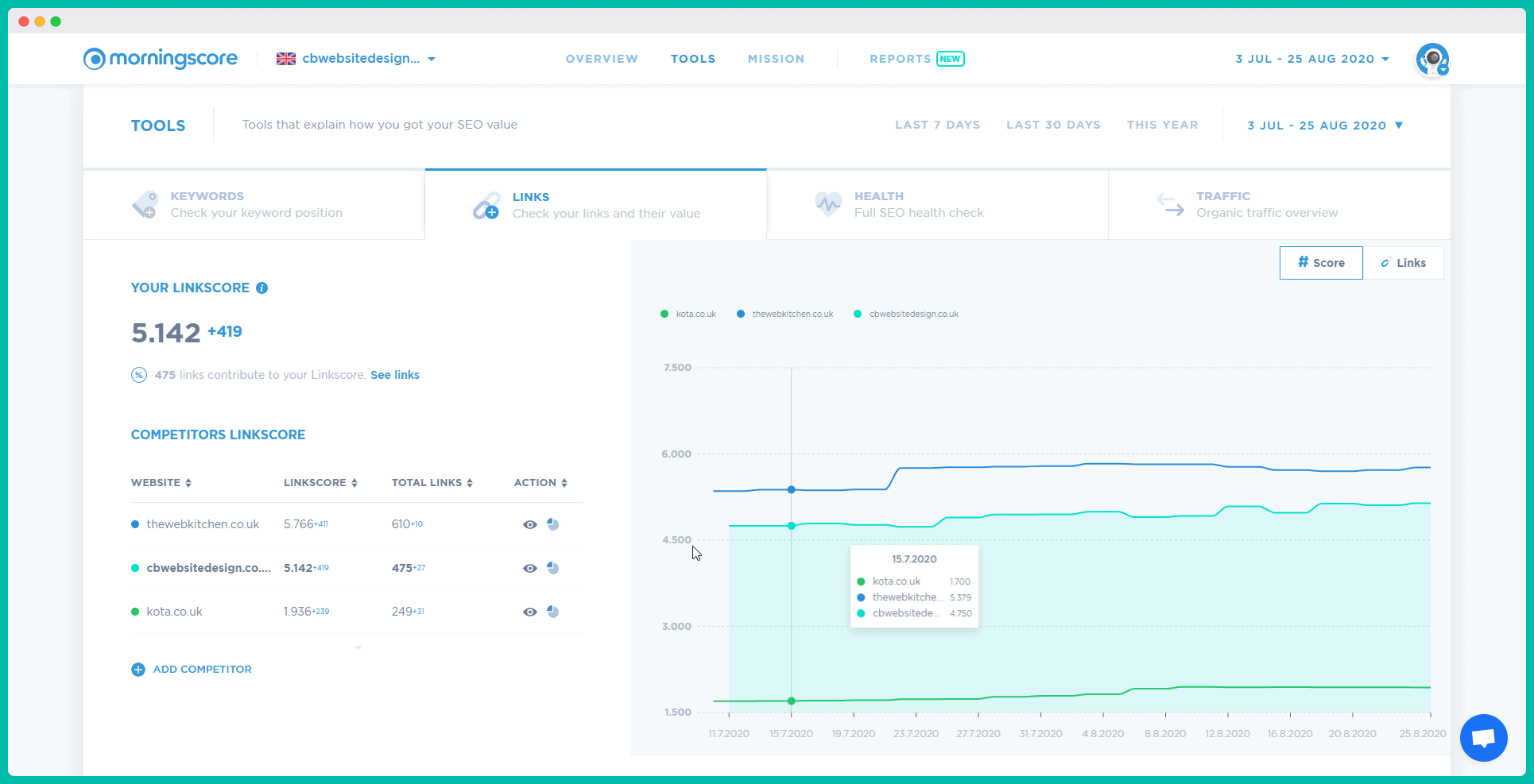 Check The Strength Distribution Of Your Backlinks
Morningscore provides you with a good overview of backlink strength distribution.
All your backlinks have been assigned a score of 0-100 (based on Domain authority) and you will be able to see if your backlink profile is predominantly weak or strong.
A natural linking profile should have links equally distributed by strength. And not have most of its links in the 0-20.
If you notice that there are some segments that take up a much larger segment than others, you should work on improving the lower represented segments instead.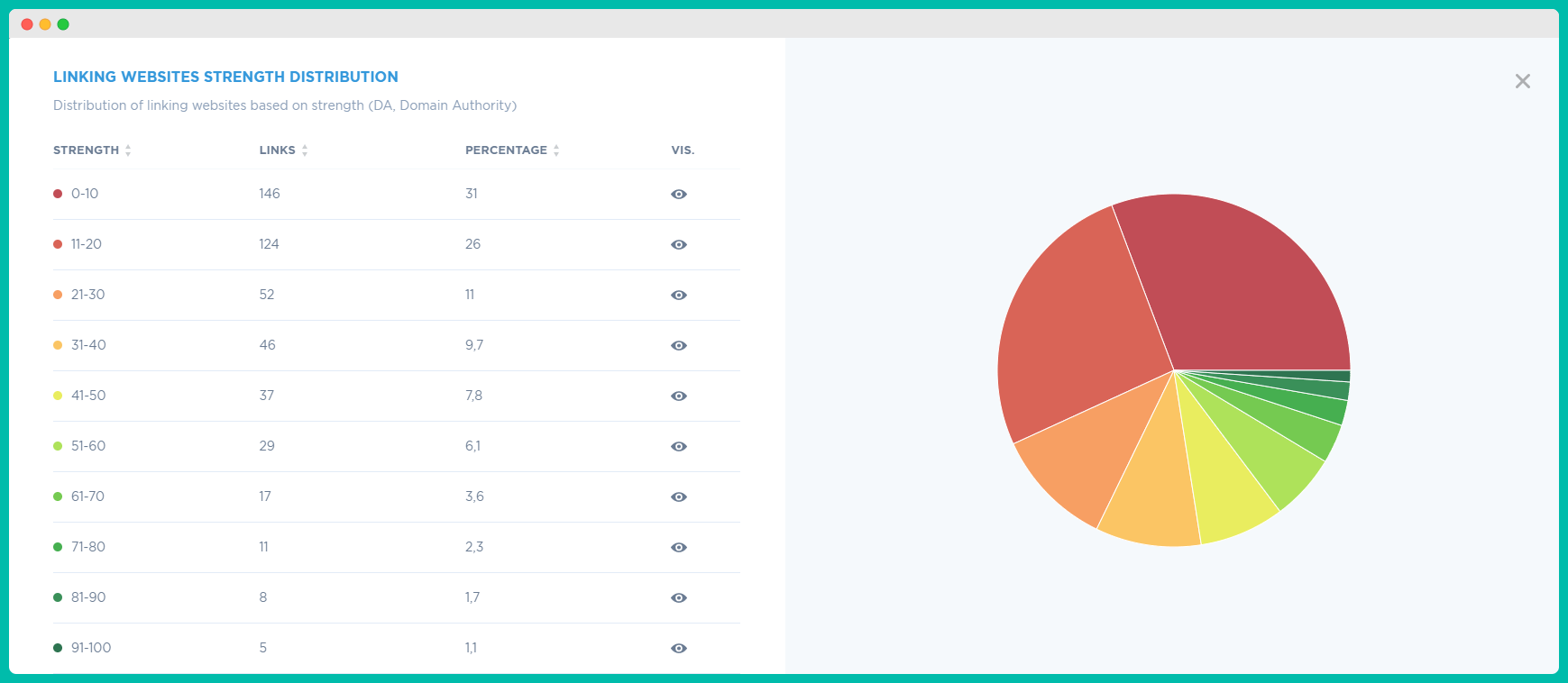 Example: In the graph above, we see that that our website receives 57 percent of its backlinks from domains that have a Domain Authority of 20 or lower. From now on, we should focus on building links with a 20+ DA. And we should especially try and get some links in the 60+ range as these links make up for only 8.7% of our link profile.
Check If The Links Are Dofollow Or Nofollow
Morningscore also shows you the distribution of nofollow vs dofollow links.
To make your link profile as natural as possible, you need a good ratio of nofollow vs dofollow links.
It probably won't be possible to get this ratio to 50-50, but it wouldn't make much sense either to put in a lot of work into creating a whole bunch of nofollow links just because of a small chance that Google might find your link profile suspicious at some point.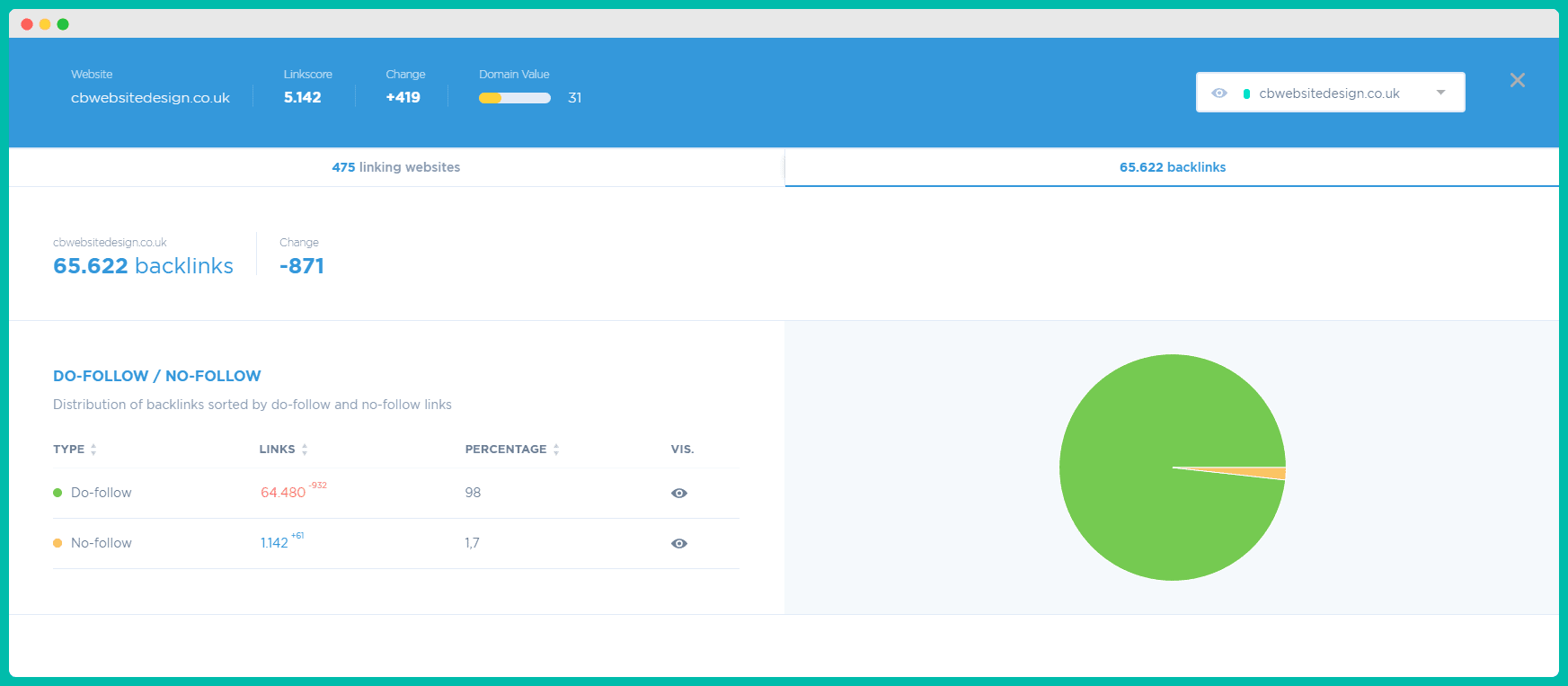 Example: In the graph above, we can see that the amount of nofollow links is really low – under 2%.
Personally, I wouldn't go all out into building only nofollow links from now on, as they will not help you rank.
What I would do however is grab as many of the easy, nofollow links during regular link building activities. What I mean by easy is – if you find a nice link that wouldn't take you more than 10 minutes to make – go for it.
Check Your Anchor Texts
Using only anchor texts that are an exact match to your keyword can create a whole load of problems.
Imagine if you didn't put any effort into link building and just sat and waited for links to come in naturally (this is what Google expects of you anyway).
Now, how many do you imagine would have the same anchor text, with just one keyword or keyword phrases, linking to the same webpage. Not many, I can tell you.
So, we need to focus a bit on the anchor text ratio.
Most of your links should use an anchor text that is either the brand name, the URL it links to or a generic word like "here", "Read more", "this link". I am talking about at least 80% (some say up to 95%).
The rest should be distributed between anchor texts that are exact match (just the keyword) and broad match phrases (a phrase that includes the keyword).  With these last two types always remember – less is more.
There are two scenarios when it comes to the anchor text ratio:
1. You are just starting off with link building and don't have many backlinks
If you only have a couple of backlinks, it will be easy to quickly check their anchor text in Morningscore.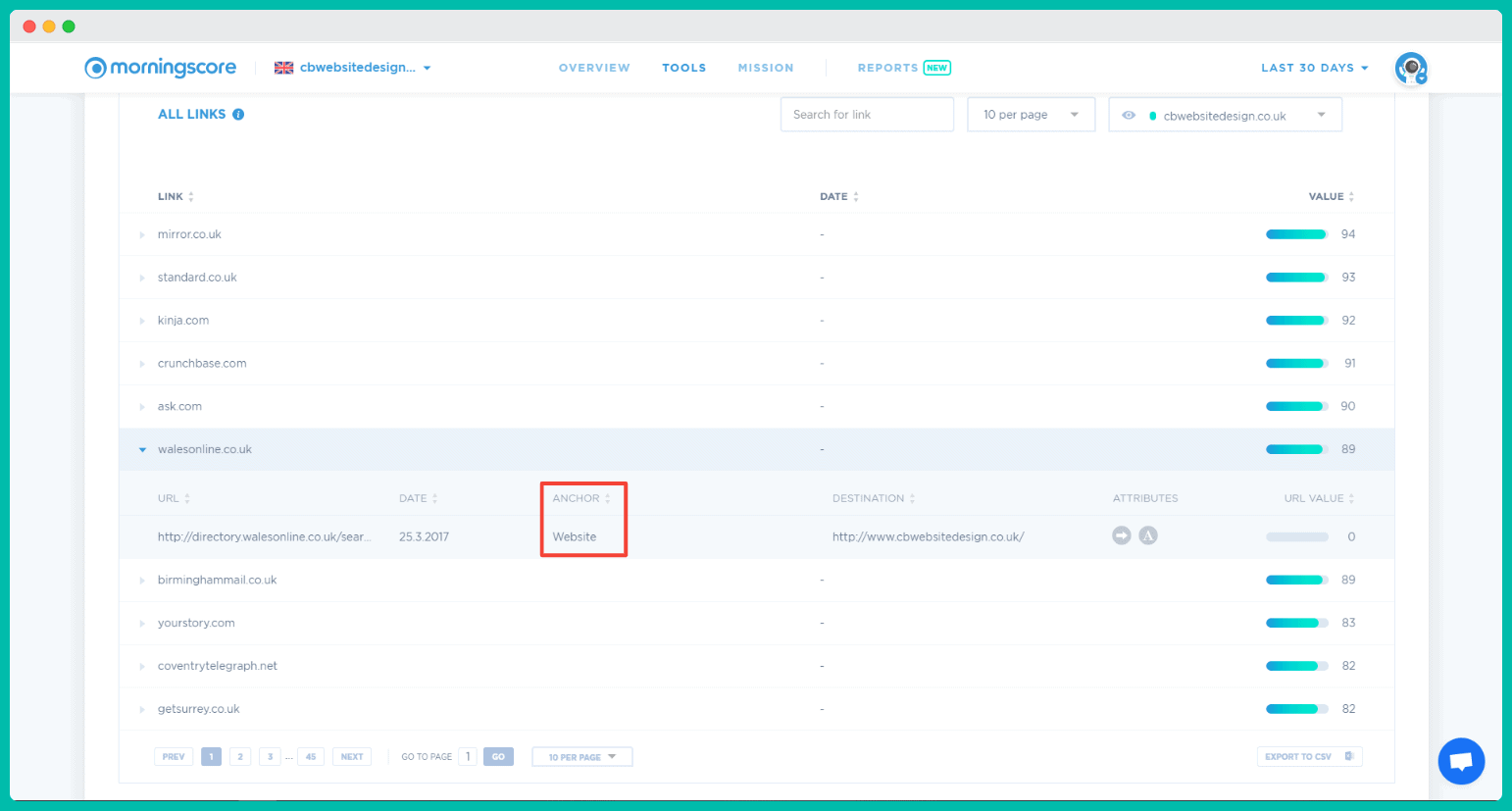 Just scroll down to "All links" in the Link tool and click through all the links. Only the keyword anchor texts are important here. Write down any exact or broad match keyword you find and the page on your domain it is linking to. This should give you a general idea of how high of a percentage matches your keywords when compared to the total number of your backlinks.
2. Your website already has many backlinks and you don't have in-depth data for them
In this case, you will need an in-depth link tool to help you out.
I would recommend Ahrefs in this case. For this task alone it will be enough to pay for the 7-day trial. That will also give you a chance to test the tool further and decide if it is something you will need on a regular basis.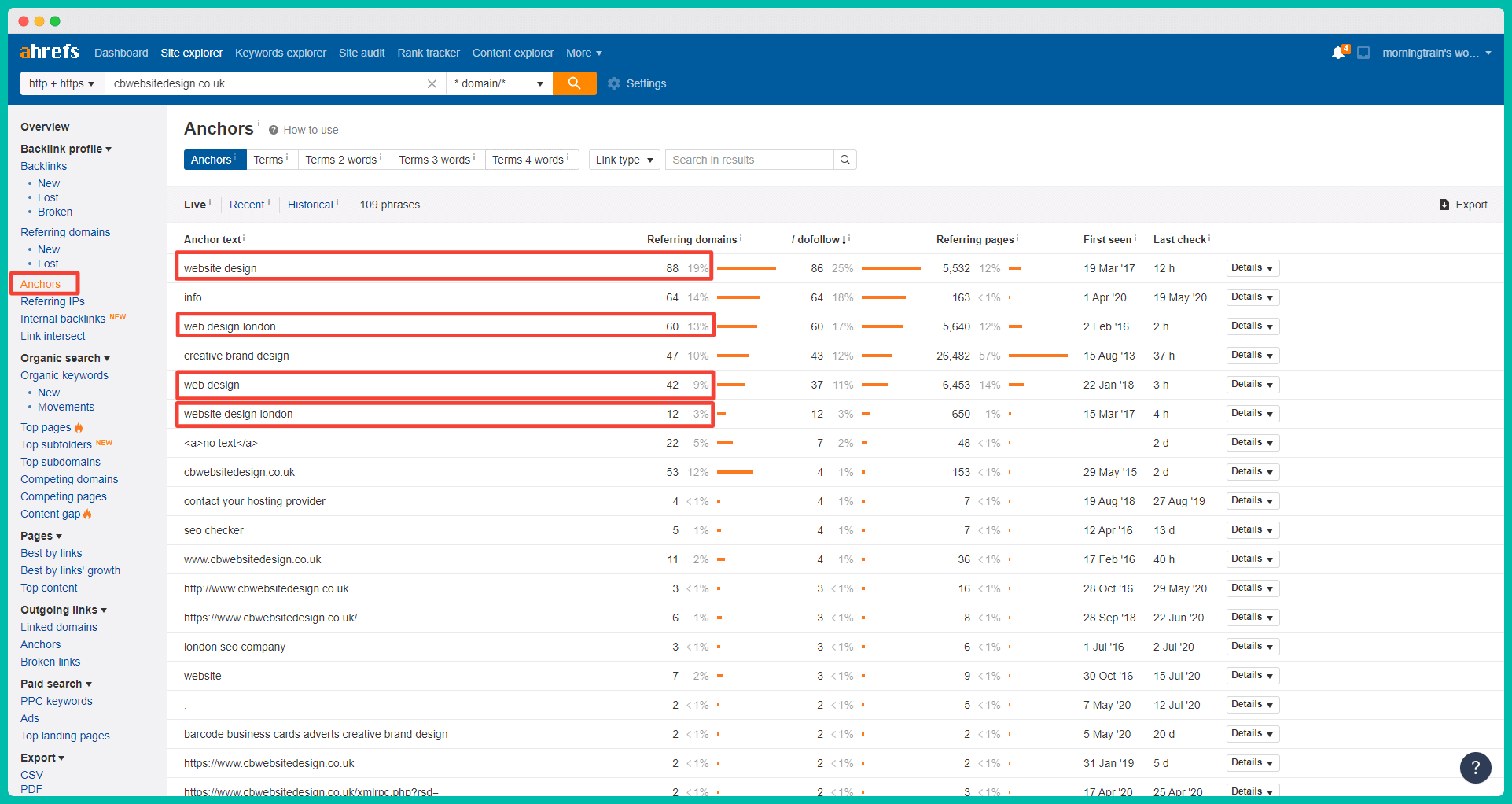 After setting up your account, look up your domain and choose "Anchors" from the left side menu.
What you are looking for here are exact and broad match keywords that you are trying to rank for.
In this example it's "website design", "web design london", "web design" and "website design london". And what we can see here that together they make up for almost 38% which is way too high.
In this case I would focus on building backlinks that use generic keywords and phrases (like "click here"), brand name and URL as anchor text.
Be mindful that anchor text ratio is page specific, so check each individual page you are building backlinks for.
Distribution Of Backlinks Across Your Website
Every time you optimize a page you should also build a couple of backlinks for it, and a couple of internal links from the new page to the old ones (and vice versa) to spread the link equity.
Having backlinks only to your homepage is not a sign of a natural link profile. It is also a good way to create a link equity bottleneck as you will not be able to give your other webpages a proper boost in ranking.
Link Analysis – What Are Good Links?
Good links are backlinks from other websites that Google believes provide real value and therefore boost your rankings.
Because of the way value flows between pages, good backlinks will mostly improve the rankings for the specific page they are linking to – but also spread the effect throughout your whole website and improve your overall authority.
Link Analysis – What Are Bad Links?
Bad links are low-value spam links that Google sees as dangerous. While a few bad links won't have any effect, having many bad links can really hurt your rankings.
These links are low value links from spammy sites that link to many other domains, backlinks from non-relevant sites, bought links or links acquired by Black hat SEO methods. Some of these simply do not deliver any value even though the domain shows to have a high Linkscore and some of them might even earn you a Google penalty. An easy way to determine whether a link is good or bad is to think whether it justifies the time and energy invested to build it.
How To Know If A Link Is Good Or Bad? – Quick Link Evaluation Template
We are aware that there are a lot of things to look for when you are trying to determine if a link is good or bad. And it's not always easy to remember to check them all when you are just starting with link building.
That is why we made this short checklist that will help you estimate the value of a link or better said determine if it is a good link or a bad link.
| | | |
| --- | --- | --- |
| | Good link | Bad link |
| DR/DA/Linkscore (Pick only one and stick to it.) | High | Low |
| Total traffic (How much traffic is the site that links to you receiving?) | High | Low |
| Freshness of site (Check the date of blog articles or use the wayback machine) | Content not yet a year old | Content older than a year |
| Site relevance/topic (Does the content match yours?) | Content is relevant | Content is not relevant |
| Relevant keyword in URL | Yes | No |
| Relevant keyword in title | Yes | No |
| Relevant keyword in meta description | Yes | No |
| Depth of the page with your backlink (How many clicks do you need to reach from the other website's home page to the page where your backlink is placed?) | Less than 3 clicks | More than 3 clicks |
| Link to text ratio | No more than 1 backlink per 500 words | More than 1 backlink per 500 words |
| Trustworthiness estimate (Does it look like a site you would be proud to have your name on?) | Yes | No |
| Location of link on the page (How high in the content is the link?) | Closer to the top | Closer to the bottom |
| Reciprocal link (Do you link to this website also?) | No | Yes |
Now, there is no clear formula to which of these factors and in which percentage make up a good or a bad link. But it is safe to say that the more checks you have on the red side, for example, the more likely it is to be a bad link.
How Do I Remove Bad Inbound Links?
To remove bad inbound links you need to disavow them in Google's Disavow Links Tool. Disavowing links will not remove them from Google's index – but Google will treat them as links that do not provide any value.
Now, we know it sounds scary, but it actually isn't really needed unless you have a huge amount of bad links. However, in case you find that you absolutely need it, we will cover it anyway.
So, not all backlinks are good for your backlink profile. Someone in your team might place a link on a spammy website, or even that some sketchy website links to you without you having done anything. The problem here is that Google cannot tell how you got this link, so you may get penalized for something you did not have any influence over. For this reason alone, you should regularly check your link profile to weed out the bad links.
You will notice a Google penalty by a sharp fall in your site rankings and being aware of what your link profile is made of is the first step in solving this potential problem. But, unless you have been buying many links or used some Black hat SEO methods, chances are that most of your links are good and no cause for concern.
So, let's say you did a good job with your backlink analysis and now have a list of what you feel are really bad links that you would like removed.
What you do first is contact the website owner of the domain where a particular backlink is and ask them to either remove the backlink in question or set it to nofollow.  If your request is ignored you can use Google's Disavow Links tool and add the link (or list of links) you want ignored. The link won't be removed from the website, it will just be ignored by the spiders in the future.
Link Analysis – What Is A Lost Backlink?
Lost Backlinks are links that no longer exist in both Google's database and your SEO tool's database. You can lose links for reasons such as moved or deleted pages or URLs.
Every once in a while, you will lose a link. While that is fine in a small scale, when you start losing many links, this can be quite dangerous. Your rankings can suddently tank, and you might lose tons of traffic from potential customers. Whatever the reason, you need to stay on top and react as soon as you notice a lost link.
Morningscore's link data is updated on a daily basis and will make it easier to discover lost links as soon as they appear.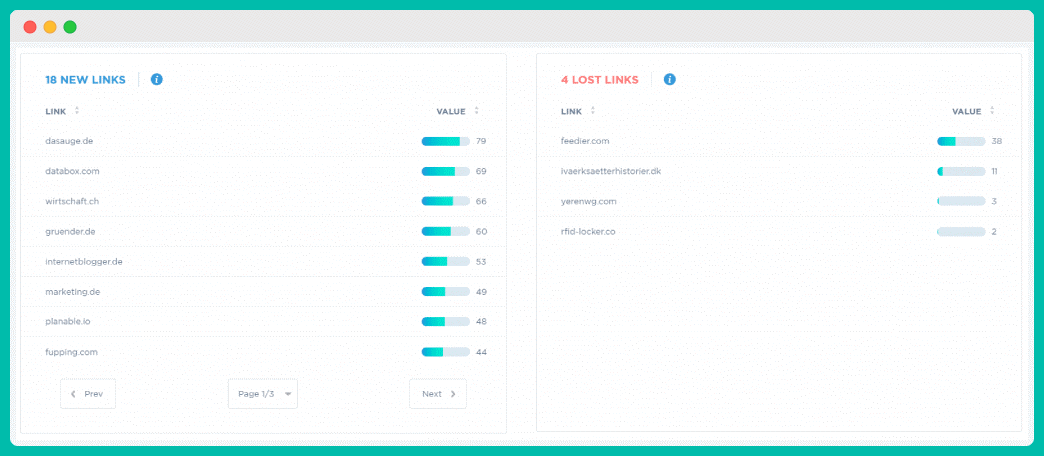 First determine if the link is valuable enough to get back. Dofollow links from high value domains, especially if they are editorial are almost always worth your time.
Link acquisition is a process that takes a lot of time. You probably put a lot of effort into getting each link in your link profile. So why would you just let one slip right out of your hands? Even better, link reclamation has a very high chance of success, so it is a no-brainer when deciding what to focus on.
The link reclamation process depends highly on figuring out where the problem lies. After doing that, you can either fix the problem on your side or contact the website owner to update their web page or the link itself.
Closing Off
I hope this article helps you understand the process of backlink analysis and you already have a few ideas about improving your link building strategy.
If you would like to learn more about backlinks themselves, I suggest you check out this article.