If you are looking into entering the SEO business as a beginner you will likely experience the wilderness of existing SEO tools. So, to break these down and make a complete list of the most simple and easy-to-use SEO tools out there we have made this post.
We have all been at the very beginning of our road to being SEO professionals and experienced some misconceptions about which tools you should use as a beginner. What most people in the SEO business refer to are the tools they use themself which, if they are SEO professionals, most likely won't be the right place to start – and often, they haven't had practical experience with other tools than they are using themself.
Before we start I want to be clear that the recommended tools for beginners aren't bad nor are they not as good as some of the others that are not recommended to beginners. The big difference is that a simple beginner SEO tool often contains fewer features (features you don't need at this very beginning as the endless amount of data just confuses you and take away focus from what matters and the actual work you have to put in to rank in search engines as Google).
So, let's get started finding the most simple and easy SEO tool for beginners!
The most simple and easy SEO tools in 2023
There are more than 300 SEO tools, but they are surely not all easy to use, and neither do they have the simple interface that you need for a beginner tool. This post contains a number of the easiest SEO tools beginners can derive value from immediately.
The following SEO tools are some of the easiest and most simple ones to use as a beginner – even for non-beginners that simply want to get rid of all the "noise" from the big database tools. Multiple of them are even completely free to use while others have partly free tools with limitations or are fully paid.
Morningscore
Google Search Console
Google Pagespeed Insights
SEO Site Checkup
Google Analytics
Ubersuggest
Woorank
AnswerThePublic
ChatGPT
Yoast SEO
Rank Math
Ahrefs Webmaster Tools
Google Keyword Planner
AlsoAsked
SurferSEO
TinyPNG
Categorizing SEO tools for beginners
Beneath, you can see the listed icons that we are going to use for each and every of the beginner tools illustrating what type of SEO tool they are.
Disclaimer: All prices are shown for the cheapest plan available on a monthly basis for every tool. Some of the free one does have paid plans too.
🏆 Rank tracker tool
🤖 Technical SEO (onpage)
🔍 Keyword research
✍️ Help to write content
🔗 Link tool
Beginner SEO tools explained in detail
Now, let's dive into every single one of the mentioned beginner tools above and check out what every individual tool can help you with regarding SEO. We have plain keyword tools, plain OnPage health tools, plugins, writing assistants, and all-in-one SEO tools which are great for beginners on a budget.
🏆🤖🔍🔗 Price from: $ 65 per month (14 days free trial)
Morningscore is a Danish all-in-one SEO tool that lets you measure the value of organic traffic to your website in dollars and cents. The tool uses game elements to make working with SEO fun and simple. Therefore, you don't need to be an expert to get results. This translates into small SEO missions that help you generate results and give you XP when completed, which helps you level up while growing traffic from Google. You get access to keywords, links, health (technical SEO), and competitor monitoring. The data quality is close to the biggest SEO tools making it one of the absolute best and easiest SEO tools for beginners.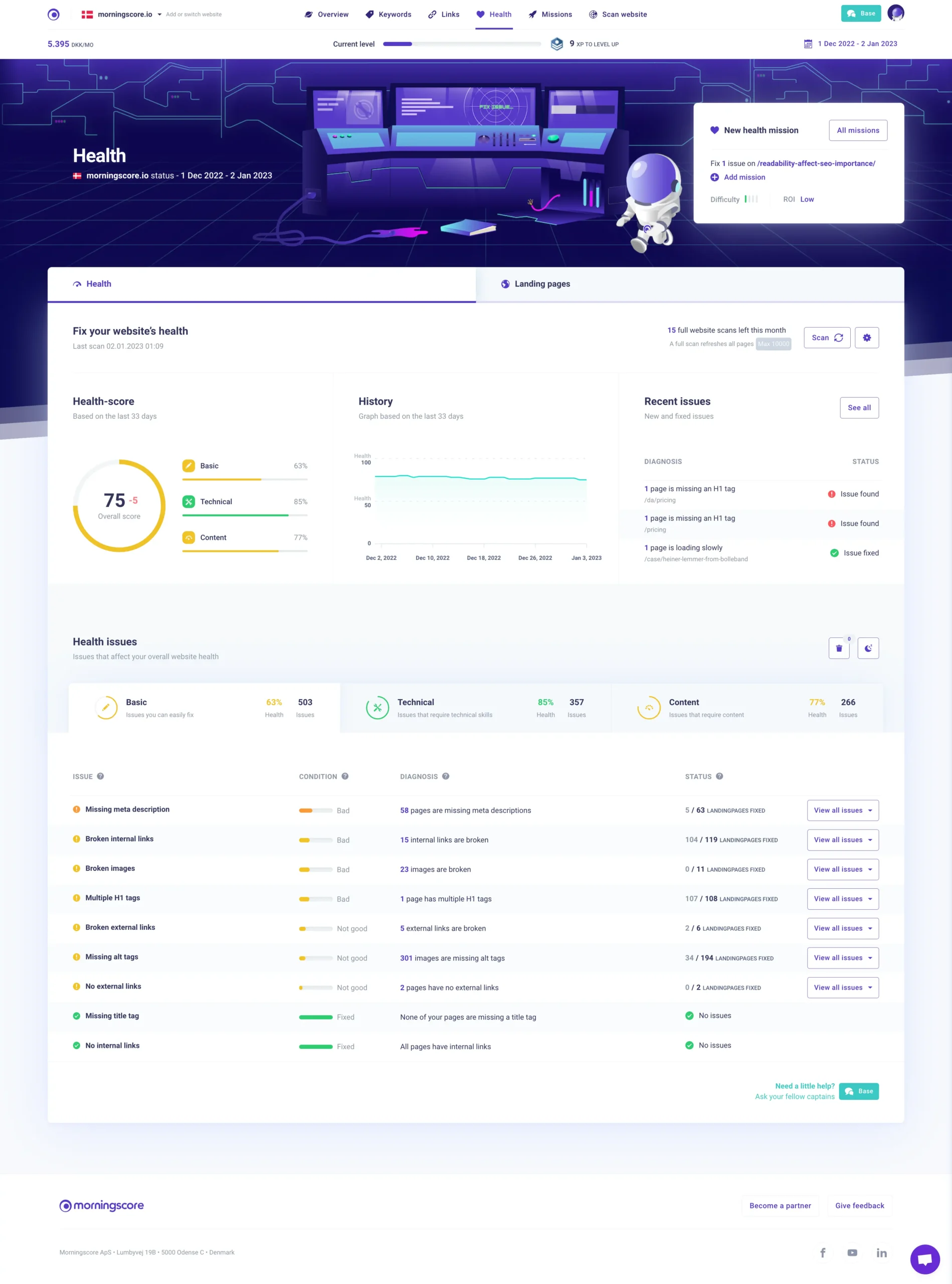 🏆🤖🔗 Price from: Free
An SEO tool that has ascended to the pinnacle of excellence for beginners. Remarkable improvements have adorned its landscape in the past three years, rendering it Google's very own gem, thereby endowing it with a multitude of distinct advantages. Among its peers, it stands unmatched, presenting an unparalleled compendium of keywords and their corresponding traffic data. Nevertheless, a singular limitation casts a shadow on its brilliance: the indispensable prerequisite of ownership or invitation to access information on a website, rendering this formidable tool impotent for competitor analysis and the exploration of uncharted territory, such as discovering new keywords or links.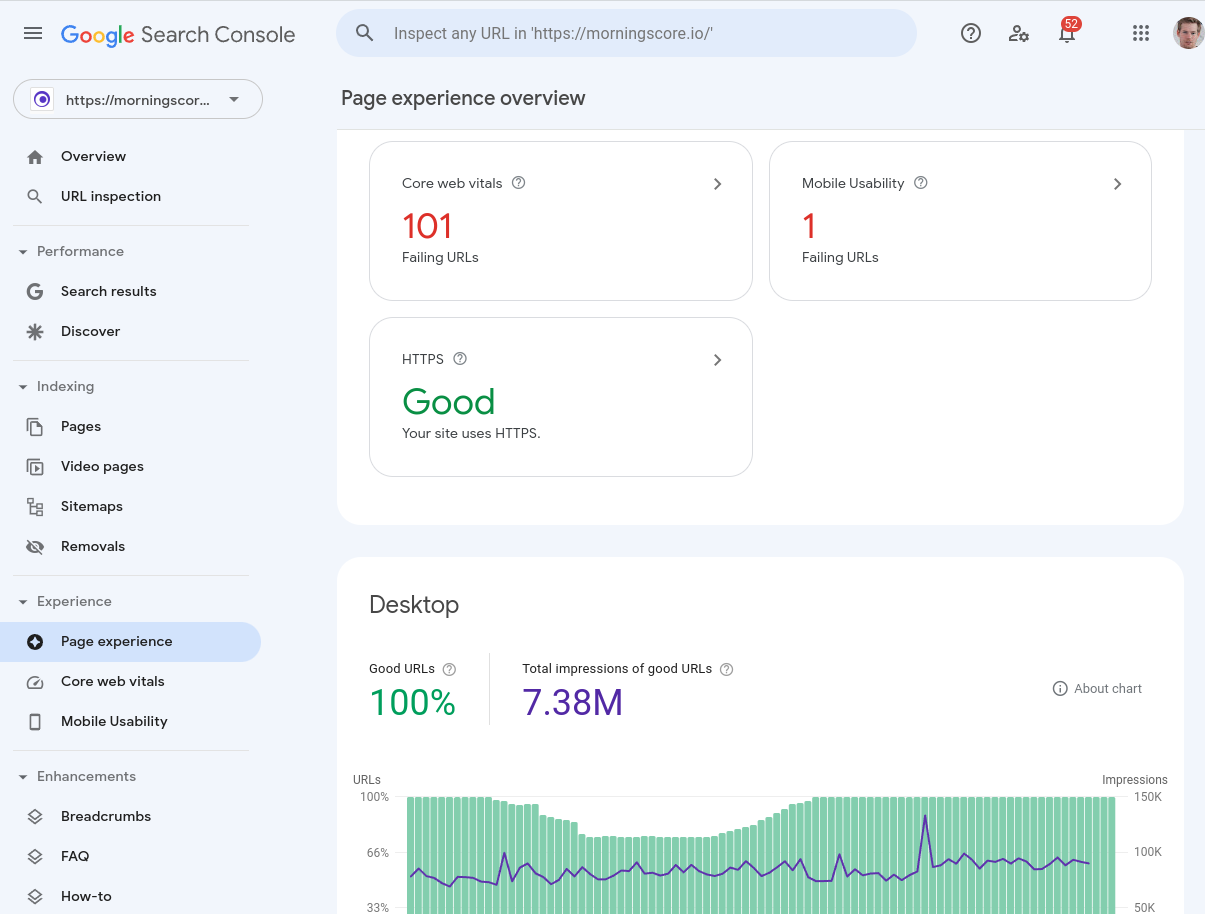 🤖 Price from: Free
It is imperative to assess and optimize the speed of your website as an essential part of SEO. Google's stringent requirements for speed have grown exponentially, making this parameter all the more significant. This nifty tool allows you to meticulously examine your website's speed performance and procure a comprehensive score on a scale of 0 to 100. It's crucial to comprehend that this evaluation encompasses both mobile and desktop speeds, as both aspects hold profound importance in the digital landscape. Pagespeed Insight is probably the single best SEO tool for beginners regarding website load time.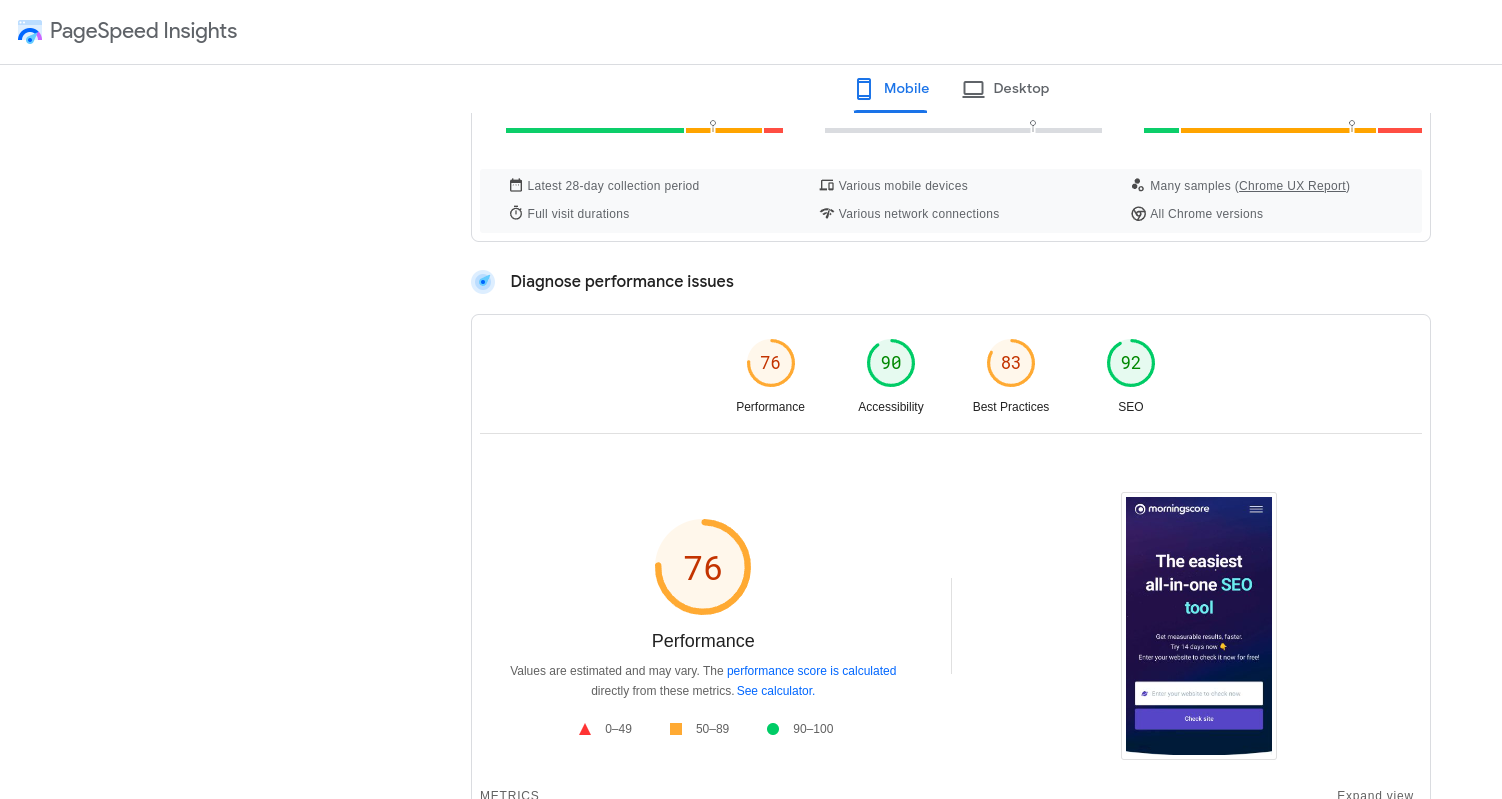 Price from: $ 29,95 (7 days free trial)
SEO Site Checkup is a potent, cheap, and very simple tool for OnPage- and Technical SEO checks. SEO Site Checkup is presenting you with a lot of website checks for you to fix in order to avoid any missing points in your basic SEO. This is a great SEO tool for beginners but only for OnPage checks as you don't get any additional tools for rank tracking, link analysis, keyword research, etc. What you see is what you get and if you are solely looking for a site checkup tool this is the one for you.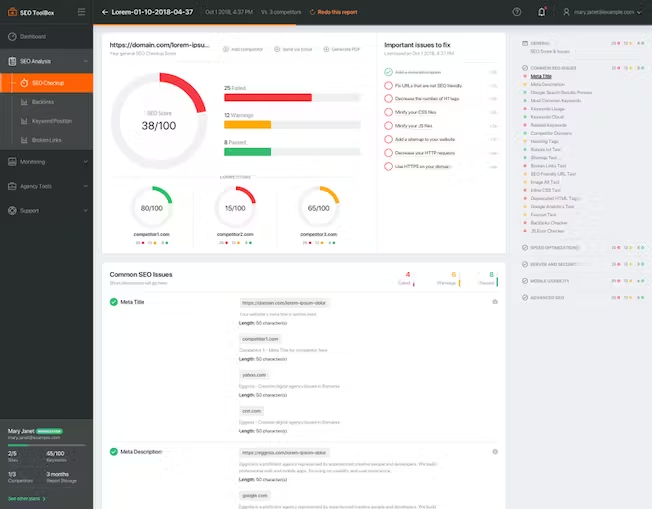 🤖 Price from: Free
Discover the power of Google Analytics as it provides you with real-time and historical reports on your website's traffic. Unveil insights during high-traffic periods, which might signify the effectiveness of your marketing campaign or prompt you to intensify your SEO efforts. Keep a close eye on your website's performance through the conversion tracking feature, monitoring essential key performance indicators. Embracing Google Analytics 4 can be daunting for SEO novices, so if you find yourself in this category, consider delving into a concise guide on customizing Google Analytics before embarking on your journey. One of the easiest SEO analytics tools for beginners.
🏆🤖🔍✍️🔗 Price from: $ 30 (7 days free trial)
Ubersuggest is another one of the all-in-one SEO tools great for beginners to get started with SEO. Ubersuggest has a low-budget solution, which is the main reason for recommending this tool. A tool that basically contains the features you need to get started: rank tracking, keyword research, link lookups, and OnPage website check. The interface can be a little bit confusing as a lot of stuff is happening but when you settle and get to know the tool you'll find that it definitely is a tool where you get value for money.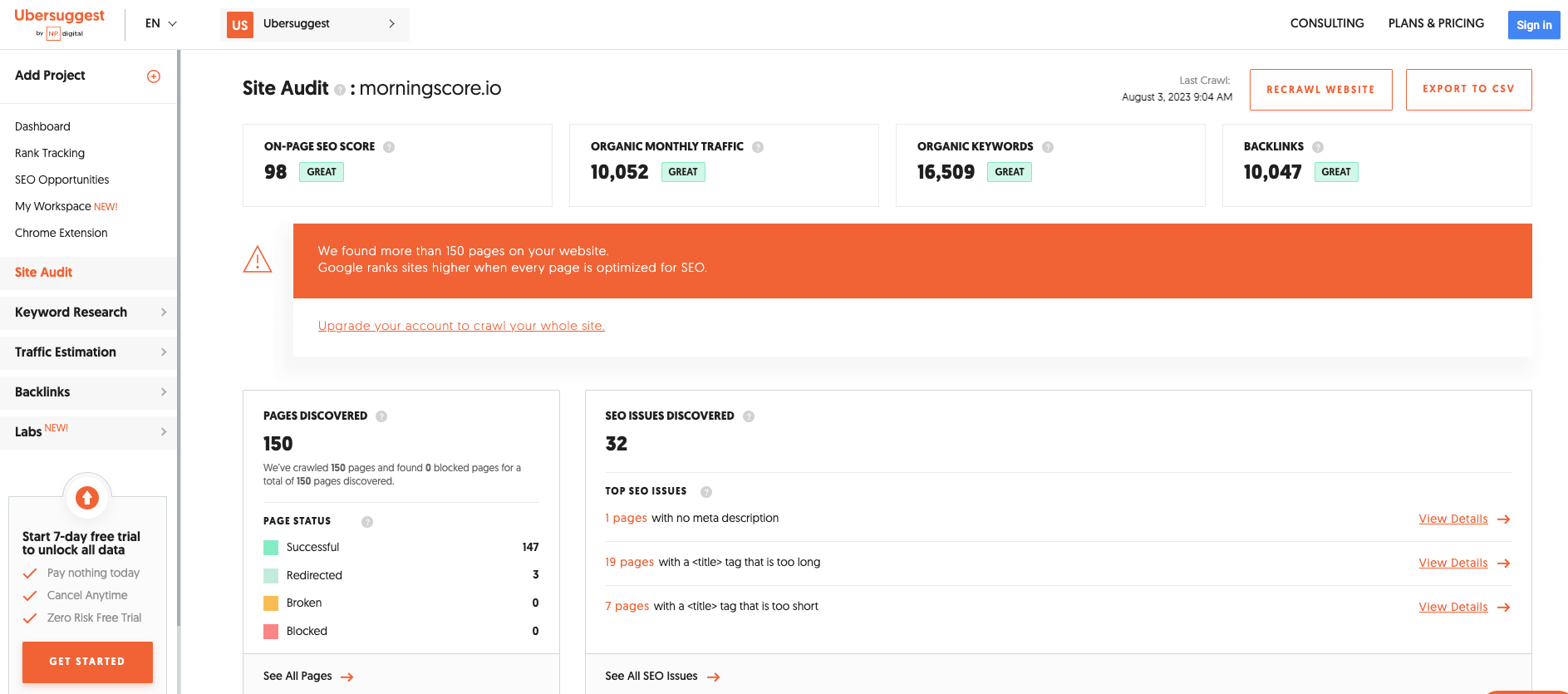 🤖🔍 Price from: $ 92 (3 days free trial)
Woorank is a simple and easy-to-use SEO tool for beginners to start tracking keywords, spy competitors, and OnPage website checks. A simple tool without tons of extra features you don't use anyway. Unfortunately, with Woorank you don't get the full palette of features needed to work with 360-degree SEO as you need features for tracking and finding links. You can also generate PDF reports with Woorank but if you need them white-labeled for reporting to clients it's a costly affair.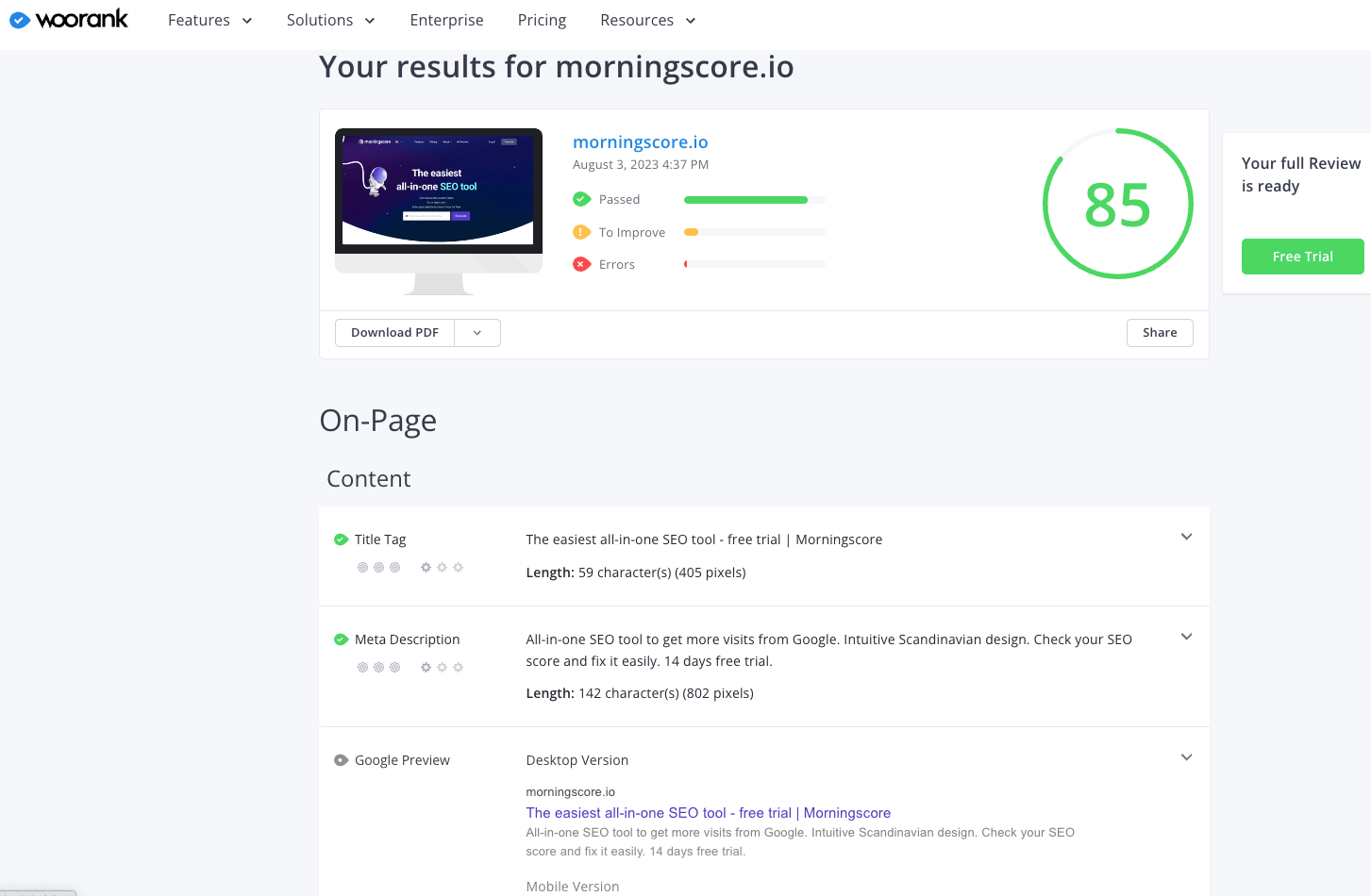 🔍 Price from: $ 1 (3 daily searches free)
AnswerThePublic is a simple keyword SEO tool for beginners, experts, and agencies – everyone can benefit from using AnswerThePublic. This tool basically has one feature: add a topic, brand, or product and get tons of short- and longtail keyword ideas, questions, comparisons, prepositions, and related keywords. Priceless information about what your customers are searching for is one of the easiest and most simple tools on this list starting from just a single dollar a month.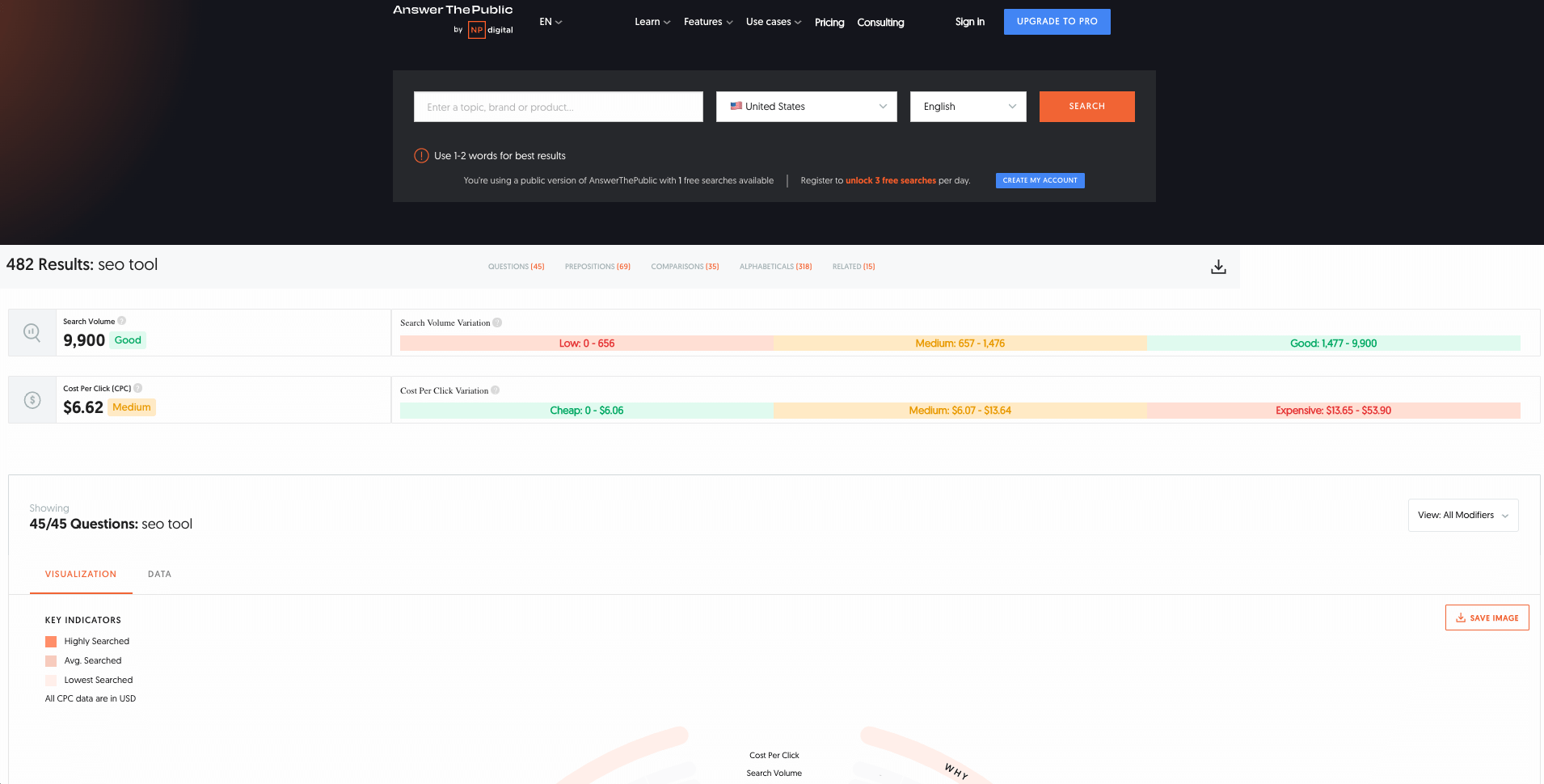 🔍✍️ Price from: Free (GPT-3.5). Price from $ 20 for GPT-4
ChatGPT (GPT-3.5) is a free AI-powered tool that is so simple that even beginners can use it to get keyword ideas, content ideas, directly write headers, complete blog posts, etc. which makes your content work simple as ever. A tool capable of writing human-like texts easily from simple prompts. The downside, at least for the free version, is that it is not updated for new information from the past couple of years.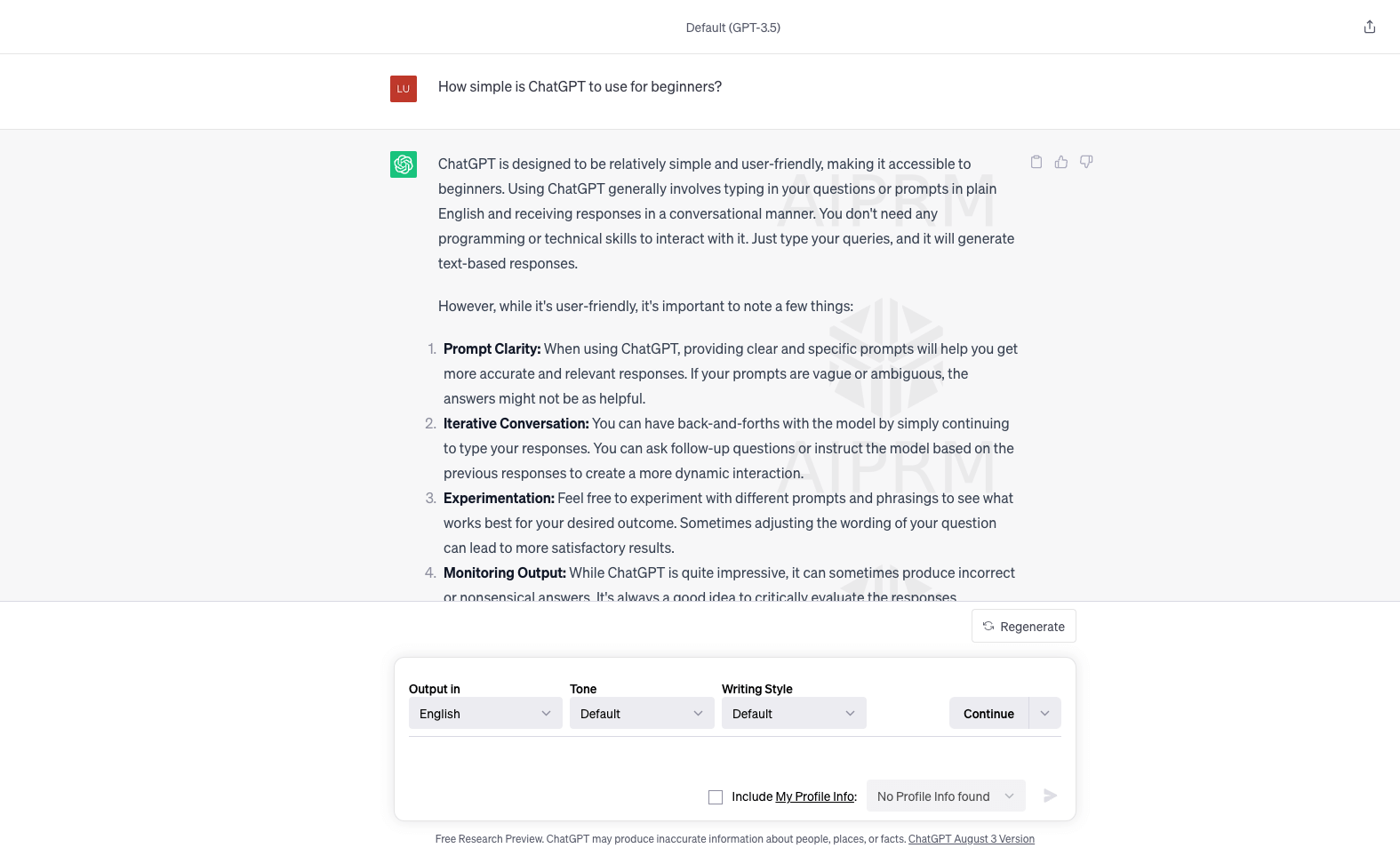 🤖✍️ Price from: Free
One of the most simple and easy SEO plugins for SEO beginners. Yoast SEO lets you add and edit everything from titles, meta descriptions, and Schema to more technical elements such as indexing of pages – everything with a couple of clicks. Besides, Yoast SEO helps you create SEO-friendly content with simple content checks showing you how well-optimized your content is based on the chosen keyword. Yoast comes in a free version which, for most, is more than enough to get started as an SEO beginner.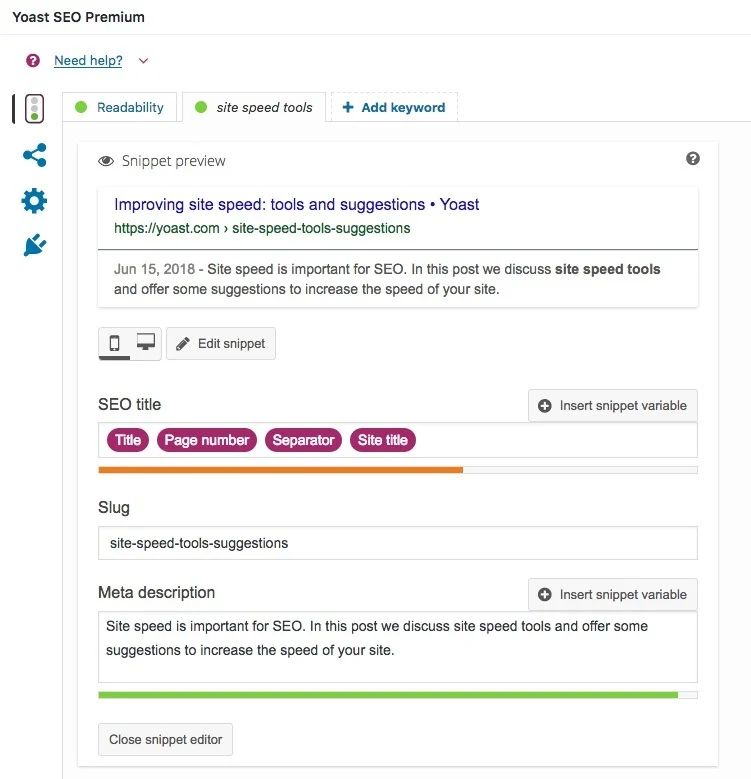 🤖✍️ Price from: Free
Rank Math is just like Yoast SEO a plugin for your website which basically is a direct competitor for Yoast. Rank Math is just as simple to use for beginners and gives you the same options for simply adding titles, meta descriptions, and much more. It's easy to set up with just a few clicks – no coding skills required. Customize your website's SEO settings, control indexing, and add structured data as easily as ever. The perfect SEO plugin for beginners to take your search engine optimization to the next level.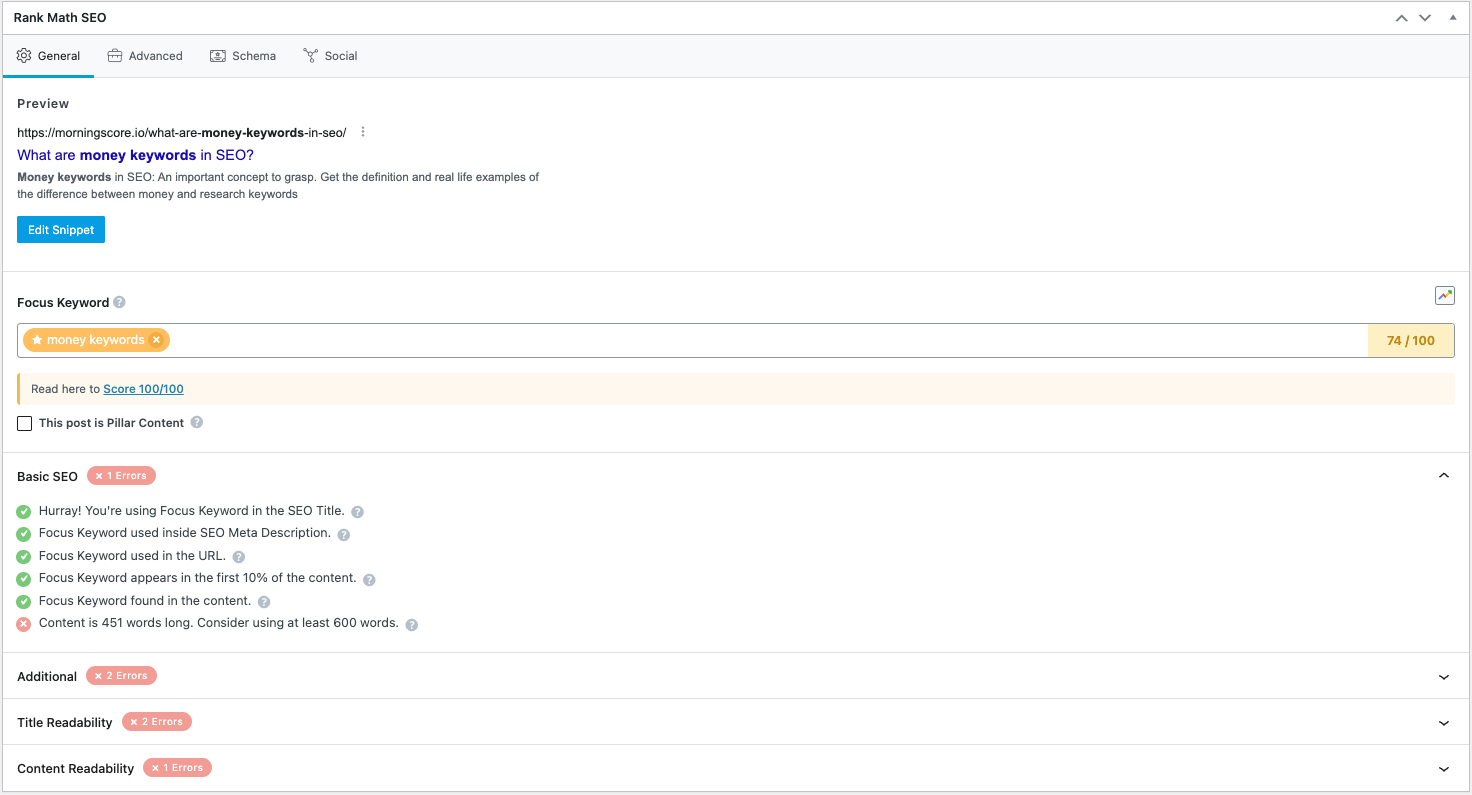 🤖 Price from: Free
One of the free tools that Ahrefs offer is their Webmaster Tools. A simple and easy tool for monitoring and optimizing your website's general SEO health. Add your project (website), let their crawlers check your website, and get a full overview of your website's issues that potentially damages your website's ranking in Google. Ahrefs Webmaster Tools is a great tool for beginners on a budget as it's free for single website owners. This is a single free feature from Ahrefs that doesn't give you access to the full Ahrefs SEO tool which is a lot more costly.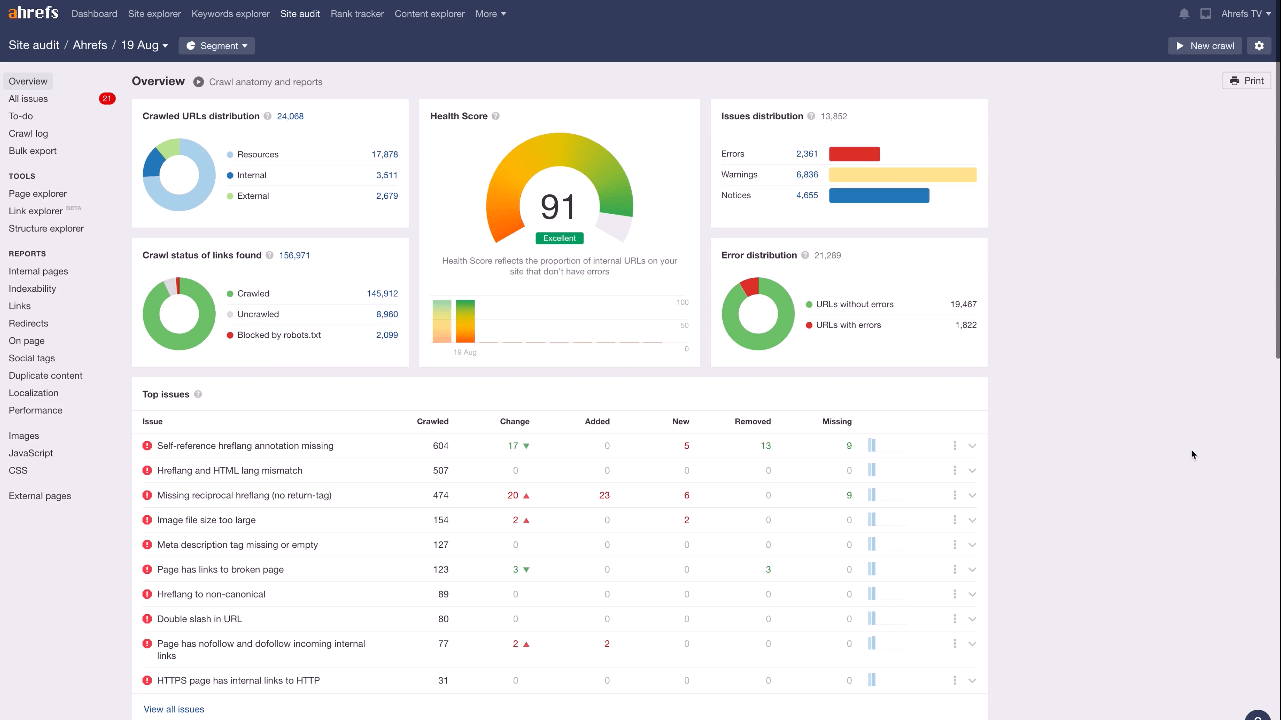 🔍 Price from: Free
If you are looking for an easy and free keyword tool for beginners you can't get passed Google's very own keyword research tool. Discover new keywords, see their estimated search volume, and see the CPC for paid advertisement with Google Ads. While Google Keyword Planner is a PPC tool for Google Ads it's a simple keyword research tool for beginners on a budget. The downside of Google Keyword Planner is that you are presented with search volumes in intervals. So, you won't know if there are 1.500 monthly searches or 6.000 monthly searches as you will get a result showing: 1.000-10.000 monthly searches – a rough estimate.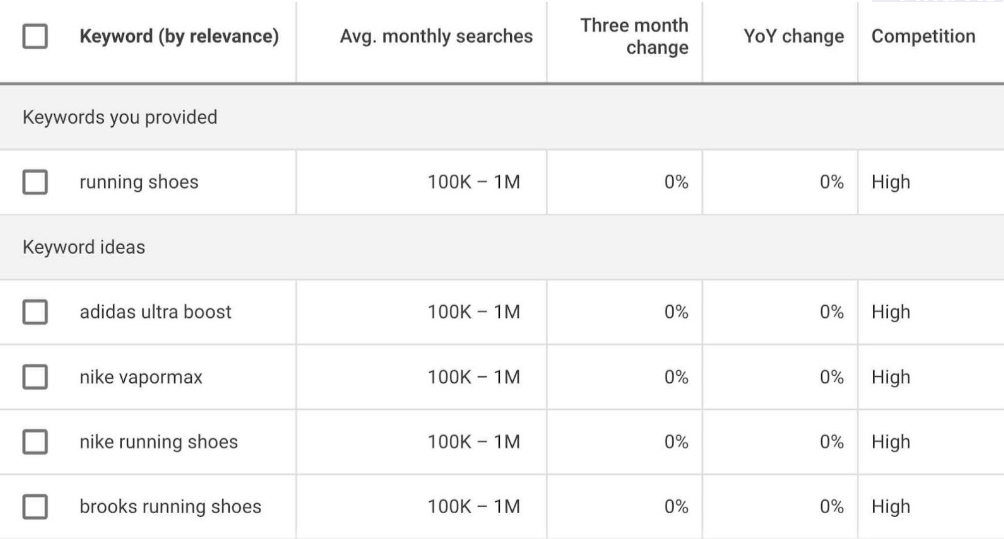 🔍 Price from: $ 15 (3 searches free daily)
AlsoAsked is a simple and easy tool for keyword research specifically targeting related questions your whatever keyword query you want. AlsoAked shows you in a simple manner an organized list of questions about your subject for you to either create new landing pages targeting those keywords or to add more depth to your content making it more relevant for users and search engines answering what people are asking for.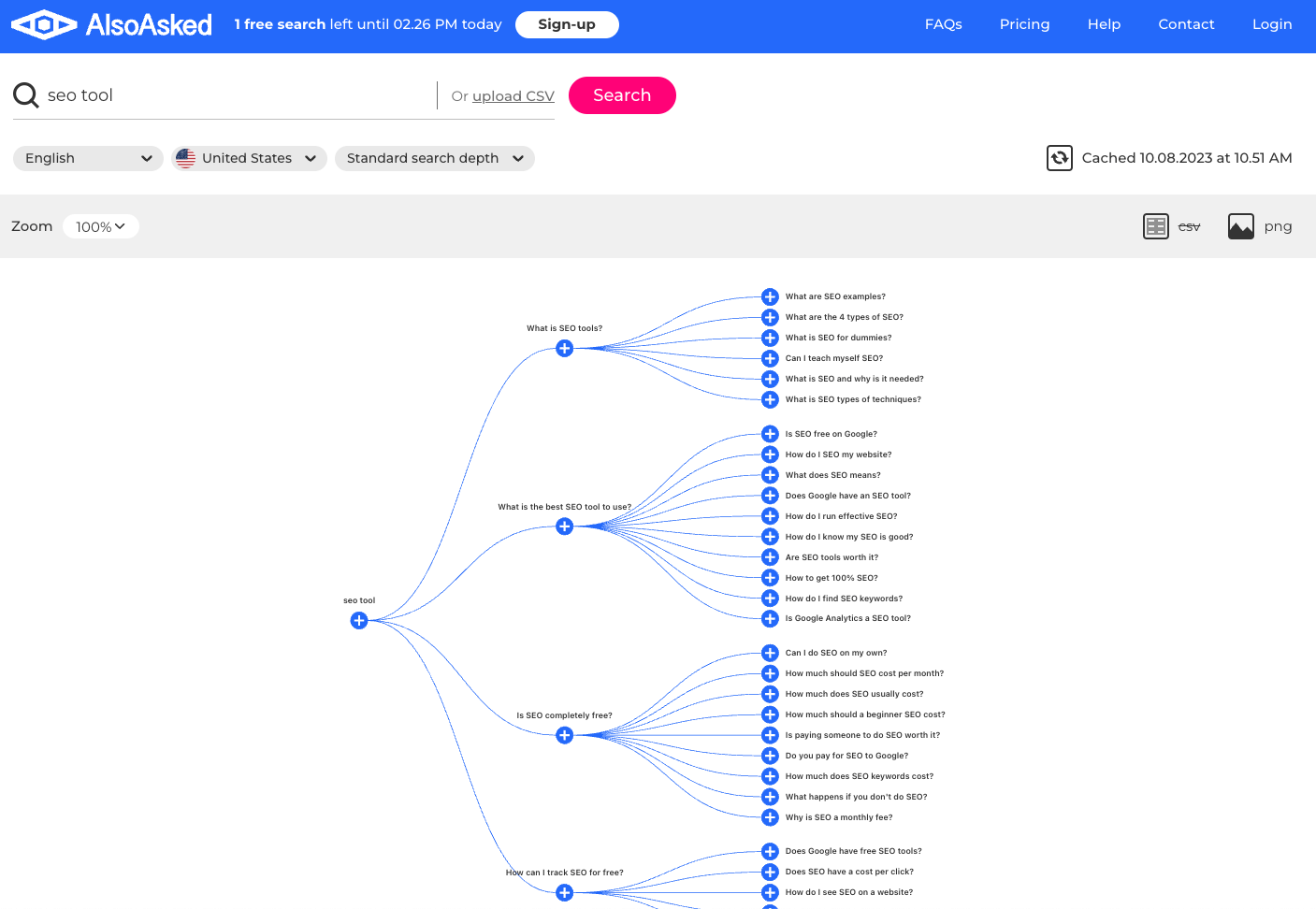 🤖🔍✍️ Price from: $ 89
SurferSEO is a simple AI-powered SEO tool for keyword research, SERP research, SEO audits, potential analysis, and featuring a powerful content editor with the use of AI helping you write the best content to skyrocket your traffic. Basically, a simple tool for beginners who struggles with creating the right content of the required quality. As an SEO beginner, it's very helpful to get content pieces written by AI and edit the content yourself afterward to get the right human-like sound and of course to fit into your tone of voice.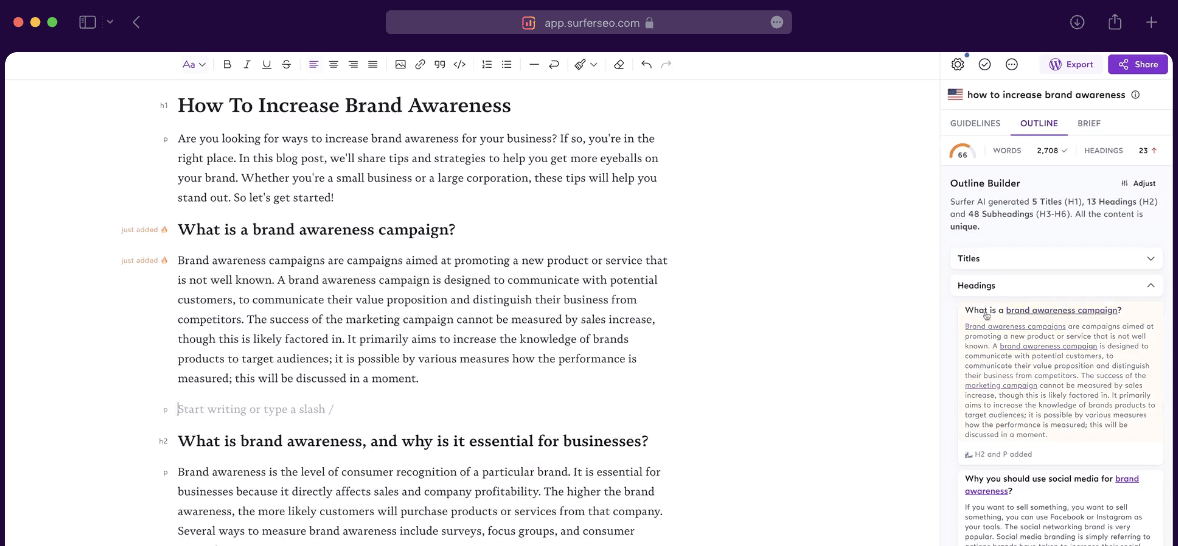 TinyPNG
🤖 Price from: Free
A fast-loading and interactive website is crucial to get the best rankings. So, we can't finish this list of the most simple SEO tools for beginners without an easy tool for optimizing your website's load speed. One of the easiest ways to do that is to compress large images. With TinyPNG you can simply drag-n-drop your images and let TinyPNG do its magic, download the compressed image and upload it to your website and save tons of megabits of your website's storage resulting in a faster website.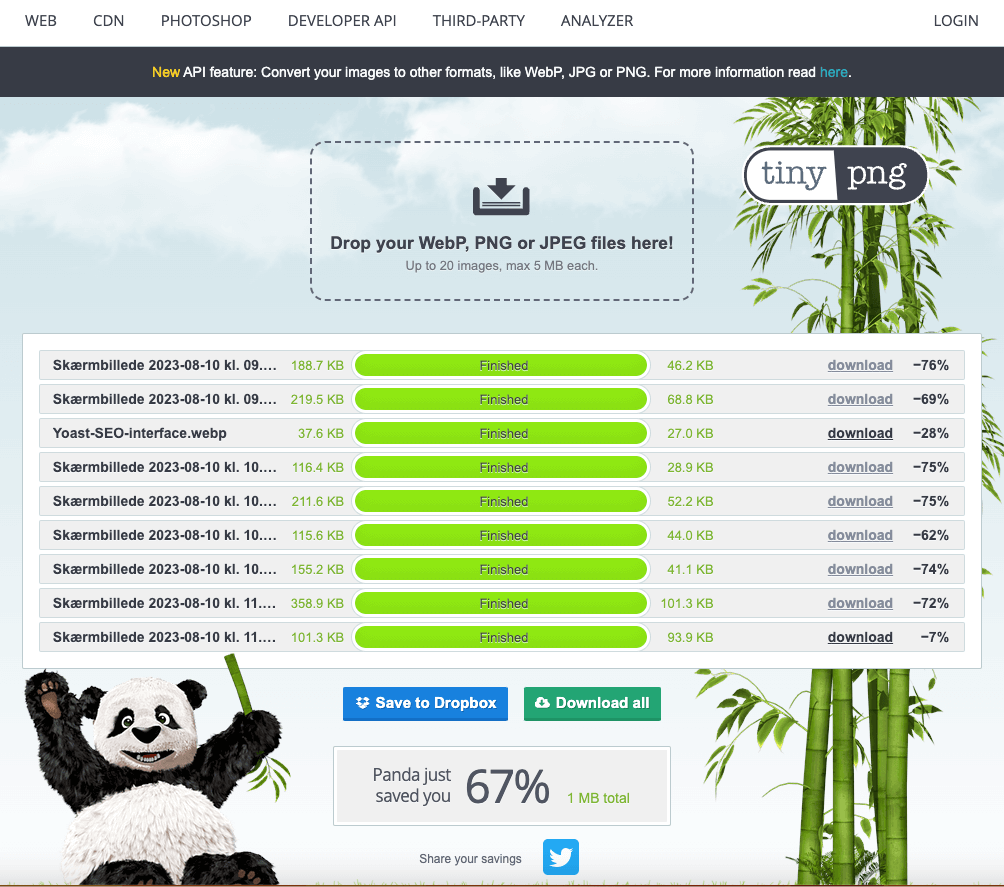 Explaining the tool categories
🔗 SEO tools for links
Tools with this attribute checks the number and quality of links pointing to your website with a backlink checker tool. If you want to know more about backlinks and why they are important for your rankings, you can read this beginner's guide: How do backlinks work?
✍️ SEO tools to help you with content
Tools with this attributes help you create content – either a simple writing assistant but can also be powered by AI. Be careful though. Use your common sense and proofread everything you don't write yourself.
🔍 SEO tools for keyword research
Tools with this attribute are keyword research tools help you find the best keywords and typically tell you how many searches per month a keyword has, and more.
🏆 SEO tools for keyword rank tracking
Tools with this attribute are rank trackers and can track the rank of the keywords on which your website ranks in search engines. Tracking your website and keyword rankings is an essential part of the SEO process. The work helps you make good decisions about your content.
🤖 Technical SEO tools
Technical SEO is, in short, about everything other than your written content. The term refers to the work of optimizing your website so that search engines can access, crawl and index it.
In essence, technical SEO covers everything you can do to help Google understand the content and structure of your website.
Morningscore vs. other simple SEO tools
Morningscore, our own simple SEO tool, is on this list of tools for beginners. Yes, it's possibly biased but we are not kidding when we say that Morningscore is an easy SEO tool for beginners. Morningscore is build to be as simple and easy to use as possible to take SEO beginners to the next level with an all-in-one SEO tool with all the functionality you need displayed in a simple way, being guided on your way with our gamified missions.
This list of SEO tools for beginners contains a lot of easy-to-use tools which are great for beginners. Are you looking for tools for intermediates and experts you should take a look at our list of the best SEO tools.
So, to be completely honest all of the tools in this list is easy to use for beginners with limited knowledge but can help you get that knowledge on the way as you move.
Most of the tools are so simple that they contain few features hence you need more than one of the tools in your toolbox. Some are plugins to help you with the practical stuff, some are solely for rank tracking, others solely for keyword research and tools like Morningscore which is an all-in-one tool containing all features in a single easy tool.
Do you want to give Morningscore a shot? Sign up for a free 14 days trial right here – no strings attached and no credit card information needed.