Morningscore version 3 is a big change. Apart from redesigning the whole tool and engine behind it, we change our payment system and introduce new plans as you can see below.
Why version 3 is exciting
🔥 Bigger investment in you
We have helped a lot of customers grow by giving concrete advice through our chat.
We are scaling this up big time! An online academy is coming.
Version 3.0 is not only about the tool, it's also us upping our game and investing in you!
💎 Rocket polished
The user experience has improved a lot. Version 3 will feel like a fresh new tool, while still having everything you know. Check out the design here*
*This is with demo data. You can click around.
📊 New cockpit
The frontpage is all new. It has become a dashboard with highlights from all parts of the tool.
🚀 Big missions upgrade
Missions follow you everywhere in the tool now. The guides are getting a big upgrade. And you can now see your historical progress.
🏆 A ranking system
A fun 10 levels ranking system, where you grow in rank and build your space city by completing missions.
New pricing plans
Below you can see our new version 3 pricing plans.
Why this change?
We have changed our pricing plans for 3 main reasons:
Based on your feedback we changed the amount of keywords and websites in each plan.
In version 3 you get awesome new features, which will require more quality data (which is not cheap for us).
Fully customize your plan based on features you want. With Version 3 we offer full flexibility to build your own plan. Exciting!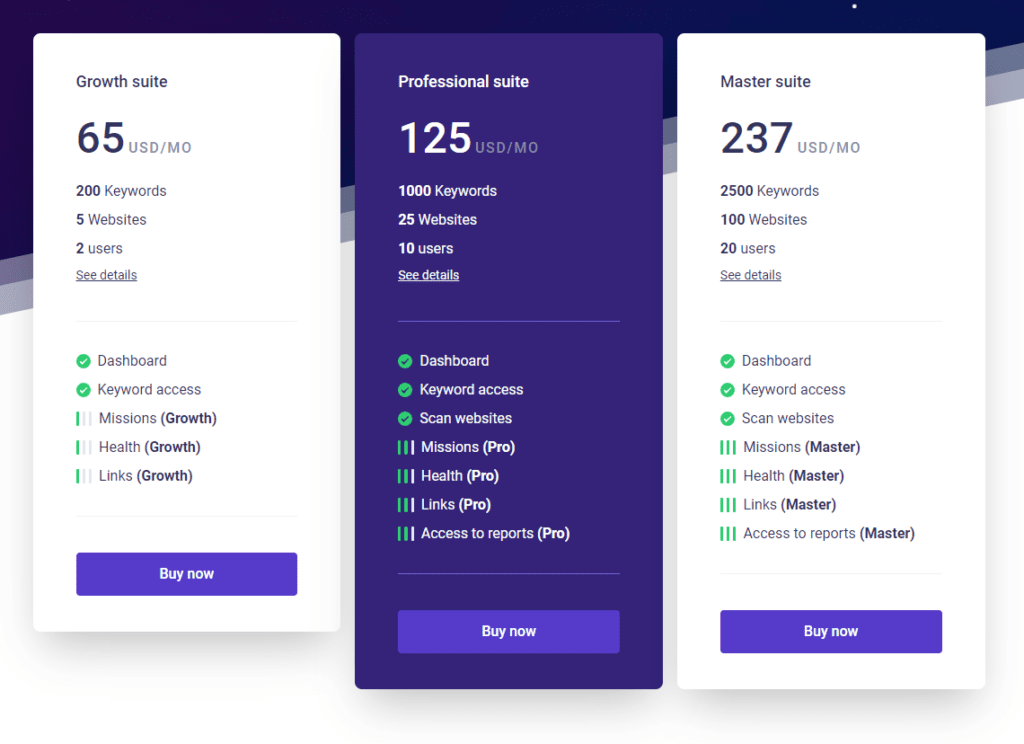 Download this PDF that explains the new pricing in details
| Biggest changes | |
| --- | --- |
| 💳 New payment system | We will ask all of our customers to set up payment via Stripe |
| 👽 Competitors = 0,5 websites | With the new plans, competitors will count as 0,5 websites |
| 🧑‍🤝‍🧑 More users | As you can see in the plans above, you will get more users |
| 🏷️ More keywords | All plans have more keywords than in the old plans |
| 📦 Feature based pricing | We give you the power to fully customize your plan |
How do I switch from my current plan?
To get Version 3, you will need to migrate to one of our new plans.
You are not forced to upgrade to version 3. Then you will stay on version 2.
Version 2 will have an end-of-life in 2021 (date to be determined) and limited support.
Migration will be simple. You will get a notice on mail and in the tool. We can also migrate for you and are of course ready to answer all questions. All data and benefits (like pioneer discount) will be safely migrated.
When will this all happen?
The new plans will be introduced together with the release of Version 3 in Autumn 2021
Expected timeline of events:
April 2021                      |    Release of Version 3 BETA for testing
September 27th 2021   |   Version 3 BETA closes down.
October 12th 2021        |    Version 3 will go LIVE
How pricing plans will be matched
You of course decide what plan fits your needs. This is the matching we will initially do on your behalf to get you over on Version 3.
Version 2 plan
Matching version 3 plan

*

STARTER (25 USD)

20 keywords | 2 websites | 1 user →

Growth Suite (65 USD)

200 Keywords | 5 Websites | 2 Users

LITE (56 USD)

100 keywords | 5 websites | 1 user →

Growth Suite (65 USD)

200 Keywords | 5 Websites | 2 Users

BUSINESS (95 USD)

500 Keywords | 25 Websites | 3 Users →

Professional Suite (125 USD)

1000 Keywords | 25 Websites | 10 Users

PRO (174 USD)

2000 Keywords | 75 Websites | 10 Users →

Master Suite (237 USD)

2500 Keywords | 100 Websites | 20 users
* A competitor website in version 3 only counts as 0,5 websites. So you get a lot more value in Version 3 plans.
FAQ
| | |
| --- | --- |
| Question | Answers |
| How will migration work? | Mid-October you will receive an email and pop-up in the tool to migrate to version 3. A few clicks and you are in Verison 3. You will automatically be matched with a Version 3 plan that is similar to your current plan. You will not be charged for this upfront. This will happen at the next renewal date. You can change plan in settings or by contacting us at any time before and after the renewal. |
| What if I bought a yearly license? | You will keep your current Version 2 plan price for the remainder of your subscription period while having access to the version 3 plan. No upfront charges. |
| Where is the STARTER plan? | This plan will no longer be available. We added a new $5/mo "Dashboard" plan to replace it. This plan can be customized: |
| Can I keep my STARTER plan? | Not in Version 3. You can build a customized plan that gives you similar features at a similar price |
| What if I have a discount? | It follows you to Version 3 plans. |
| Can I still cancel my subscription any time? | Yes, with Version 3 plans it's still super easy to cancel a subscription in the settings of the tool or by contacting us. |
| Will the pricing/plans change again? | There are no plans for that. Version 3 is very much us maturing into a foundation to build upon many years from now. |
| Will you help with the switch? | The switch can be done through our tool. But of course we are here to help by phone, chat and email 🙂 |