The easiest
all-in-one

SEO tool
Morningscore makes SEO easier with personalized guides. Get measurable results, faster. Try 14 days now 👇️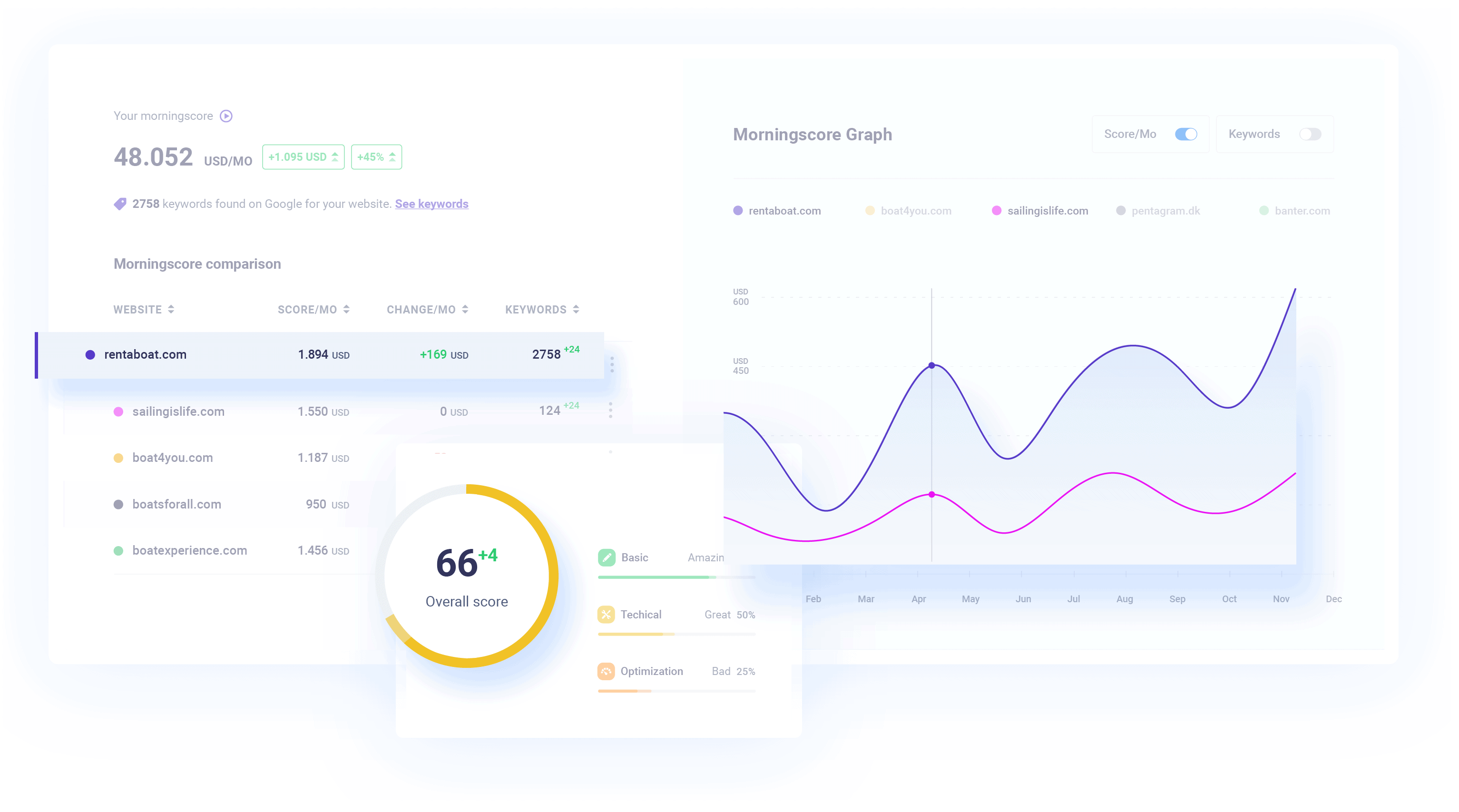 Learn to make sense of SEO
What is Morningscore?
Morningscore is an all-in-one SEO tool that uses gamification to make your SEO work easier.
The game mechanics help you prioritize and focus on the most profitable tasks, and the user-experience is so intuitive you'll be able to make sense of SEO even if you're not an expert.
Our tool also lets you measure the exact monetary value of SEO in whatever currency you prefer.
Then you can easily evaluate the profitability of your SEO efforts and start using your marketing budget much more efficiently.
Check out Morningscore's features
A quick and simple overview
Simplifying SEO is our specialty. Check out below how our tool gives you a quick and simple overview of your SEO.
Make sense of SEO
The simplicity of our tool helps you succeed with search engine optimization no matter how experienced you are.
Set up missions
Morningscore's missions feature helps you manage all your SEO projects and focus on the most profitable tasks.
Analyze competitors
Scan and analyze competitor websites for keywords and links, and use the insights to always stay one step ahead.
Track keyword rankings
See how you rank on tracked keywords, and base your SEO work on estimates to make the most of your efforts.
Check website health
Fully scan your website to keep track of its health condition at any time, and see what needs fixing and how to do it.
See all your links
Keep track of all your new and lost links, and build a strong link profile that helps you reach the top of the search results.
Get a personalized demo
Not sure where to begin?
Book a free 1-on-1 demo session with one of Morningscore's specialists, and let them guide you towards a great start.
Free 1-on-1 demo

— get answers to all your SEO questions

Specialist guidance

— learn from an expert to get started