Unlike other SEO activities, keyword research is one of those things that's worth spending the time upfront. And that's mainly because for tasks like link building you can actually see the backlinks, track KPIs, and make quick adjustments. Keywords, however, require a longer period to display their full effect, and it might even take a new website some 6 months to properly rank for a keyword. Additionally, although it might not feel like a complicated task to many, it is one of those things that you can easily get wrong without even noticing. But chances are, you won't rank for most head terms because of the competition. That's where long tail keywords come in.
Feel confident and want to skip ahead? Use this table of contents to jump to any section of this guide:
Implications of Keyword Research & Using Long Tail Keywords
First off, let's start by clarifying WHY good keyword research is CRUCIAL to SEO. Here are some of the main implications:
Mediocre keyword research will only bring you mediocre results
Poor research will waste you a TON of time (a couple of months best case scenario)
Strong keyword research will boost all of your other SEO activities
Proper keyword research brings a unique understanding of your target market and their problems, questions, and ideas
You will never run out of content ideas if and when you find a good source of keywords
Proper keyword research helps you present your products and build profitable offers
As you can see, there's plenty of benefits (or otherwise downsides) of putting in the time for keyword research upfront. Now that we have that covered let's take your SEO to the next level with these few actionable steps.
1. How to find seed keywords
To have a good search engine optimization process, you need to start by finding seed keywords first. Your task here is to generate a big list of words that are related to your industry. For this guide, we'll be using an example of a graphic design website. Following these steps, you will see that for many of our tasks, we use free tools. However, for this one, it is critical that you begin by brainstorming. That's because those tools come with certain limitations that we'll cover a little later in this section.
Don't know what seed keywords are? We got you covered. Learn more about what keywords are here.
Brainstorming seed keywords
When brainstorming, it's important to understand one simple yet core principle – there are no perfect keywords. Everything you come up with that's somewhat related to your business might help you fill that content gap and gain valuable visitors. If you are having a hard time identifying any, you can insert generic keywords into a keyword research tool to get ideas to work with.
Here's how:
Make a new excel document
In the first column, write down as many one/two-word phrases that are used in your industry
Save that document as you have to continue adding to it in the next steps
Brainstorming example for our design business: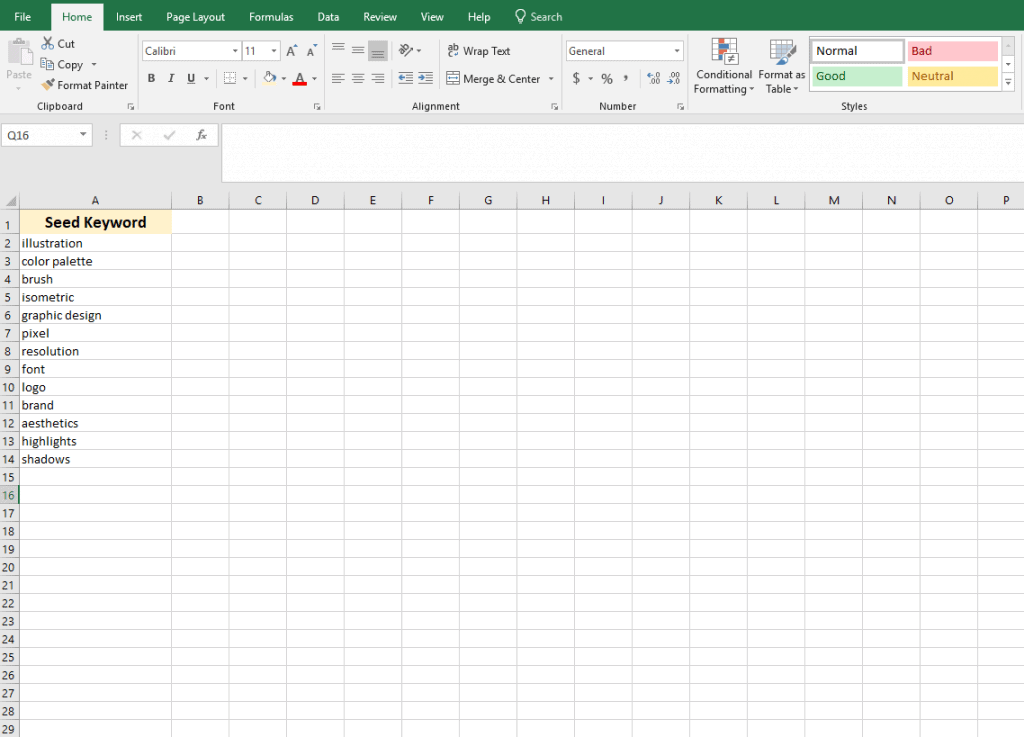 After that process, it's time to find some sweet niche terms with the help of a couple of tools and websites. Here are some ideas where you can find words that you could have never thought of:
Amazon – Find head keywords by exploring products related to your niche
Take a look at the description — here you can see that we are able to uncover keywords right away. In this example, I found the seed keyword "creative thinking" in the second sentence.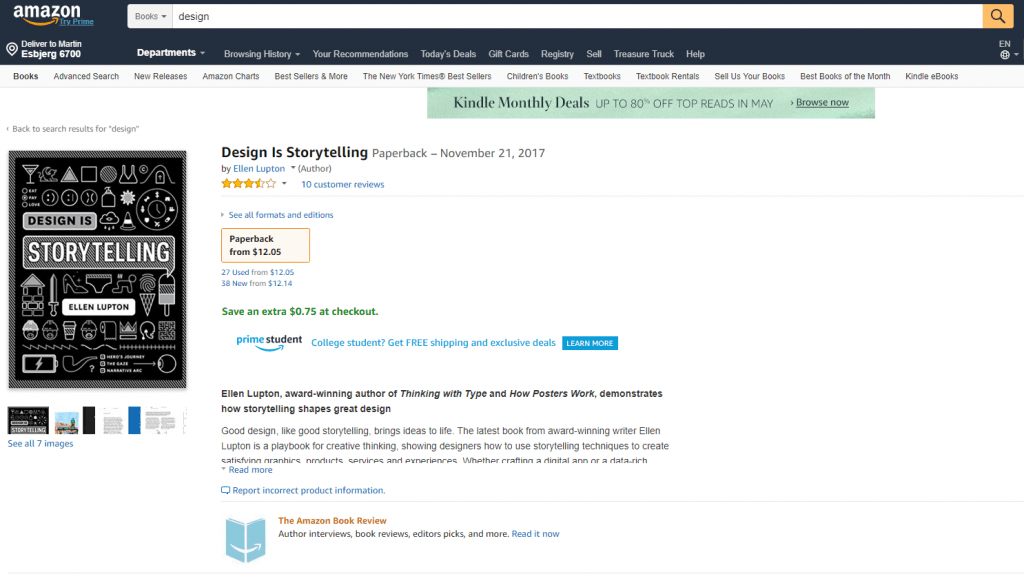 To emulate my success, try:
Go to amazon.com
Type in your keyword
Scan through the products for potential keywords
Open some of the products
Read the description
Add the good keywords you find to the spreadsheet
For additional in-depth research, you can check out the review section and see some of the keywords customers use when they're communicating.
Clickbank – Search for seed keywords by offers in your niche
Another great source for keywords is Clickbank because of the hot products people might be searching for.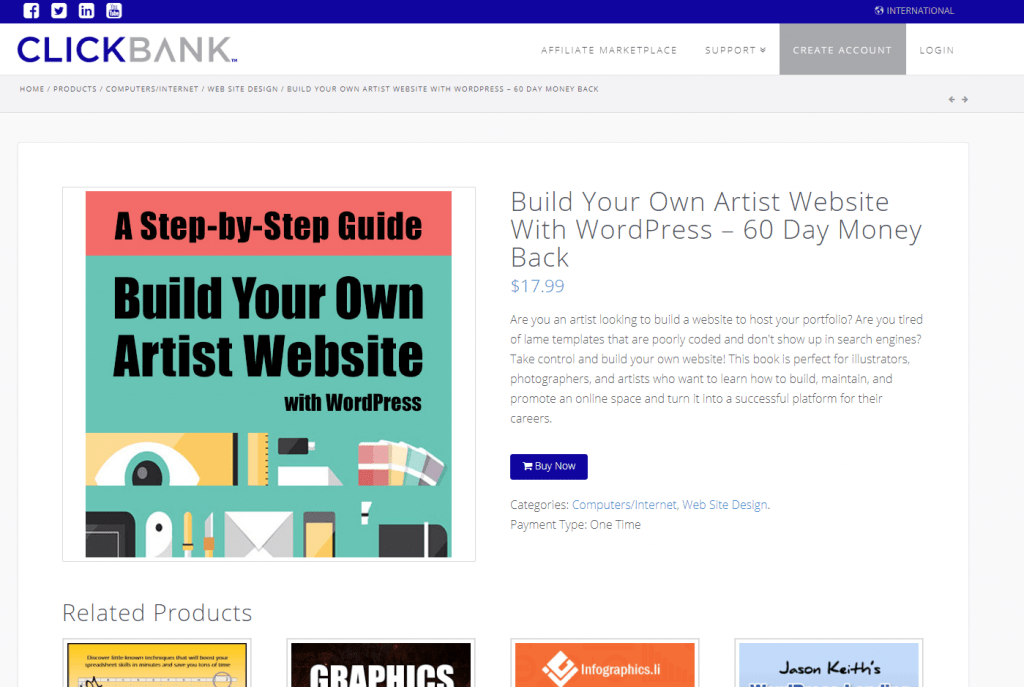 To find the best keywords for you:
Visit clickbank.com
Explore the niches (you might find hidden gems in different sections)
Click on a product and read the description – In this example, I found the keyword "portfolio" which I had initially missed out
Add them to the spreadsheet
Explore the related products and keep adding keywords
Remember that this is the discovery stage and there are no bad keywords – you will have to confirm them in your research in any case.
Reddit – find a niche subreddit, sort by top & all time
Next up is Reddit. This is an excellent place for finding keywords, and I tend to recommend it every time someone is in need.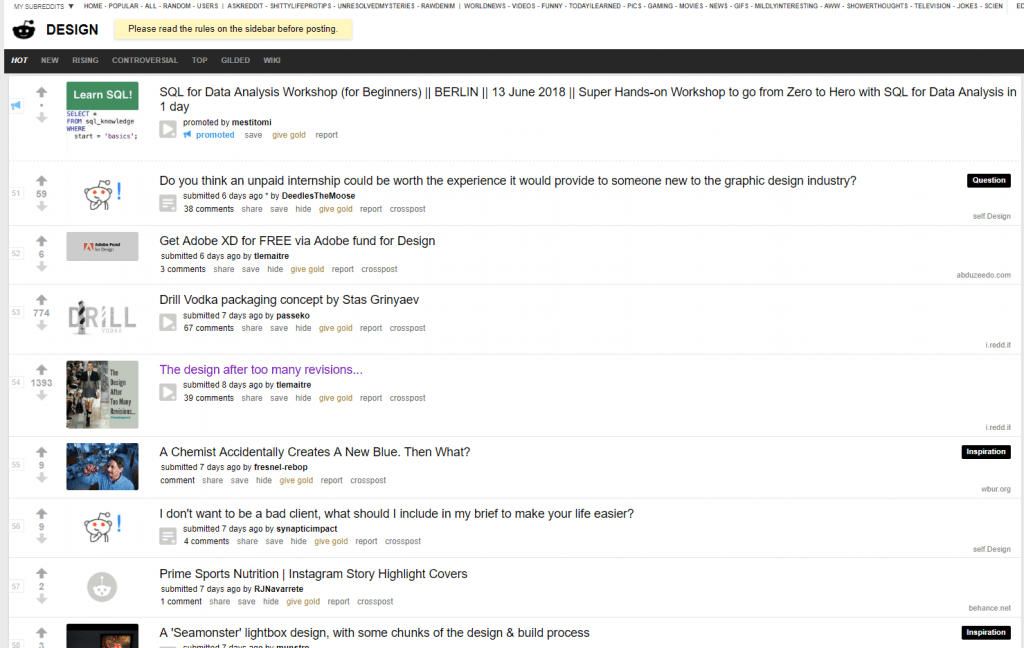 To make the most out of Reddit do this:
Head over to reddit.com
Type in your industry in the search bar to the right ("design" in this case)
Open the Design Subreddit (usually the first one, typically looks like "r/industry")
Look through the latest posts – as you can see, I already stumbled upon a great keyword here – "revisions")
Now navigate to the top posts and set the date range to "all time" as shown in the image below
Add them to your list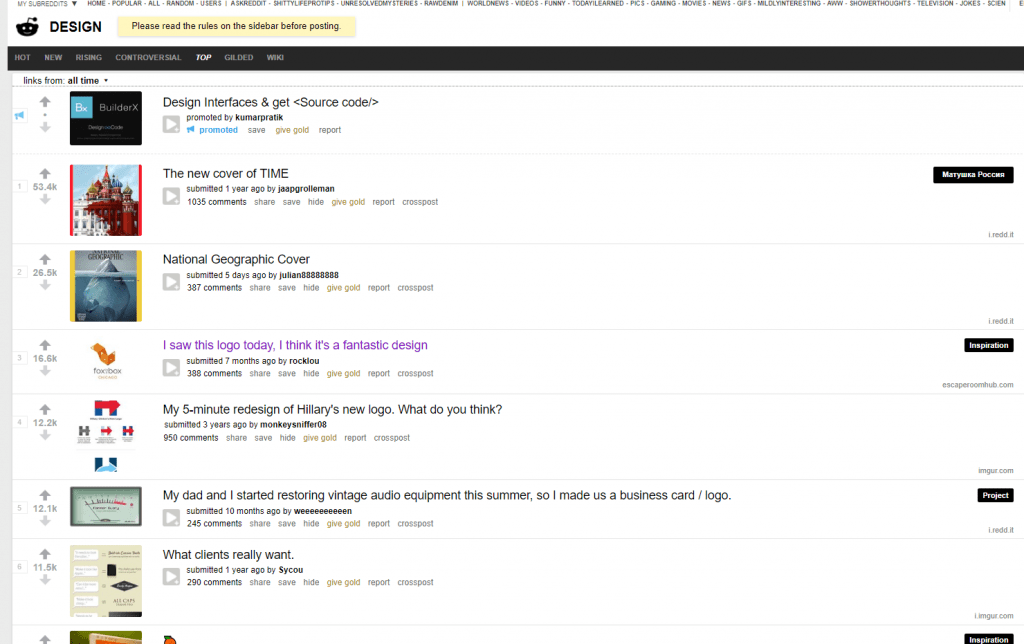 Immediately, I was able to find what I was looking for — the keywords "redesign" & "poster."
Lists from industry-leading websites (e.g., list of exercises)
This example might be harder to mimic in your industry, and you'll probably have to put in some creativity.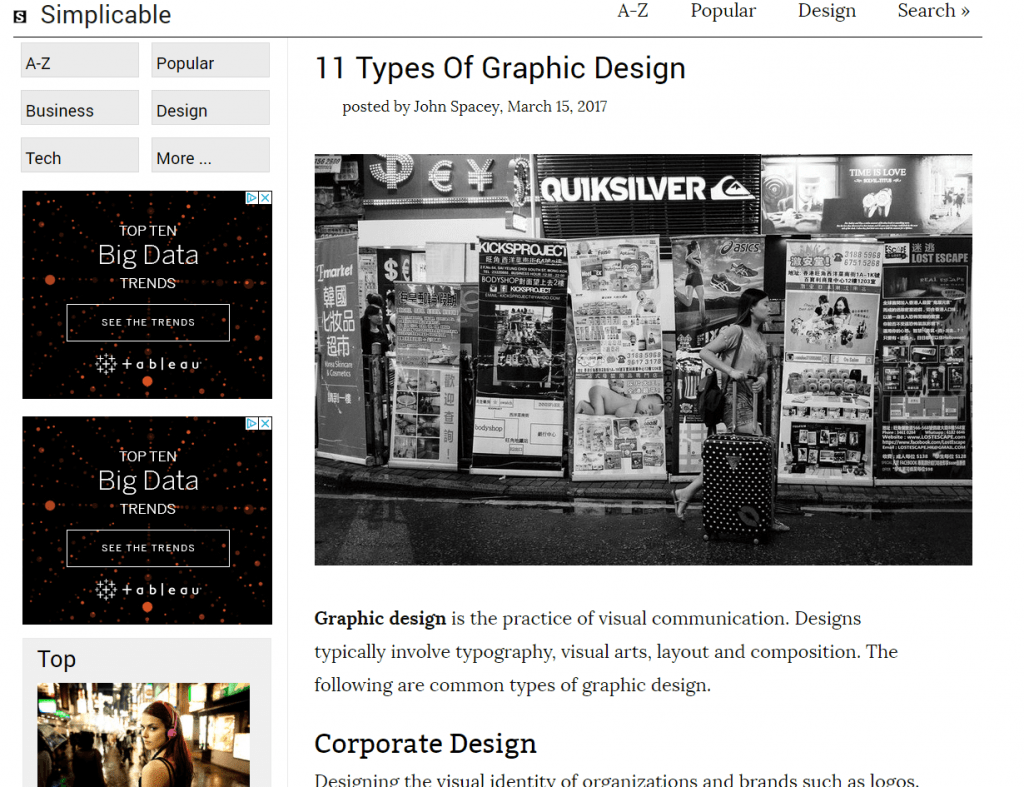 This is how you can get started:
Use one of these search queries in google:

"Your keyword" + list
List of + "your keyword"
Types of + "your keyword"
"Your keyword" + types

Open one of the websites in the search results
Read through and mark some good keywords that you find relevant.
For our design example, I searched for "types of graphic design," and I was able to find "typography," "layout," and "composition" right away.
Browsing your competitors' websites
If you're just starting out, this step might be harder as you still might not have the full knowledge of who your competitors are. However, if you've been in business for some time, this should come naturally.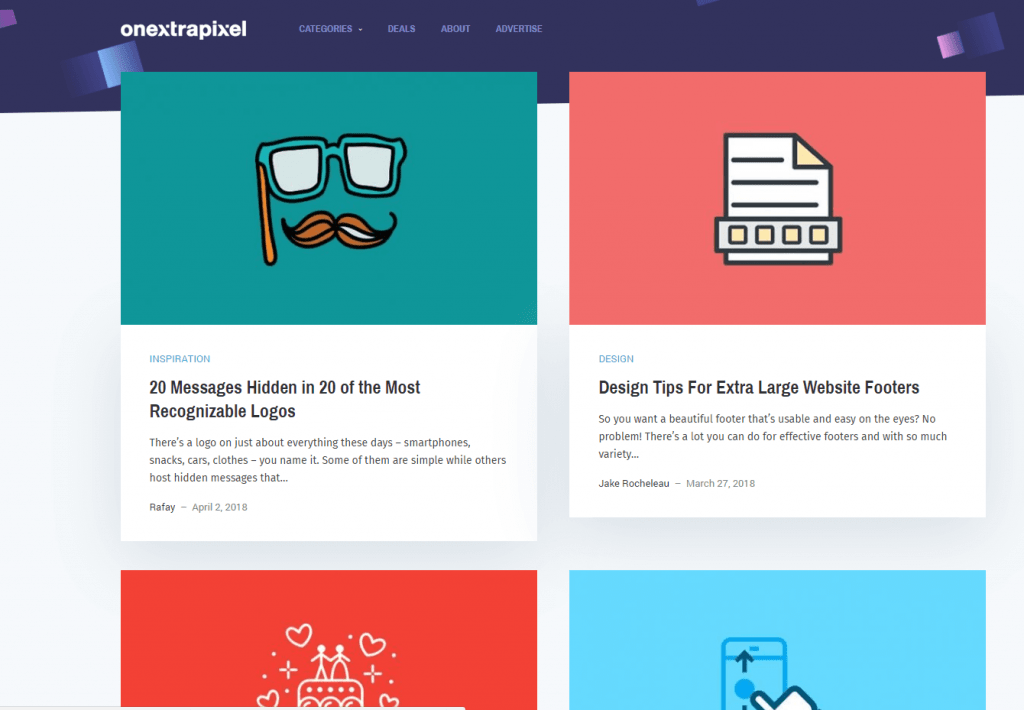 For this example, I stumbled upon the website Onextrapixel.com which turned out to be a great source of keywords.
Here are the steps to replicate my success:
Use one of these search queries in Google:

"Your topic" + blogs
Top + "your topic" + blogs

Open one of the results
Go through the list and open some of the blogs (tip: good keywords hide where you don't expect them to be – in other words, don't judge the book by the cover in this step)
Read through headlines (and even the posts if you have the time)
Collect all keywords that seem relevant — I found "footer" & "design thinking" in my case
Selecting the right competitors for your business is very important. A good rule when you are starting off is to stick to the major websites in your industry.
Seed Keywords Examples
To sum up, here's the list of keywords I've found so far from all types of sources:
illustration
color palette
brush
isometric
graphic design
pixel
resolution
font
logo
brand
aesthetics
highlights
creative thinking
portfolio
revisions
redesign
poster
footer design
design thinking
2. Generating Long Tail Keywords From Tools & Main Limitations
Once you have a good list of seed terms, it's time to generate some long tail keywords. In this step, we're aiming for quantity rather than quality (this part comes later), and therefore it's best to utilize a tool to help us out. Because of that, there's really not that big of a difference when it comes to free vs. paid tools in this step. Where paid tools might prove useful is in the next step where we are going to explore how to filter your keywords effectively.
In this guide, we're using free keyword tools which work great, but if you're a more advanced user feel free to use your own (paid) sources.
Good practice for this step is to look for sources that provide you with keywords appended not only after the seed keyword but also at the beginning because often users will organize the words in different ways when searching.


After getting familiar with these tools, we're going to look at some of their limitations.
Here are some of the best free tools online:
LSI Keywords
This is an incredibly simple and useful tool.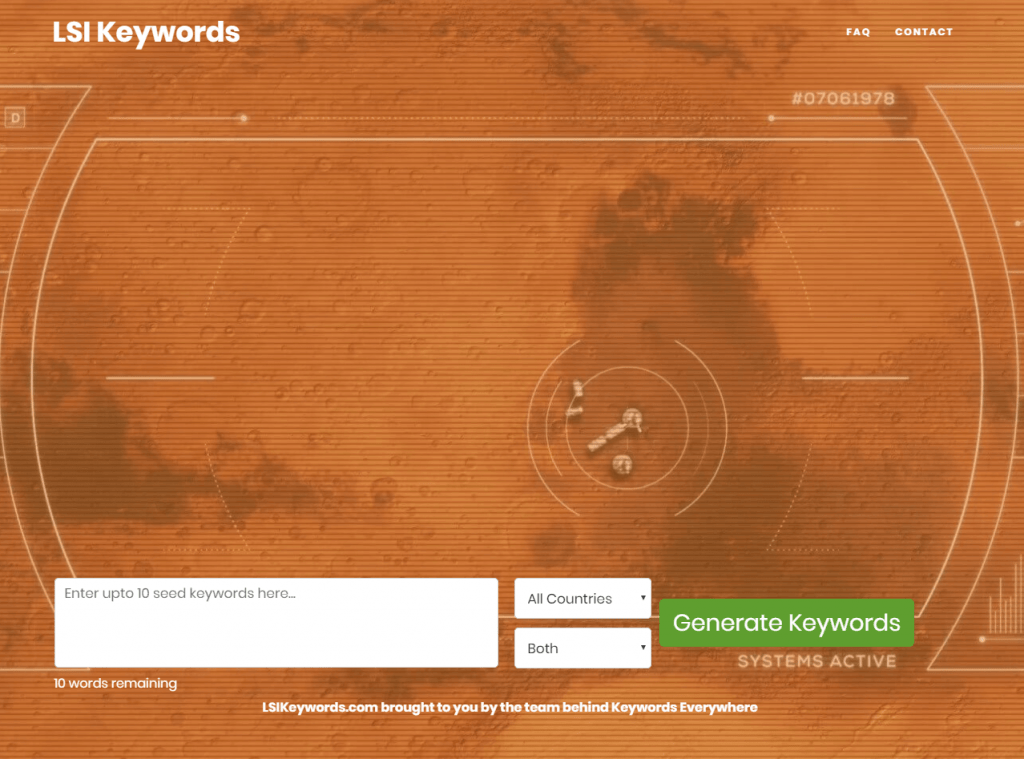 All you have to do is:
Visit lsikeywords.com
Type in your keyword (or keywords – up to 10)
Select a country
Select type of keyword you're after — Long tail in this case
Click "Generate Keywords"
When the page loads, you should see this:
Download the list of long tail keywords as either Excel or CSV through one of the buttons in the middle
Some users have experienced issues in the past so make sure you select both the country and type of keyword in any search. Alternatively, if this doesn't work, try opening the tool in an incognito mode in your browser.
Ubersuggest
Ubersuggest recently got acquired by Neil Patel who is one of the best digital marketers in the world.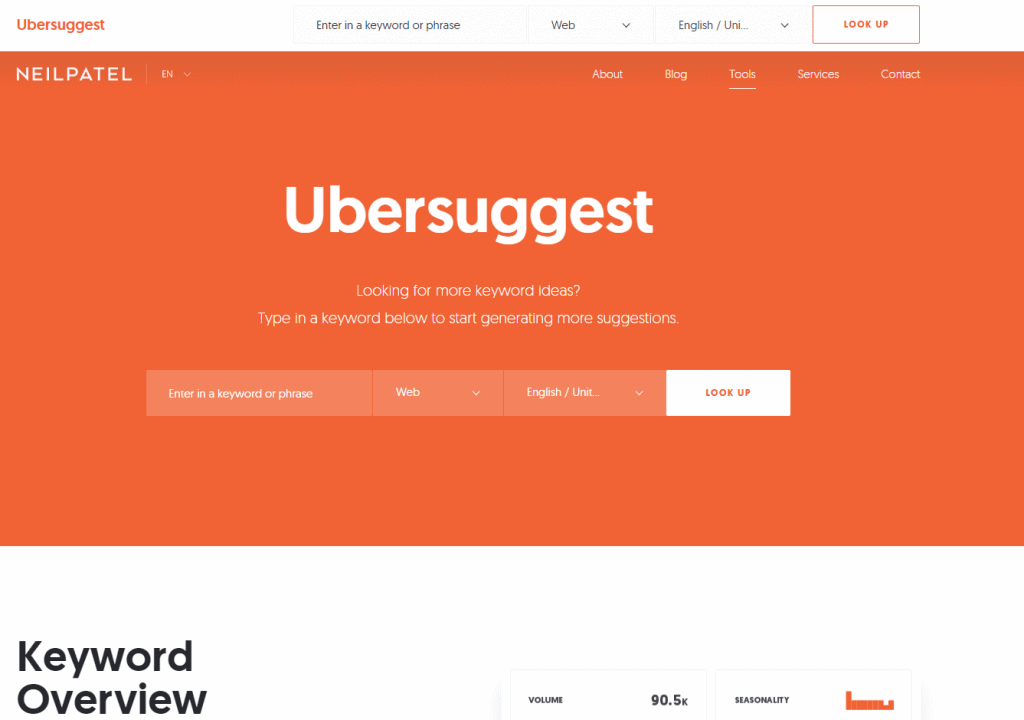 With this makeover, the tool works smoother than ever, and you can generate thousands of keywords in a matter of seconds.
Here's how:
Enter your keyword
Select the type of resource that the keywords should be extracted from.
Select a country & language
Click the white "Look Up" button
Go to the bottom of the page
Click the "Export to CSV" button to get a file containing all keywords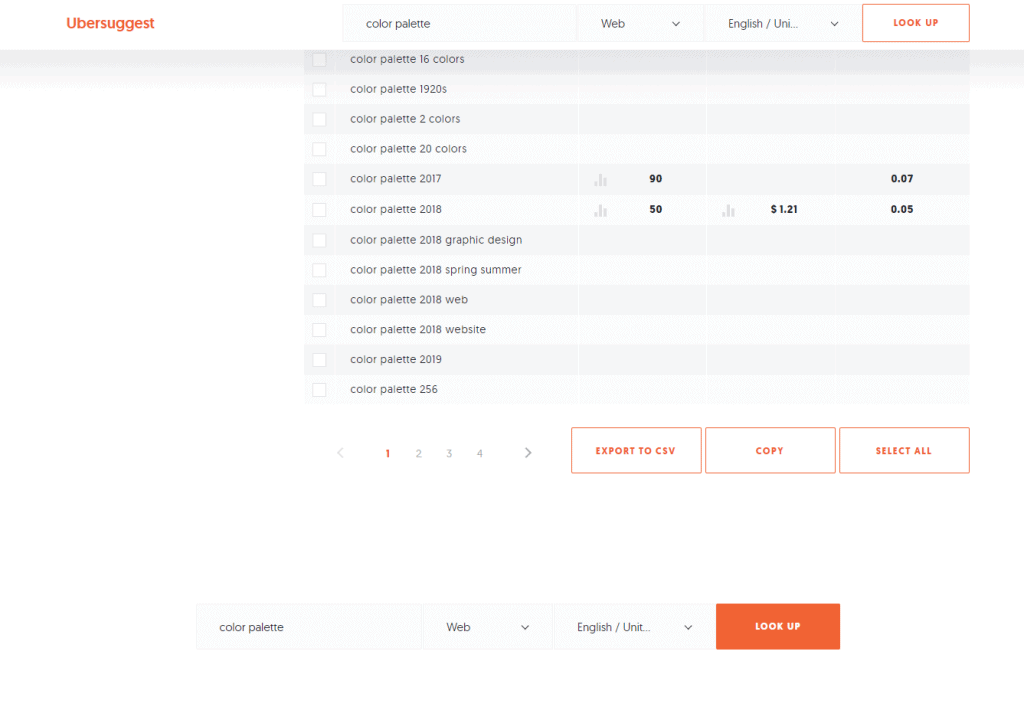 Keywordtool.io
Keywordtool.io is a simple and powerful tool for keywords which can be used both as a free or paid version. Similarly to the rest, this tool provides an extensive list of long-tail keywords related to your search query. The only downside, in this case, is that you won't be able to see search data about the keywords unless you have the paid version.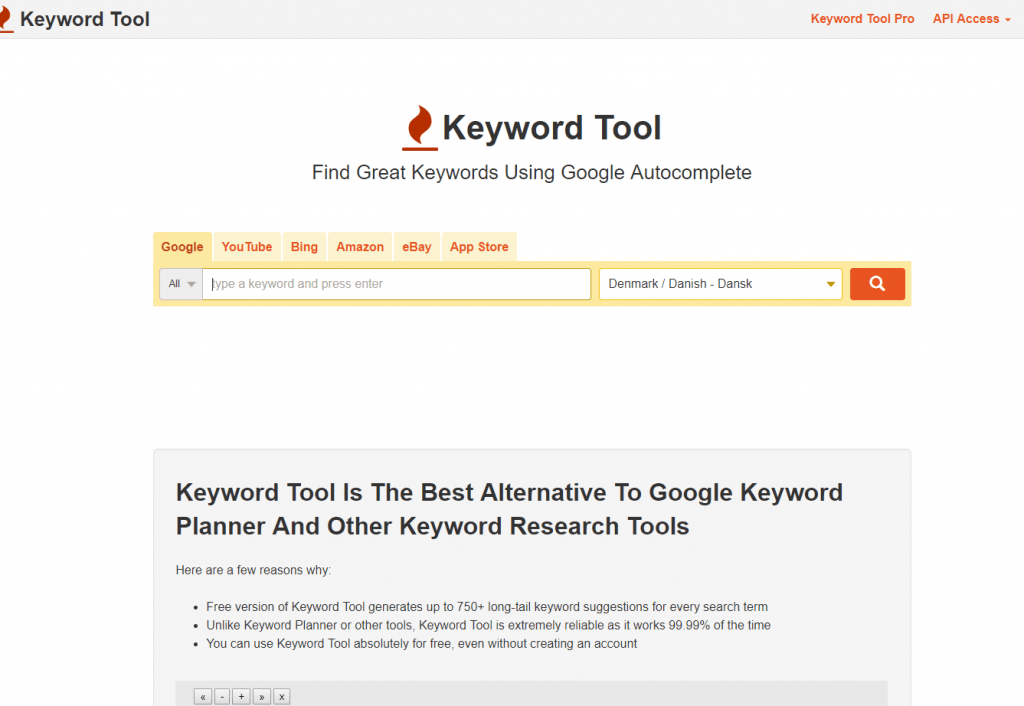 Here's how:
Visit keywordtool.io
Type in your seed keyword
Select a search engine of choice (or just keep it as Google if you feel intimidated)
Pick your language
Click the search icon
Click the Export All button to the right to get your long tail keywords suggestions (and/or questions)
Once ready, download them as a spreadsheet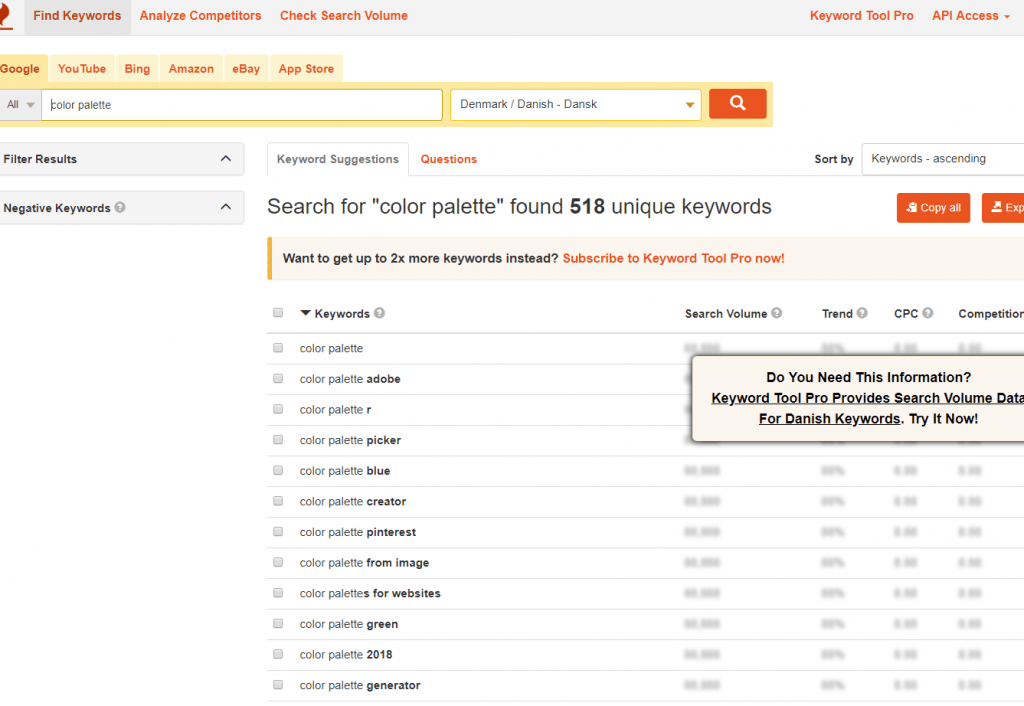 Google Trends
Google Trends is an excellent tool in the sense that it provides you not only with keyword suggestions but also queries that are rising in search volume. This means that you can uncover trending topics for your content strategy that might simultaneously not have a very competitive environment.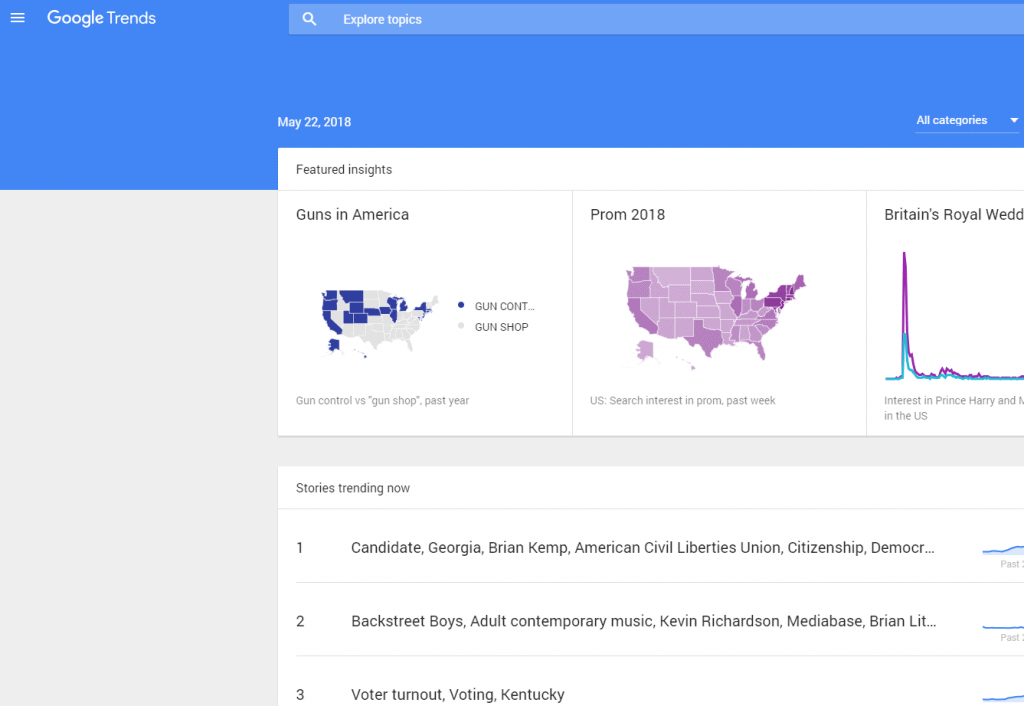 The steps:
Go to trends.google.com
Type in your keyword
Select the country of choice & time range
Go to related queries right below the map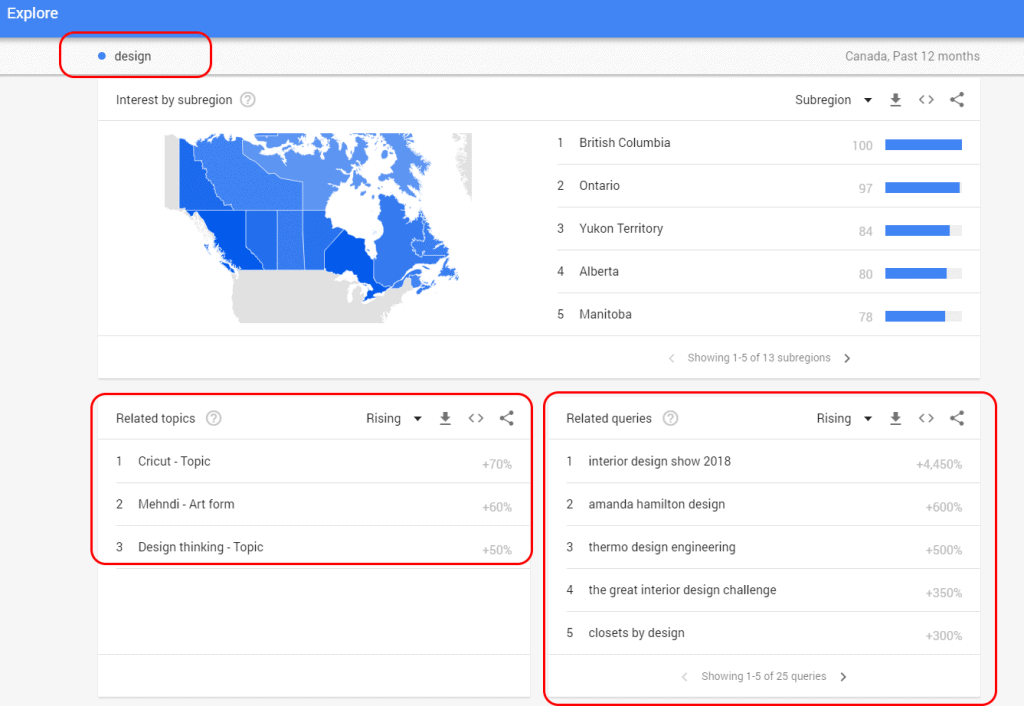 Google Suggest
Most of the tools you find online will offer keyword suggestions based on the Google Suggest queries. That's because it's so good – and free. In fact, I am sure you've "accidentally" used it in the past when browsing.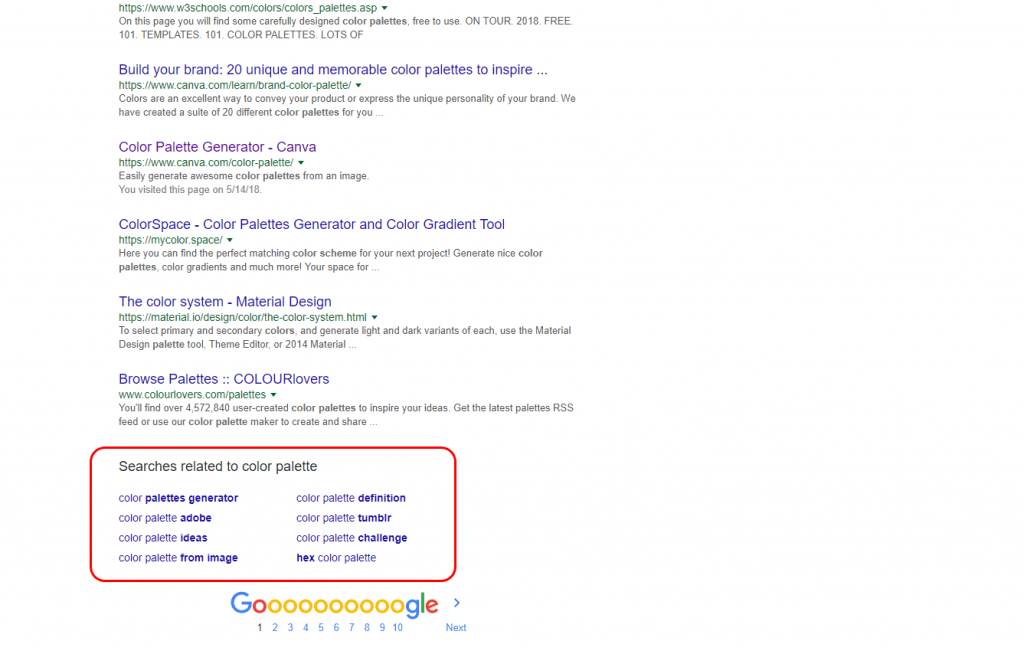 Go to google.com
Search for your keyword
Navigate to the bottom of the page
Collect the search suggestions
Open some of them and repeat the process
Answerthepublic – Find questions related to your niche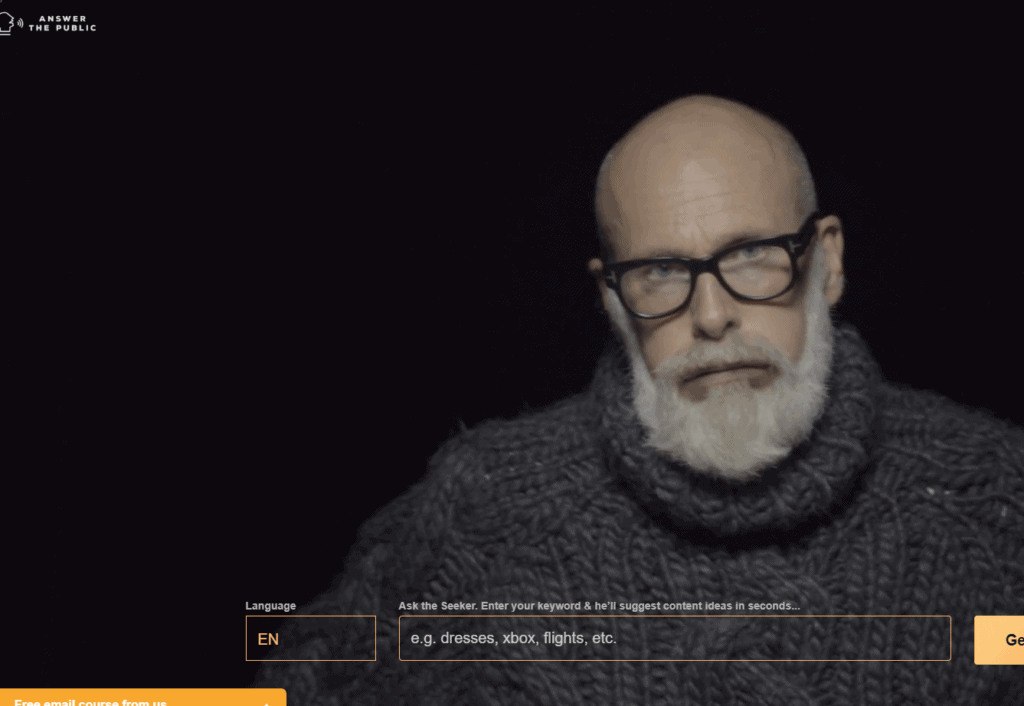 Answerthepublic is a very, very powerful tool. As you already know, search queries are formed differently than everyday writing and speech (if you feel like you'd like to refresh your knowledge on the topic, read chapter X). This tool helps you find some of the most common questions and phrases once you enter your keyword of choice.
Try this:
Go to answerthepublic.com
Type in your keyword
Click "Get Questions" and hold still for it to load
Once loaded, scroll down to the first section (don't get scared — yet)
Explore the tool by clicking on "Data" in the upper left corner (of each section)
Once you're done, you can download the data by clicking on "Download CSV" in the upper right corner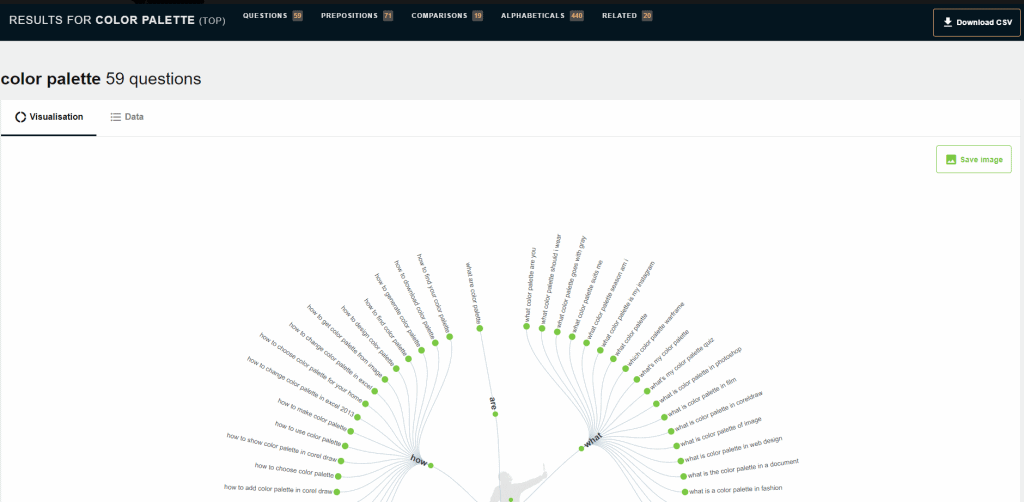 Main limitations of keyword research tools
Now let's look at some of the main limitations when it comes to using keyword discovery tools:
The main issue with using such tools is the fact that they are limited only to your imagination. This means that if you take the time to brainstorm good keywords, you're going to get relevant results.
The opposite is also true, and you will find keywords that you expect. In our example of the design blog, looking for suggestions based on "color palette" will return results containing the seed keyword almost exclusively.
For that reason, brainstorming and using tools are actions that should be combined if you want the best results — neither will work on its own.
Two main factors will determine the quality of results you get from research tools:
you need good seed keywords as a starting point
you need good filters for your keywords
We already covered the first one. Let's look at how to set up good filters for your keywords.
3. Setting up good keyword filters for effective research
Don't know how to set up filters for your keywords correctly? Don't worry — we got you covered. There's plenty to be done after reading this sections.
What are good keyword filters in SEO and how to set them up?
Being able to filter and sort out your data properly is a skill you must develop if you want to do effective keyword research for your business. Fortunately, all you have to know to get started is covered in this guide. There are two ways to make use of filters – before and after downloading your keywords. For more advanced users, I always recommend starting by filtering your keywords before you download the spreadsheets because it will save you a ton of time. However, if you're just getting started, feel free to filter your freshly generated long tail keywords only after downloading. For this guide, we're looking only into filtering after you download the spreadsheets.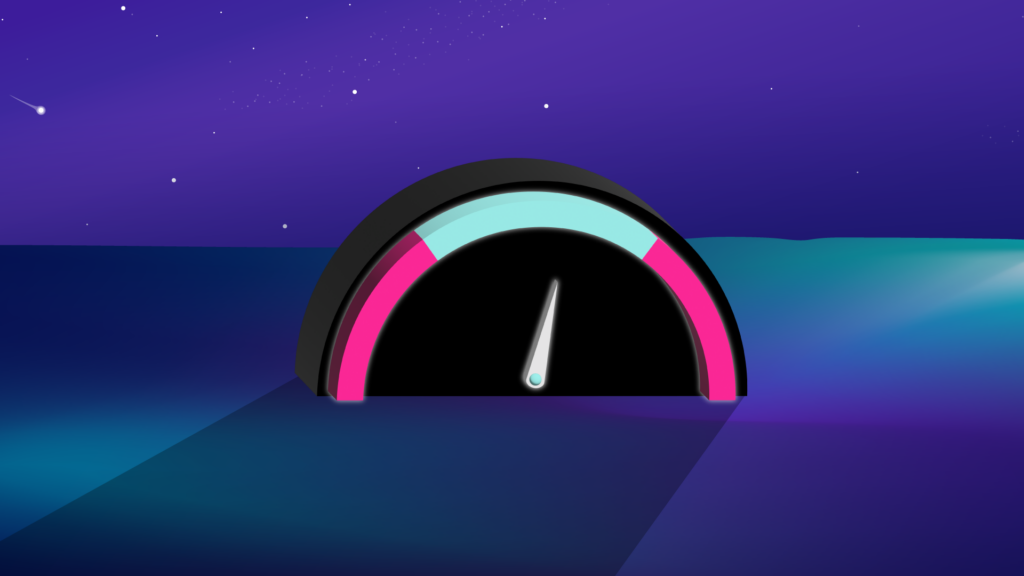 Before we begin, you need to understand what a good keyword looks like so that you can set effective filters.
Two main factors come into play when you're looking for good keywords:
You have a chance to rank for that keyword
It will bring the right people (a.k.a. your target audience)
Keywords Everywhere
Let's begin by collecting all of our keywords in one place and getting accurate metrics for them.
To do that, we're using the free tool called Keywords Everywhere:
Go to this bulk upload page
Enter all of your keywords (quite speedy processing, go ahead)
Click on Get Metrics
Export your file
Sorting in Excel

Let's look at the steps and some examples of how you can find those perfect matches:
Open a spreadsheet with the keywords you just downloaded
Click the filter button on the top right like so:
From the drop-down menus for "Monthly (Search) Volume" try these settings:

Monthly Volume – Number Filters – Between
More than 50 searches/mo
Less than 1000 searches/mo

From the drop-down for Competition select this:

Competition – Number Filters – Less Than
Less than 0.3

Repeat for all seed keywords you have extracted (the rest of the spreadsheets)
4. Analyzing the Search Engine Result Pages (SERPs)
For this step, you'll have to use some tools and your intuition. Below you can also find the most important metrics that you need to be looking at if you want to have a guarantee of success.
The Moz Bar
Now continue by installing the MOZ Bar Chrome Extension.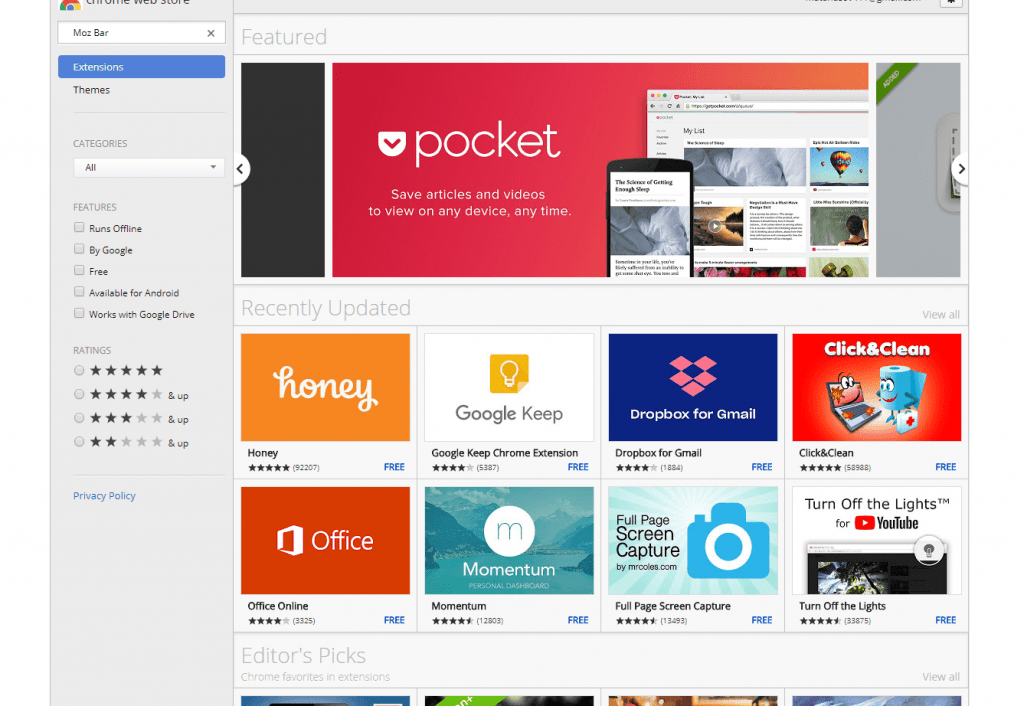 Follow these steps:
Search for "Moz Bar"
Install and enable the extension
Make an account with Moz once you're prompted
Search for your keywords
Look for weak sites – few links, low Page Authority and Domain Authority (see below for explanation) or Pinterest, Quora, Yahoo Answers, etc.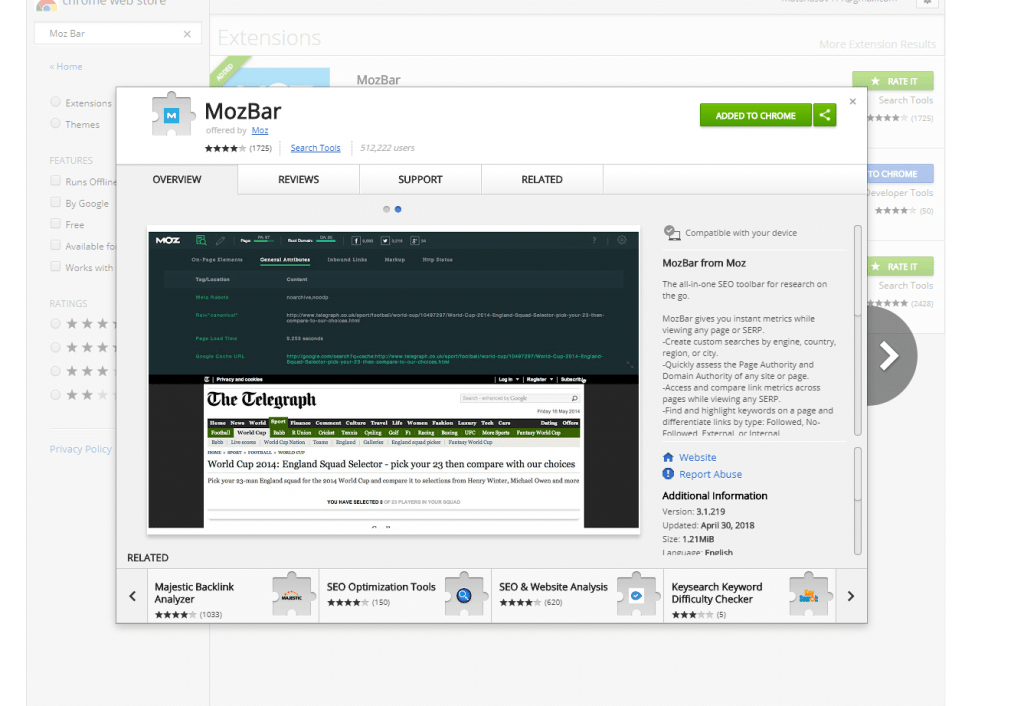 Search Engine Result Page (SERP) Metrics
It's time to look at the several factors that would help you determine and rank for those potentially successful long tail keywords.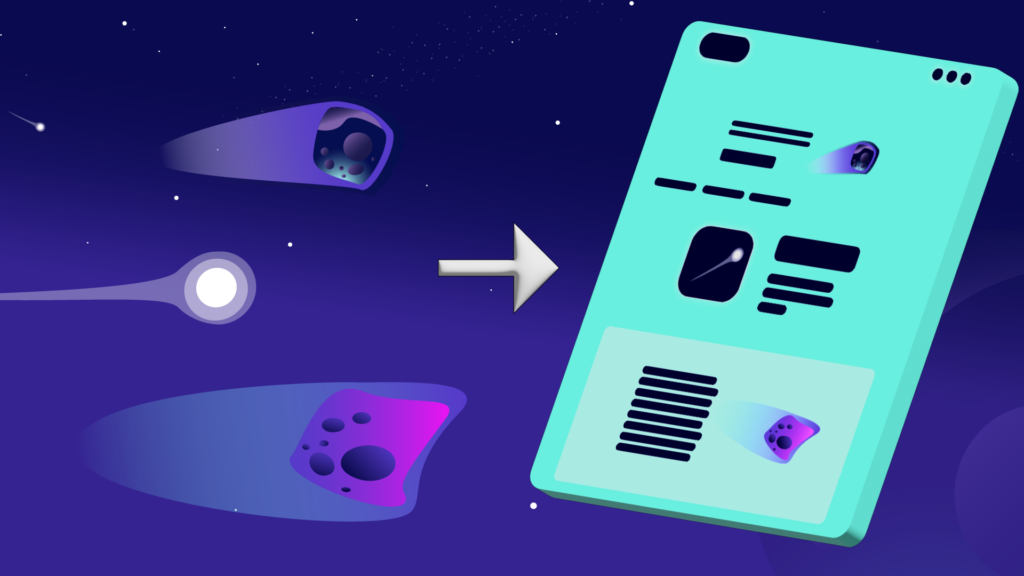 We'll look at these 4 factors:
Page Authority
Domain Authority
Relevance
Similarity
Page Authority (PA)
Although this metric is not entirely precise, it can give you a good rough idea of whether you have a chance of ranking for the particular keyword you're looking for. Since we're focused on getting the most out of our SEO, it's best that you look only at the PA of the results on the first page.
Domain Authority (DA)
Your best-case scenario here would be to see domains that have low domain authority. Sometimes Google prefers very authoritative domains for some queries, and you'll meet massive websites. But don't give up just yet. By being more relevant and acquiring more page-specific backlinks, you can often beat those large names.
Relevance
Here, the main question you should ask yourself is – are the results relevant. Are the results that you find in the SERP answering the search queries? Chances are, the less relevant the results are, the higher the chance you have for beating them by answering precisely.
Similarity
This factor means you should look for pages that resemble yours – if there are more small pages that rank for a particular keyword, it's highly likely you can rank for that keyword as well.
Conclusion
That's it for now, folks. Keep an eye out for some of our other guides that are about to come soon if you'd like to learn how to actually implement those keywords in your content strategy. Meanwhile, we'll try to keep this guide up to date and add some more information from time to time.
Oh, and if you'd like to start implementing this knowledge, head over to https://morningscore.io and start your free trial.