Having a website is one of the "requirements" to run a successful business in the modern digital age. However, after creating one, we often quickly realize that our potential customers aren't all that excited about it. To help with that, today we'll share 30 solid tips on how you can make your website more engaging and appealing to your target audience.
Your website's engagement rates are directly linked with how well you understand your audience. Tailoring your content and web design to the target group visiting your website will make them more effective and attractive. Potential customers find websites that accommodate their needs more appealing.
In essence, all of these factors can be summed up as "relevance." The more relevant your website is to your visitors, the higher their likelihood of interacting with it. Being relevant also helps you increase user interactions on your site and bring in new visitors through channels like Social Media and Search Engine Optimization.
With that, let's look at 30 concrete tips on how you can improve your website's engagement already today.
1. Research and understand your target group
By understanding your target group and their needs, you can tailor your website to meet (and exceed) their expectations. Personalized content and campaigns tailored to a concrete target audience are a certain way to improve engagement rate.
We love this tip since you can apply it to any aspect of your marketing and sales. For example, tailoring your message in your advertisements can improve your performance – and essentially define lower customer acquisition costs. Similarly, tailoring your message on email can improve your engagement rates there, too.
Lastly, understanding your target groups helps you in some indirect ways, too. For example, knowing who visits your website allows you to tailor your website's layout and visuals and even your products and services.
2. Match user intent with hyper-targeted pages
From copywriting, we know that you should only communicate big one idea at a given time. This practice increases the likelihood of your idea creating an impact – which, in turn, results in more sales.
Your customers build their expectations even before they end up on your site. With each Google search or Social Media click, your target audience has a set of expectations they assume will be met.
For example, if they are visiting a contact page, they expect to see your contact information. If they are reading a more general blog post, they are likely just becoming aware of their problems. Because of that, they expect that you'll educate them on their "need" – rather than sell them a product.
Similarly, if they are looking for a product, they are likely well aware of their problems already. In those cases, they expect to see "the solution" presented on the page they visit.
To match the user's intent, you need to create highly-targeted pages specific to the outcome the user expects. Doing this guarantees that you'll improve your website's engagement and appeal to potential customers for three reasons:
Higher relevance – Your users will find your pages highly relevant to their problems and are thus more likely to engage with your website.
Better SEO – Having specific and highly targeted pages improves your chances of attracting users through search engines like Google. Google's goal is to show the most targeted and relevant result when users perform a search. Thus, you are more likely to get promoted in the search results by being more relevant than the competition.
Improved Conversion Rate – The outcome of having such high relevance to what the user expects is that, in the end, they are more likely to convert. Whether you're asking them to follow you on Social Media, sign up for your newsletter, or make a purchase, users who end up on those pages are in the "right" mindset. Thus, they are more likely to engage with you.
3. Use headlines to make your content skimmable
One of the critical elements in improving your website's engagement rates is making your content easy to understand and follow through. In today's digital age, your potential users are likely bombarded with tons of information every day. In fact, this study shows that on average, we see between 6000 to 10000 ads every day. That's a lot!
Unfortunately, there's little we can do to aid that issue on a global scale. However, we can at least stack the odds in our favor – to ensure that customers find our content useful. And we can do that precisely by presenting the information on our websites in a more structured way.
We need to ensure we provide only bite-sized information at a time so that users find it easy to digest and take something away. One of the best ways to achieve that is by breaking up content by adding sub-headings.
This way, we ensure that our content is skimmable and users can quickly take something away. This idea applies to both your important landing pages and your blog articles.
Where and how often should you add headings? The sweet spot you're aiming for is somewhere around every 300 words. Doing this will create a win-win scenario – both for your users but also for yourself:
Firstly, it ensures that users have an easier time understanding your content.
Secondly, it makes it easier for you to produce your content. That's because instead of seeing your pages as blocks of thousand of words, you can now look at them as simpler 300-word articles pieced together.
Breaking up your content in sections using H-tags is one of the most effective ways to give the reader quick insights into what they are about to experience.
As a benefit of doing that, search engines like Google will have an easier time understanding your content, which improves your odds of ranking higher.
4. Improve readability with shorter paragraphs
To build upon the previous point, one of the other elements that directly impact your website's engagement and appeal is how readable your content is.
Website readability is critical in communicating your message. Thus you should address it if you're aiming to improve your website.
One of the best practices to implement here is to break up your paragraphs to contain no more than 2-3 sentences. Doing this will directly help your users digest your content better – and thus engage more with your web pages. Additionally, it will also indirectly help you attract new users through SEO.
Google's 2020 Passage Indexing update aimed to improve the algorithm's understanding of individual sections and paragraphs with the goal of serving better answers. This update means that now users will encounter more targeted pages in search that directly meet their needs. Breaking up your content into short paragraphs ensures that Google can more easily parse the content and derive meaning from it. It also ensures that you're likely to fit in Google's Featured Snippet criteria.
Both of these features increase the odds that you're going to get more exposure in front of highly-relevant users who are ready to engage with your website.
5. Connect with users by using a friendly voice
In order to make your website more appealing to users, however, we must take things a step further. Improving the way your content looks is an essential piece of the equation – but it isn't the only one.
Because of that, the actual words you use on your website matter a lot as well. Understanding your users' language patterns is critical in convincing those strangers to do business with you, as we touched upon before.
Because of that, you need to ensure your tone of voice matches your website visitors' tone of voice. This practice is, of course, industry-specific and culture-specific and requires that you understand who's on the opposite end of the screen.
However, as a general rule of thumb, remember this:
It's always better to explain ideas in as simple terms as possible. Unless your target audience intrinsically requires complexity, simplicity will always ensure you're communicating the right idea across. It also ensures your users feel competent and are able to follow through. Both of these are factors that improve the odds of them engaging with your company.
It's always better to use a friendly tone of voice. We're more likely to trust people who are like us and thus engage with them. Because of that, writing in a friendly tone of voice allows your customers to see that you understand their world – and are here to help.
6. Ensure your website passes the 5-second test
One of the critical elements in website design and conversion optimization is making your pages digestible. Web designers and marketers use what is known as the 5-second test to achieve that effect.
The goal of this test is to test whether potential customers comprehend your pages in as little as 5 seconds. But the beautify of this test is that it's one of those rare ones that provide you with both qualitative and quantitative data simultaneously.
Firstly, you collect quantitative "binary" yes/no data on whether users actually understand your pages. The higher the amount of "yes" compared to "no" is, the more engaging your website is for your target group. Secondly, to derive the yes/no answer, you're going to review qualitative answers, which provide you with invaluable data.
The idea here is simple – you show one of your important pages to your target audience for just 5 seconds. After that, you follow up with 2 questions:
What is this page about?
Who is this page targeting?
Granted, you can modify the test to ask even more specific questions such as "What makes this product/service unique?". However, the more questions you add, the harder you make it for users to complete the test. Additionally, you might get some irrelevant responses – because, after all, they only get to see it for 5 seconds.
7. Add more relevant links to your footer
Another way to effectively improve your website's engagement and appeal to your users is to offer your high-value pages in your footer. Doing so makes them easier to find – and sparks interest in users.
But there are even more benefits of adding more footer links – in terms of improving your navigation. Footer links will, at the very least, help the users who are already interested in navigating your website easier.
For example, suppose you're offering a software product. In that case, your footer can contain links that lead to specific pages explaining each individual feature you provide. Similarly, you can have a short list of your services or the most important product categories.
Lastly, adding your company information in the footer is also advantageous from a user perspective. Essentially, you're providing users with an opportunity to contact you from any page on your website quickly. Such contact information can feature your company email, company phone, address, business registration number, along with any Social Media links.
8. Improve your product and blog categorization
One of the best ways to ensure more engagement and sales on your website is to organize your website intuitively. Similar to what we explained above about footer links, the way you structure your website directly impacts the end-user's experience.
To take it a step further, also think about your Search Engine Optimization. That is, your category pages are likely going to rank for important keywords for your business. As such, you want them to feature searchable keywords.
However, don't think this step comes in last. In fact, considering SEO as part of the equation for success starts already in the planning stage. Deciding whether you should create a particular category is very dependent on whether there's actually demand for it.
And how do you check the SEO demand? Simply use a keyword research tool. Such tools will reveal how many people search for products like yours. Alternatively, they can reveal how you can frame your products with other keywords that more people are searching for.
9. Ensure users can find your contact details
Customer engagement is not limited only to your website – and can easily be translated into other aspects of your business. Think about a user who cannot find what they need on your website – but they are still very interested and willing to buy.
Because of that, you must have clear contact details which existing and potential customers can use to get in touch with you. For example, two of the best places you should consider adding your contact information are in your footer and on a designated contact-us page.
Additionally, your contact details can also appear on other marketing materials you offer – for example, downloadable PDFs or in your email newsletter. This way, you ensure that you capture the most engaged people right at the moment when they're willing to interact with you.
10. Funnel visitors to your Social Media channels
A great way to create a more engaging environment for your target users is to link them to other places they can connect with your company.
The more opportunities they have to engage with you, the higher the odds are that they will stick around and create buzz around your products and company.
Different people prefer different mediums. Thus offering your Social Media links on your website can funnel those people to a channel they like more.
Similarly, showing your website links on your Social Media is a great way to boost your website's appeal and attract new people. For example, professional Social Media networks like LinkedIn provide an excellent opportunity for people to share content they find relevant. Meanwhile, you'll be reaching a very relevant target audience for your products – people similar to those who already engage with you.
11. Boost engagement with relevant internal links
One of the best ways to improve the user experience and make your website more engaging is to link relevant pages together. Linking internal content is a great practice that allows users to understand more about the subject you're covering.
Additionally, by doing so, you're improving your website's relevance in Google's eyes. This can result in an increase in your positions in the search engine, meaning even more new people can find your content.
12. Ensure your website has no technical errors
One of the major inconveniences for users is when things on your website don't work. Whether they end up on a dead "404" page, encounter broken links that lead to nowhere, or have assets that don't display, all of these factors impact the user experience.
In turn, this causes you to lose the users' attention and engagement with you, meaning your website's marketing performance will suffer in the long term.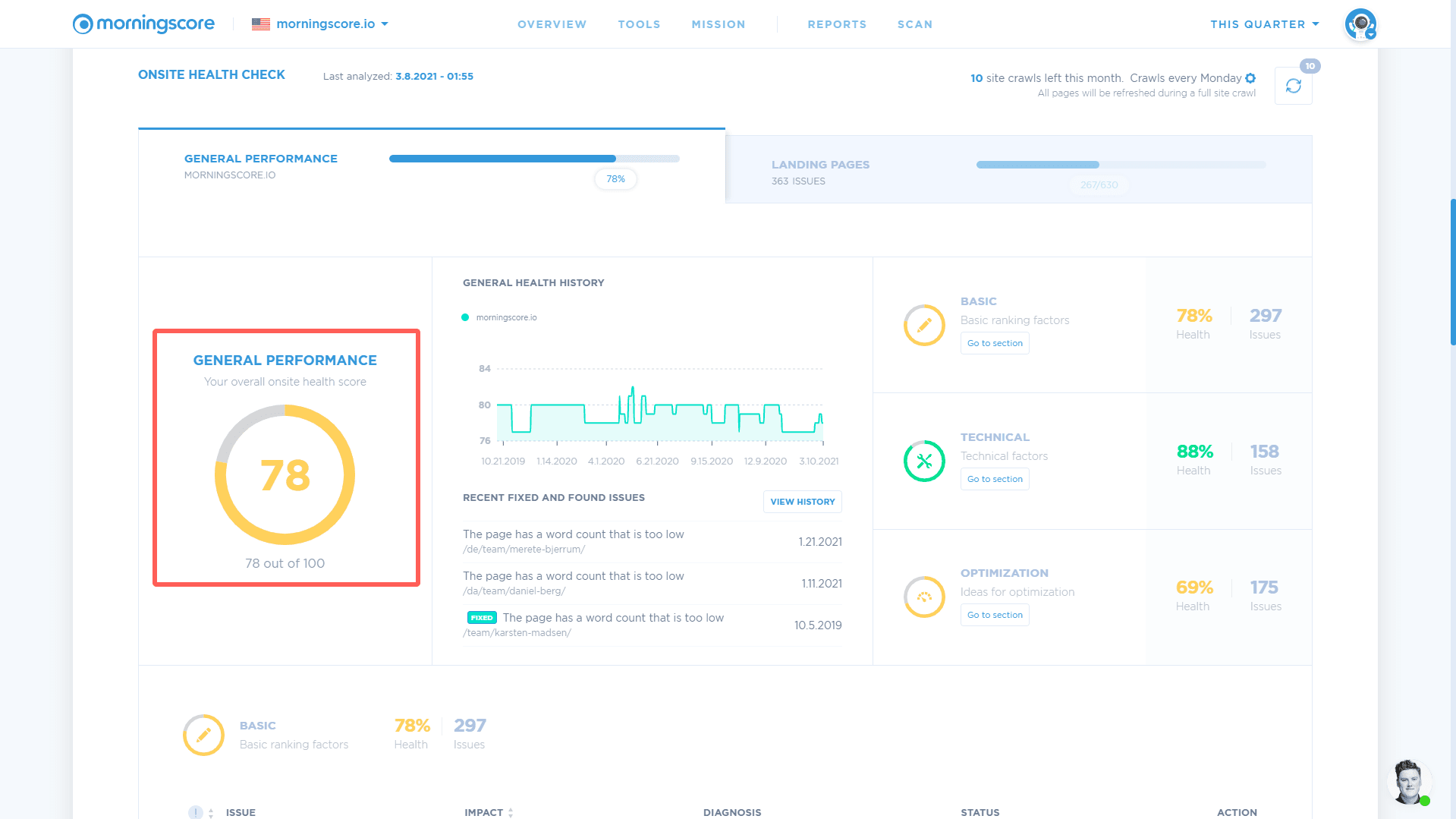 You can easily avoid such problems – and, thus, improve your website's engagement rates.
In fact, given the May 2021 Google Algorithm update, those technical SEO signals will become even more important. In essence, the update introduces Core Web Vitals as a ranking factor in Google.
While you might not care about your organic traffic all that much, there's a "hidden" side effect that they bring. As said in the article above, Google is testing a label that will show your website's optimization score in Search.
This means that even existing customers who directly search for your brand in Google can see that your website is not optimized. With this, they can, say, change their opinion on your business – essentially meaning that you can lose customers because of those changes.
Additionally, websites that do not cover the Core Web Vitals requirements will also be demoted in Search – thus losing out on some organic traffic and potential new customers.
13. Improve the loading speed of your pages
Nowadays, because of technological progress, users expect everything to be at their fingertips – instantly. Thus, having a slow website can hurt the user experience – and cause the user to leave the page before it loads. A mere 1-second increase in loading time decreased the number of users visiting the page by 11%.
As such, slower website speeds cause fewer people to visit and engage your website. Even if your website sounds and looks very appealing to end-users, it might simply take too long to load – and cause the users to run out of patience.
The real issue here is that all of this is preventable, and there are many things you can already do to improve your site's loading speed.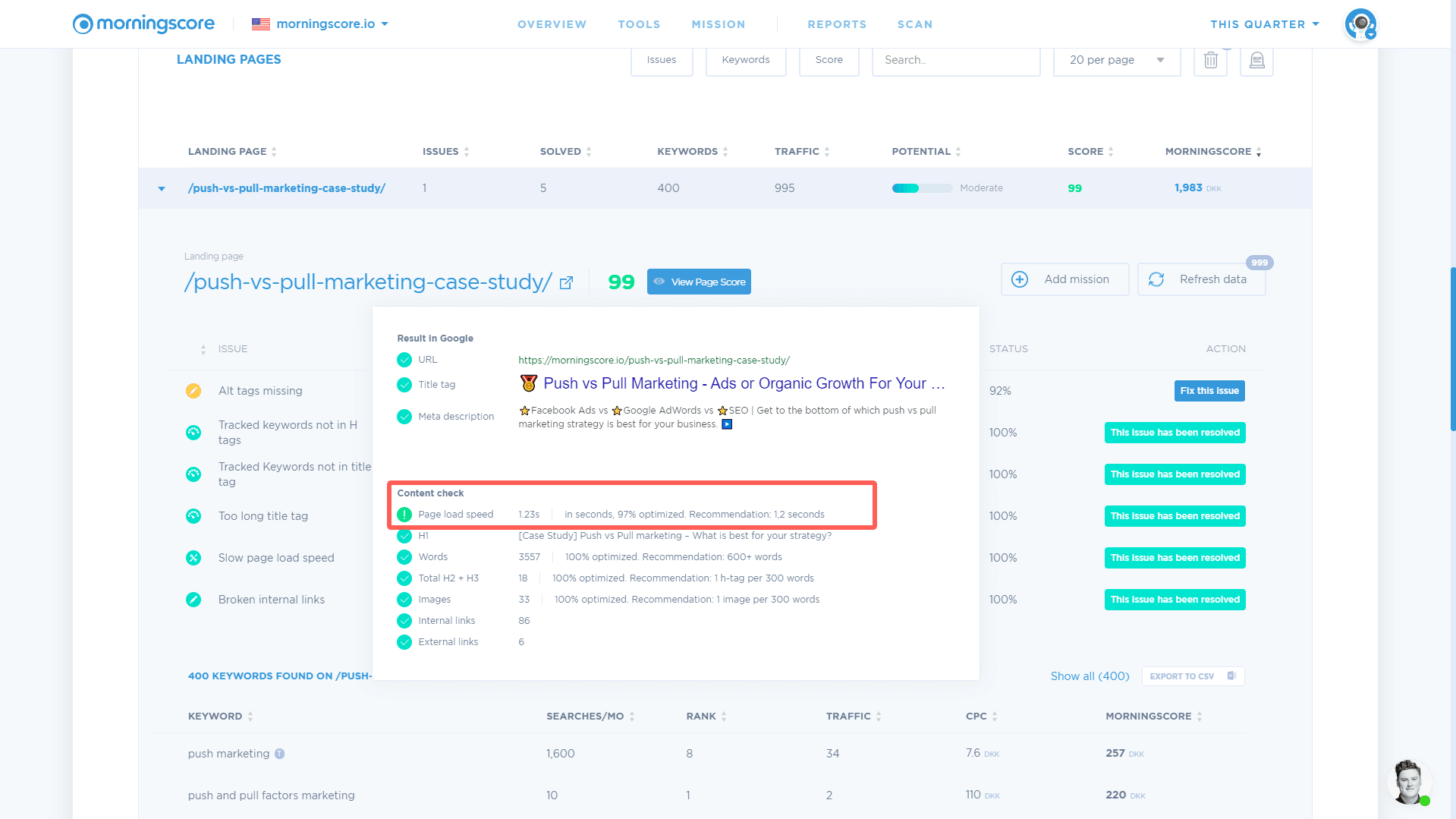 14. Use attractive Title Tags to get more clicks
Your Title Tags are critical in priming users on what to expect when visiting your website. That's because they serve as "a brochure" for your business that users see on other platforms before users visit your site.
For example, when sharing a link, Social Media platforms use the Title Tag to generate a preview of the website. Similarly, users who search on Google also see the Title Tag and make a decision to click (or not) through to the website based on it.
Now, Title Tags are important not only for when you share something online – but also when others share your website. Having good Title Tags is important, and not doing so can result in lower engagement with your website.
Imagine you're one of your users. Suppose that you visit one of your pages, love the content, and want to share it on LinkedIn so others in your network can find it useful too.
However, when you input the page's link in LinkedIn, you see that the preview title is something completely irrelevant – or not descriptive enough for people to know where they will end up. This can discourage both you from creating the post – and others from clicking on it.
15. Build trust with a detailed about page
Your about page is critical in building trust with your website visitors – and trust is naturally going to promote higher engagement. An about page helps you create a brand that people can positively associate with good feelings. It also promotes more clicks on your site as well as likes and comments on your Social Media profiles.
As an indirect factor, building trust associated with your name can help you appear higher in Google, too. In recent years Google has prioritized the usage of E-A-T, which influences rankings. The acronym stands for Expertise, Authoritativeness, and Trustworthiness. Therefore, a well-optimized "About Us" page is beneficial to many aspects of your business.
16. Install a chat system on your website
One of the best ways to show you're trying to engage your visitors is to install a chat system on your website. This could be a professional paid solution that allows you to automate your support for more complex products. In fact, chat systems are proven to increase conversion rates and engagement.
Alternatively, it can also be a completely free system like Facebook's Messenger chat. The bottom line is that such as system lets you quickly connect with users at the right moment.
One great way to use your chat system is to be proactive with it. That is, instead of only waiting for users to write to you, you can set up triggers that engage with them.
For example, on our website, we have a page listing all features of our SEO platform. A great brand-building message that engages users is, e.g., one that promotes our development roadmap, which features upcoming updates. It could sound something like this:
"Hello there! Morningscore's toolset is constantly expanding. To check out the upcoming features, visit our product development roadmap here: https://morningscore.io/roadmap/."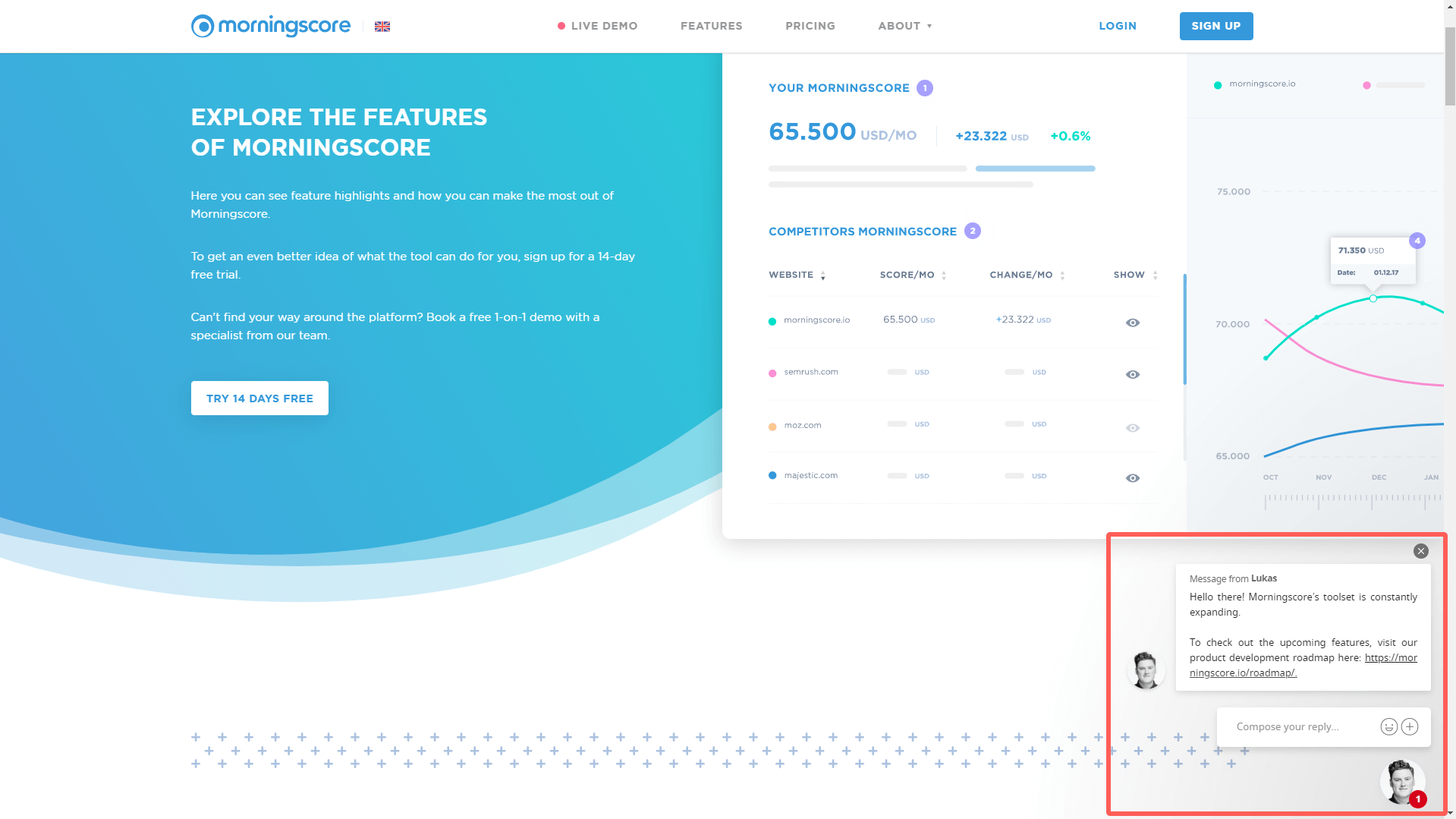 Such a message will naturally provoke a response – and users are more inclined to ask more questions about any upcoming features.
17. Engage visitors with relevant blog content
Creating more content is probably the single best thing you can do to improve your website's engagement. While no one expects you to match the quality and length of huge corporations like HubSpot, you can always start small and build onto that.
Simply writing about common issues or questions your target audience wants an answer to puts you a step ahead of your competitors. It builds more trust with potential customers and establishes you as an expert in your industry. It can also generate demand in people who were previously unaware of the issue they're facing. It also gives you something to talk about – and thus promote your company to potential leads.
Investing just a little bit of time every week to create content can also allow you to build a library of content. From there, you can use those articles as a supplement to your products and services for existing customers.
With more (and better) content, you're not only going to satisfy returning visitors – but also improve your Search Engine Optimization. In turn, this will bring organically bring you more customers and clients through search platforms like Google.
Lastly, you can turn that content into a PDF and offer it as a downloadable in exchange for an email. Re-using content is a practice known as Content Syndication, and it is a great tactic since it achieves two things:
By downloading your content, users can review it later. This means they can have more touchpoints with your brand – even without you having to invest a single penny in advertising.
You can ask users for their email in exchange for the PDF, similarly to a Lead Magnet. This way, you will also grow your email list, which offers even more opportunities to engage your users later and convert them into paying customers.
18. Add testimonials or reviews from verified owners
One of the best ways to improve your website's appeal to your potential customers is to showcase that you're already respected in your industry. Using social proof is an effective method to increase your website's engagement – and show that others trust you already.
Social proof could be almost anything: from logos of companies you've worked with, verified customers of your products, short video testimonials, to long-copy style testimonials pages. Regardless of how they are presented, the most important element is actually to feature them.
Similarly, remember that when adding logos to your website, it's best to add context to them. For example, instead of simply featuring a logo wall, you could back up the claim – and thus further your agenda of converting customers – with a text similar that brings context.
For example, one of the ways to do that for our own Morningscore is to add a line that reads something like this:
"Join 500+ other companies that use Morningscore to improve their SEO traffic."
19. Focus on creating an SEO-friendly website
Modern SEO practices focus on creating an environment that is helpful to the end-user. To a large extent, SEO is merging with User Experience. As such, it is a vital element already from the planning stage of your website.
Because of that, you need to ensure that your website is up to par with the latest SEO standards. This includes both your content and the technical aspect of the site. What does this include? Anything from:
Mobile-friendly and responsive
Fast-loading
Well-structured
Featuring helpful, original content
Taking care of these aspects guarantees that you're going to make your website more engaging to current visitors. It also helps you attract new visitors. Google's focus is providing the user with the best experience and most relevant and helpful results. Therefore, they are naturally going to promote websites that aim to satisfy the user in those regards.
20. Engage users with creative visual elements
One of the easiest and cheapest ways to make your website more appealing to end-users is to add visual elements. You can use different visuals for different purposes, some of which:
Help illustrate your content better
Help navigate the users' eye better
Help solidify your branding
Nowadays, there are tons of free tools online that allow you to diversify your content. Firstly, there are free stock image websites from which you can source graphics. Then there are online editing tools like Canva that spare you the expensive Photoshop license. Lastly, there are inspirational websites like Pinterest where you can find ideas for your images.
With such tools, the possibilities are endless – and more importantly, adding images to your website is as easy as it's ever been.
However, you don't have to limit yourself only to images. For example, featuring tables and videos is yet another method of improving your website's appeal. That's because users will genuinely find your content more helpful compared to your competitors.
21. Stick to a simple and clear layout structure
In pursuit of creating a better website than your competitors, you might consider going a bit over the top. We often go to some of the most well-known websites to get inspiration – however, that might not always be the best thing to do.
What works for a more prominent brand with a more established website doesn't guarantee that it will work for you. Because of that, keeping things simple in the beginning is always better in order to maximize engagement and profits.
Of course, that doesn't mean you should make your website boring – in fact, you can use creative images that are on-brand. However, what's critical here is ensuring that it's easy to navigate and understand by your users.
Elements that often get transformed creatively for the worse are your navigational menu and page layout. You need to ensure that these elements are more or less standard like most other websites on the web. Otherwise, you run the risk of confusing your visitors.
Not only that, but having a complex menu and site structure can also confuse search engine machines like Google – as to which content on your website is actually important and relevant. This would essentially mean that your chances of attracting more potential customers through search get lower, too.
22. Perfect your navigational menu structure
Just as we touched upon in the previous point, your navigational menu has to be spot-on. That is, you must feature all pages that are important for your business, and then some – but while still keeping it minimal.
There's no concrete formula on how many links you should feature in your nav menu. However, aim to have your essential pages first. Anything that you consider second priority can go in a dropdown menu – and the rest can live in the footer.
Let's run through some examples to showcase which pages you should consider featuring. Keep in mind that nesting menu elements can really bring you a long way here since it saves on valuable real estate horizontally – yet utilized the more freely available vertical space (i.e., scrolling on a dropdown menu).
To learn more about how to structure your navigational menu based on what type of website you're trying to create, read this guide.
23. Create more relevant Call-To-Action buttons
One of the biggest reasons for users not converting is how you utilize your call-to-action buttons. Many websites use vague language when it comes to getting the user to complete an action. Others are too explicit and try to get to the end goal right away – without building the much-needed rapport with the user.
In reality, you need just the right mix of ingredients to make an effective button – and this is why copywriting is such a critical practice nowadays. Your users are constantly bombarded with offers and ads – and as such, you need to make your call-to-action stand out.
The best quick advice here is to focus on the positive outcome. Answer what pain your product solves and how you can turn that into a button. Combined with a good headline leading into the problem, this can prove to make your website more engaging in the eyes of potential customers.
For example, suppose you're offering a product that notifies users when their website is down. Firstly, pick the "real" problem your target audience is facing. In this case, this could be "My clients don't want to look unprofessional to or anger or lose their own customers – so they want to monitor their uptime."
Next, define in what unique way your products solve their issues – i.e., what makes you stand out from the competition. Following the example from above, this could be something like: "We check your website every 30 seconds & send your team a notification when a problem is detected".
Lastly, answer what button would make the most sense contextually. Adding "sign up" might be too vague given your previous two sentences. Instead, given the previous example, something like "Test Website Performance" sounds more concrete, relevant, and actionable.
24. Declutter the content on your product pages
When it comes time to present our products and services, we usually assume that the more information we provide, the easier it is for users to make a decision.
Backed up by the SEO "trend" to write longer content to rank higher, the content on essential pages can often get out of hand.
However, in reality, unless we're explicitly creating informational, knowledge-type of content, your conversion rates are more likely to suffer by adding tons of words on the page. Because of that, you must keep your landing pages hyper-targeted yet simple.
In fact, doing so can also help from an SEO perspective. Let me elaborate. If you optimize a single page or blog post around 3-4 sub-topics, the odds are that you will, at best, rank well for just one of them – and at worst, none.
How come? The answer is "Search Intent." Imagine a user typing each of the search queries in Google search. The odds are, they are going to click only on the most relevant title. Similarly, when crawling and indexing your content, Google will have a hard time attributing what your content is about exactly.
Lastly, splitting each topic on its own page and linking it to the main page will also boost the main page from an SEO perspective. HubSpot coined that practice "Topic Clustering" – and in essence, it focuses on building supporting content for your high-value pages. Take a look at this very example from our own Morningscore.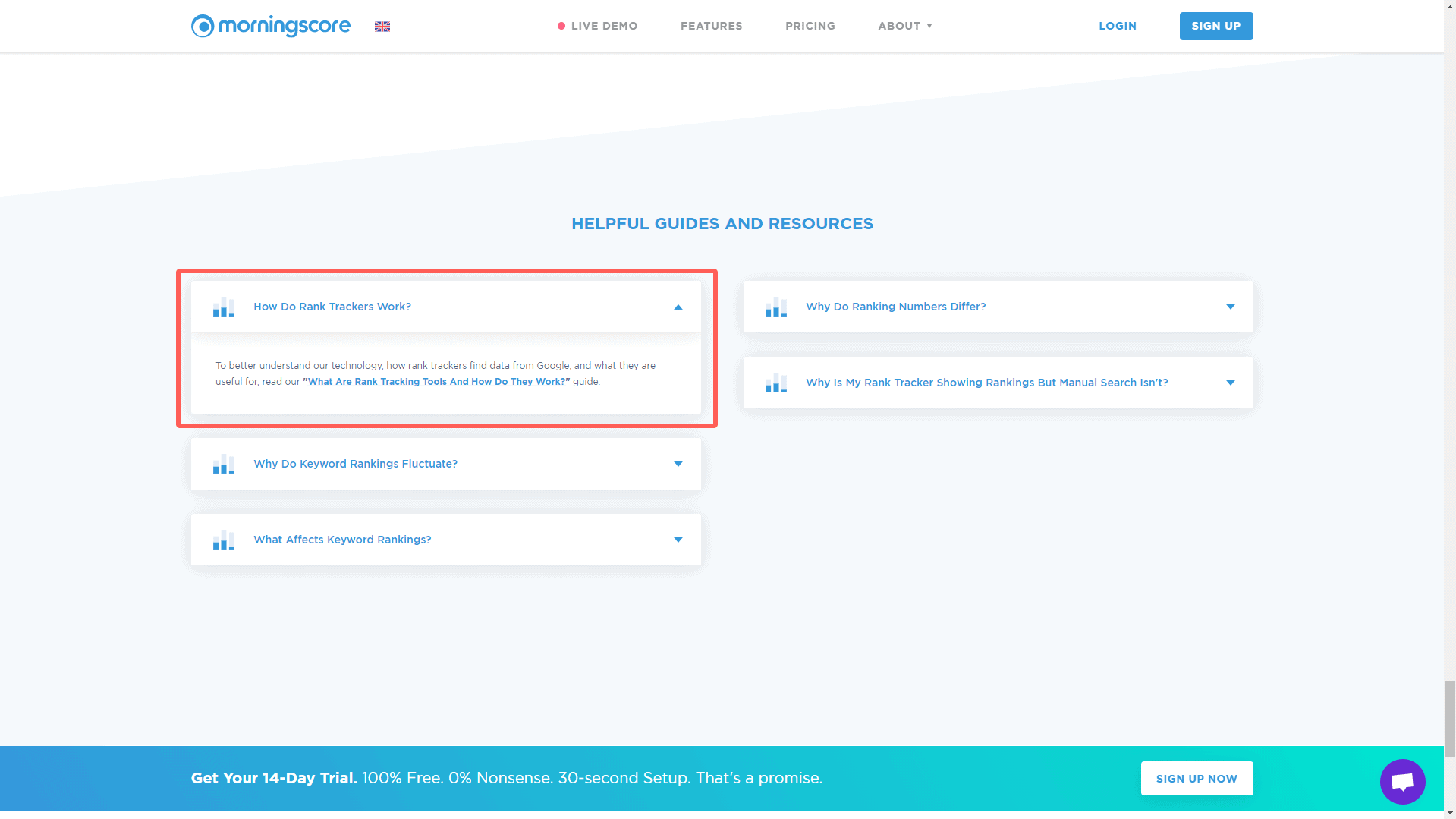 This page describes one of our features – the rank tracker. Because those keywords are very competitive, we've created blog content and interlinked in with the main page like so: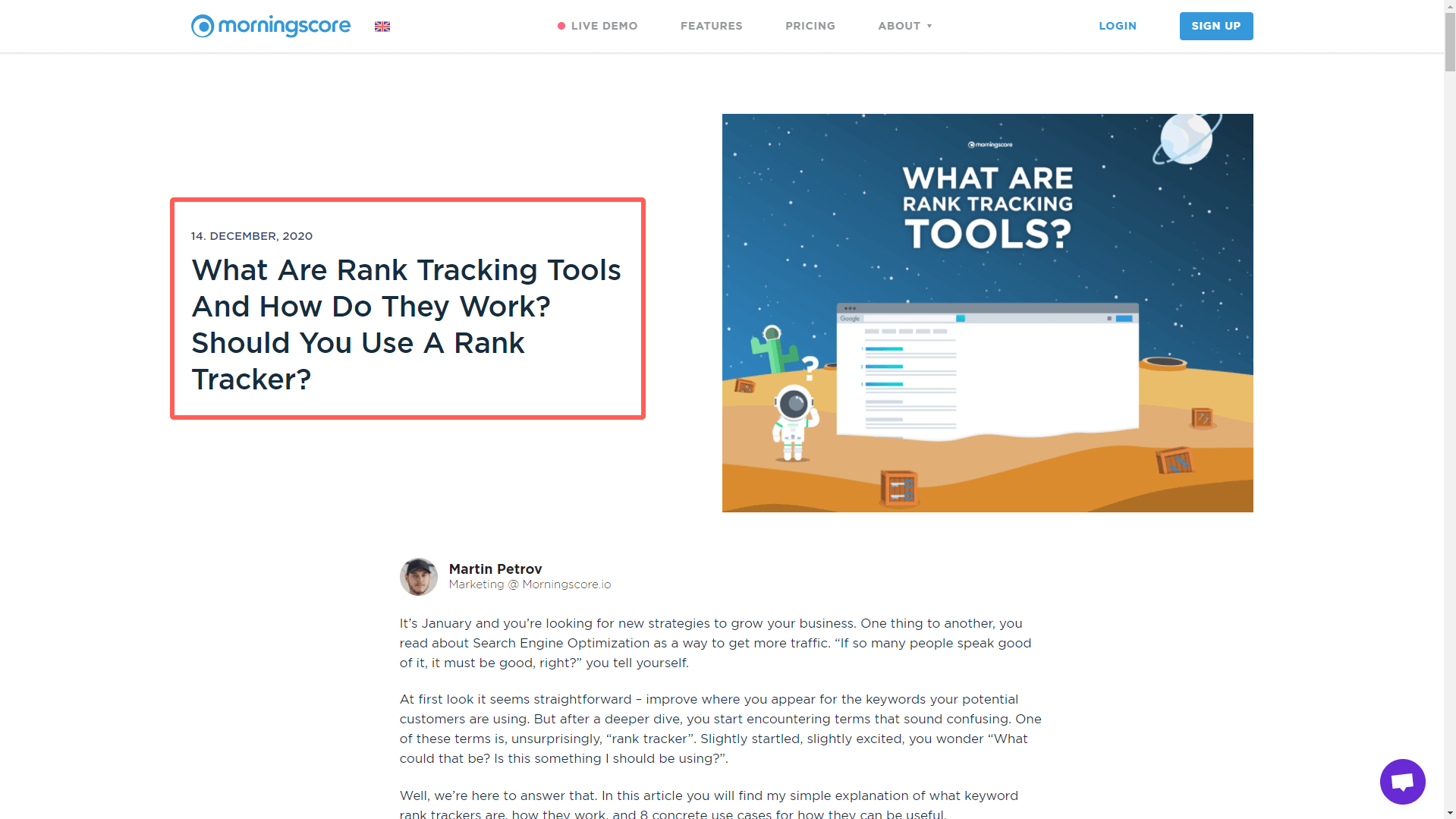 25. Simplify your pages with better whitespace
Similarly to the point above, in our effort to provide the best (and most), we often ignore spacing and fill our pages with tons of visuals and text. One of the best ways to make your website easier to comprehend by your target group – and that applies to all industries – is to make great use of whitespace.
That is, aim to have enough spacing both between various elements and inside the individual components. For example, the line height and letter spacing in your paragraphs will directly impact how readable your content is. Therefore, they can render your content easier or harder to understand.
Having content that is hard to understand will result in lower time spent on your website and lower engagement rates. As a result, this will also impact your bottom line since fewer people interact with your company.
26. Use fitting colors to guide the user visually
Understanding your target audience can go a long way, so far so that it can inform you what colors you can use to make it more attractive for them.
From color psychology, we know that different colors impact users in different ways. They spark a different emotional reaction – which can prime the user to expect something else from the website – and you as a company. Now, you can do two things to have an easier time associating your brand with the color that fits best for your type of website.
Firstly, narrow in on the message you want to communicate as a company to your target audience. Secondly, customer research will directly reveal what colors your customers prefer. This can also be indirect customer research – for example, exploring the top competitor websites and blogs in your industry. This will reveal patterns that will guide you in selecting the right color palette.
For example, your Call-To-Action buttons must stand out from the background color they are in. This way, you ensure your users can distinguish it and understand what you want them to do on that page.
Similarly, having a fitting, colorful element right underneath "the Fold" ensures that more users are likely to scroll down and explore the page. But using fitting colors on your website is an art of itself. That's because you need to understand which elements need to blend in the design and which should stand out from it.
27. Use web-safe fonts that are easy to read
The fonts you use on your website directly influence the users' readability. Using standard fonts that visitors are used to seeing is usually a safe bet. Otherwise, if you want to go the creative route, it's usually best to consult with a design and UX expert who can find the right font for you. Standard fonts are also known as "web-safe fonts." They are essentially fonts that come pre-installed on most of the devices accessing the internet.
Additionally, the more non-standard fonts you load, the more time it takes for the user to load a page on your website fully. In turn, this slower load time can negatively impact the user experience and thus make your website more unattractive to visitors. As touched upon before, it can even cost you precious rankings in Google search.
28. Optimize your website for mobile devices
Creating a mobile-friendly website is an art of itself. Here, you should not only focus on what to include to make the lives of mobile users easier – but also what to exclude.
For example, a common practice nowadays (especially among software companies) is to have a chat system that automatically sends a message to the visitor to probe whether they're ready to engage with the company.
While this can be very effective for desktop users, it can feel annoying to mobile users. Mobile devices have smaller screens, use throttled internet connection, and are slower than desktop computers. Thus, an automatic popup can take over the whole screen and ruin the user experience.
29. Use Site Search to understand your customers
If your website (or at least blog) doesn't feature a search bar, you're missing out. One of the best ways to understand your customers is by monitoring indirect implicit feedback of how they use your website.
The site search functionality brings you exactly that – as you can easily see what customers are searching for the most – and from which pages they perform the search. In turn, this enables you to make highly-relevant changes to your website that satisfy your visitors. As a result, this can increase your conversion rate – and essentially improve your bottom line.
As a side benefit, you also get to understand your users' needs. With a simple report of how your site search box is being used, you can quickly develop ideas for new content or new products.
30. Build a brand on other channels
Lastly, improving your website isn't only limited to changes you need to make on your actual website. In fact, there's plenty of other platforms which you can use to support your efforts – and thus build a brand that will naturally elevate your website's engagement statistics.
To keep things simple and focused, let's address Social Media. This likely is the best channel for you because it requires minimal effort – yet bringing the most potential upside.
Depending on where your audience likes to hang out, an active company Social Media profile can help you attract more potential website visitors. Combined with posting relevant content your audience cares about, you can easily get diligent readers who are willing to learn more on your website.
The great part about Social Media is that, by default, you need to keep things short. For example, you only have space for so many characters on a Twitter post (280). Similarly, Instagram disallows videos longer than 2 minutes. This way, you can create short bits of content that incentivize users to further explore your content.
Building a brand is important for any type of business. It creates certain expectations in people, provides them with a reason to return, and ultimately makes them engage more with your content.
Making your site attractive – In conclusion
These were 30 actionable tips on how you can improve your website's engagement rates. They touched upon both the content and web design aspects of your site. As a final note, it's always a good idea to run the changes by a selected group of relevant end-users.
As you can see, one of the most common items on the list had to do with SEO. That is mostly the case simply because SEO is such a big part of marketing your website online nowadays. We've covered many other topics in SEO from a business perspective which you'll find relevant. Because these reasons, we encourage you to start with this one which covers the reasons your competitors are ranking higher in Google.