It's January and you're looking for new strategies to grow your business. One thing to another, you read about Search Engine Optimization as a way to get more traffic. "If so many people speak good of it, it must be good, right?" you tell yourself.
At first look it seems straightforward – improve where you appear for the keywords your potential customers are using. But after a deeper dive, you start encountering terms that sound confusing. One of these terms is, unsurprisingly, "rank tracker". Slightly startled, slightly excited, you wonder "What could that be? Is this something I should be using?".
Well, we're here to answer that. In this article you will find my simple explanation of what keyword rank trackers are, how they work, and 8 concrete use cases for how they can be useful.
Personally, I'm a big fan of such tools considering all the upsides they bring – which I hope you, too, see the value in after getting this clarified here. 🙂
What Are Rank Tracking Tools? What Are They Used For?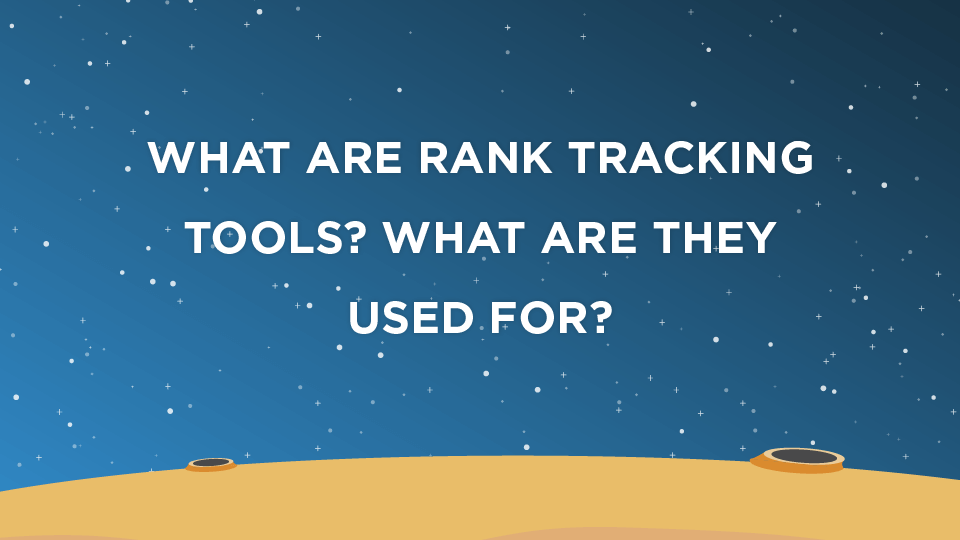 A rank tracker is a software application that uses proxies to scan Google in order to get fresh data from it. It finds your and your competitors' rankings for keywords you track.
Rank trackers get data that is as neutral as possible. This means that the data is "unbiased" – which is how your users are likely to see the Search Engine Result Page. They do that by avoiding data that Google uses to identify users – and therefore customize the search results.
The magic of rank trackers, is in the way they manage to stay unbiased. That is, a rank tracker uses smart sets of proxies and search parameters to scan Google from any location.
How Do Rank Trackers Work?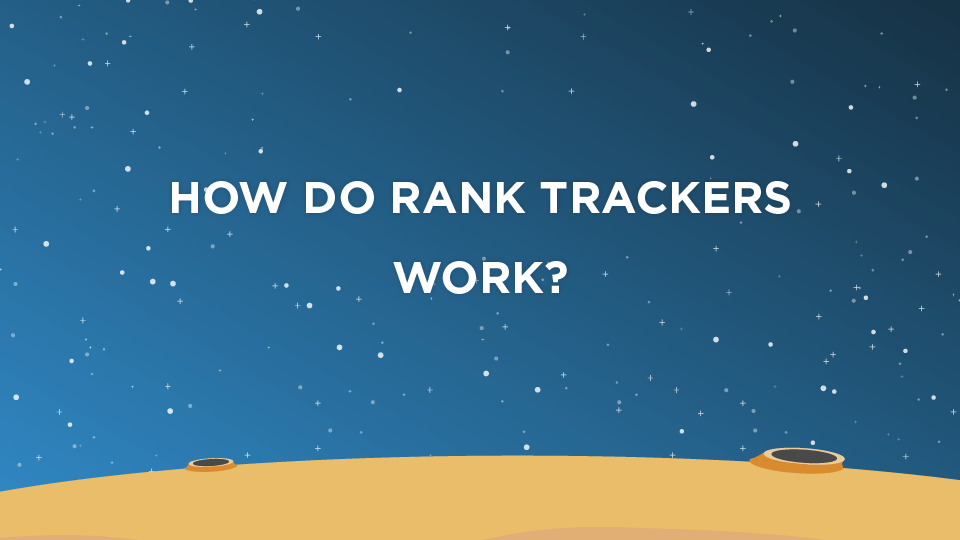 Rank trackers manage to stay "invisible" to Google. Whenever a rank tracker crawler visits a Google result page, Google sees that "user" as a completely new one it has never met before. Therefore, it doesn't have identifying data about that user – and it cannot customize the search results.
What Does It Do To Find Your Rankings?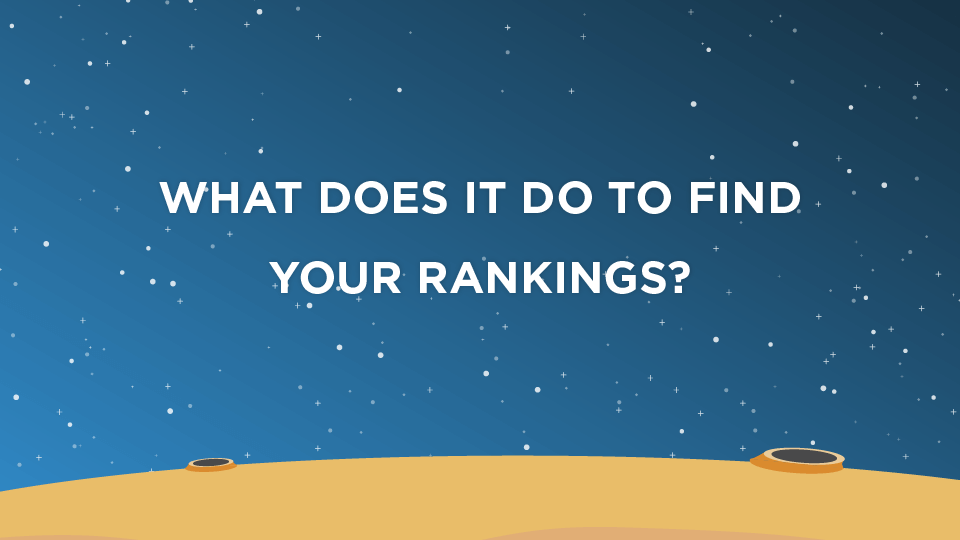 The two major technologies any accurate rank tracking tool uses are IP Proxies and Google's own UULE Parameters. By setting a different proxy for the location you want to track your keywords, rank trackers strip a layer of identifying data that Google uses.
Additionally, setting the UULE parameters helps rank trackers tell Google to show results from virtually any location – simply by giving it coordinates. This way, Google has yet another layer of data "missing" and has to return as accurate results as possible.
The rank tracker then goes to make a copy of the result page it finds in Google, and after a simple search for your website, it is able to find, sort, and display your rankings. If you're also tracking your competitors' websites, rank trackers are able to do the same for them, as well. This data is then stored in the rank tracker's databases for historical overview.
Are Rank Trackers Safe? Can They Lead To A Penalty?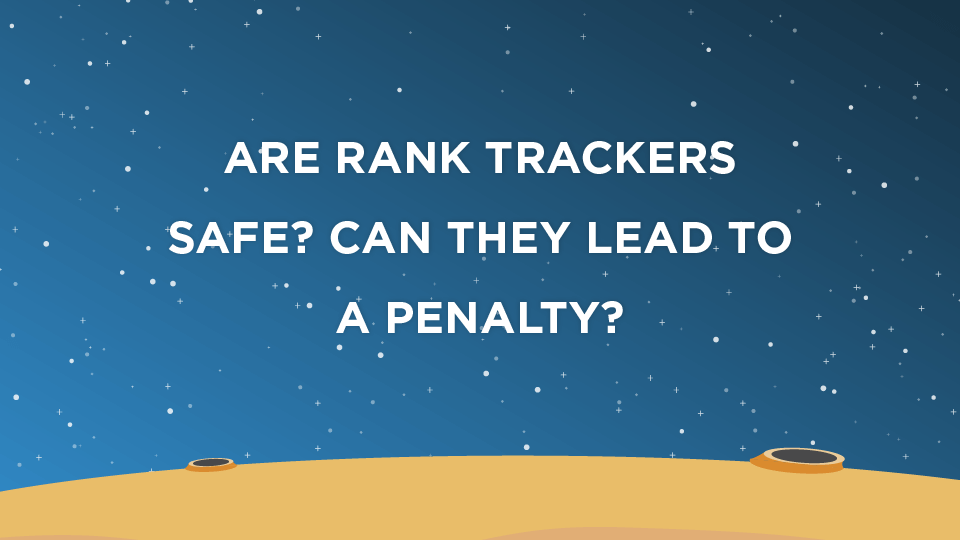 Yes, rank trackers are completely safe. That's because there's "no connection" that your website uses rank trackers since they operate autonomously from and outside of your site. While Google publicly discourages rank trackers because they can be considered "scrapers", Google uses this tactic themselves.
Using a Rank tracker cannot lead to your website being penalized for two reasons. The first one is again, because there's "no connection" to your website. The second one is that while the practice can be looked down upon by Google, it is not something they actively punish.
That's because rank trackers do not influence HOW you rank. They are simply there to show you WHERE you rank for your keywords. In contrast, Google actively and diligently penalizes websites that try to influence how they rank.
Because Google's priority is to provide the end-user with the best results possible, they put effort in preventing websites that scam people from ranking.
Because of that, avoid using tools that promise fast rankings with shady tactics at all costs. While your short-term results might look great and you might get a bump in your keyword rankings, already a few months down the line Google will catch your bad practices and penalize you.
This could happen either through an algorithm update, an algorithmic penalty, or through a manual action penalty.
What Are The Benefits Of A Rank Tracker? Why Should I Use One?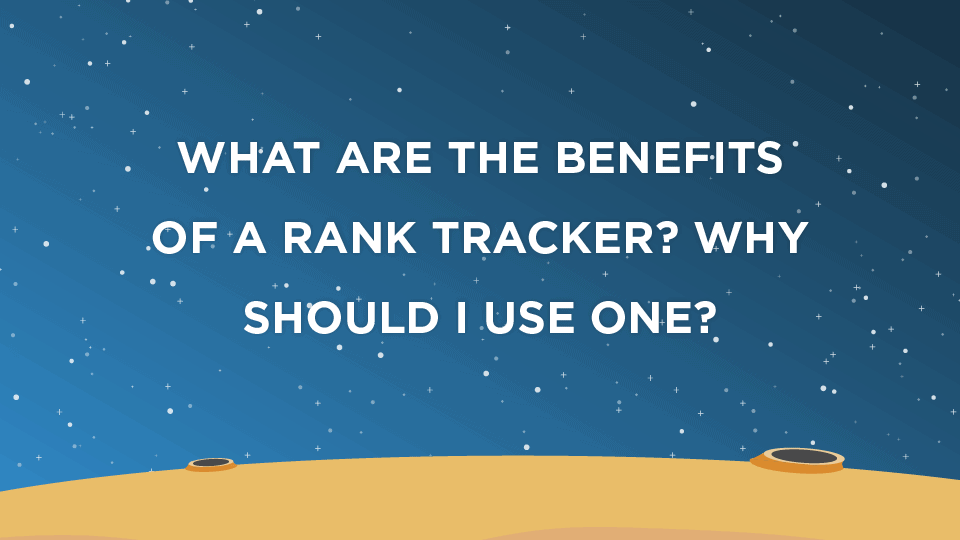 Rank trackers come with many advantages regardless of whether you're an SEO pro or not. Both advanced SEO Agencies as well as Small Business use rank trackers. Because I work in SEO, from my personal experience I was able to find 8 main reasons why using a rank tracker is better than not using one. Here they are:
You can get a very accurate picture of your keyword rankings
You can directly compare your keyword rankings with those of your competitors
You can see exactly which of your pages rank for which keywords
You can track the historical development of your keywords over time
You can understand how your website appears in Google
You can monitor keywords in virtually any location you want
You can sort, filter, and present data much easier
You can solve the "keyword (not provided)" issue in Google Analytics
Now let's break each of them down to see exactly how each of them helps you.
1. Get a very accurate picture of your keyword rankings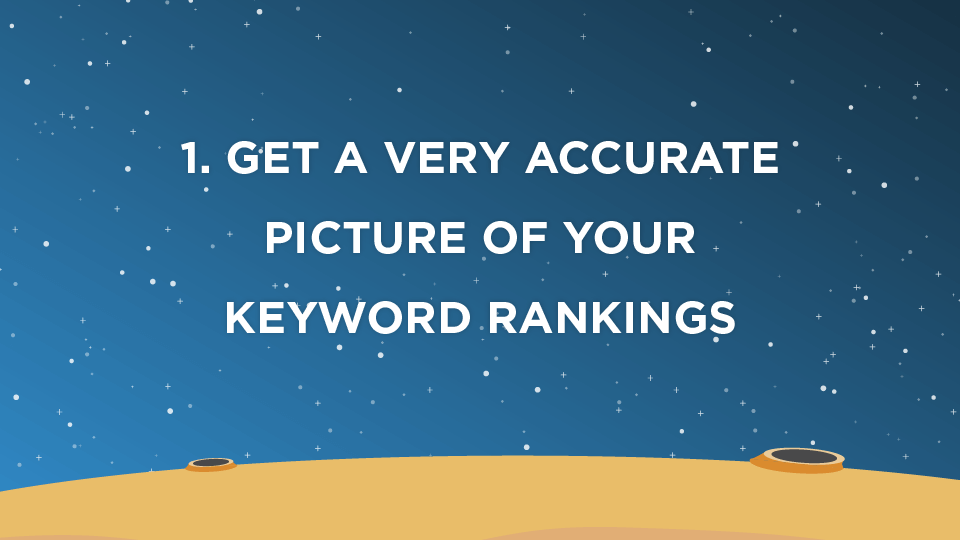 As I mentioned several times above, one of the main benefits rank trackers bring you is the ability to see as accurate a picture of your keyword in Google as possible. That's very valuable because this is an indicator of how well your SEO is performing.
For a company, this can set the right expectations of how much traffic they get through Google. And this, of course, is valuable in estimating how many potential customers are finding you on a monthly basis.
Knowing those numbers is the first step for growing a company's revenue – because you ultimately appear for keywords that your potential customers are searching for. For example, inspecting your keyword rankings, you can easily conclude whether it's time for change so that you can climb a few more rankings.
2. Directly compare your keyword rankings with those of your competitors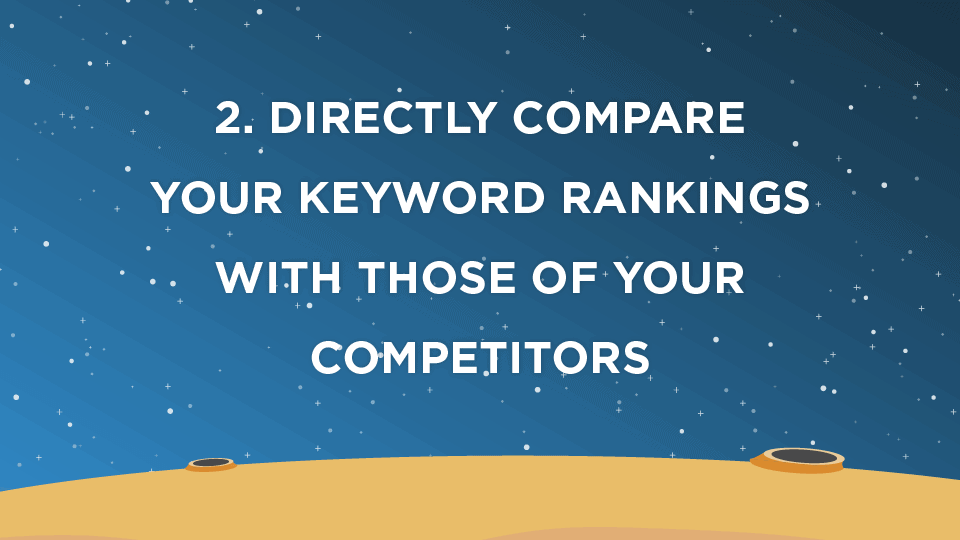 Similarly, you can do the same for your competitors. Knowing where each of them ranks for the keywords that are important for you means you can make the right decisions and take action in outranking them. Higher rankings equal more potential customers.
But how would you achieve higher rankings if you don't understand why pages rank where they rank right now. Because of the often rate of crawling Google, rank tracking tools allow you to see what your competitors are doing to, say, try to outrank you.
Without such a tool it might take you months to figure out that they are actively working on their SEO – but with it you can notice the changes in Google positions the same day they happen.
3. See exactly which of your pages rank for which keywords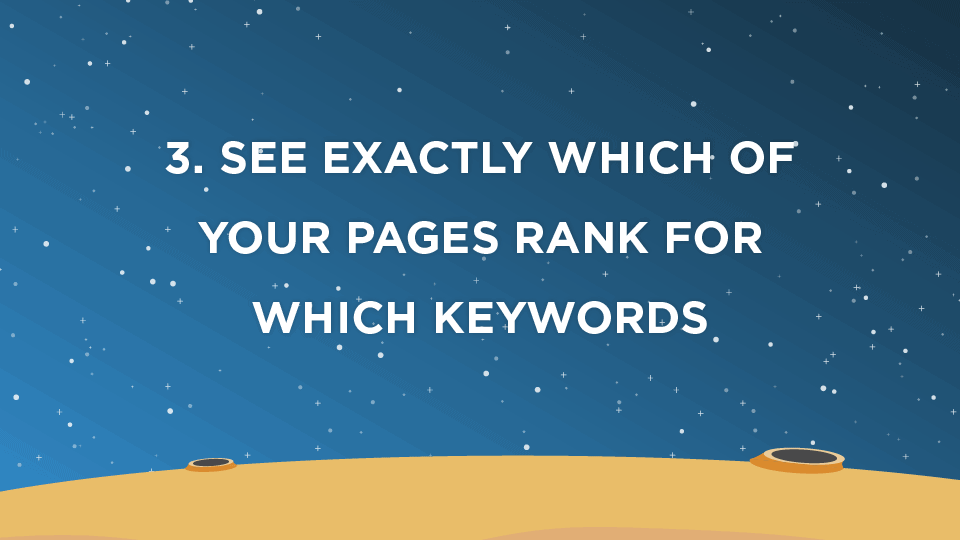 Another benefit that comes with rank trackers is your ability to actually see which keywords your website is ranking for – from which pages. This is valuable for all businesses, but especially valuable for e-commerce websites who have a large variety of products.
Because you want to avoid what is known as "Keyword Cannibalization" (i.e. two pages fighting for the same keyword), you can quickly see if the right pages appear in Google when customers search.
Additionally, even if your pages aren't fighting for the same keywords, you can quickly spot the "gap" in your SEO efforts. For example, if many of your products rank at the top but a few aren't doing so well, a rank tracker will quickly give you information on that. This can be a great indicator of the pages you need to work on.
4. Track the historical development of your keywords over time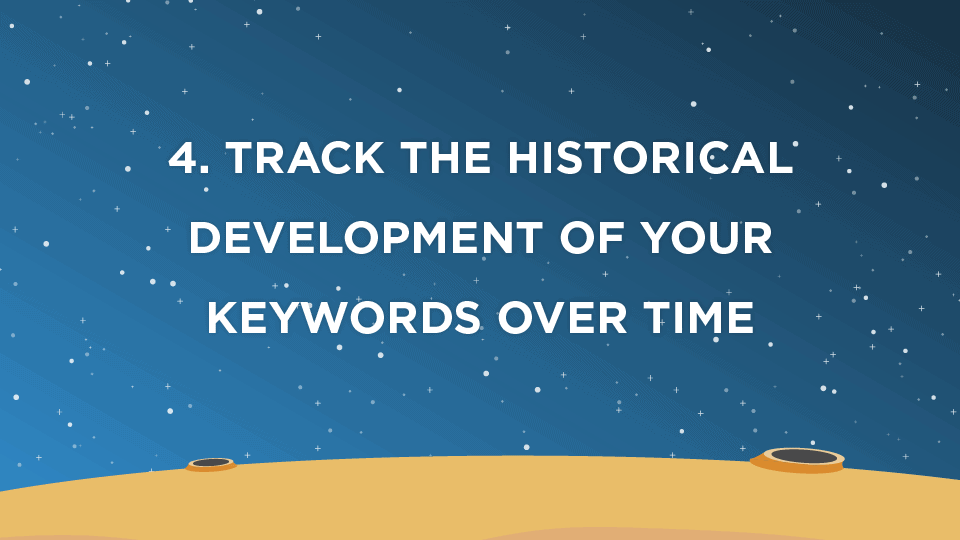 Probably one of the most important upside that comes with such a tool is the fact that you can monitor your keywords over time. This is absolutely critical in order to see the development of the website.
Just like how you would track your revenues every month, you should be tracking your "revenue channels" in order to determine the development. And this applies to both companies that are and aren't actively working on their SEO.
For example, companies that have set resources aside for SEO need to see whether their investment is justified – are you actually progressing or is the SEO budget utilized better when used for another marketing channel.
Meanwhile, companies that aren't actively investing into SEO (but say, get good amounts of traffic from Google) are technically always at risk of losing their rankings after a Google update. In essence, a rank tracker gives you a competitive advantage because of the speed it provides insights with.
5. Understand how your website appears in Google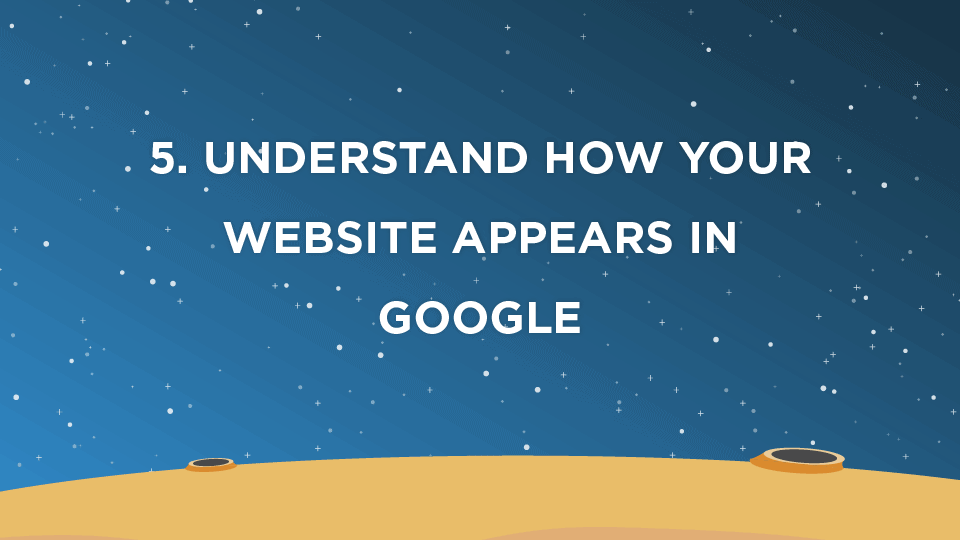 Because many rank trackers take Google results directly as they would appear for new users, they are also able to show you exactly how your "listing" appears. This is valuable because Google often can decide to show different data about your site than the one you want it to use.
For example, many times I've seen that although I've given Google a Title Tag and Meta Description it can work with, it has decided to use another snippet from my page as those.
This tells me that for some reason it did not find the ones I provided good enough – and therefore it's a good indicator that I need to look into it. In a way, it's a way of controlling how you appear in Google.
6. Monitor keywords in virtually any location you want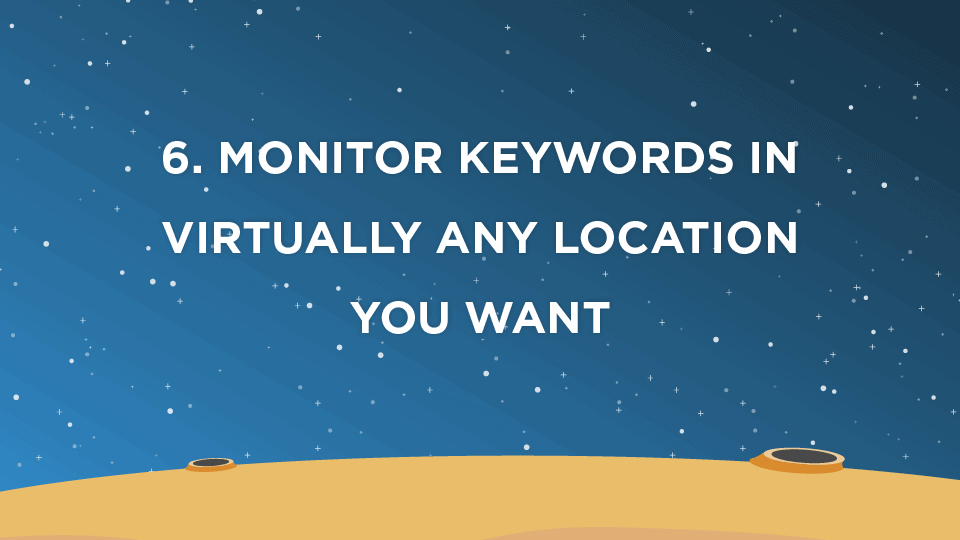 Another benefit that comes with rank trackers is the ability to track where your website appears in. Because they use parameters to see Google results from virtually any place in  the world, you can have a centralized office which tracks all other locations.
For example, bigger companies that operate, say, in both the US, UK and Australian markets are able to see how the company's search presence is developing in all of these countries – without actually having to physically be in the country.
This is important because even though Google has separate website versions for these three markets (.com, .co.uk, & .co.au respectively), it still uses information that your computer provides it with to customize the results. Essentially, you can never see a somewhat accurate picture of your keyword rankings in those places if you're not in them – since Google will always show you local results relevant to where you're situated.
7. Sort, filter, and present data much easier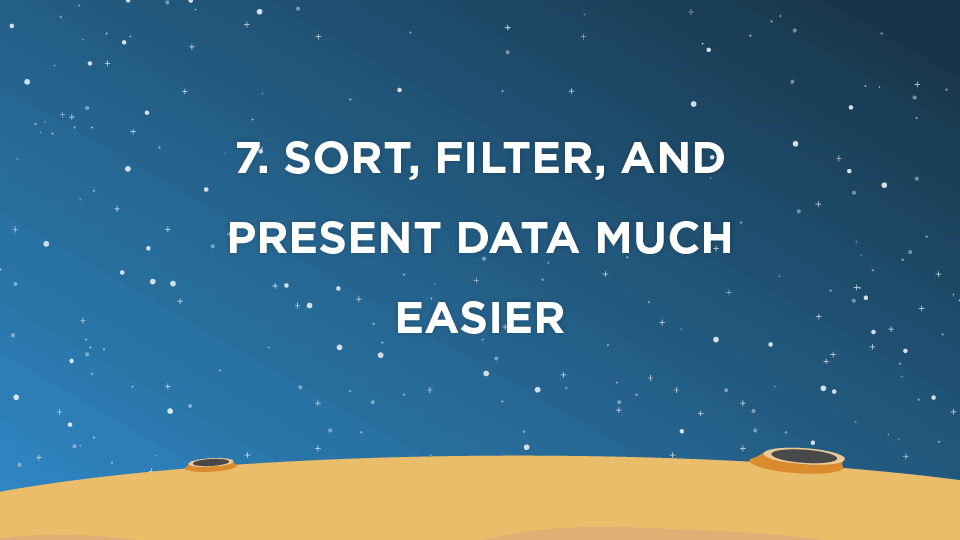 Similarly to how many businesses track important metrics for the business by using smart tools, rank trackers allow you to dissect search engine data much easier. As we explained above, this allows you to improve your positions.
For companies that have a marketing team this feature is especially useful because it allows them to create reports that are informed with real-world accurate data – instead of relying upon guesswork. Of course, in terms, this makes the organization more effective and improves the returns on the dollars they invest.
8. Solve the "keyword (not provided)" issue in Google Analytics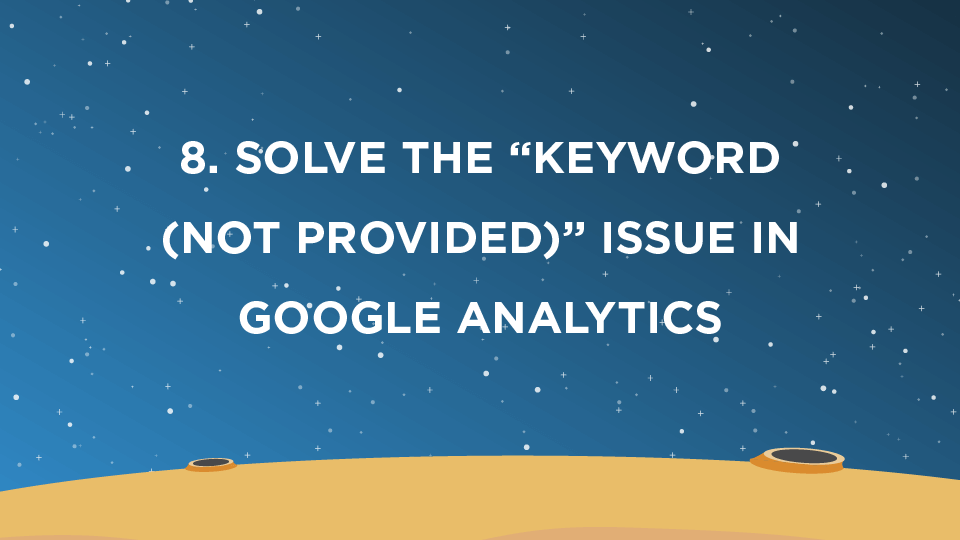 Last but not least, rank trackers allow you to correctly attribute your Google Analytics traffic. Since GA hides the search data for many keywords, you can get both an advantage by knowing the keywords people use to find you – and get more focused on the ones that work for you.
Now, why Google does that is only a guess – all we know is that they chose not to provide that data. But we do know that keyword tracking tools help bypass this decision for the better. 🙂