Roadmap – The Journey To Infinity And Beyond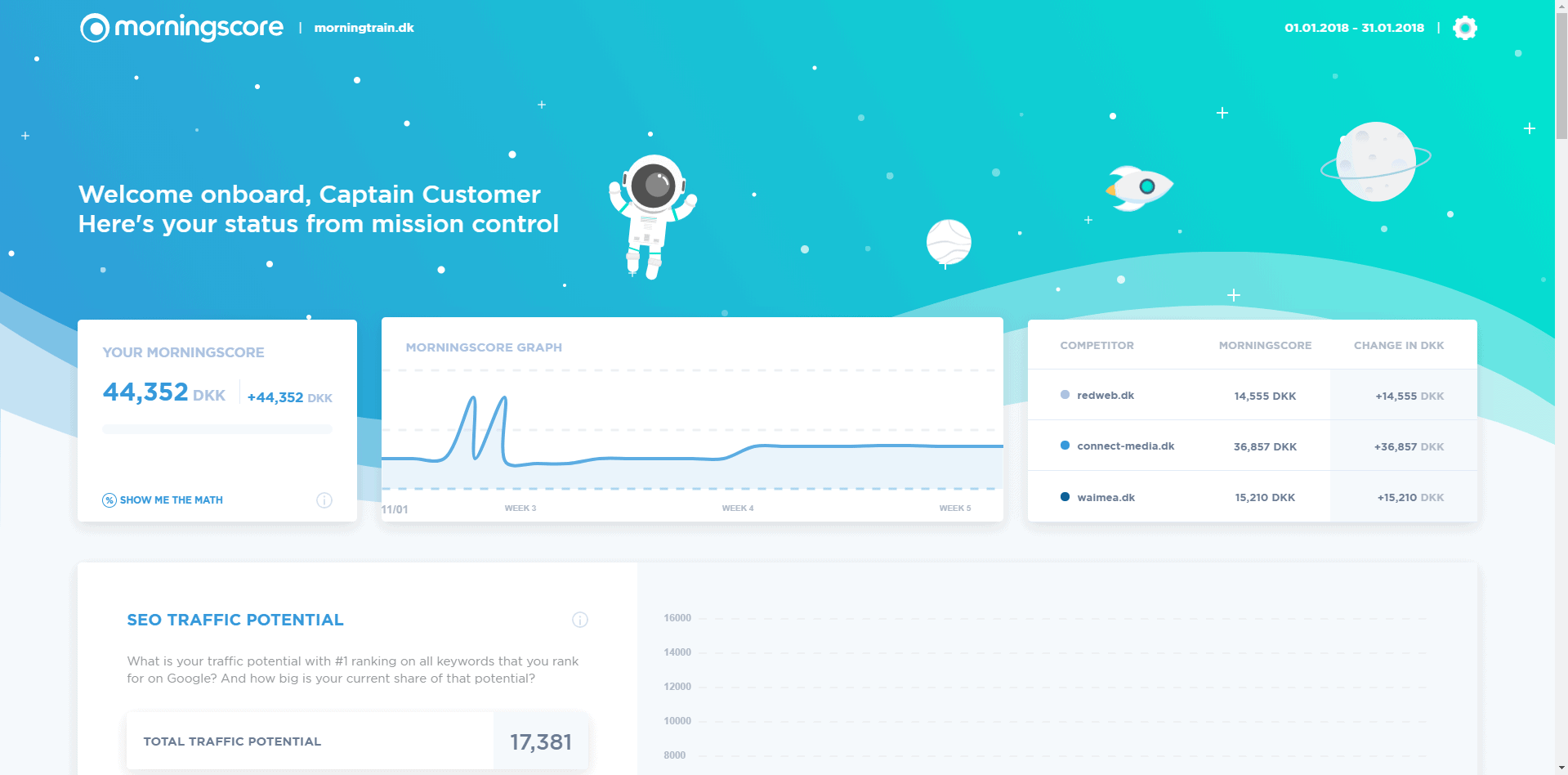 v1.0 First Launch
Release-date: February 22nd
Please, fasten your seatbelt. The initial launch focuses on delivering the most critical features required for takeoff. Alright, our clock has finally hit T-0. Engine thrust is nominal…
What becomes available:
Ability to estimate your and your competitors' Morningscore
Access to the Keyword Rank Tracker & Top 10 Suggestions tools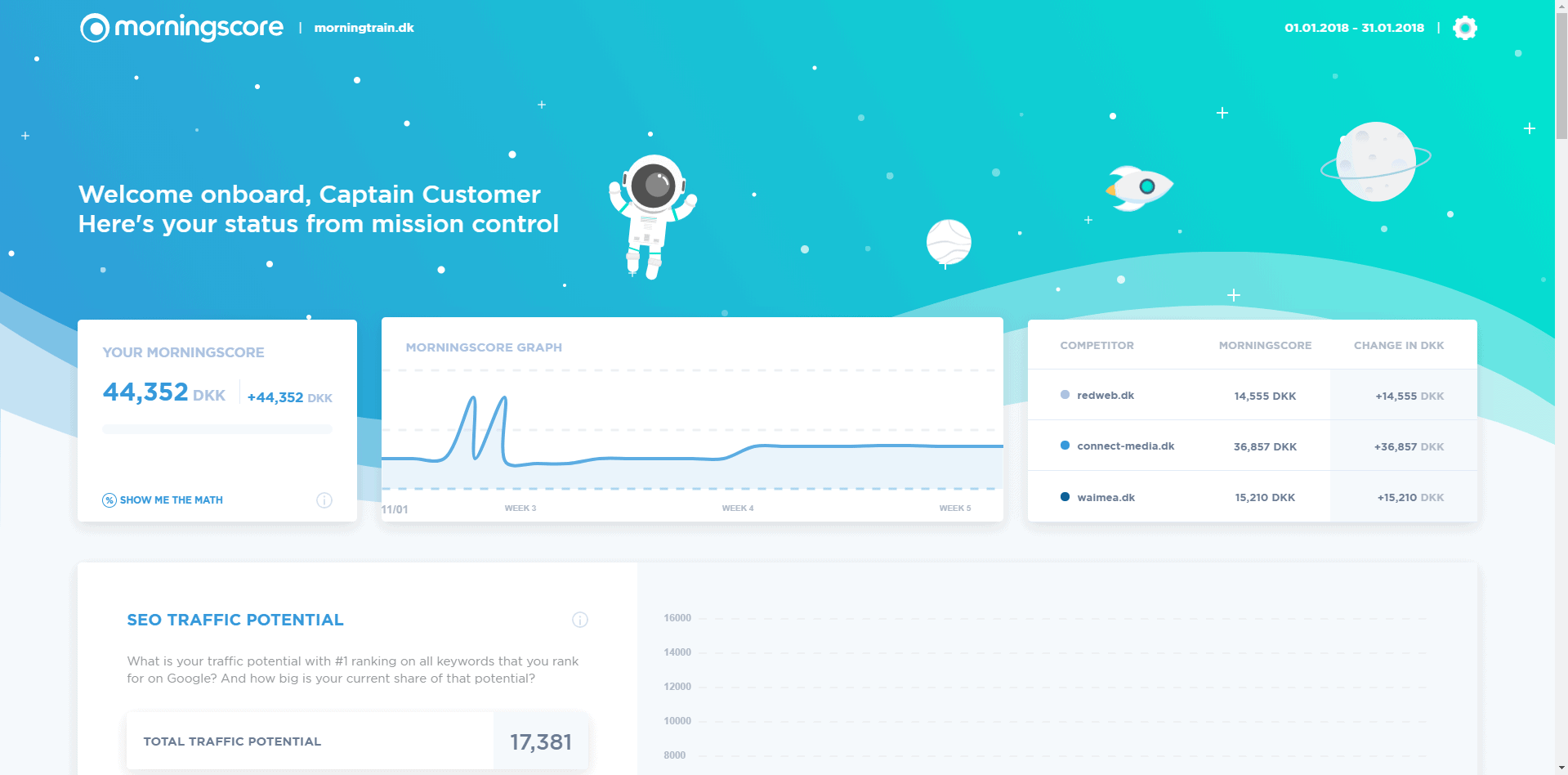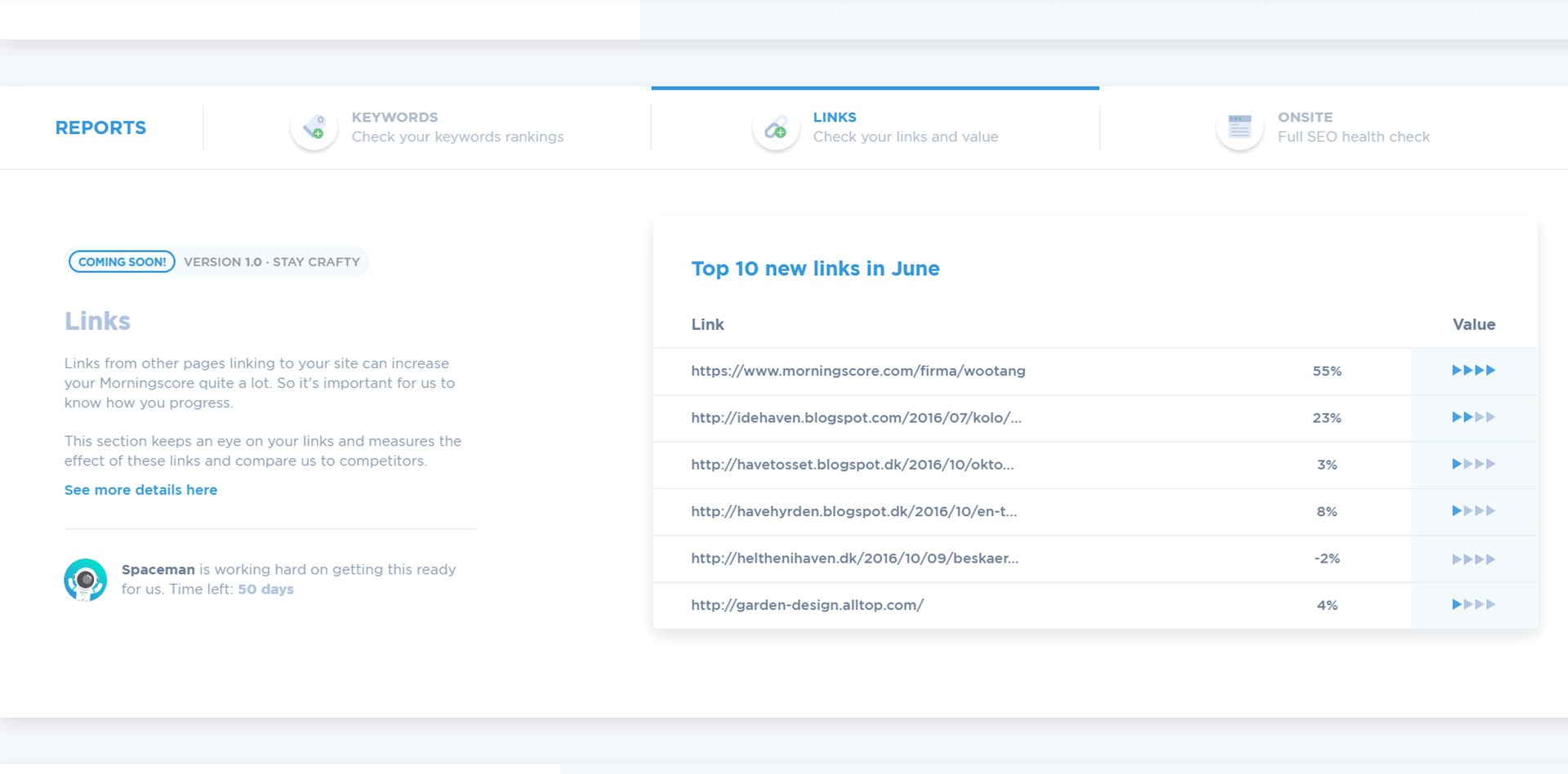 v1.1 Spacy Links
Release-date: April 5th
Shortly after launch, the crew announces the news! We're now on a trajectory towards Planet SEO-01. In "Spacy Links", you can expect to see a good overview related to the backlinks incoming to your website.
What becomes available:
Overview of backlinks

New and lost links to your website
Multiple domains under a single account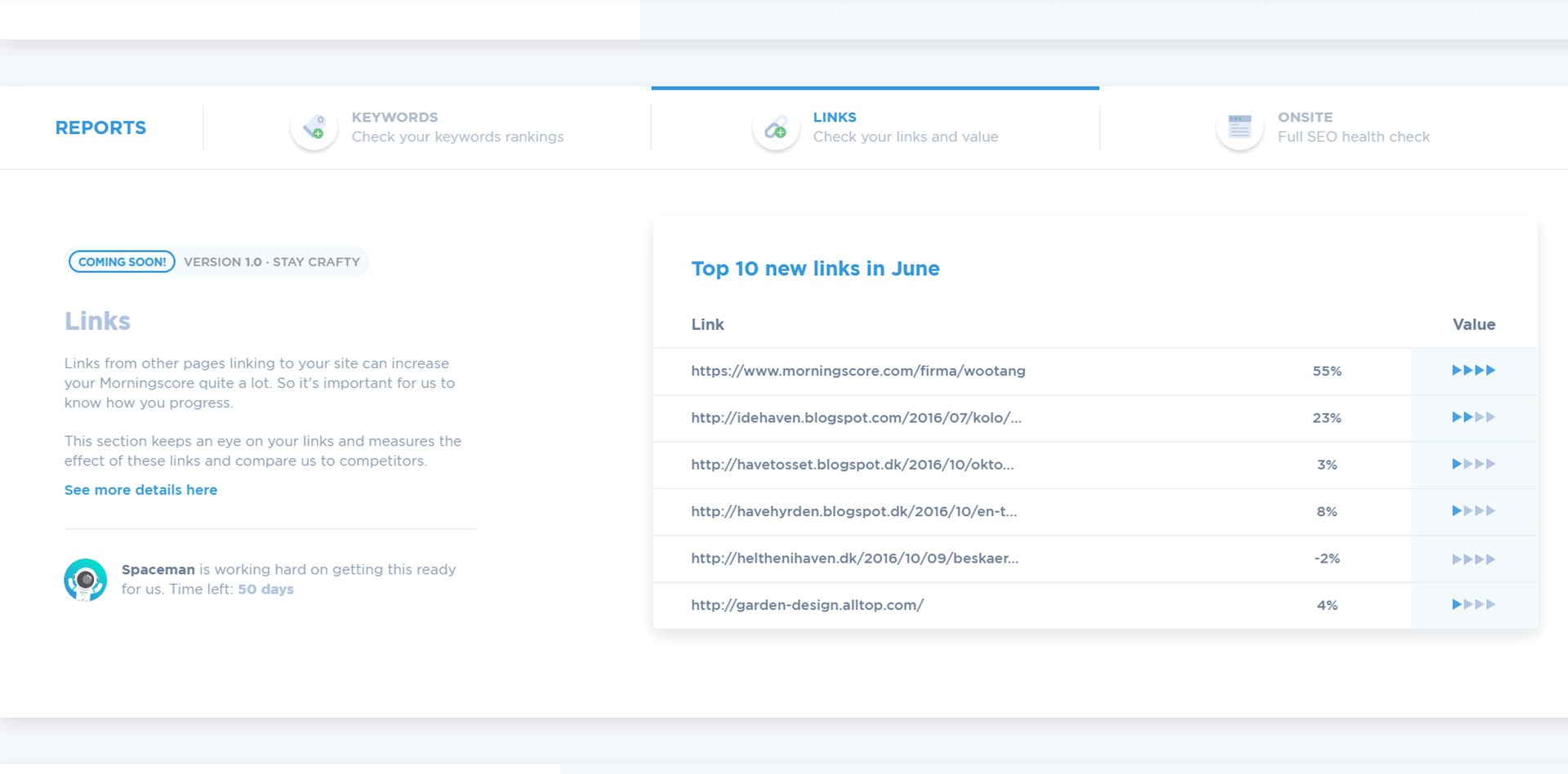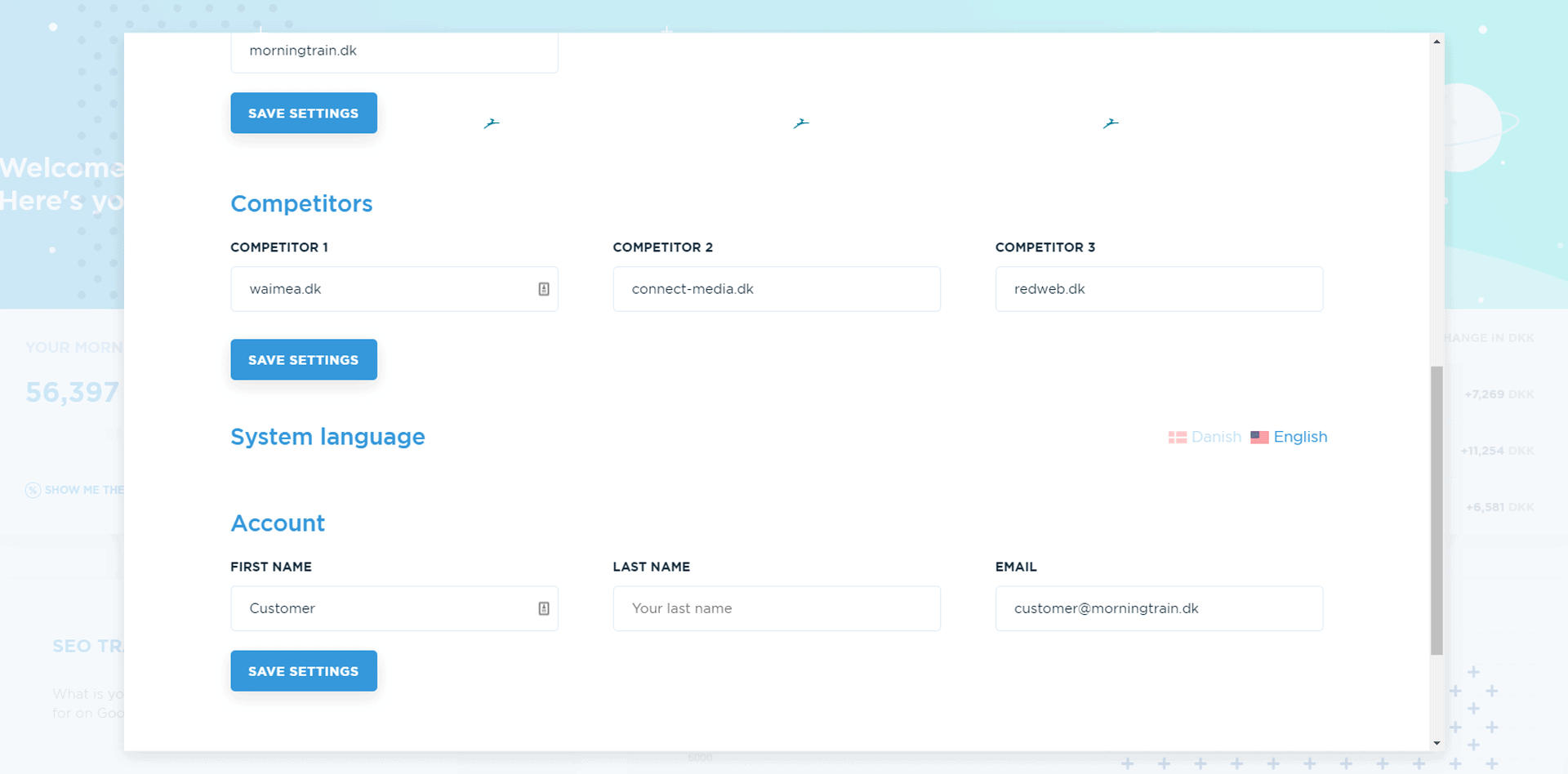 v1.2 Galactic Support
Release-date: April 24th
As we expand our fleet, we expect to see SEOnauts from every corner of the Universe. Oh, wait, hold on. I've finally reached the Galactic Support Center. I'll call you right back…
What becomes available:
Support for all countries (List TBA)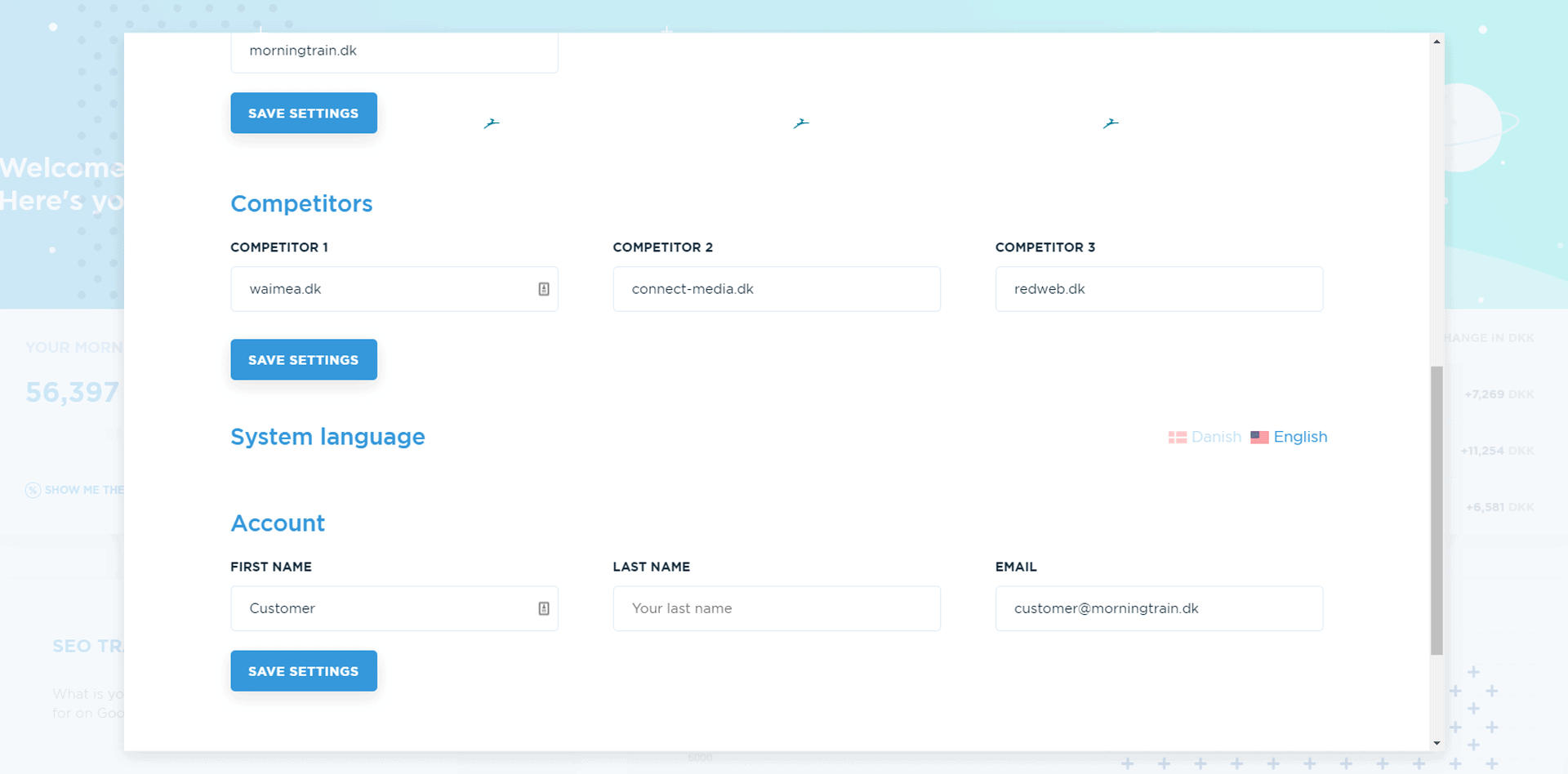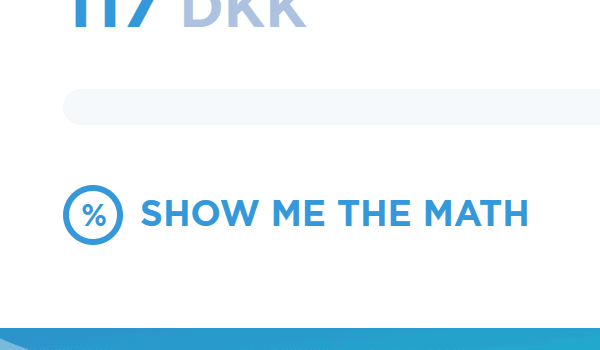 v.1.3 More Math
Release-date: May 23rd
After the meeting this morning, the architects and engineers found out that the Capitan needs to see more data to safely control the mission. Now all the ship logs are available for the whole crew.
What becomes available:
"Show me the math" on competitor's Morningscore
"Show me the math" on SEO traffic (including competitors)
"Show me the math" on SEO traffic potential (including competitors)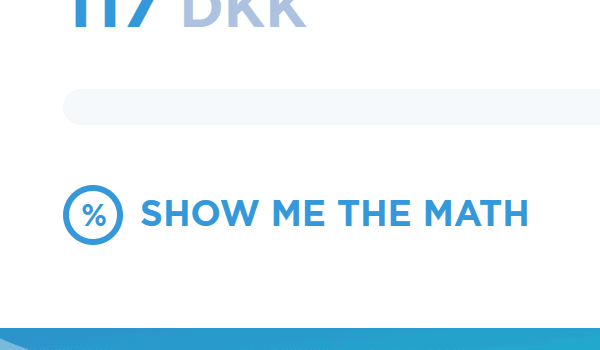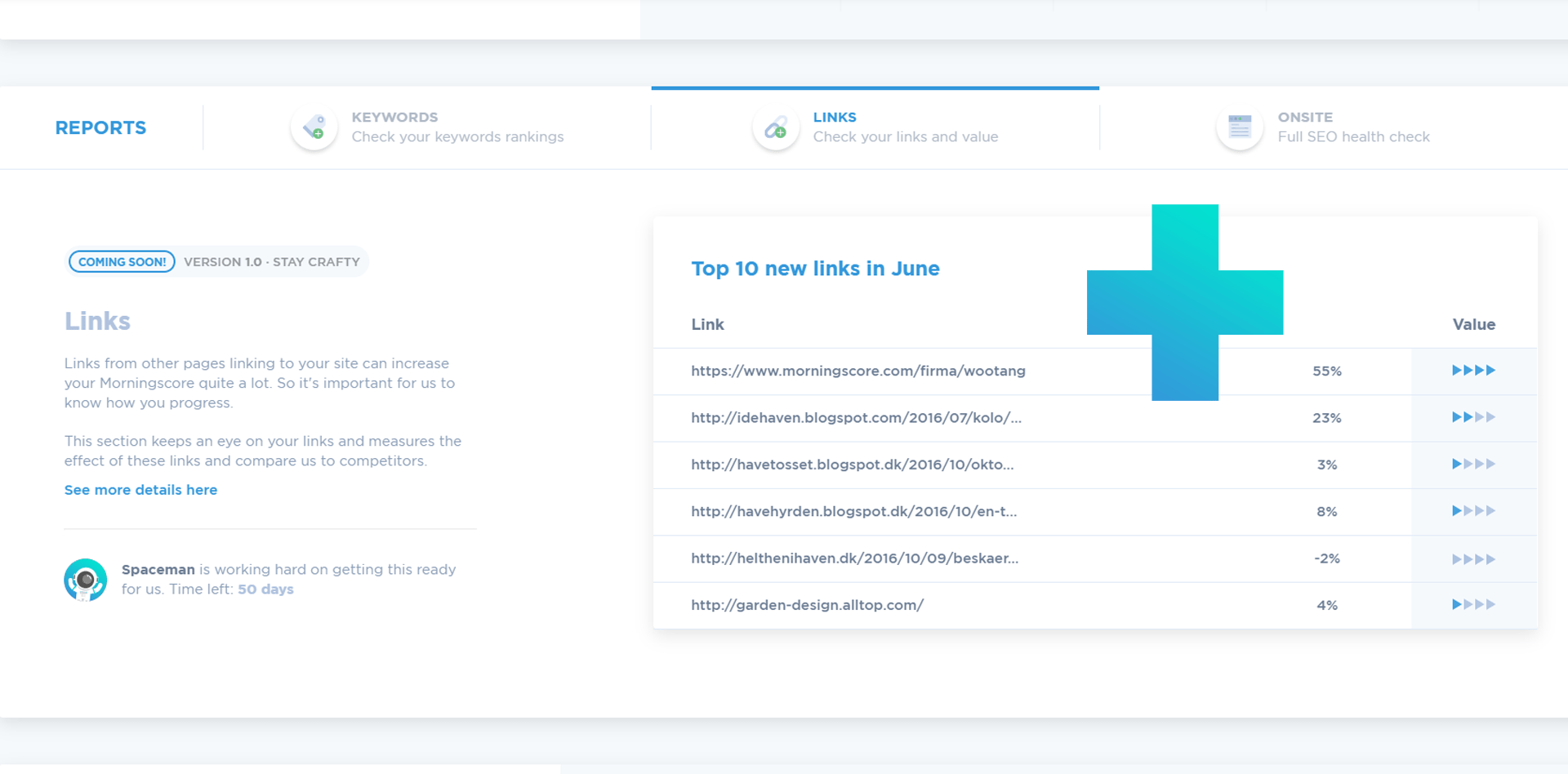 v1.4 Spacy Links+
Release-date: May 31st
"Spacy Links" is back with an upgraded "Plus" version, allowing you to explore more in-depth link metrics. Now you can indulge yourself in charts and more specific data.
What becomes available:
Link graphs

Competitor comparison in graph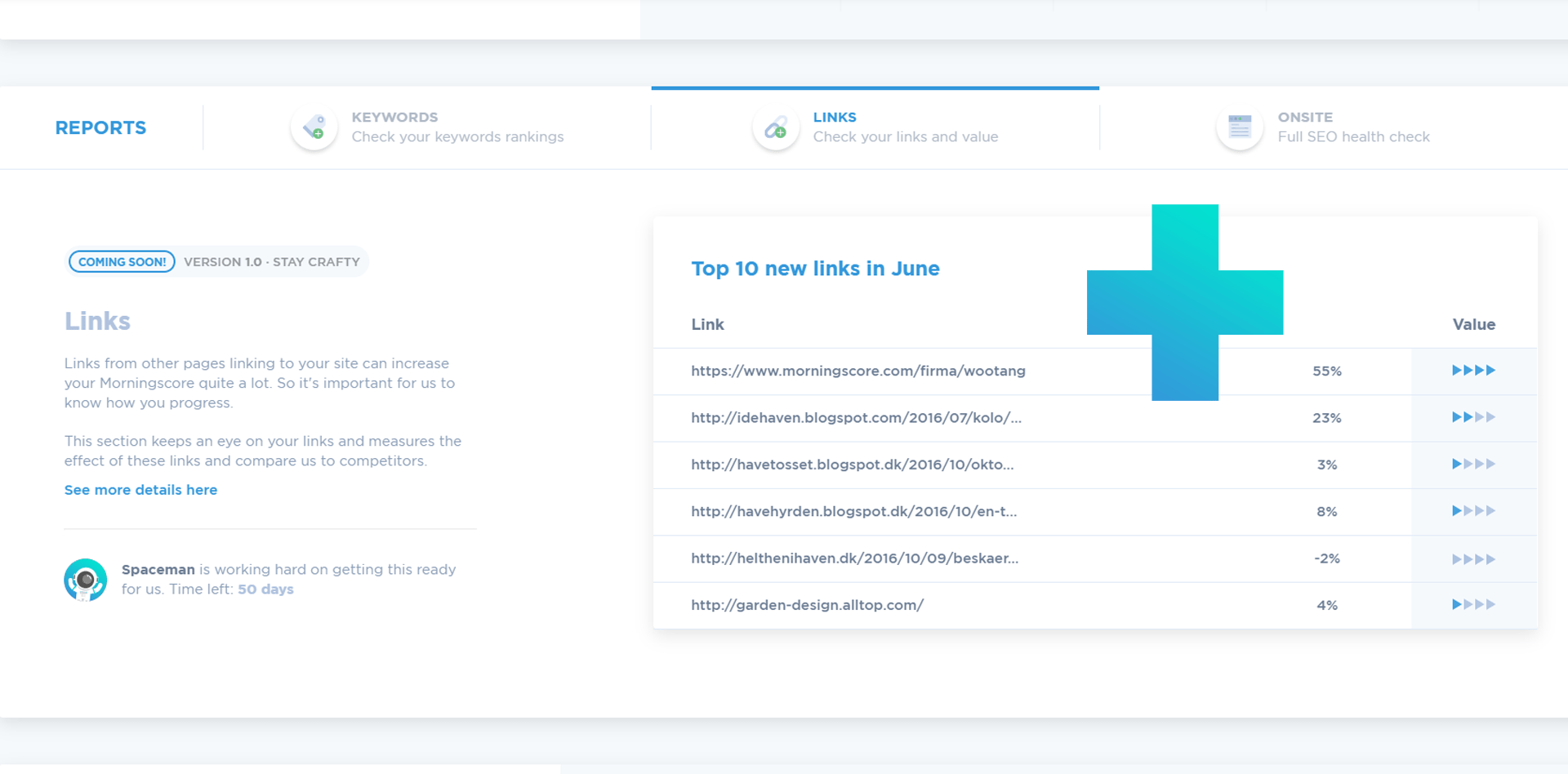 v1.5 Space Investors
Release-date: June 14th
Our spaceship continues its journey searching for keywords and links in deep space. We've established contact with many SEOnauts already and they are ready to work on new strategies for deep space exploration.
What becomes available:
SEO plan of action feature
Calculations for prioritizing activities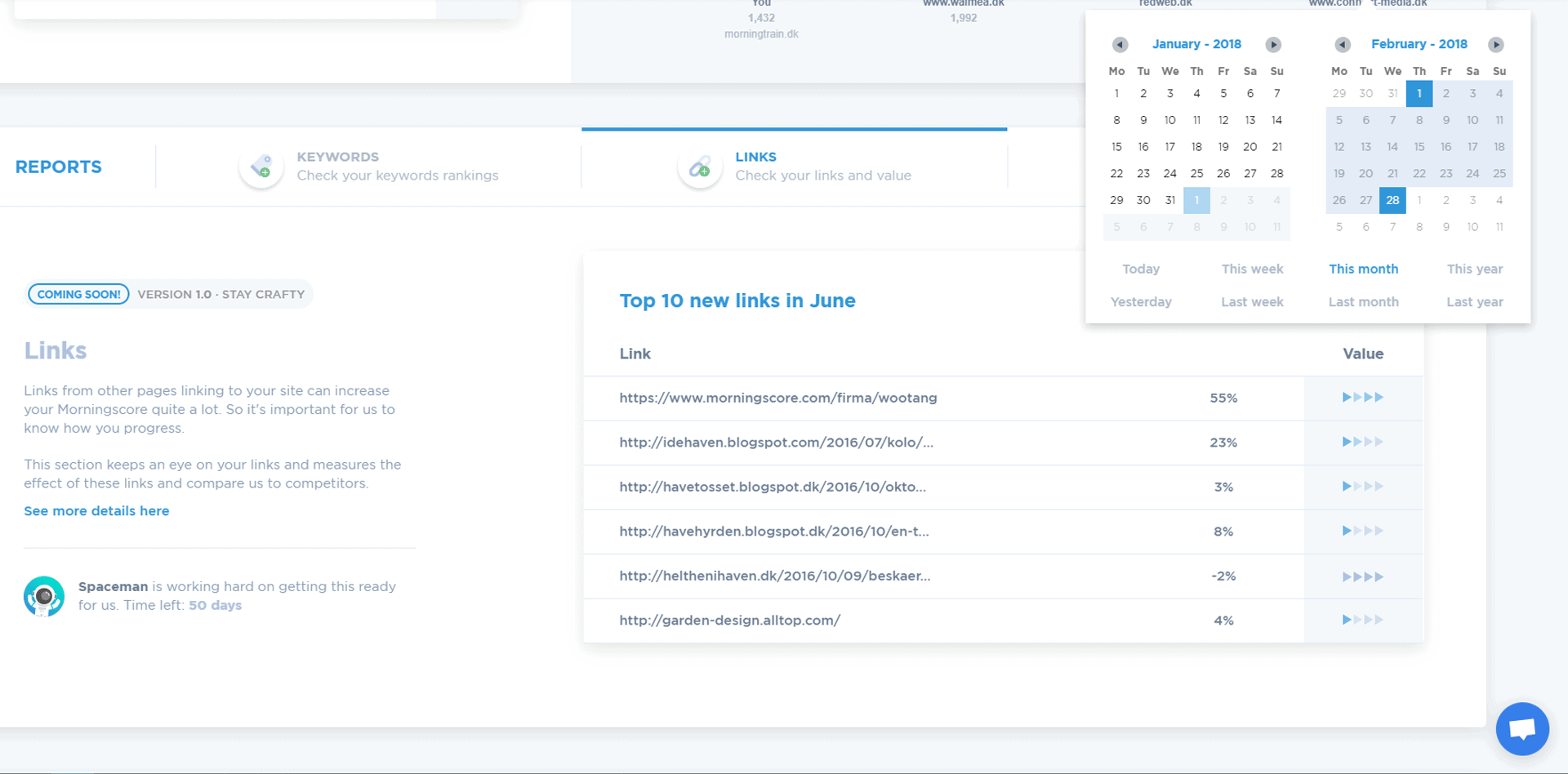 v1.6 Interstellar Report
Release-date: June 25th
Our team has found a tesseract created by a higher-dimensional civilization. The researchers have deciphered the mystical object and are able to inspect all activities that have happened in the past 30 days.
What becomes available:
Inspect all SEO activities with detailed reports.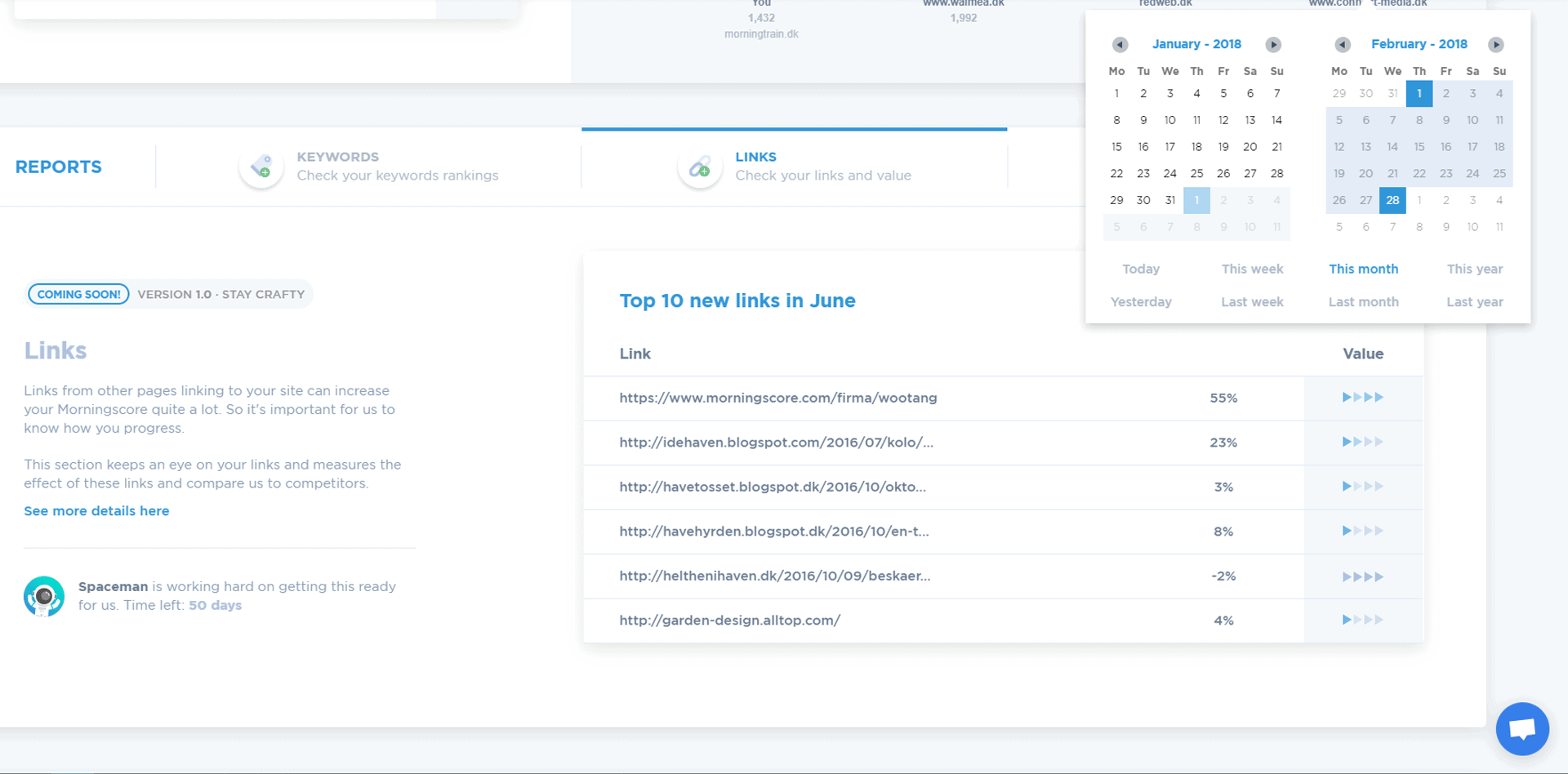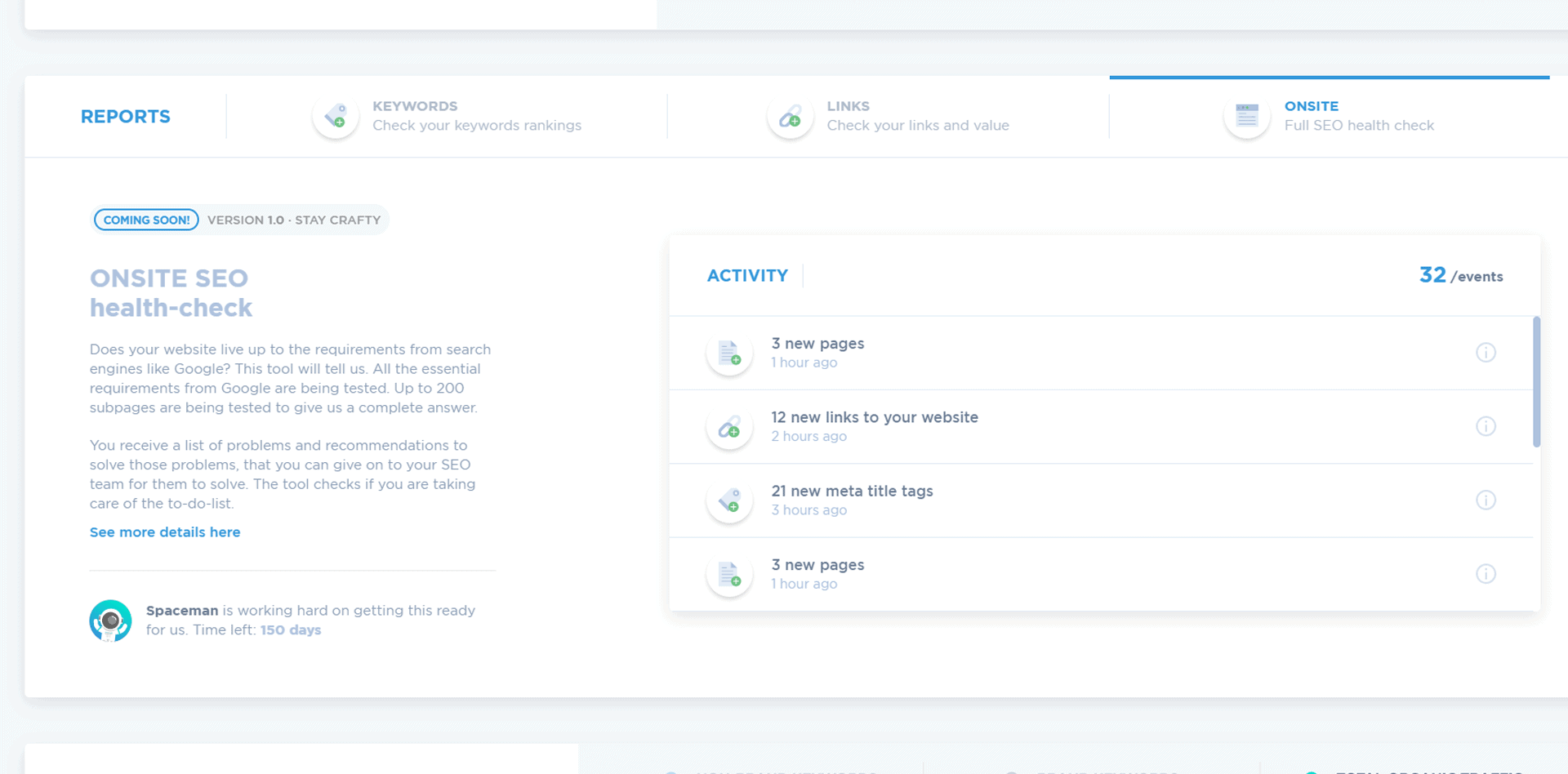 v1.7 Space Doctor
Release-date: September 26th
Great news! Our scientists were able to combat the leading cause of the well-known SEO-Penalty virus. The analysis shows the virus has likely originated from either penguins, pandas, pigeons, or hummingbirds. Doctors from all around the universe are working overtime to ensure everyone gets a complete health check following tight guidelines.
What becomes available:
Website performance comparison to Google's guidelines
Complete Health Check (onsite SEO audit) for your website
Prioritized to-do lists.
Page-specific suggestions for higher Morningscore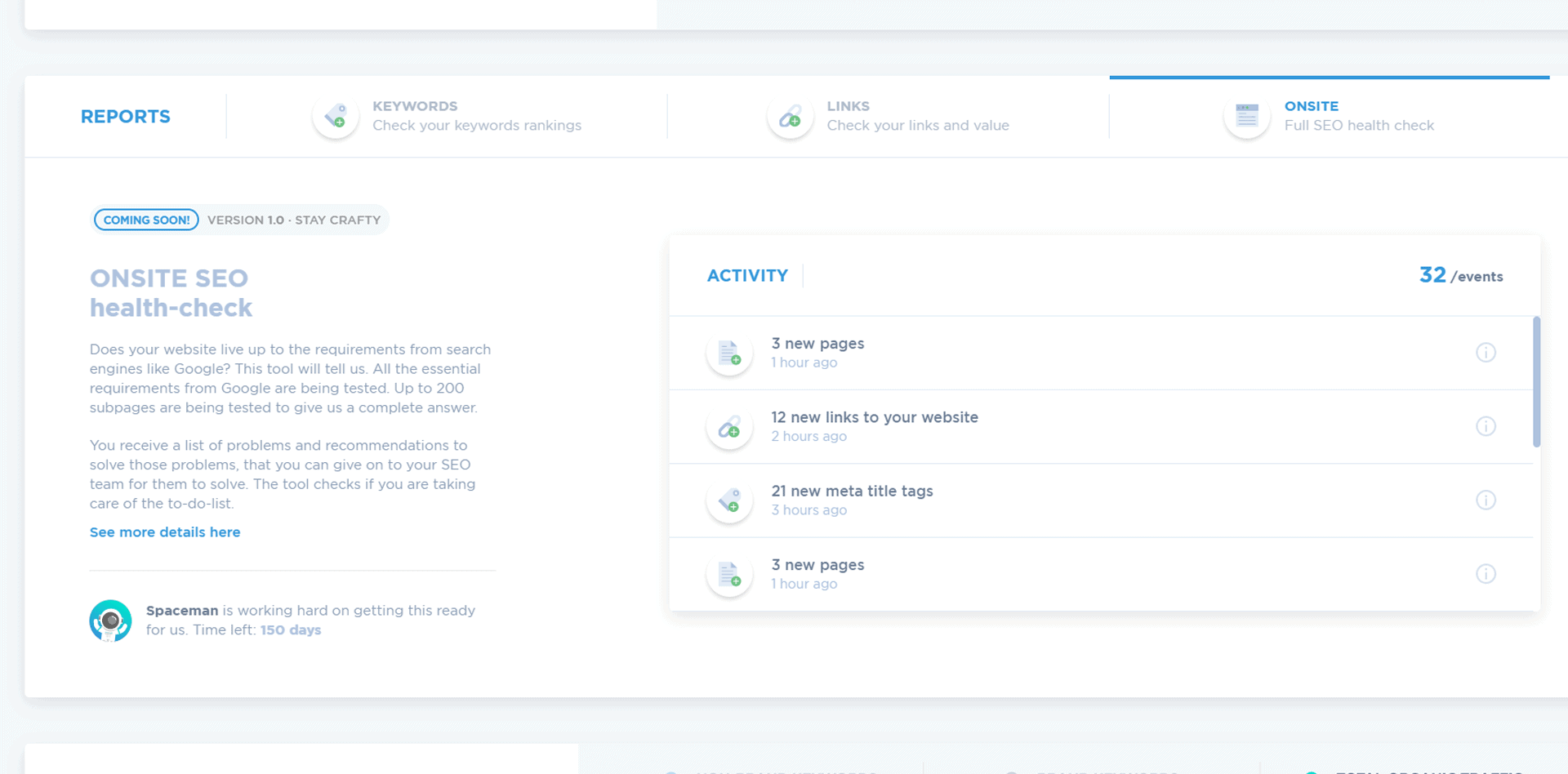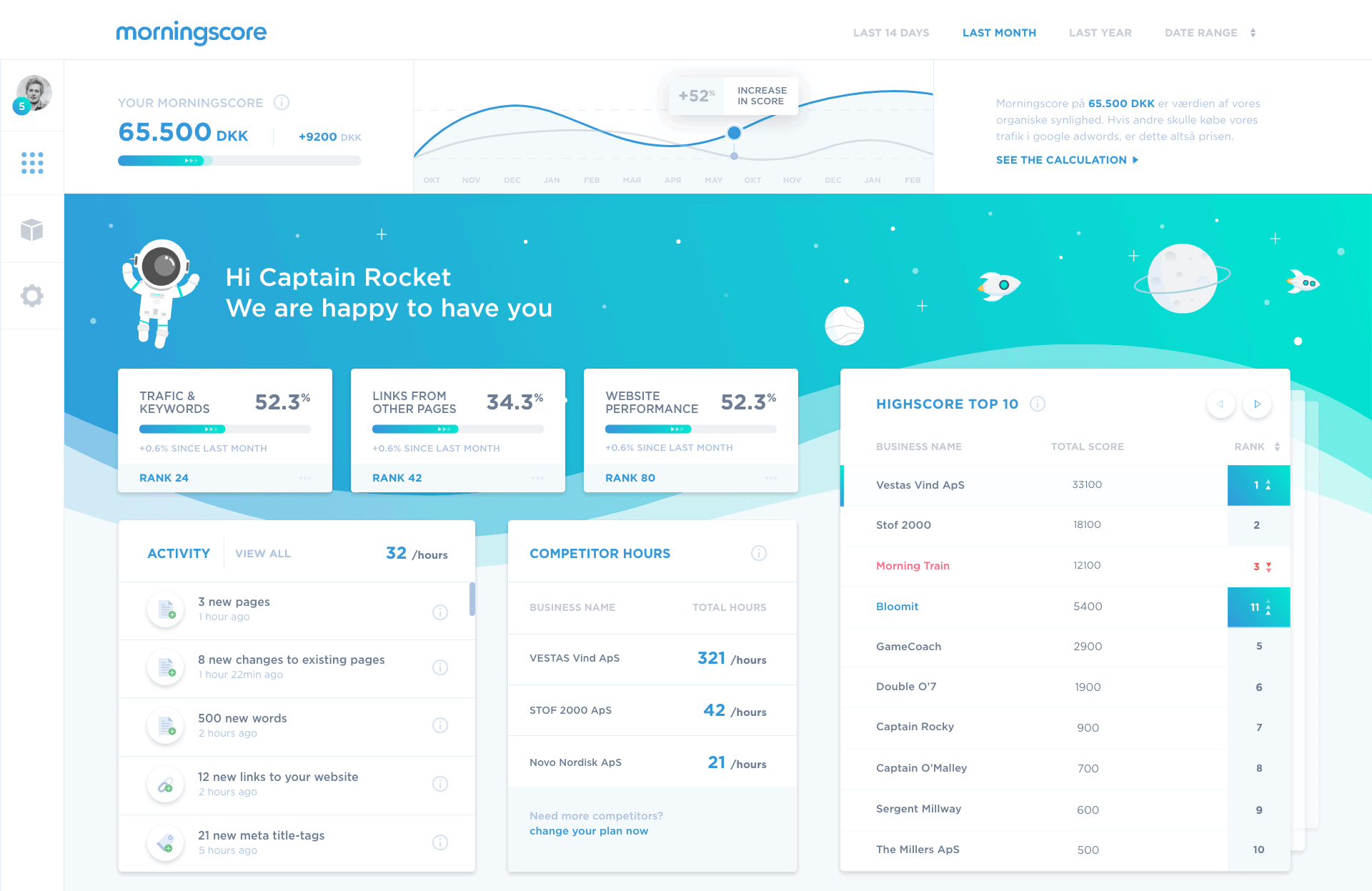 v1.8 The Jump To Hyperspace
Release-date: November 22nd
After several months of development, our Dyson sphere is finally completed. The high amounts of energy we now generate allow our most powerful scanners to run a detailed inspection of our spaceship. Fortunately, the timing is right and the resource comes handy considering our plans for world domination. We will keep you updat… BROADCAST SIGNAL LOST! PLEASE REMAIN SEATED!
What becomes available:
Complete SEO activity overview
Choose between simplified or detailed reports