One of the most common questions business owners ask us when working together is, "How can we see all of our backlinks." The reason this question is so frequent is that backlinks still play a major role in SEO rankings.
After all, how can a company improve its backlinks if they don't know its current state? If the company wants to improve its rankings, it needs to know its current backlink profile and where it needs improvements. And what about competitors – how could they estimate the website's Google ranking potential if they can't analyze the competition?
For this reason, today, I'll show you the two easiest methods I show when I work with SMBs, both of which you can do for free.
How do I find and check backlinks?
As a general rule, finding the backlinks to your website or competitors can be done with third-party SEO tools. When only trying to find backlinks for your website, you can also use the completely free Google Search Console. Keep in mind that Search Console requires an upfront setup.
Finding any website's backlinks in 6 simple steps:
1. Click on "Links" in the navigational menu
Once you log in to the platform, you will find the shortcuts to all tools in the navigational menu. One of them is the "Links" tool, marked with a chain icon. Clicking on it will take you to all tools related to your backlinks. If you don't have an account yet, remember to try the platform completely for free for 14 days.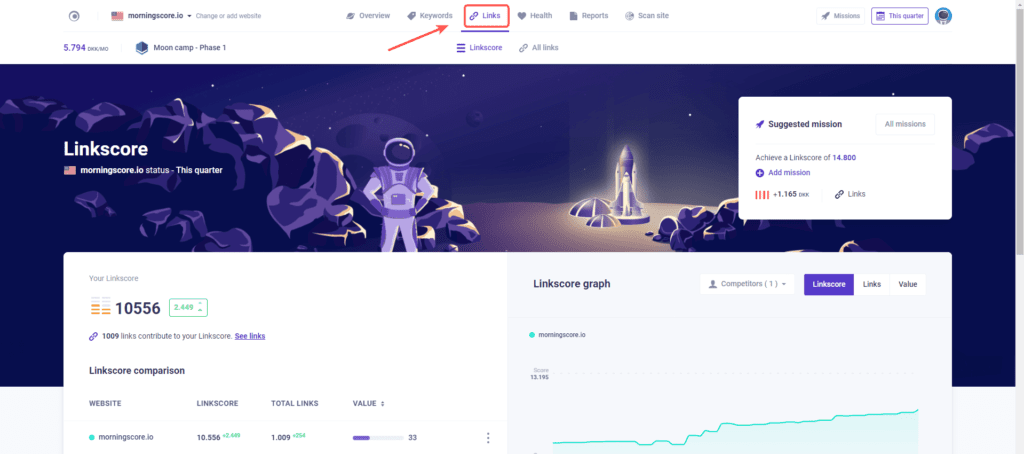 2. Scroll down to "Linkscore" and "New & Lost" links
The first thing you see once the tool opens is your Linkscore. The Linkscore is a single metric that gives you an idea of your (and competitors') website's authority. It correlates with your rankings based on how many qualitative links you have. In other words, it looks at both the quality and quantity of links.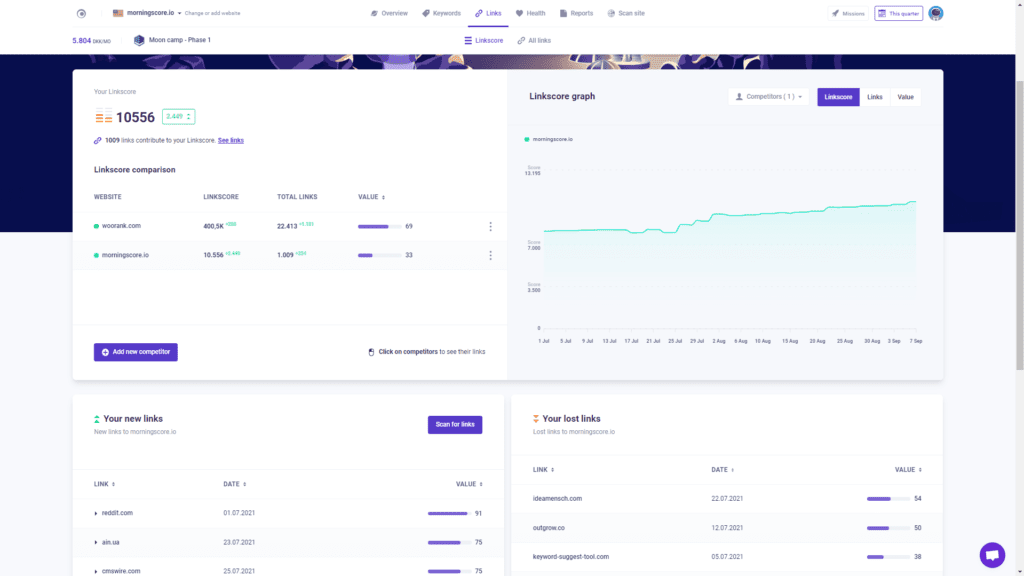 For example, suppose you have many backlinks from low-authority websites. In that case, your Linkscore will likely be low – as Google itself won't see your site as very authoritative. Similarly, even if you have very high-quality backlinks, you need quite a few of those to have a high Linkscore. You might still have a low Linkscore if you don't have many of them, simply because there're so few of them.
This calculation is done for your competitors as well, giving you a realistic estimate of who is the industry leader in your niche. Of course, having a low link score doesn't stop you from ranking well. After all, your rankings are highly dependent on the overall competition in your industry. If you have many large competitors who produce spot-on content, you have a low chance of ranking. Consequently, you will need a very high Linkscore to get to the top.
3. Click on "All Links" in the navigational menu
Once you've explored your and your competitors' Linkscore, navigate to the list containing all of your backlinks. Clicking on "All links" in the navigational menu will take you to a page with a list of your links.

In there, you can sort and filter them based on many of their qualities. One popular technique is to look for your latest links. In this case, you will sort the table by clicking on the "Date" header.
4. Click on each link to show more details about it
Clicking on each link expands the window and shows you in-depth details about the backlink itself. For example, doing this shows you whether the link is dofollow or nofollow, whether it's a regular text link or comes from an image, the anchor text of the backlink, etc.

Because of Google's recent changes, some nofollow links can now be considered dofollow. Adjusting to those changes, we decided to display all of your links' authority (i.e., value), including nofollow ones.
5. Export your links for Google Sheets or Excel
Sometimes you want to sort and filter your links in a more advanced way. Because of that, you can always get a compiled list of your links by exporting them.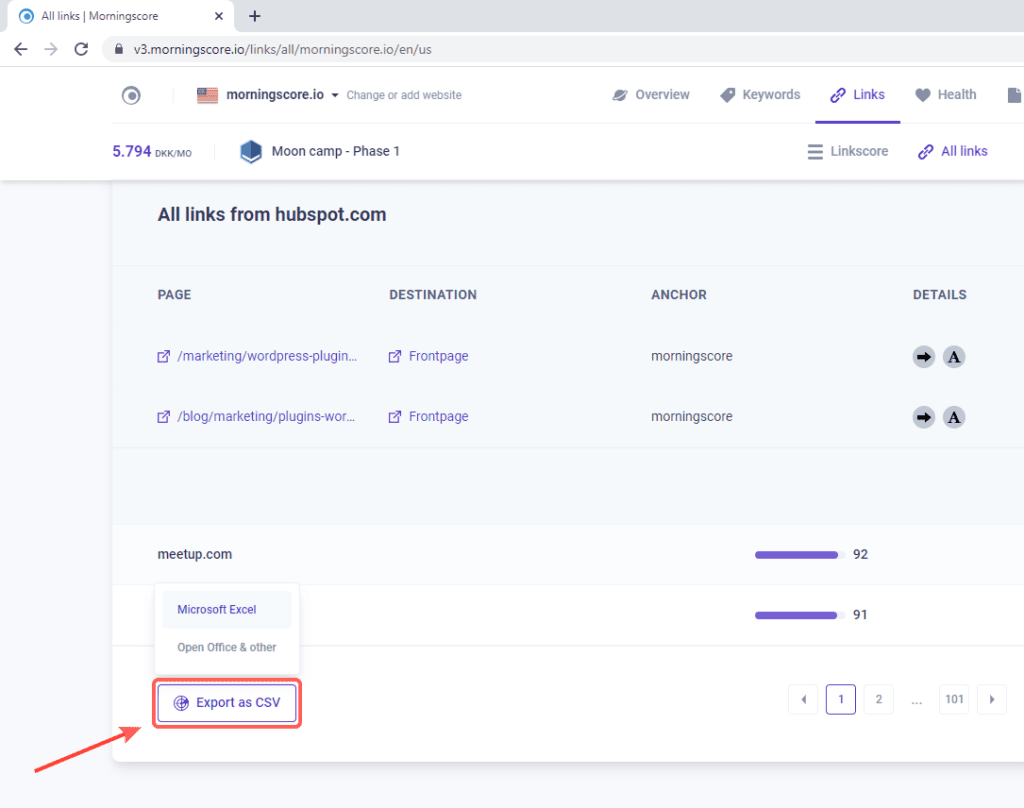 At the bottom, the "Export" button allows you to get a .csv export of all your backlinks. The functionality allows you to select the exact CSV export format that fits you. This can be Google Sheets, Microsoft Excel, Open Office, or any other.
6. See competitor links by selecting their website
Lastly, to see your competitor links, select their website at the top of the table. Doing this will update the table and show you all of their backlinks in the table you previously used to see your links. You can also export competitor links and compare them with yours.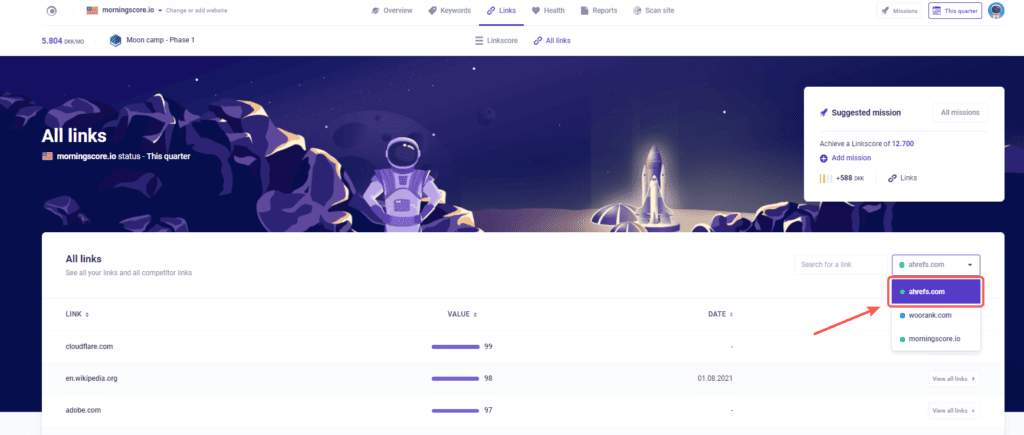 How do I check my backlinks on Google?
Google Search Console is one of the best sources of data when it comes to backlinks. We'll now look at exactly how you can use it to find your backlinks. However, keep in mind three things about it.
Firstly, you need to set it up upfront. The earlier you add your site, the more data you're going to see in it. In other words, if you've just started optimizing your website for search engines, setting up Search Console should be one of your top priorities.
Secondly, Search Console does not show you competitor data.
Lastly, you can't see each link's authority in Search Console. Although never fully accurate, third-party SEO tools try to show you a rough estimate of the authority of each link.
However, Google Search Console often shows more links than some third-party tools. There's simply no competition when it comes to the speed of discovering your backlinks. Because of that, you can be sure that, in many ways, Search Console "knows best."
1. Log in to Google Search Console
First and foremost, you need to log in to Google Seach Console. As you can see, I've already set it up and have my website ready. This process can take a little while, depending on how you chose to authenticate your website on the platform.
Once fully set up, choose your website from the top-left menu right under the Google Search Console logo.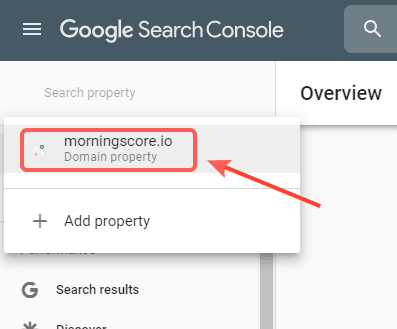 2. In the sidebar, scroll down and click "Links"
The "Links" tool is one of the last menu options, right above "Settings." Opening it will update your window, and you should see four small tables split into two columns. Here's what it should look at:
Let's briefly look at the functionality of each of them. The "External links" tables show all backlinks pointing towards your website. In other words, it is the column that shows how your website "interacts" with other websites. Meanwhile, the "Internal links" column shows you backlinks between each page on your website.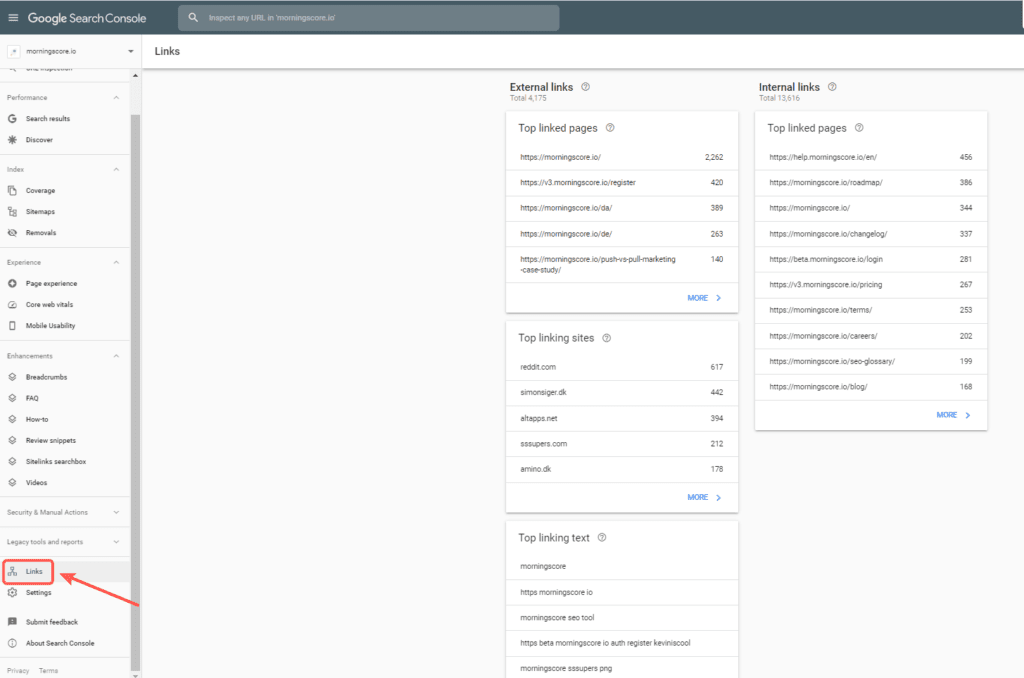 Top linked pages (External) – This table shows you the pages on your website ordered by how many backlinks they have. Keep in mind; this is only for the links pointing from other websites to your website.
Top linking sites – This table shows you backlinks coming from other websites sorted by their number. The websites that link to you the most appear at the top.
Top linking text – Here, you can see all of the anchor texts used in your backlinks from other websites. Once again, they are sorted by their popularity.
Top linked pages (Internal) – Similar to the feature in External links, however, it applies only to your internal links. The table shows you your most internally linked pages.
3. Explore "Top linked pages" & "Top linking sites"
To see all of your backlinks, I recommend starting with "Top linked pages." That's because, especially for beginners, this table makes backlinks more tangible. In other words, you see how valuable each of your pages is based on its backlinks.
In contrast, by exploring the "Top linking sites" feature, you don't necessarily get anything tangible except a nice-to-have overview. However, exploring all tables under "External" as a beginner is usually a good idea because this helps you better understand how Google sees your website.
Clicking on the "More >" button in "Top linked pages" returns the full list of your pages and the number of backlinks for each. You can expand the view by selecting a bigger number from the dropdown at the bottom of the page. Alternatively, you can use the pagination option at the bottom.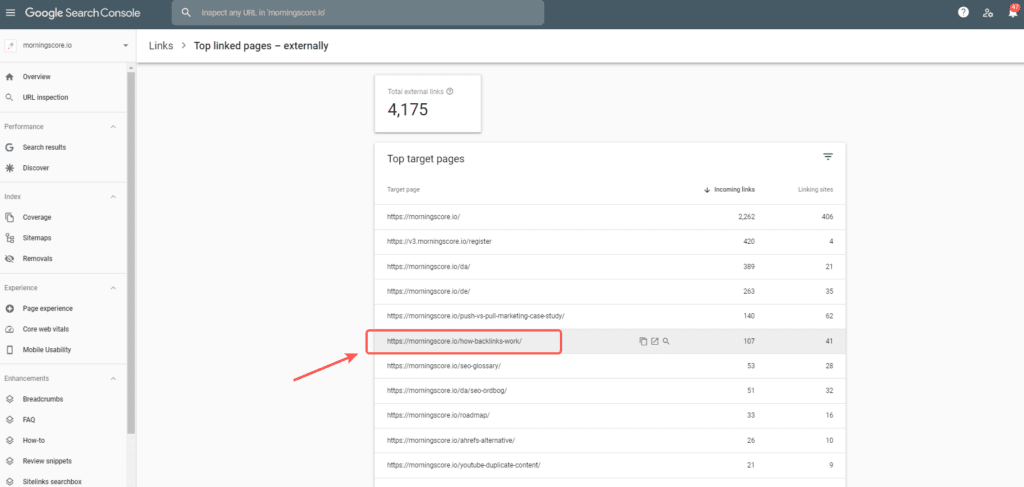 4. Select a page to see all its linking domains
The next step here is to click on one of your pages. This will update the window and show you all websites linking to your specific page. At the top, you can see a quick overview that shows you the number of all outgoing and incoming backlinks. For example, one of our pages on "how backlinks works" has 93 external links and 42 linking websites.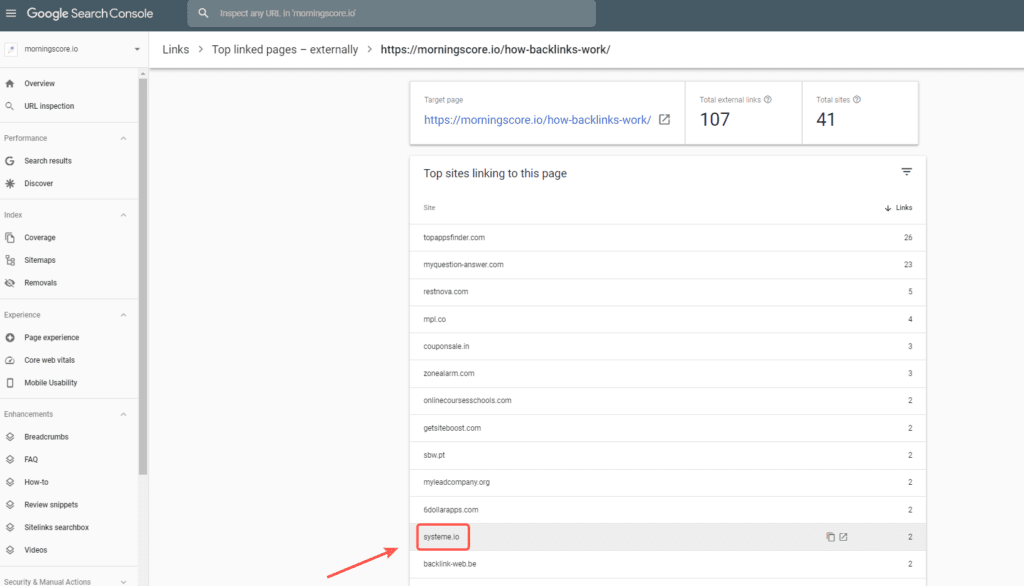 5. Click on any of the websites to see all links
Lastly, you want to click on one of the linking websites. Doing this will show you all the backlinks from that website to the specific page you selected in the previous step. Seeing this is important because one website can link to you from more than one page.
For example, clicking on one of our linking websites – systeme.io – brings up a report of the pages that link to us from that specific website.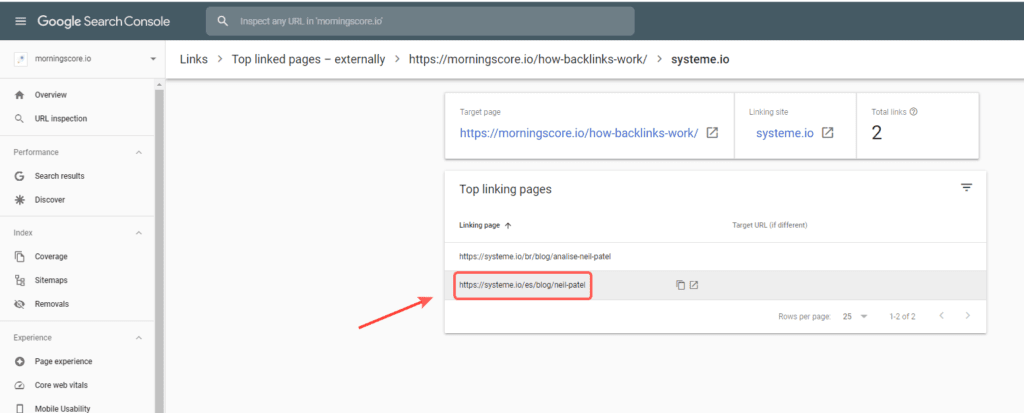 Here, you can open the Linking page and see what the link looks like on the actual page. However, always be cautious when opening those links – especially if you don't recognize the website linking to you as it can potentially infect your computer malware.
6. Analyze your backlinks by clicking "Export"
Last but not least, Google Search Console also offers you the option to download your backlinks. The great thing about it is that it is a Google product – which naturally means it integrates with other tools from Google Workspace – in this case, Google Sheets.

In conclusion
And there you have it – these were the two most popular methods of finding the backlinks for any website. Third-party tools usually show you more in-depth data. However, take that with a grain of salt, as they rely primarily on estimations. Meanwhile, Search Console shows you less data about each individual link. However, it tends to find more up-to-date backlinks.