The best way to get high quality leads
A must-have for everyone new to SEO!
Within just 9 months Lali Walter, who back then was a complete beginner in terms of SEO and online marketing, achieved some great results with Morningscore for connamix.com and took their Google rankings to the next level.
Their Challenge
At the beginning of 2020 CONNAMIX, a provider of business consulting services was struggling with getting quality leads to land on their website. They just managed to get a maximum of one lead per month into their pipeline. Their customers are mainly small and medium-sized businesses as well as group branches – so every lead is relevant and potentially ends up in a long-term cooperation. 
That was when they realized that something had to change and that they could no longer ignore SEO and improve their organic rankings. If they wanted to sell their IT solutions they had to make sure to be found on Google. Lali Walter was given that task. 
"It has been an exciting journey – especially for me as a non-marketing person". 
The Solution
That was also when she discovered Morningscore. Especially during the first month, she spent 1-2 hours per day working with the tool and SEO, as their website had quite a lot of issues. The explanations in the tool and the easy to follow step-by-step-guides of how to fix problems and build links, as well as the support from the Morningscore-team, nevertheless, helped her to get going. 
"Morningscore is definitely a must have if you want to be successful with SEO – even as a beginner."
She managed to complete her first missions quite fast and gradually started to be found for more keywords within the top 10 in the Google rankings.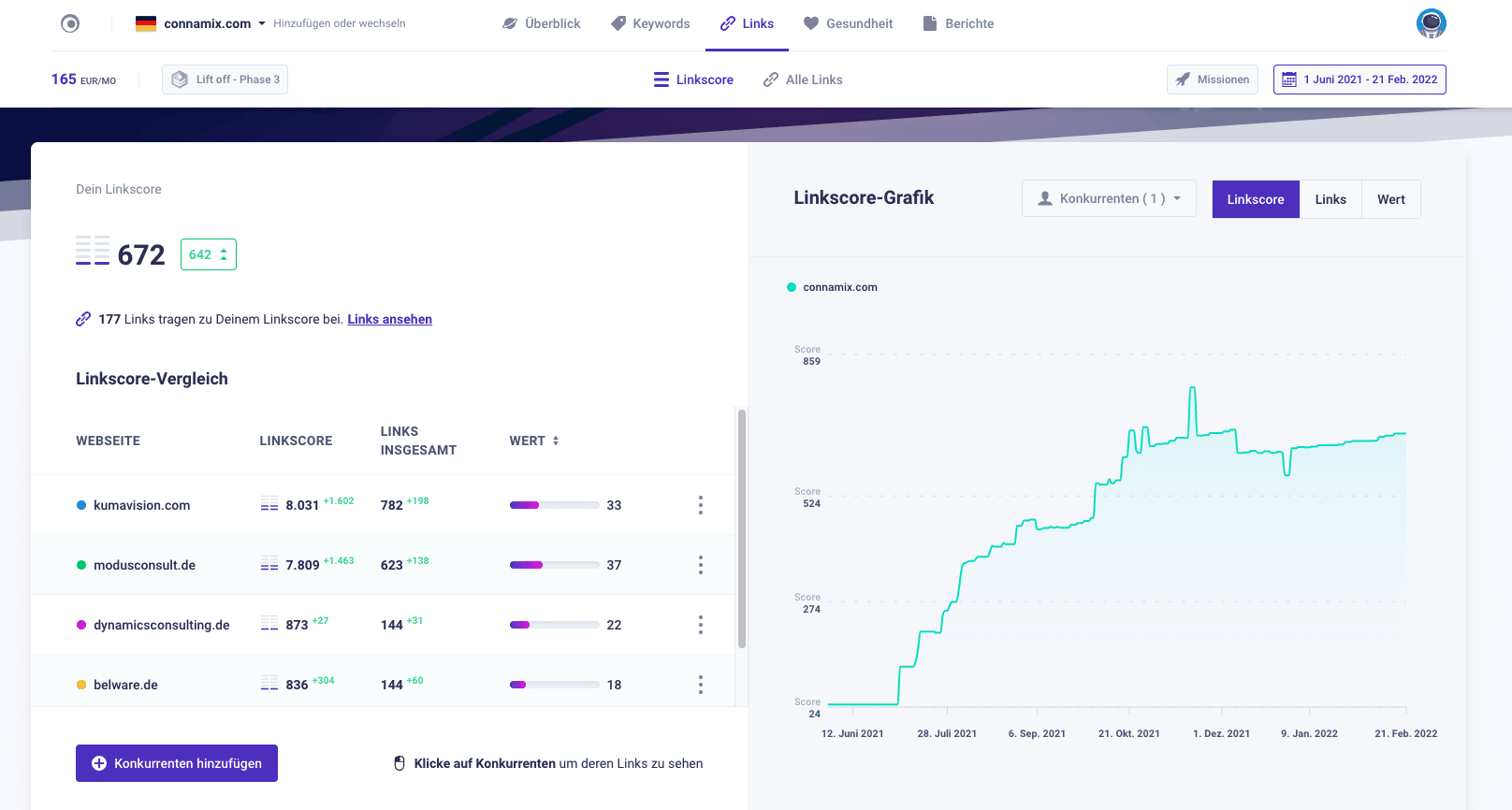 The Results
So the hard work definitely paid off – within just 9 months Lali Walter achieved great results by using Morningscore for connamix.com and took their Google rankings to the next level. Today she uses 1-2 hours per week working with SEO.
CONNAMIX gets around 5 high-quality leads per month (instead of just one), they reach the right target group with their content and they got 164 more backlinks pointing to their website than in the start of 2021, increasing their link score by 642. On top of that, she fixed 2079 health issues, contributing to a better user experience on their website.
"I remember one specific date – It was the 7th of February 2022 and the Morningscore finally had almost reached 200, so an increase of 333% since the beginning!"