"How long does SEO take to work?" is in the top-5 of questions we hear about SEO.
Data must unlock this mystery! 🔓️
To help find a concrete and objective answer, we conducted research involving 75 SEO experts from different backgrounds.
To highlight the credibility of our study, we must mention that 47.3% of our respondents have 5+ years of experience in SEO, while 45.9% of them have worked in the industry for 1-5 years. Throughout our research, our experts also helped us answer other important related questions about the timeframe of SEO projects, which you will find below.
According to 82% of experts surveyed, SEO takes 6 months to show an increase in traffic on average, while the full results of good SEO strategies are visible after 12 – 24 months. As the top 3 pages in Google receive 75.1% of traffic, expect your SEO results to grow over time as your rankings improve.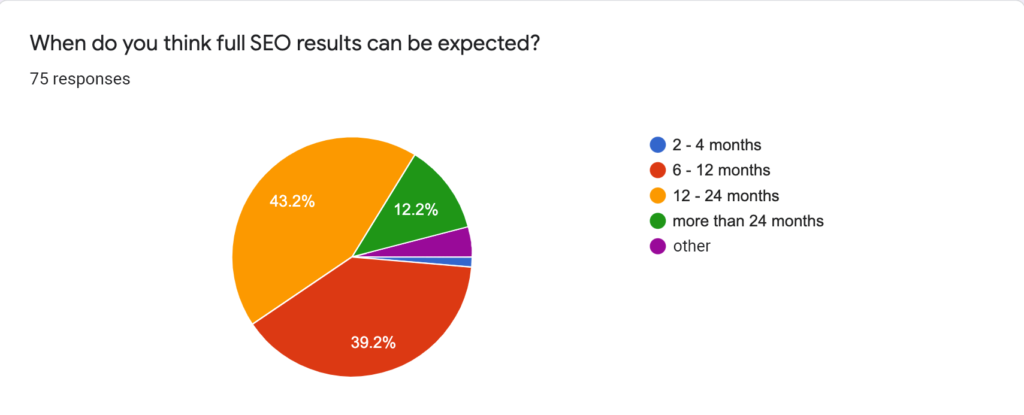 The majority of the SEO experts we interviewed agree that you should start seeing satisfying results in the timeframe of 6-12 months. Pavle Radeka, Director of SEO at CommonMind, said: "In our experience, it can take from three months to more than a year to get tangible results depending on the starting website, content quality, and overall niche competitiveness. An average would be around six months."
He also adds that: "In our view, SEO is more than just doing a few things on site, finding a few links and marking it as done so it is never done in a traditional sense. More than anything else it is a way of handling content and nurturing partnerships and doing it all the time."
The idea that you can expect to see results from your SEO work within the first year is also supported by other industry professionals like Jeroen van Gils, CEO at EcomContent, Lee Grant, CEO of Wrangu, Janis Thies, CEO of SEOlutions, Jeff Meeks from EnergyFit, Amy Block from Navitar, and Adam Hempenstall, CEO of Better Proposals.
"In our experience, it can take from three months to more than a year to get tangible results depending on the starting website, content quality, and overall niche competitiveness. An average would be around six months."
However, keep in mind that no two websites are the same. Exactly how long SEO would take for your website depends on a number of factors, as many SEO experts mentioned in our survey: "The average time for SEO results varies widely depending on multiple factors. Initially, when taking over a project, it is important to assess a few items:
How established is the site/brand, and how does the site perform today?
What kind of content is already published?
Where are the rankings today for high-priority keywords (if any), and how competitive are those keywords?
By addressing a few basic questions, it is easier to get a sense of what it will take to get things moving.
On average, in a fairly competitive niche, most sites should begin to see meaningful movement within 6 months with a focused and dedicated SEO campaign." (Tyson Bell, Co-founder of Octiv Digital)
For instance, it takes longer for a website with no authority to rank, as Francis Angelo Reyes, Founder of Lupage Digital, explains: "The answer to how long does SEO take is it depends. But if I'm forced to answer because of clients or bosses, I'd say not lower than 6 months. This might be the case when the business is not all-in with Search Engine Optimization. But large companies have a chance of having SEO success faster since they have some authority in their niche already."
However, your first results can be seen as early as 3 months. To support the idea of quicker results for companies that have established authority, Matt Benevento, Senior SEO Strategist at HMG Creative says: "In general, it takes about 3-6 months to see results for your SEO efforts, and up to a year to get it really ticking."
Since SEO takes 6-12 months on average to see significant results, this can present a challenge to many smaller companies who expect or rely on or quicker results to grow their company. Because of that, it is important to create a realistic plan and timeframe and manage expectations accordingly. Rob Swinburne, Marketing Executive at Surge Marketing Solutions, explains: "SEO can be a difficult process to explain the value of, unlike other forms of digital marketing SEO is a long term strategy that can take months to see the benefits from. There is no real average time for SEO as it depends on the work that needs to be done. Some completely unoptimized sites will need more work and could take longer to see the effects. On average, you can expect to see results between 3-6 months though there is no guarantee."
But keep in mind that SEO is never really done either – and you shouldn't simply "pull the plug" at month 3-6-12. As many of the surveyed experts agree, SEO is an ongoing process that needs constant tweaking. Shonavee Simpson-Anderson, SEO strategist at Firewire Digital emphasizes that: "The question 'how long does SEO take?' can be misleading because it implies there's an end date to SEO work and while I hate to be the bearer of bad news, I have to say this: SEO is never finished."
To highlight the reasoning behind this, she adds: "Search engine algorithms, such as Google, for example, can update their algorithms literally thousands of times a year. Search engines are always getting better at understanding user behavior, changing how they serve information to users, and upgrading the experience of the search itself. As a result, if you want to optimize your site for search engines, your work is never really done."
The idea that SEO is a collection of ongoing activities is reinforced by SEO specialists like Sabine Downer from Webformix, and Austin La Roche, CEO of Atak Interactive: "In general, 6 months is a fair time to expect significant SEO outcomes. The most significant increases will be seen between 6 and 12 months. It's an investment that will take regular upkeep and attention if you want to see any long-term results."
To understand the exponential growth a business can expect between months 6-12, we need to look at the compounding effect in SEO. The reality is, the vast majority of searchers (up to 92%) click on results shown on the first page of Google. Moreover, some 75.1% of these clicks go just to the top 3 results. Because of that, ranking at the top vs. at the bottom can bring very different amounts of website traffic.
But getting to the top is no easy game – and once you're there, you're still fighting to maintain your position. Natalia Brzezinska, Marketing Manager at PhotoAiD, emphasizes the importance of an ongoing effort when it comes to SEO: "Prepare yourself to invest several months to a year before you see results from your SEO efforts, but even then, you won't be the soul of the party. In fact, according to analysis and reports from expert SEO companies, only 5.7% of all newly published pages will make it to the top 10 positions on Google within a year. And even once you do, you won't be able to relax, as your competitors, both current and newcomers, will constantly be vying to regain the position they have lost. In other words, this is an ongoing effort that will never really finish."
How long does it take for a new website to rank in Google?
As outlined by many of our experts, the playing field is not level for everyone. New websites can take (sometimes considerably) longer to see results from SEO compared to those with some established authority. Emanuel Petrescu, a Toronto-based SEO Specialist, mentions that the amount of time required to see results from SEO depends on how old a website is: "Obviously, the standard answer is between 6 months to a year, but it depends if the project is brand new or has some years on the market. A new website will take a little bit longer (but again, it depends) than a website that's already ranking for specific queries."
The majority of research participants agree that, in general, a new website needs a minimum of 6-12 months to start accumulating traffic from search engines. Although early results for new websites can appear in as early as 4-6 months, typically, those numbers are insignificant in the big picture.
The overall authority of a website largely comes from the quality of the content it publishes and the backlinks and mentions it receives from other credible sources. Because of that, it is often something you cannot force – and takes time to establish legitimately.
Valuable insight on what it means to do SEO for a client that has a brand new website comes from Chris Zacher, Content Marketing Strategist at Inter Company: "Suppose a business comes to us with no website, and we're working from the ground up. In that case, it can take three or four years of consistent blogging and link building to get their site on the first page for their target keyword."
From our experience, we have also seen that brand new websites take roughly 10-12 months to start bringing some traffic from search engines. During that initial period, the new website is placed in what is known as the "Google Sandbox." Here, it is intentionally being prevented from ranking well for any keywords to avoid cheating the algorithm and scamming consumers.
The effect of the Google Sandbox was further confirmed by some of the experts we interviewed. Justin Smith, CEO of Outerbox Design, also outlines the SEO effort required by a new website before you see results: "For a brand new website that JUST launched, it will realistically take 12+ months before you see any real traction / ROI from your SEO efforts. If you have a more established website, you could start to see results within 30-90 days."
Are SEO results instant?
One of the first questions growing businesses have is whether SEO works instantly. SEO has been deemed by many an extremely important and profitable channel. And that idea is understandable – after all, the premise of "getting leads while you sleep" would sound incentivizing to any business. But for smaller companies that rely upon strong early growth channels, SEO can sometimes seem too slow to work. Because of that, let's see what our experts had to say on whether SEO works instantly and if you can expect immediate results from it.
Unlike other popular marketing channels, SEO does not work instantly. Most professionals expect to see results in as low as 2 months, but SEO can take as much as 12 months to work. While every company's SEO strategy differs, most businesses can expect to see considerable results in 6 to 12 months.
As Chris Panteli, founder of LifeUpswing emphasizes, SEO does not work instantly: "SEO is like a marathon, not a sprint. It takes time and consistent effort to see results. On average, it takes anywhere from three to twelve months for a new blog to appear in the top rankings depending on the competition in your chosen niche and the authority of your site. You'll start ranking relatively quickly, in about a month in some niches."
"SEO is like a marathon, not a sprint. It takes time and consistent effort to see results."
When doing SEO, it is also essential to consider the size of the company and how it impacts the amount of time required to see results from your SEO work. Bob Bentz, President of Purplegator says: "With SEO, we often see an improvement immediately, but this is usually if the site currently has very little optimization. If they have not optimized their title tags and on-page copy at all, these are the sites that we can see a first-month increase. That said, we usually tell clients not to expect much at all in months 2 and 3."
He also adds that during those early days, fluctuations in the keyword rankings aren't uncommon either: "In fact, they may even see a pullback in some of the keywords for which they are already ranked. Beginning in month 4, we start to see a steady increase as all of the on-page improvements start to get indexed and the third party link building begins to have a profound effect."
Cristian Ungureanu, Senior Growth Marketer at QuickMail, further confirms this by sharing his experience: "I have gotten some pretty significant 'overnight' wins in smaller companies with no previous history of improving SEO. This is a lot harder to replicate in bigger companies where SEO has been properly worked on by a specialized department. So I'd say it depends on the company's SEO standpoint at the moment of joining. But to answer your specific question, in my experience working as the first SEO for smaller companies, seeing (definite) improvements has taken 2-3 months from the moment of starting."
Overall, doing SEO for a small business can show early signs of success which can be reassuring. But having a proven track record can certainly help you rank for more keywords faster. That's because you've already established some credibility with Google's algorithms which now consider you more trustworthy. "If you have a website that is already ranking well for specific keywords, you can expect to see your rankings increase over a shorter time," says Noah Myint, CEO of Focused Growth.
However, your website's credibility isn't the only thing that determines whether you rank at the top. Your niche and the keywords you want to rank for both influence how soon you can see results from SEO. Noah adds: "Suppose the keywords are very competitive and there is a lot of recent activity in the industry targeting those phrases. In that case, your efforts may not result in an immediate increase. Once you begin to show up for the most competitive keywords, it usually takes many months before you can rank #1."
The fact that results from SEO take time and effort to show is also highlighted by SEO specialists from School Authority, ResumeLab, Olbuz, FastPeopleSearch, Honest Marketing, RevenueGeeks, and Buyer's Guide.
Janis Thies, CEO of SEOlutions adds that: "There are some situations where you can rank a website in less than three months, but these situations are rare. You can only do it if the content you offer is in a deep niche–something that people have not bothered writing about before."
In fact, Janis' suggestion very much aligns with our experience as well. Finding competitive gaps for content that has not been produced yet is a sure way to quickly get some traffic from search engines. Doing so also enables you to earn backlinks because your content can easily be considered the authority on the subject – simply because no one else is addressing that customer paint through their content. Ultimately, your accumulated authority (i.e., backlinks) from such content will help you rank for more competitive queries over time.
All in all, know that even though you can't see results from your SEO work instantly, your efforts will eventually pay off: "SEO is a fairly complex process, despite its simple parts. Depending on what you are trying to achieve, a successful SEO campaign can take anywhere from two months to a year. It is important to recognize this and the long-term commitment to avoid discouragement or concluding your efforts too early." (Jeff Meeks, VP of Sales and Marketing at EnergyFit)
How soon can SEO work?
If you're looking to generate more potential customers through SEO, it's natural to wonder how soon things start to happen. According to our research combining the experiences of 75 SEO experts with different industry backgrounds, although SEO is a long-term strategy, you can expect to see results from it as soon as the second month.
Most SEO experts agree that it takes 2 – 4 months to see the first results from SEO. However, factors like the website's quality, age, and authority can affect this period. In general, 94.6% of experts surveyed say that websites with good links and content can expect SEO results within 6 months.
When asked about how fast SEO works, most (67,2%) of the SEO experts said it takes 2-4 months to start seeing results. Meanwhile, 28.4% state they expect to see the first results from SEO earliest after 6 months of work. Combined, the vast majority of experts surveyed (94.6%) agree that the first signs of success should appear somewhere between months 2 and 6.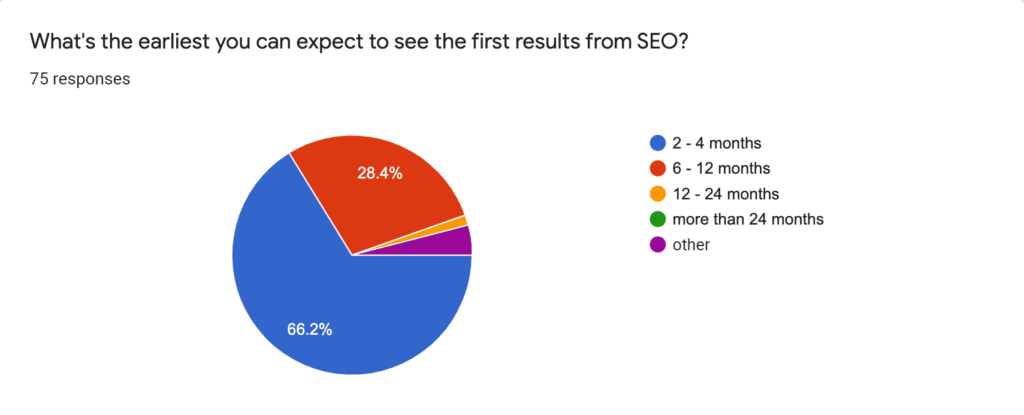 How soon SEO works for you can depend on a number of factors, which your SEO specialist or agency will typically address before beginning the work. That's because when trying to make your website SEO-friendly, there are certain tasks that need to be fixed as soon as possible – like those related to your website's crawlability. Meanwhile, other factors are not so critical and can be slowly improved over time.
Ashley Kimler, copywriter at CopyNoise, highlights the importance of a website's current state when it comes to estimating how soon her clients can see results from SEO: "Sometimes I see SEO results in as little as a month. Other times, it can take 6 to 18 months to reach a goal."
To underline the significance of a well-thought-out On-page and Off-page SEO strategy and the time it takes SEO to work, she adds: "Timing depends on the website's current health, competition, and other factors. If a potential client approaches me for work on a website with tons of technical SEO errors, I let them know that they are unlikely to see results until those errors are resolved."
In addition, Dealers League considers the complexity of a project when estimating the time it takes for SEO to work: "We carry out many different SEO projects. Based on what I've seen and done, the more simple ones can last for a couple of days, and then some projects can take months."
How soon SEO can work also depends on how competitive the industry is and the keywords used. As Patrick Garde, Co-Founder & Technical Director at ExaWeb explains: "Based on our experience, SEO does take a few months before you can see any traction. Even Google has mentioned that SEOs need 4 to 12 months before you can see an effect on the campaign. This is especially true for competitive industries, keywords, or locations. For low competitive industries, keywords, or locations, you may expect movement in the first 3 months."
To further solidify how important it is to measure up the competition in SEO, Sabine Downer from Webformix says: "Seeing results from SEO can take months and even years. However, if you are targeting keywords with low competition and moderate search traffic, you can start ranking better within 3-6 months. If your keywords have higher search volume and higher competition, it can take years to get anywhere near the front page of Google's organic search results."
But only looking at the timeframe can hide important details such as whether SEO is actually profitable for your company. Your SEO strategy determines not only how fast SEO will work for you but also how far you will go in the future. After all, at the end of the day, SEO is a marketing channel – and as such, it has to justify its costs. Because of that, it matters how significant your results are – and not just whether you have any.
As Tanner Arnold, President & CEO at Revelation Machinery, underlines: "According to my knowledge, SEO should show results in 6 to 12 months. A demonstrable increase in traffic, as well as accompanying leads or conversions, is what we refer to as 'results.' This does not necessarily imply that you will have reached your goal by this time, but any company engaging in SEO should expect to see results within this timeframe."
How many hours per week does SEO take?
If you're considering SEO as an investment, one of the important questions that come to mind can be how big of a commitment it is. The answer to this question is critical for any company, whether they are looking to hire a specialist or outsource the work to an agency. SEO comes with many work-related costs, so estimating the work time required per week gives you crucial insights into the profitability of this channel for your company. To save you the trouble of consulting multiple agencies, together with 75 industry experts, we prepared research that answers this question.
The majority of experts (59.7%) agree that SEO takes between 4-15 hours of work per week on average. Depending on its currents state and desired results, in some cases, SEO can take over 15 hours of work per week. It is also common for SEO to take more upfront work at the start of the project.
The aggregated numbers from our research show that most experts (40.3%) work between 4-7 hours every week on each website they're in charge of optimizing. The numbers also show that 11.1% of experts report spending 8-10 hours per week on optimizing each website. Only 8.3% of respondents report working on SEO between 10-15 hours per week per website. However, combined with the previous two ranges, 59.7% of experts report spending between 4-15 hours of work on SEO per week per each website they run.
On average, our research also shows that SEO is often an active and lucrative investment for most companies. That's because a quarter of the respondents (25%) allocate more than 15 hours of work per week for SEO activities. Meanwhile, the number of websites that require SEO maintenance work is lower, which is reflected in our research – only 15.3% of experts say they spend between 1-3 hours on SEO per website every week.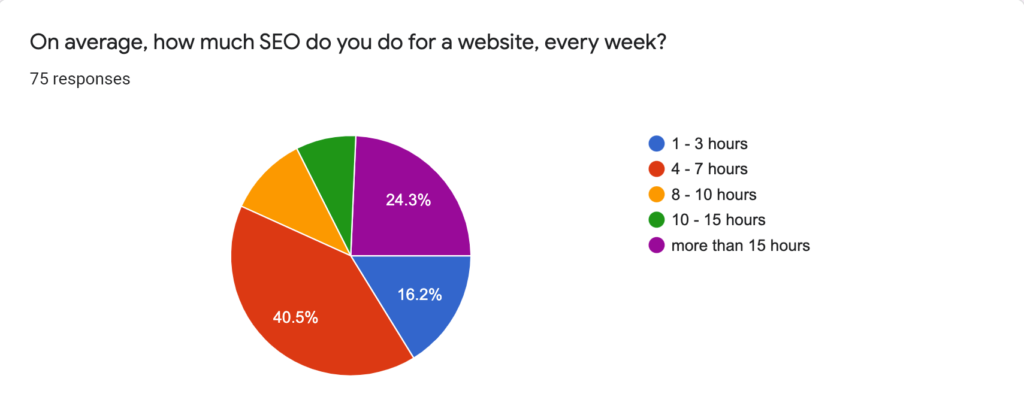 From these numbers, we can assume that most websites involved with SEO fall into one of three categories. Firstly, a minority of websites (15.3%) are well-optimized outliers and require only 1-3 hours of work to maintain their SEO results. On the other hand, the majority of websites (59.7%) that have some results require an active investment in SEO, where the amount of work needed varies between 4-15 hours of work per week. Lastly, 25% of the websites can also be considered outliers, given that they consume more than 15 hours of work per week. Naturally, you can also expect that the company's budget can influence these numbers since it determines how much time they can invest into SEO.
By investing the recommended 4-15 hours of work per week into SEO, on average, results should start showing up in months 6-12. As Lee Grant, CEO of Wrangu, puts it: "Six to twelve months should be enough time for SEO to start showing results. It's a long-term investment that demands regular upkeep and attention."
But even though SEO is an investment, such a period without any noticeable results can be too long for many businesses that rely on results in the present. Because of that, it's important to set up and measure important KPIs along the way, which can help reassure the businesses that sales are soon going to increase.
To understand and justify the long-term investment into SEO, Grant suggests first identifying what success looks like for the company. He adds: "When it comes to evaluating SEO success, I believe we must first identify what it looks like. While creating an SEO strategy, campaign goals and KPIs are commonly used. In the end, your efforts will be measured by these two crucial metrics.
Ryan Becker, Head of SEO at Way, also agrees that matching the KPIs with the company's objectives is critical: "This depends on the KPIs and the execution of technical, content, and backlink strategy. When done right, you can show lifts in rankings in a month's time, but it can take many months to get to the first page of Google (which is where you get traffic) for competitive keywords."
Since SEO has many aspects, by setting up KPIs, you can also ensure that the time invested into SEO is spent in the right place. When asked what SEO activity consumes most of their time, the majority of surveyed experts agreed that, in general, those activities revolve around building backlinks and producing content.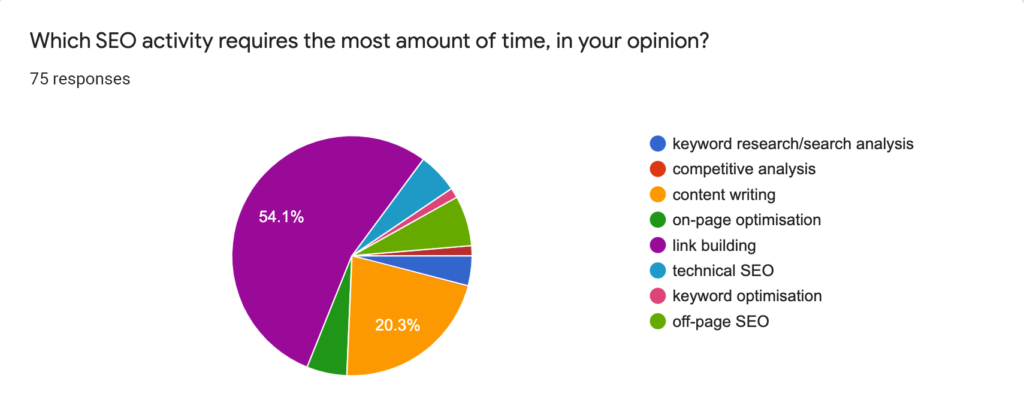 Our research also shows that link building (52.1%) and content writing (21.1%) are by far the most time-consuming activities. They are followed by technical SEO (5.6%), off-page SEO (7%), and on-page SEO (5.6%) – which are important but can be improved rather quickly. Surprisingly, keyword research (4.2%) is not considered one of the most time-consuming SEO activities, even though it represents one of the most important steps in SEO, at least in the initial stages.
Why does SEO take so long to work?
SEO can be a lengthy process because there are many aspects that can be improved. From better keyword targeting to improving the website's backlink profile, SEO has tons of variables that can make or break the end result. That being said, our research aimed to give a concrete and specific answer to why SEO takes so long.
A major factor for why SEO can take so long to work is the level of competition in your industry. In most cases, your competitors are actively working on their SEO, meaning SEO is a continuous effort. Additional constraints in budget and resources can also increase the time it takes SEO to work.
In addition to the level of competition in a niche, the majority of new websites are initially placed in Google's Sandbox that limits their reach until Google has built some trust with them. But trust isn't something limited only to newly-registered websites.
Tyler Rice, CEO of Animas Marketing, outlines that SEO is a long-term strategy, and it takes longer than one might expect: "SEO can take months or even years to make a noticeable impression on a website depending on current authority, competitiveness, and industry. As a digital marketing agency owner that focuses on local business growth, I give clients the expectation that results may not start being seen until three months after beginning an SEO campaign."
When it comes to building trust with search engines, most experts agree that your website's authority determines that. In fact, your website's authority can also be understood as "trust" – that is, how much can Google trust this content to rank it at the top. To solidify that idea, when ranking the reasons why SEO takes so long to work, our experts put "backlink profile" (66.7%) and "domain authority" (56.9%) as the top two factors.
These numbers are followed by "keyword optimization" (40.3%) and "content writing" (37.5%). This leads us to conclude that the amount and quality of content you produce and the backlinks you acquire are what determine your website's trust in Google's eyes. Other experts further confirm the fact that content and backlinks are the strongest SEO ranking factors.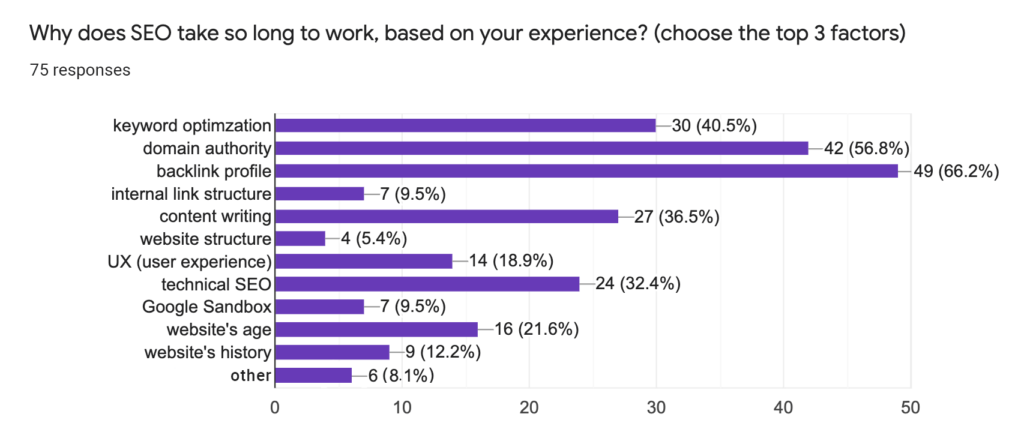 Another critical reason for why SEO takes so long also has to do with the budget and resources required to optimize a website. As Shonavee Simpson-Anderson, SEO strategist at Firewire Digital, puts it: "If you want to know how long it takes to start seeing results from SEO work, the average timeframe is around 6 months. This is largely due to the average budget most businesses have to invest in SEO, rather than a reflection of the effectiveness of SEO itself."
What's more, your investment into SEO, however big it is, is spread across different activities. Many factors influence how long SEO takes to work, and paying attention to these elements helps you understand why SEO takes so long. For example, a new website acts differently from an older one. Ruben Games from SignWell explains why: "Ranking a brand new website requires a considerable amount of work. In my experience, if your website is brand new, you shouldn't even think about ranking for a year. You just have to put out quality content and aim for other types of traffic. For an established website, it's fairly easy. Sometimes you can rank in a matter of days. A brand new website requires more SEO work as you need to build a lot of positive metrics so that Google trusts your website."
Sean Dudayev, Founder of Frootful Marketing, agrees: "It takes about 3-6 months to start seeing evidence of results, and about 9-12 months to start seeing results that will have a significant impact on your business. This usually depends on whether it's a brand new site or not, the niche that it's in, and the scale of the SEO effort."
Considering your niche and its competitiveness, Hamish Pearsall, an SEO specialist at Oddball Marketing, also notes that content and backlinks are critical for getting your keywords to rank quickly: "For most businesses, you should see results within 3-6 months, but depending on your circumstances, it may be longer. If you want to stay there, you'll need content written and an SEO agency actively building backlinks.
But keep in mind that you don't have full control over every SEO aspect. Some things, such as Google's algorithm updates, are out of your hands. Unexpected changes are bound to happen – and they can completely change the time frame for your SEO strategy. As Hamish puts it: "Another thing to keep in mind, Google changes its algorithm pretty frequently. What works today might not next year, so if you ditch your SEO agency after one year, don't be surprised if your site starts to slip. There's a lot of tinkering that goes on all the time."
Lastly, Danny Veiga from Danny Veiga Marketing points out setting the right expectations – and being patient throughout the journey: "The amount of time it takes for SEO to be beneficial will vary depending on the website; it could take anywhere from 6-12 months. Search engine optimization is an ongoing, long-term commitment to improving your site's ranking with careful keyword usage and optimization."
To conclude, he also stressed the importance of avoiding shortcuts that can be counterproductive and set you back: "It's important to note that improvements in search rankings won't happen overnight. However, they can still produce significant results over several months if done organically without using automated techniques that risk placing your account on a blacklist or penalty by Google or other search engines."
Are you looking for a job in SEO?