Quick FYI before we begin: I will update this post at some point with a complete review of all backlink checkers and how you can use them including a comparison table to make it easy for you. If you'd like to see that happen sooner, reach out to us and I'll get on with it (the chat in the bottom-right corner works 😉 ).
If you want more website traffic, at some point you HAVE TO use a link building tool.
But for those of you who haven't "graduated" link building, there's a problem.
What is it about certain backlink tools that make them better than others?
And which one (of the dozens out there) fits your case best?
I spoke with several SEO clients about that problem to find the most common issues with "the mystery" of link building tools.
Here, I'll answer the most important things to consider when choosing the right backlink platform for you. Here's what I found and how it can help you:
What you NEED to know about backlink checker tools:
Why is it important to use such a tool?
How do these tools work?
How does such a tool create value for you and your business?
How do you choose the best backlink checker?
Backlinks are among the Top 10 SEO Ranking Factors, so you must take good care of them.
For the link building gurus out there, this is a well-known fact. For you, taking care of your links is just a walk in the park.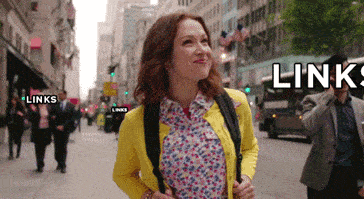 But in case you aren't the most cunning backlink ninja, there are a plethora of tools to help you out.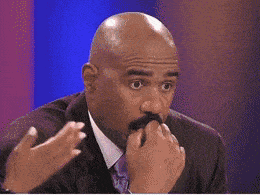 Think you "skipped a bit ahead"? Read this little guide to understand how links work in the first place.
Table of Contents:
How do link building platforms work?
Alright, here's where the black magic happens.
To understand how they work, here are the two cases of how an algorithm discovers links. They either:
1. crawl the entire web searching for links
or
2. crawl specific web pages that users ask them to
And ultimately, some combination of both.
Scenario 1) Crawling

To get you all that sweet data, link checker tools constantly crawl the web – kind of like Google does.
Their machine visits as many pages as possible and notes down the existing link on those pages.
The next step in the crawler's journey is to visit all of those links. And all of the links it finds in those links.
So you can see how starting with just a few "seed links, you can quickly build up a "net" or a "web" links — and see how they relate to each other.
The only problem with this type of crawling can be framed as "speed".
Unless you have a very big server, your backlink crawler will discover new links relatively slow.
And if the links are not so "obvious" (i.e. they aren't coming from popular sites), it might take them months or even years to finally find them.
Scenario 2) Submissions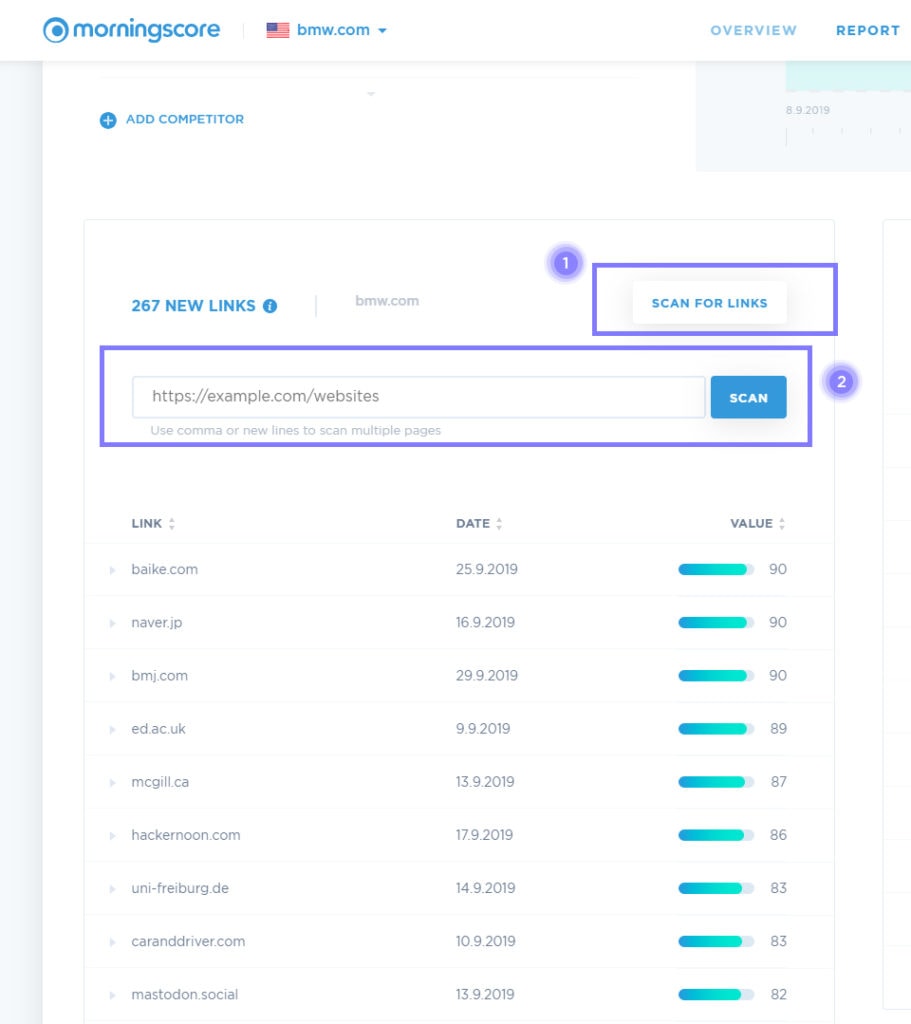 On the other hand, more modern tools allow you to manually "insert" links.
In other words, you can tell it the exact URL on which you have a link — and it will crawl it and confirm it for you.
This functionality is especially good for agencies because you get to show your clients the results you've made instantly.
And ultimately, a good platform allows for both — crawls as many links as possible and sub.
How do they help me (more than GSC & GA)?
Oh, well, where do I even start.
First, unless you are experienced, I suggest you get an all-in-one tool.
That's especially true for SMBs and startups — because most of these platforms are quite costly.
And having one for each "SEO task" (such as keyword research or rank tracking, etc) can add up to quite a lot.
I can go on and on, but you get the point.
So to make my case, I assume you're using a tool that has it all.
Second, while GA & GSC are invaluable tools, they don't give you the full picture when it comes to SEO.
That's because there are certain very important SEO metrics you cannot directly see in Google's tools.

And quite honestly, it might ultimately not be in Google's best interest to show you such data.
We've all heard of that one SEO person who still uses super scammy (aka black hat) tactics trying to "game the system".
And it often turns out they don't have the end-user's best interest in mind.
Google knows that. So for them, it's sort of like a safe-measure.
So what are those "mystical" metrics I'm rambling about?
Well, let's take a look at them, shall we?
The most important metrics in a backlink checker
The most important metrics you can see in a good link auditing tool are:
– Your Link Rank & Global Position
– Your Do/Nofollow Distribution
– Your Link Type Distribution
– Your Link Quality Distribution
Let's break each of these down.
What are Link Rank & Global Position?
Based on the number and the quality of links you get, your site gets something we call a "Link Rank".
I know! Don't worry, it's easier than it seems.
Your Link Rank determines how your website is doing in terms of links compared to all other websites on the web.
It's a system that tracks all links pointing to all sites and orders all those sites based on the strength of their link profile.
So essentially, the more quality links you get, the "higher" your Global Position will be.
However, it's important to note that "higher" in this case is lower — because the top website in the world gets #1 (It's Facebook by the way).
So there are over 1,8 billion webpages out there — and Facebook.com has taken the 1. position.
The lower your Link Rank is, the closer you come to Facebook and the Global Position #1, meaning your site is more "worthy".
In other words, the stronger your backlink profile is, the lower Global Position you have.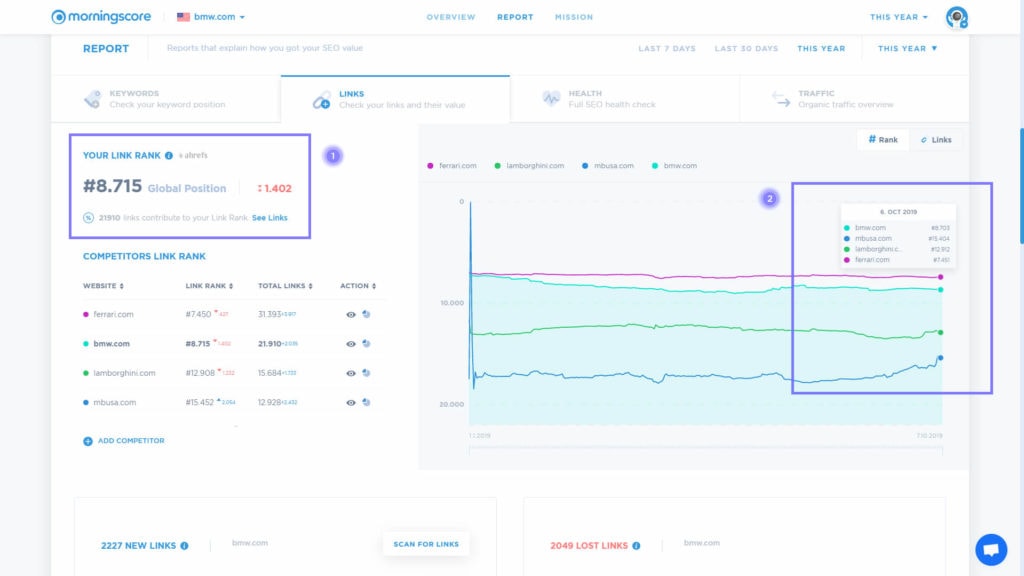 In general, those platforms allow you to get an overview of these metrics for a particular period.
This is essential in link building whether you're using an internal team or an external agency.
While Google itself doesn't work with the same KPIs, tracking them will ultimately show you how much effort you put into improving your website traffic.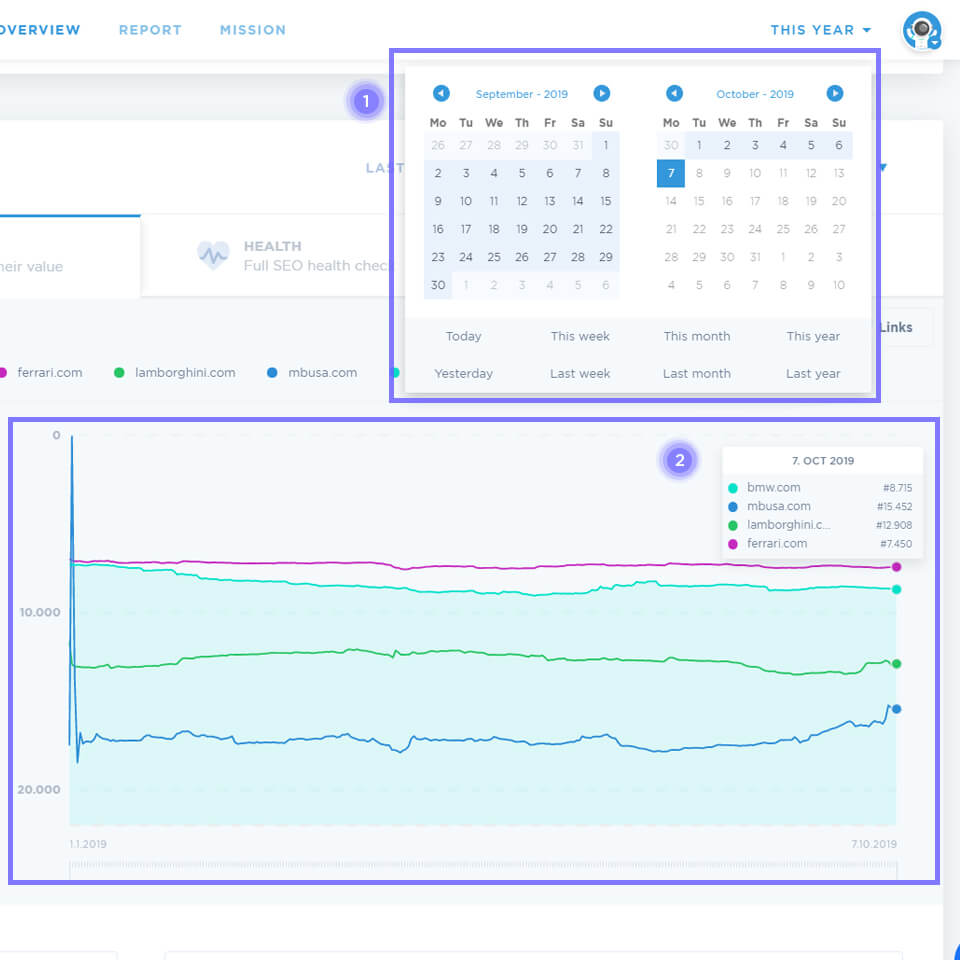 What is a Do/Nofollow distribution?
There are two different kinds of backlinks, which are the "follow" (aka dofollow) and the "nofollow" backlinks.
Technically, there are two more — the brand new ones rel="ugc" & rel="sponsored" — however, they aren't fully released yet + no one has any information on how they will affect your SEO.
Learn the difference in dofollow and nofollow backlinks in this post.
In general, both types pass the value to your site. However, here's the tricky part:
– we can assume that follow links are more valuable
but at the same time
– having only followed links is not "natural" in Google's eyes
And that's why you need to monitor your dofollow/nofollow distribution.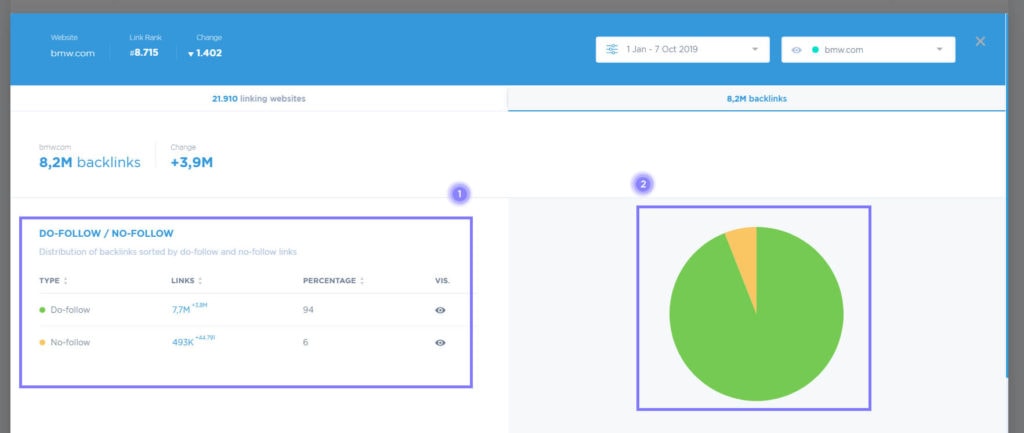 So what exactly should you monitor for?
Well, if you think about it — Google doesn't like anything unnatural.
So if 100% of your thousands of links are dofollow — Google will probably think that there's something fishy going on.
And that's especially true because even if you have 1 social media profile for your site, you will automatically get a nofollow link.
So you can imagine that the algorithm's "thought process" goes something like: Alright, people seem to be talking A LOT about you — but I can't even find basic information that should've been there? Hmm, let's investigate.
Then again, you don't want the opposite to happen as well.
While that necessarily shouldn't hurt your rankings, it probably won't help as much them either.
Although Google recently said that nofollows are used as a hint instead of a directive anymore and they could still pass some value, it likely isn't nearly as much as a dofollow link.
But the big problem you find in SEO is that usually, some guru tells you EXACTLY what to do.
And that doesn't work.
No one in the world can tell you whether you should have a 3% keyword density or 65% / 35% dofollow vs nofollow distribution.
Even Google can't tell you that.
Because that's not how the algorithm works.
RankBrain decides what signals are best for each query.
But since I can feel you still insisting on some precise number (and frankly, it's my purpose to help you), I normally aim for an 80% dofollow & 20% nofollow distribution.
Now, on to the next one.
What is a Link Type distribution?
There are also some different backlink types: For example "Text", "Redirect" and "Image" backlinks.
Now, as we established having a variety of links is important in SEO.
But being able to see your link distribution can also help you find potential problems with it.
For example, after the September 2019 Google Core Algorithm Update, SEOs noticed that when you use redirects as a link building strategy, you might lose some rankings.

Here you should follow the same logic as with Do/Nofollow distribution.
It's not that tons of either will hurt you per se, but a natural distribution includes different/all types of links.
What is Link Quality distribution?
Besides the different types of links, in a backlink tool, you should also expect to see the distribution of the quality of links you're getting (or how valuable they are).
Such an overview allows you to also notice issues — for example whether only low-quality sites link to you.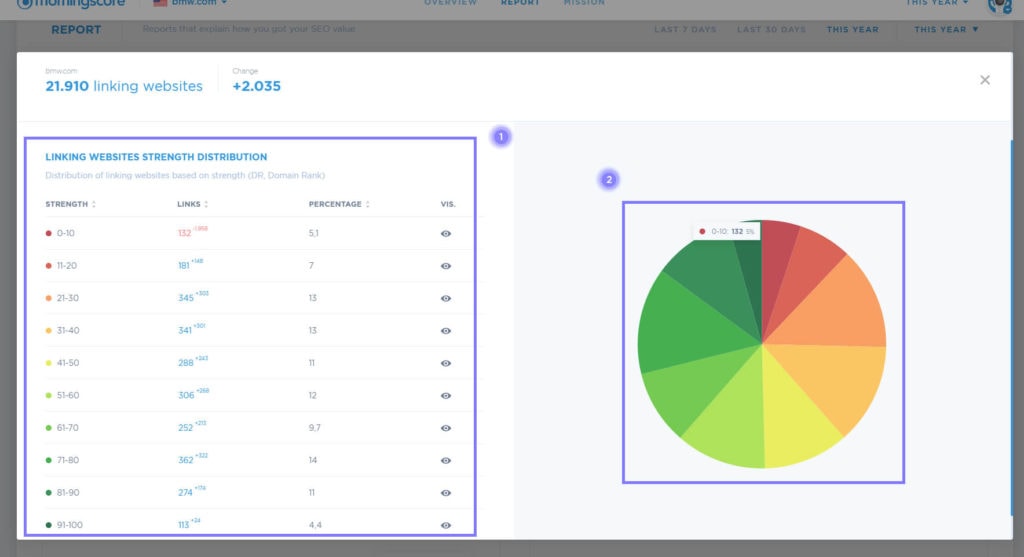 Note: Having only low-quality sites link to you is a complex issue.
In some cases it can hurt you — but in most, they are just not as worthy as high-quality links (duh..).
But having many lower-quality links shouldn't scare you either.
If you do a bit of research — big websites are RIDDLED with them.
Take for example bmw.com. Here's what their link quality distribution looks like:
Why is it important to use a link checker?
There's one simple answer: If you want to rank good on google you need links — and for that, you must use a link checker tool.
Let me take a guess — you've wondered before about who exactly links to your site and who isn't (any more that is)… Correct?
A good tool for link building can also provide you an overview of all your backlinks, but more importantly your recently gained (or as we "built" them) and lost links.
This is an important feature, as in some cases you get the opportunity to "rebuild" those lost backlinks.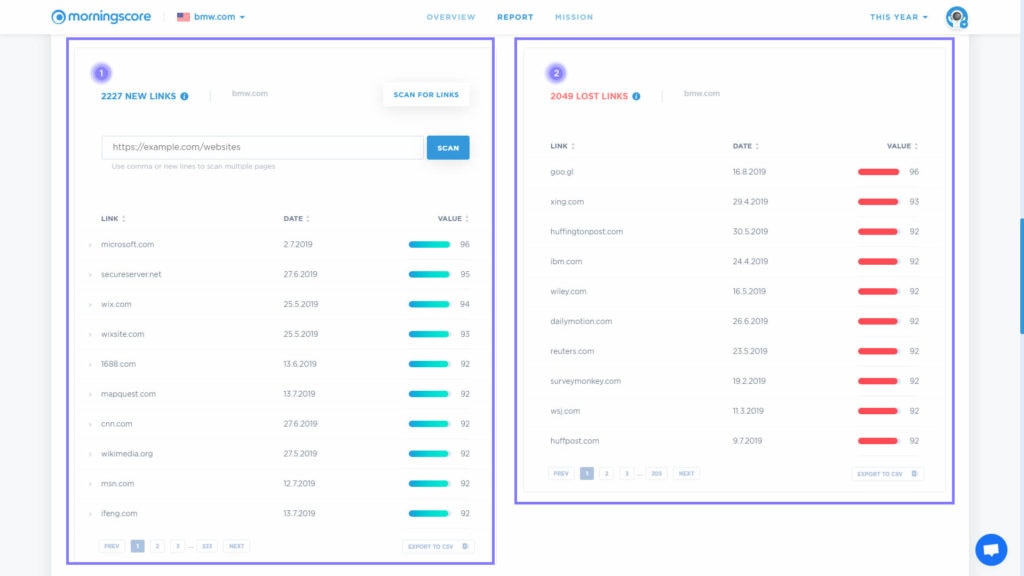 What's the deal with Lost Links?
Getting links is cool. It's like a little dopamine hit every time you see someone new linking to your site.
But the opposite can happen as well (and it can be quite frustrating).
Professionals call it "Link Churn", but for the sake of simplicity, let's just say you can also lose links.
And as logically follows, normally, you can see those lost links in your link building tool.
However, there's a catch 22.
It's important to remember that the links you see under "Lost Backlinks" are not always lost.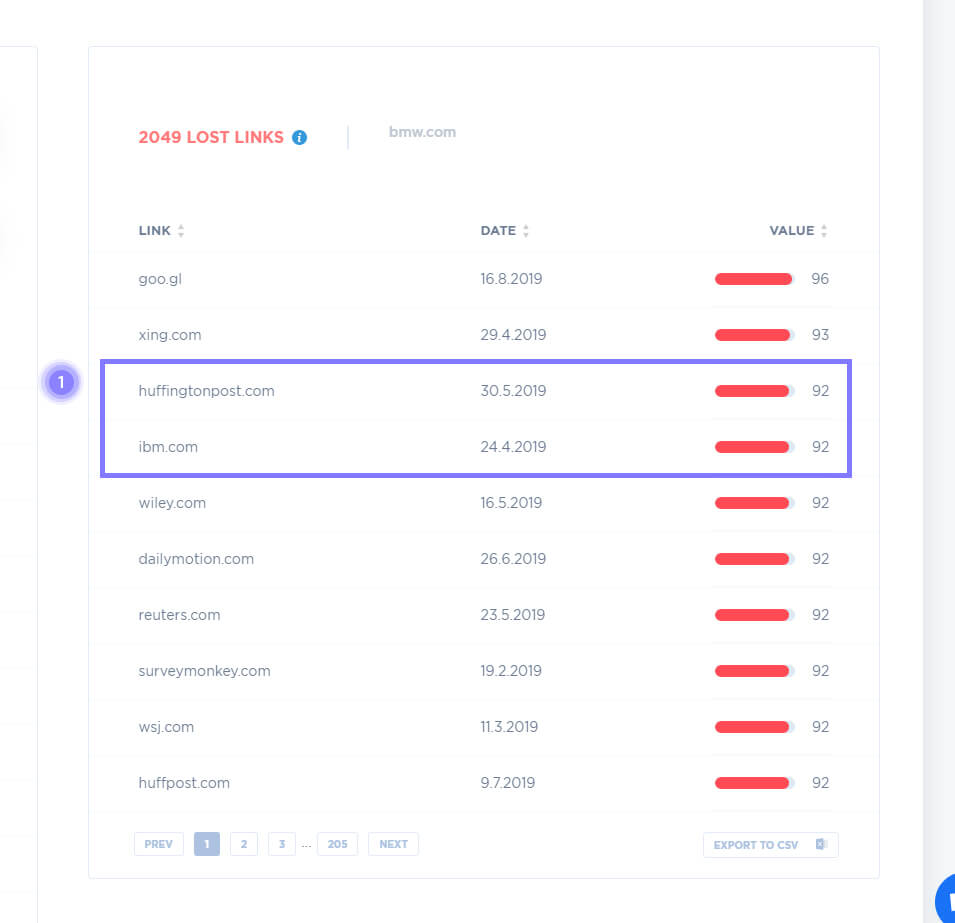 What happens sometimes is that certain tools consider some of your links lost because they are haven't been indexed "the right way".
This most often happens if there are pagination and your content changes pages or if there are dynamically generated content.
How does that happen?
There are various causes for this scenario, so double-checking lost links always pays off.
Here is one case where tools get confused (but probably/hopefully not Google)
Example:
One of your business partners links to your site from this page: https://yoursupplier.com/partners/p2 (the second partner page in their site — notice the pagination)
Eventually, as they get and add more partners, your site falls to https://yoursupplier.com/partners/p3 (the third paginated partner page in their site)
In such a case, even some advanced tools get confused — as technically the link does not appear on /partners/p2 anymore.
That's why they might report that you've lost and gained a link from the same domain.
The good thing to remember out of this whole case is that most of the time those links are still in Google's index — since it crawls the web much faster than any commercial tool out there (and is packed with much more logic).
Eventually, you will get those "lost links" back as soon as the tool crawls your partners' website again.
But now this raises the question. If I can see all of my new and lost links, can I also do that for my competitors? 😲
Well, glad you asked there. Yes, you can! 😏
Competitor Backlink Checker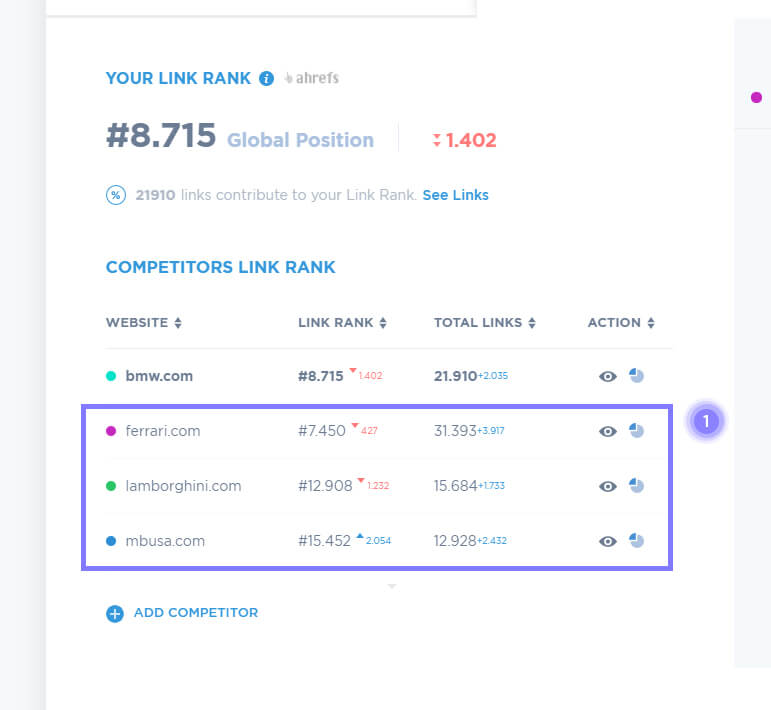 So how about your competitors? How does their link profile look like?
One thing you should find in a good link checker is not only yours — but also your competitors' full overview.
And once you have that information, it's time to get your (or your SEO consultant's) hands dirty.
Since you can see exactly where and how they got a link, you can apply that same strategy to your link building.
You can get much more out of an SEO platform like that.
By seeing the types and quality of links your competitors get, you can deduct:
How many efforts are they spending on SEO/link building?
Are they spending money (buying links)?
Are they posting high-quality content that naturally / organically gains links for?
What type of content attracts most links in your industry (insights into customer behavior)?
Once you have that information, it's "sneaky" time.
I say sneaky because now you can literally "steal" your own time back by building their links instead of having to do a ton of research upfront. 🤯
By being able to see exactly which pages are linking to your competitors, you can reach out to those link providers and pitch your content.
How can I see competitor links?
Here's exactly how you uncover your competitors' backlinks in our link tool in just 3 quick steps.
Go to the Link Tool
Navigate to the All Links section
Select one of your competitors from the drop-down
Ready. Now you can see all of their links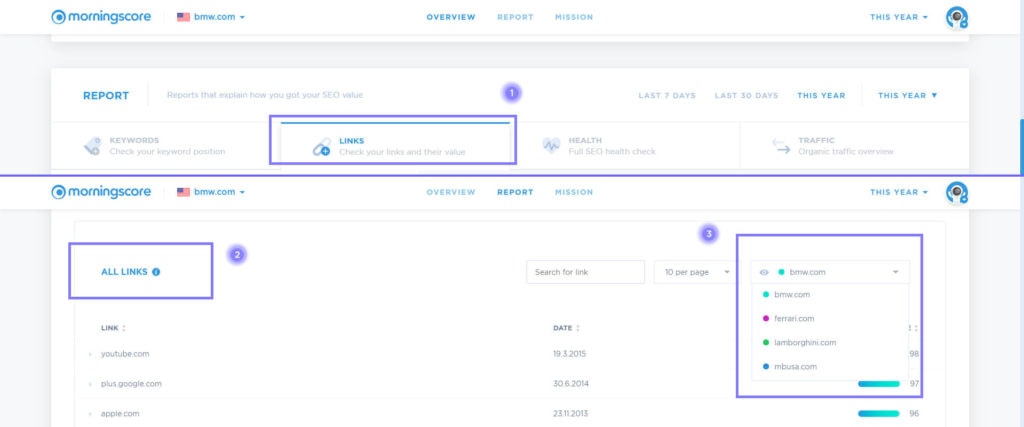 And that's not all. You can see exactly where the link is coming from and what anchor text it has — which essentially lets you reverse-engineer your competitor links and see whether you can get the same one and what it takes to do so (this is what I meant by learning more about their link building strategy).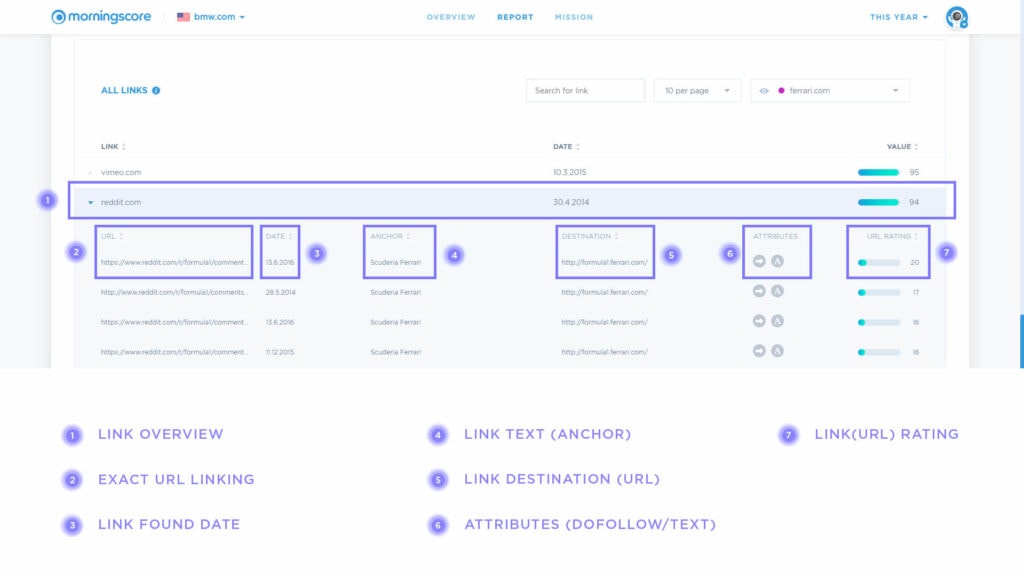 What do I need from a link checker?
Now, that you have all the details about both your and your competitor's backlinks, what should be the next step? How can you make all that data "work for you"?
I will give you 4 tips about what you can do with your link data.
1. Boost rankings: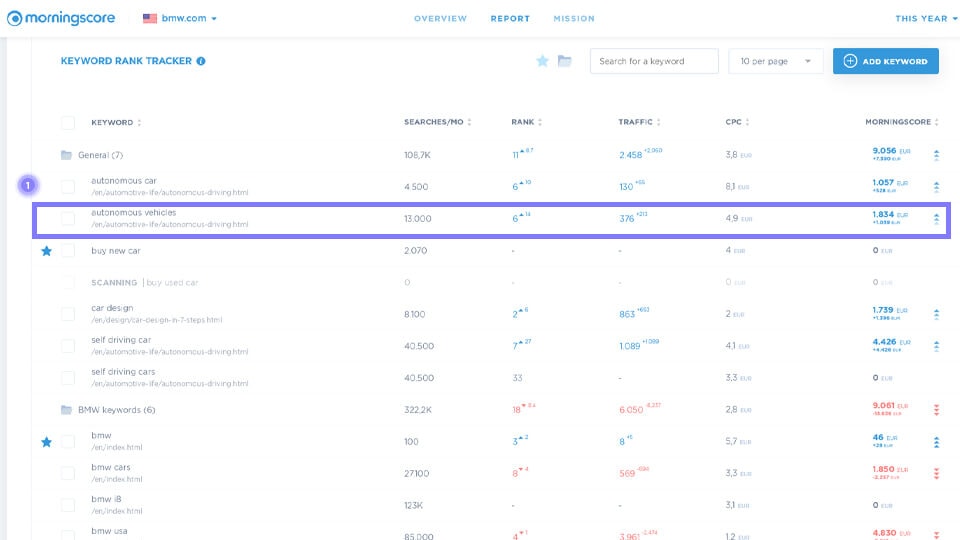 One of the most profitable things you can do with your link data is improving your SEO. This is just what the whole game is about, right?
Ultimately, we use data to make an informed decision about certain issues — and it's the same case here. If your goal is to increase the traffic to your website, you need to build links. And to build links, you need to find those opportunities.
2. Regain the lost links: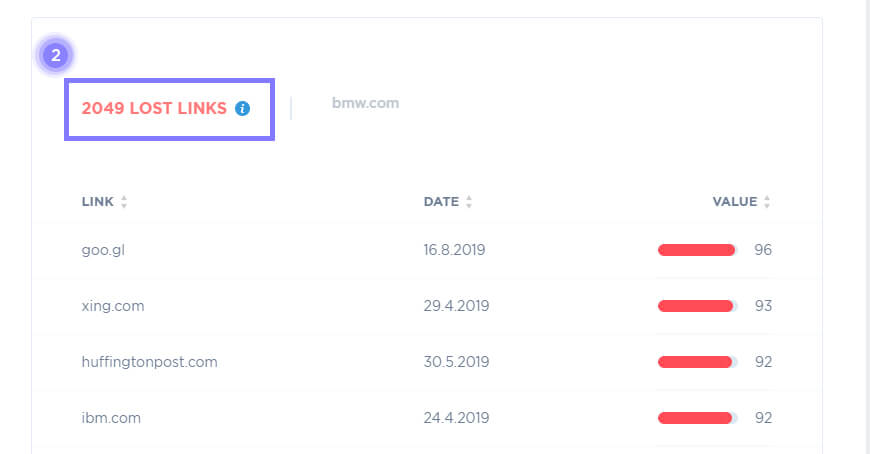 A good tool gives you information not only on the recently gained but also recently lost links. This great feature allows you to regain lost links and ultimately keep good link juice flowing to your site.
Have they deleted your link in particular? Was the web page deleted? Is it a 404'ed page? Find the issue, and get those links back!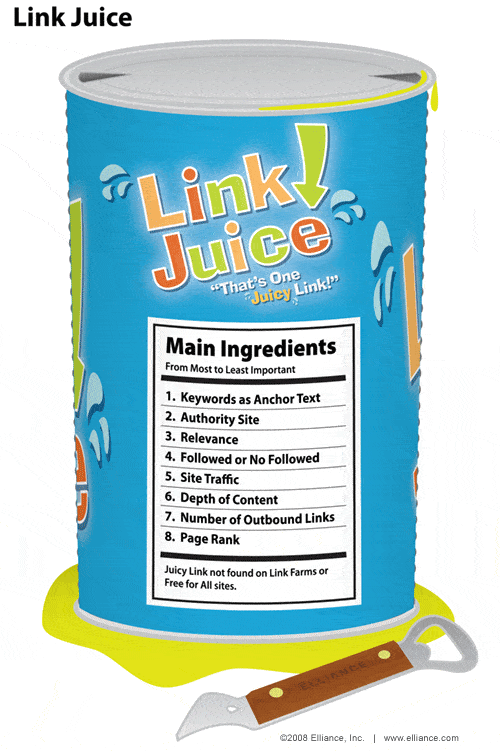 See Link Juice perfectly illustrated in this infographic by Elliance
3. Competitor backlink check: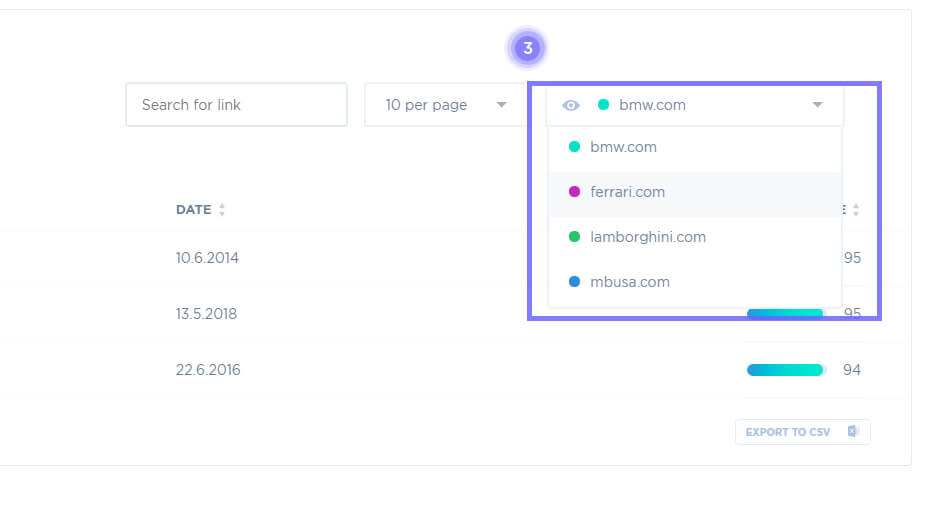 Analyze your competitor's links and look for the opportunities on how to improve your link profile and by that your rankings of course. This is especially true and important to implement for smaller businesses that aren't familiar with SEO in-depth. If a competitor of the same size can get a link, there's a (good) chance you can get it too!
And at the very least, you can also get a sense of their priorities and adapt your marketing strategy accordingly.
4. Monitor your agency/consultant: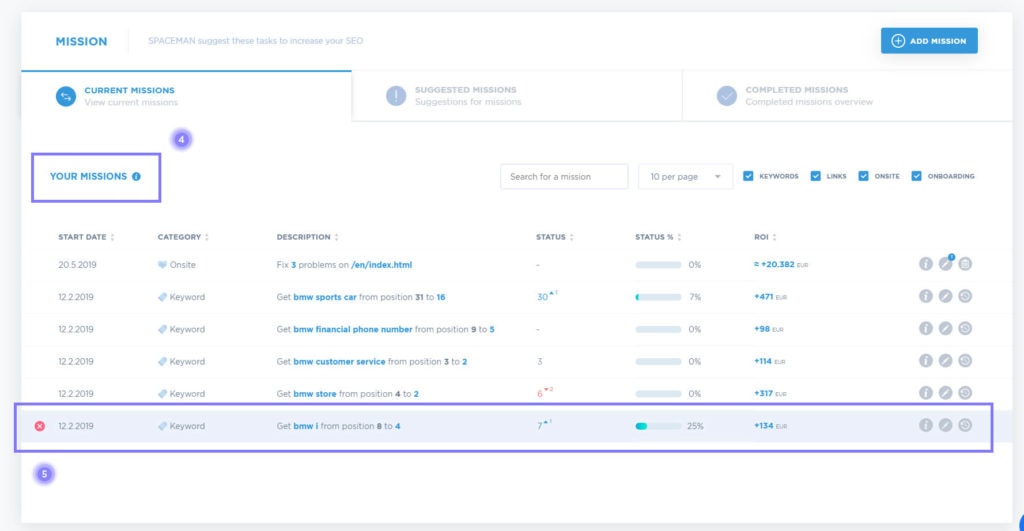 I bet you didn't see that one coming.
A good link management tool allows you to also monitor what exactly the agency/consultant you hired is doing and whether they deliver on their promises. Are they delivering or are the links nearly not as strong as they claimed?
The good old saying goes better safe than sorry. And that's true for SEO as well. Especially when you have so many agencies still using black hat link building strategies.
Now, not to make you paranoid, but keeping an eye on the people responsible for your business' appearance online is always a good idea. Here's how to make sure everything is done "behind the curtains" is actually in order in our tool:
1. Use Missions to monitor progress (e.g. "Build 5 links with a value over 60")
2. Give access to your agency so they can insert all new links
2. Manage your links — check for New Links & Mission completion
But now you ask, "That's all great. But with so many tools out there, how can I pick the right one for me?"
How to choose the best link building tool for your case
Whenever inexperienced people ask this question, I tell them one simple rule I go by Less is more.
You don't (and can't) become an expert in a couple of weeks. But you can get completely overwhelmed and turned off.
And that's never a good approach to learning. I believe new things should be challenging — but just right.
So let me break this down for you. There are two types of link building tools you find out there:
– Databases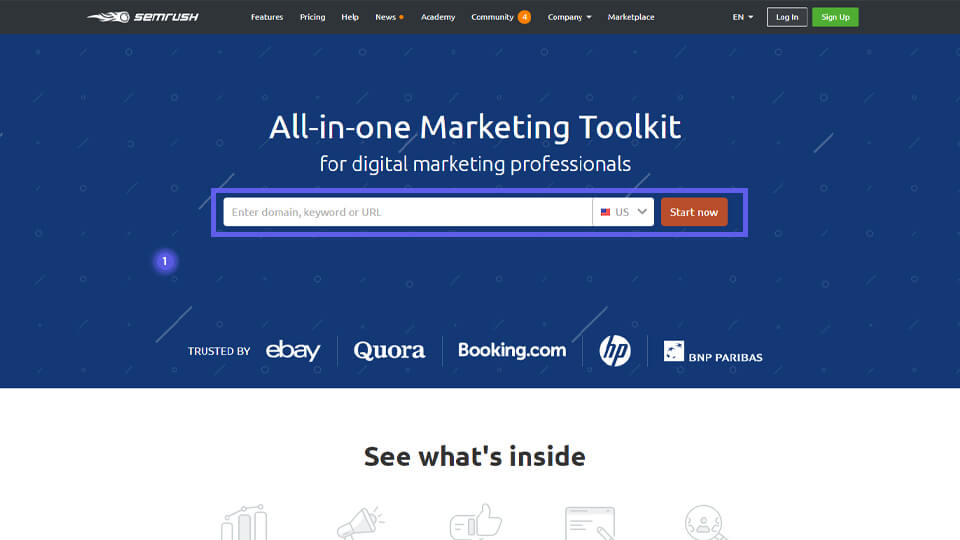 – To-Dos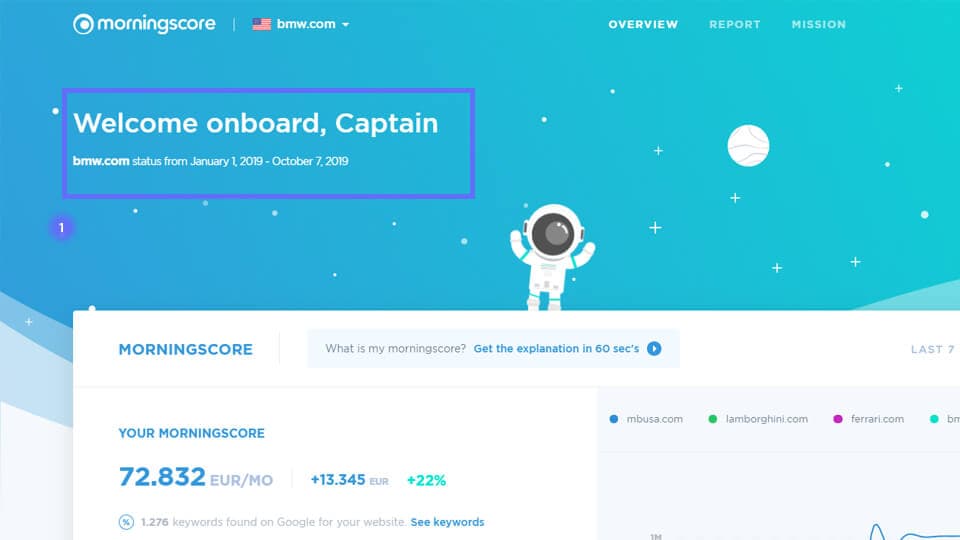 Why pick Database tools?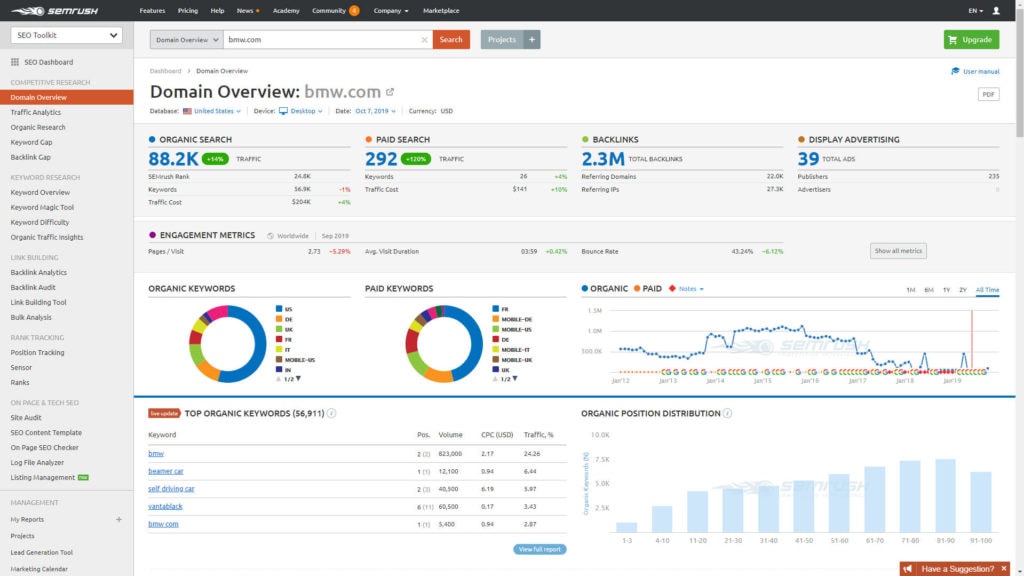 These tools essentially work like a database where you pay to get access to it.
BUT there's one problem with that.
You MUST know what you're doing to find those tools useful.
Why pick To-Do tools?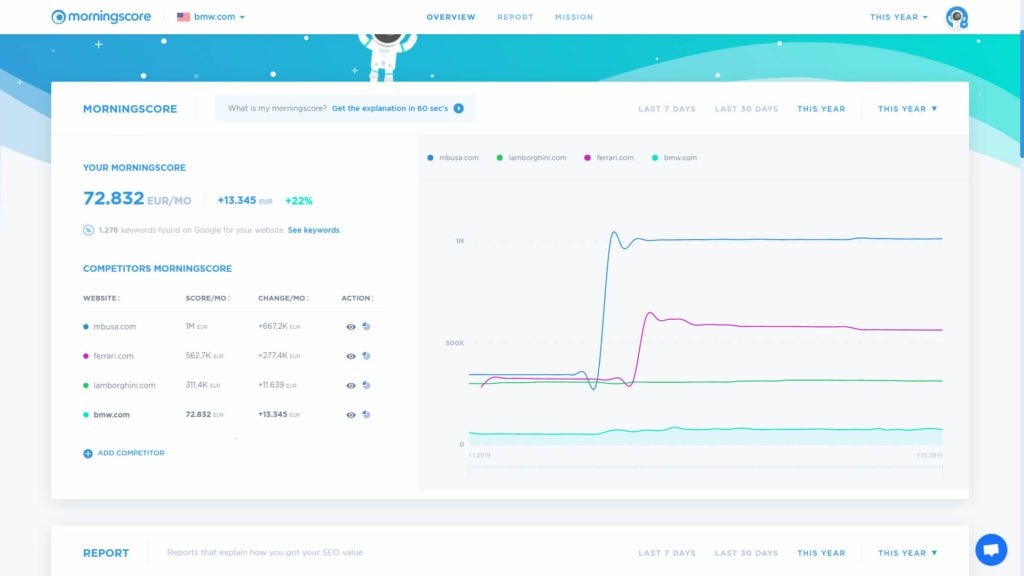 To-Do tools (like Morningscore) guide you through the process.
Recommended Read: How Do Backlinks Work? – A Beginner's SEO Guide to Backlinks
Sure, if you're an expert and want to manually sort through data (in excel; for hours) – you might not like a simplified tool.
But simplicity and focus are essential for beginners.
And then there's the bonus of improvement suggestions.. but that's a whole other subject. 😉
Conclusion
If you get the most advanced database out there, you surely can do a lot.
Unless you're just starting.
Then information overload settles shortly after you click the login button — and no effective work gets done.
Well, sure, I don't know you — but I sure love being productive.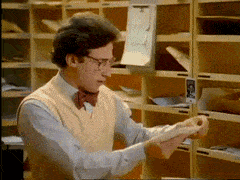 So I choose that.
You should, too. 😉
What to do next?
Now it's time you go and pick those "low hanging fruits", captain! 🚀
Get a 14-day free trial for our "To-Do" backlink checker tool here (no credit card or BS like that).
Just complete the 3-step setup process on our homepage.
Want to know more about backlinks? Check out this post on how backlinks work.