Here's Baptiste, the co-founder of Feedier.com which is a French-based SaaS that helps companies collect better feedback through gamified surveys. Their goal is to help you engage your customers by offering a unique, enjoyable experience and motivating survey completion with rewards.
This is his experience of using Morningscore on the road to improving their SEO. They aim to increase their brand awareness, position themselves as experts in the industry and ultimately bring in more relevant website visitors who would eventually turn into customers.
Why did you start using Morningscore? What problem did you hope it would solve?
As you might already be guessing, Baptiste is a busy man. Since they started developing Feedier, their user base has grown to more than 3000 users. As is the case for many business owners, his biggest obstacle in marketing (and SEO in particular) was his busy schedule.
"As a busy SaaS founder, you have anything but the time to dive into the numerous SEO-related tools such as Moz or Ahrefs. Yet, you are still very aware of the importance of taking care of your SEO from day one. It's a long and exhausting process that only pays off in the long run."
Baptiste says that when he found Morningscore, he was blown away by the simplicity of the tool.
"It promised to explain the nitty-gritty of SEO in simple terms."
"As a curious founder, I simply signed up for their beta program, and enjoyed the rest."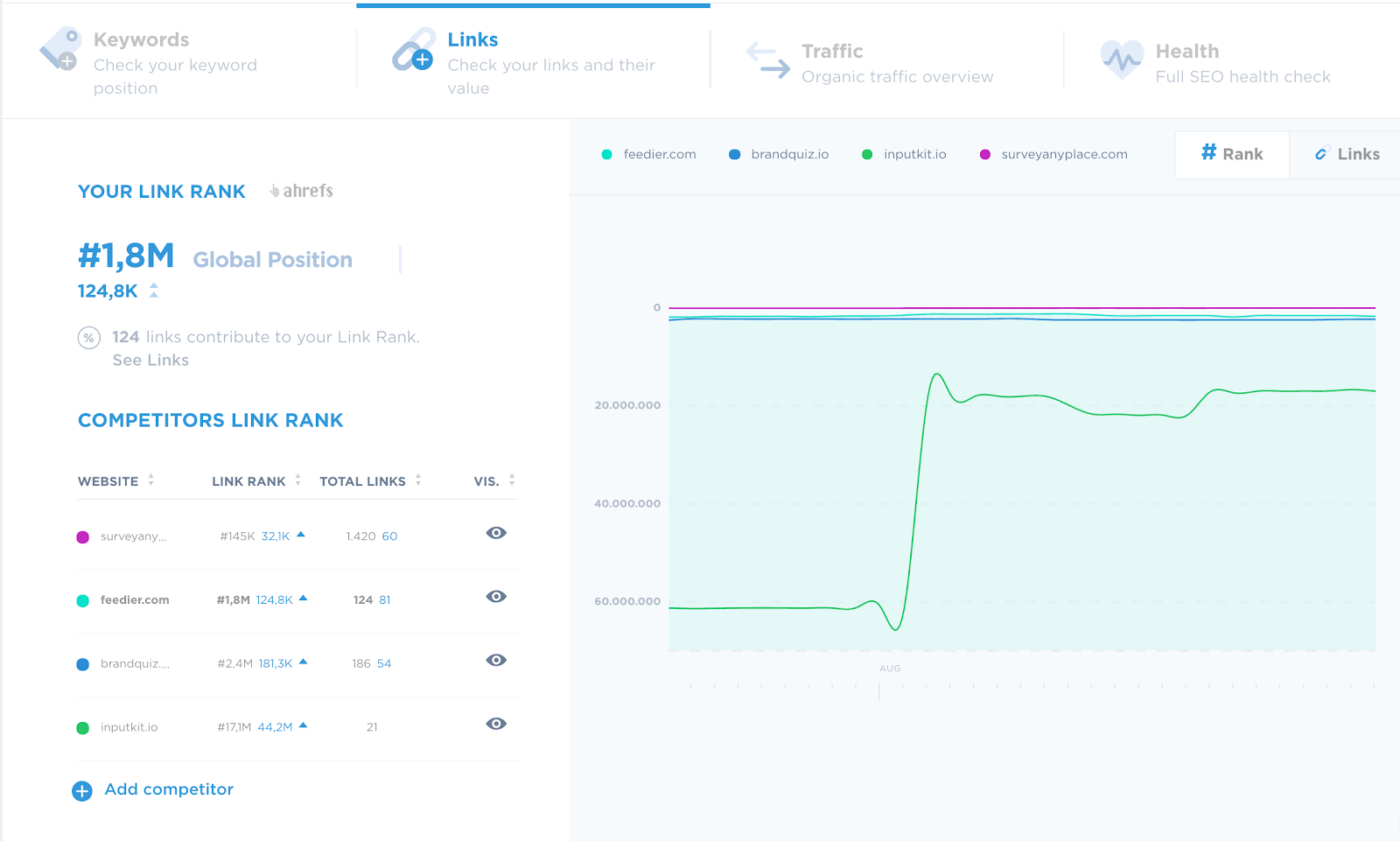 Here's an example of how Baptiste uses Morningscore to monitor their rankings.
Baptiste's first impression of Morningscore:
"My experience has been amazing so far, I have been nicely onboarded, and the team is very responsive to any request."
And here's what he thinks of the onboarding process:
"You can't have it all, free software and personal onboarding. But even though I haven't had a personal call, I got up-and-running very quickly, and I'm fairly happy with that."
What specific feature from the tool do you like the most?
"The most interesting features to me is the value bound to the SEO score. Instead of putting (random) kind of scores, they're using currency, which is the most clever way of doing it I have ever seen."
So, in terms, he's able to see the business value of his SEO efforts. It looks like his understanding of the app has aligned with Morningscore's goals:
"You can envision your ROI and see how you're doing from a financial standpoint. "
Are there any other benefits you see in Morningscore?
"Besides this, you don't seem to be limited in terms of comparison with competitors, which is great, because you're usually limited to 3 competitors' website."
Here's why the young entrepreneur things Morningscore can be helpful to companies:
"I'd recommend to because it's simple to use, enjoyable, thanks to their nice interface, and they are also backed by real partners such as Ahrefs. They don't make up the data or anything, it comes from trusted experts."
And he also finds value in the simplicity of the tool. His thoughts that companies should try the tool are because they can "get an overview of your SEO situation in a few minutes."
Are there any features you think should be added?
"I would like to see mentions, or something similar, where I could track the mentions of my brand on the web. Except that, it seems enough to me."
Good idea, Baptiste, we love your feedback!
Is there anything you disliked about the product?
"Nothing that comes to mind now."
Final words
In conclusion, Feedier uses Morningscore to monitor the progress of their SEO which they aim will bring in more relevant customers.
Looking to improve your rankings and increase your website traffic? Look no further! Morningscore is here for you – start for free today.